Alexandra Noboa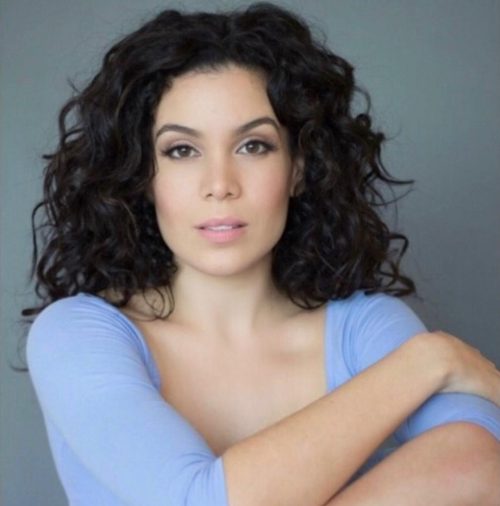 OPENING THE WAY FOR WOMEN IN BASEBALL  
By: Liliana Pérez
Alexandra Noboa is a young  attractive and cheerful girl, raised in Madison, Wisconsin. From a Colombian mother and a Dominican father, she has been a baseball lover since she was a child by influence of her father and a cousin of his father, whom she calls "uncle". Alexandra has been making her way in powerful American teams in such a masculine world, and in turn, carrying a great responsibility: opening the way to other women in this field, and in other masculine arenas as well.
She worked for the San Louis Cardinals (2016-2017) as an official translator, where she was the only Latina working for the team. She was also the only Latina in the communications area at The Astros in Houston, while she was Communications Coordinator. And although she confesses that she was not looking for a next step yet (she was just about to complete her first year working for The Astros), she tells us that they quickly promoted her to the Operations Department with many challenges ahead, for which we know she is well prepared and will perform greatly.
Here we explore what all this has meant for Alexandra and more especially what it means for our gender. All this titanic effort that this woman makes to contain herself and to open the way for other women in the world of baseball has a greater purpose.
And speaking of baseball, the Houston Astros have been accomplishing great things lately. The team belongs to one of the two Major Leagues of the US: the American League. And towards the month of October the World Series is played, in which the winner of the American League and the National League face each other. 114 games of the World Series have been played, just over half of which (66 games) have been won by American League teams. The New York Yankees played 40 of those games and won 27. They are the team that has won the most trophies.
In spite of that, in 2017 the Yankees were eliminated by the Houston Astros in the League Series, and then The Astros took the World Series title, with just their second appearance in it. A pair of unprecedented achievements for the team! The following year the Astros managed to arrive for the second consecutive year at the American League finals, but they lost against the Boston Red Sox, another historically powerful team, and therefore they did not classify to the World Series. Despite this, with all these achievements, the team is positioning itself nowadays among the strong ones.
So how does Alexandra get to The Astros? We found out through an entertaining interview with her at a café in Houston.
Latin roots as an injection to her career
What was it like growing up in Madison, Wisconsin?
Very cold, laughs! A different life than one gets used to… there are only three months of summer but I always went to Colombia to spend it with my family.
What did it mean for you to go to Colombia?
I loved it! Being with my cousins… we went to Cali and Bogotá. For me it was spectacular, the food, the sweets, the Frunas (famous candy), the Jet Chocolate bars…
I grew up thinking that everyone was like me. It was at Middle School that I realized we were different. In my house Spanish was spoken, my mother was very strict with food, she did not like fast food, we ate always homemade meals… then when I started going to my friends' houses and they offered me food, I started to realize that we were different.
And was that good or bad for you at that time?
Neither good nor bad… It was our Latin customs, those of the Colombian mothers, who take great care of us… it was simply different. My parents told me that when they arrived in 87-88 they were the only Latino family, it was only them and another family with whom they are still friends. It was very strange to hear Spanish in the streets… Now you go to Madison and in certain places you listen to more Spanish. It has been changing a lot. My mother is still there, she is a professor at the University.
And did you also go to the Dominican Republic?
No, because my dad's family is very small, just his sister and mom. They moved to Puerto Rico years ago, so I went much more to Puerto Rico and I still do, I love it!
Do you think having some of that Latin blood has influenced your career? The fact of mastering both languages for example…
Oh absolutely! All my positions have been achieved by the fact of being bilingual. All of them: when I worked for the teams, as well as for the MBL (Major League Baseball), before that in W Radio station in Miami and before that I worked as a social worker with children because they required someone bilingual. Obviously my preparation, my studies count, but having both languages was fundamental.
I did not know this before, but it is important that people like me, who have the opportunity, can polish Spanish and speak it perfectly. Because there are many Spanish speakers who converse well, but they do not know how to write it, they do not know the grammar well, and this is a shame. I took advanced Spanish classes, of history, of literature in Spanish and that helped me with my writing.
How baseball comes into Alexandra's life
Where does that love for and knowledge about baseball come from?
My dad loved baseball and an uncle was a player in the Dominican Republic, but he never signed as a professional player, because his dad never wanted him to dedicate himself to that. When I was doing my Masters in Multimedia Journalism in Miami, I reconnected with him. I was going to graduate and he told me to look for a position in the MBL because there could be a space for me: Latina women, who spoke good Spanish and who knew baseball. And that's where everything started.
Do you remember players you admired when you were little?
Of course, Pedro Martínez, Samy Sosa, especially the Dominicans because of my father's influence…
Did you ever played baseball?
Never! Laughter. I played volleyball and swam. I tried to play softball but that never worked very well, laughs! I do like to exercise and eat healthy, I got it from my mom.
Alexandra tells us that about 40% of the players in professional baseball leagues are foreigners. Many come from the Dominican Republic, Venezuela, Cuba and Puerto Rico. And we have read that in the minor leagues almost all are Latino, but only until 2016 the league began to require that translators be hired to help the Spanish-speaking players. Under that formula Alex came to The Cardinals.
You come from working with The St. Louis Cardinals. How was it there?
Very hard. Their calendar was my calendar, I had one day off per month. They play from the "opening day" (at the end of March or beginning of April) and turn off the last day of September. But if the team goes to the postseason, they keep playing throughout the month of October in the World Series
And with The Astros? What was it like to get to a team that had just been World Series champion, what was the atmosphere like?
I came to the team and the energy was incredible, it was amazing to arrive and see a team that had won for the first time the World Series in the history of the team, against the Cleveland Indians, in just three games. You could feel an atmosphere of trust, where the players felt they had much more control, and they understood better how everything worked.
What's next for The Astros now?
For now they are in spring training (from February 13th to March 24th) in West Palm Beach, FL and then the team comes to Houston on March 25fth and 26th to play two exhibition games against the Pittsburgh Pirates. And that's where the regular season begins in Tampa Bay on March 28th, against the Tampa Bay Rays and then the madness begins. The opening day of the season at Minute Maid Park is April 5th, which marks the first day of the season here at home. It's a sold out event.
Curiosities about the players
What can you tell us about the players, are they unreachable super stars or are they humble?
There is a mixture. But I realized, more with The Cardinals (because I was with them all day) that they are normal people, with the same needs, the same desires to rest… obviously their lifestyle surprises you a little because they play every day, they travel very much, and when they have a day off or want to rest or do something else, I thought at first "wow, how outrageous" because they went to a restaurant or the mall and spent a lot of money. But after a while I realized that they only have one day off, so they are trying to maximize everything, live to the fullest, live it intensely.
With that in mind, how is it to work with them?
As an employee of the team, I cannot treat them as an external. I must understand them more, they sometimes greet me, sometimes not… and cannot take anything personally. They are great stars, but then on the ground everyone observes them. As a player, they have a lot of physical and mental pressure. For example, if a player is not playing well (he is not hitting or throwing well) the coach comes and takes him out, and replaces him with another person. That generates a lot of pressure. It's as if one day you're at your desk, doing your job and your boss comes and tells you to go and that another person is coming to do your job.
People who are not in this medium, forget the pressures to which they are subject. Their teammates are their teammates but also their competitors, or many times their families do not live here because they do not have a visa or for another reason… Those are very difficult things to handle and they have to leave their personal things aside to be able to concentrate on the ground… it is not easy. It is not an excuse, but I understand the extremes in which they live, they have too much pressure, little time for them, and when they have it, it is to live intensely, and often filling some kind of emotional emptiness.
Women in the world of baseball
Is it accurate to say: "women have no place in baseball"?
Before, they did not have any, but that has been changing. Although it's not like basketball where there are women who play the sport, baseball is still a men's sport, like football. Then it is difficult as a woman to make a path. But over time you see that more women enter, although almost always as reporters, or in communications and public relations, but you do not see a woman as a physical trainer or coach. Sorry, I think there is a team that has physical trainers or assistants that massage the players, but what mean is that's usually the most they have achieved in this field.
You told us about how difficult it is to work in such a masculine world, where you have to permanently win the confidence of the players, but at the same time draw a line to earn their respect too. How is that and how have you managed it?
My position in The Cardinals was unique, because it was the first time a woman traveled with the team. I was the only female presence that was not the wife of a player. Sometimes they confused me when I entered the clubhouse, they looked at my credential and said "family member, yes, go there", so I had to say, "no, I'm with the team".
It was difficult for me because I felt that I was invading their space, I felt uncomfortable in their dressing room… and for them having me there was uncomfortable as well, because they did not trust me, they thought I was a reporter. But when they started seeing that I was always on the planes with them, they understood that I was part of the team. And they saw that I worked closely with Carlos Martinez, the pitcher who they respected a lot because he was a very good pitcher, he did not speak English and so needed simultaneous translation, so when they saw that he trusted me, others did too.
Also, they where scared of me, because they did not know how to interact with me, if they talked to me they had to be careful not to be seen as if they were flirting with me, because if they did, it could be the end of their career. So it was very difficult. The first months, my presence was noticed, but nobody talked to me, I had a very lonely time. They avoided me, for example on the bus two big men would rather sit in a row side by side, than sitting next to me.
What have you learned from all these experiences?
I learned to be alone. I learned to have eyes on me, and not to feel uncomfortable with that; to not be intimidated easily, to feel in confidence as a human being and as a woman. To be observed. To believe in me, and to think "ok, I have 40 eyes on me but I'm here because I deserve it, because I have the credentials and I'm doing my job". To work between men, and to handle tensions, because if my boss is a man I can not go to him and say "hey, I feel uncomfortable for this or that, or I find it uncomfortable to enter the dressing room when they are changing", because then he's going to say "well, then let's give the job to a man".
How important! You have the responsibility to do your job well not only for yourself, but for other women..
Yes, I have a responsibility with other women because I am opening the way. It is a very difficult task, to try not to be weak in front of my bosses, but also earn respect from the players. Also, I'm not married, now I have a boyfriend but at work I must draw a very clear line to let everybody know that I'm not there looking for a husband… because that's what they often think of the reporters.
How do you earn that respect, how do you draw that line?
Doing my job. I am very sociable and very cheerful, but I have to be very aware of the appropriate space for that. Because for example, if I'm talking to a player and I laugh, it can be seen like we're flirting. Then it is necessary to know how to navigate the clubhouse and take care of how I interact with them. Sometimes I can not be natural, I cannot be myself, I have to be strict, and it is stressful, to be aware all the time of what one might think of what I am doing, how one might perceive some attitude of mine… It is a bit sad to say, but as women we are always being watched.
Any bad experiences?
No, not really. Simple comments that one hears sometimes, such as "women do not have a place here in baseball, they are looking for a husband or they are here to distract men…". But there are one or two who have that mentality.
Any flirting?
That's going to happen. And it happens, but I have to choose: am I going to date one of these men or do I choose my career. I have a responsibility not only with myself, but with other women, because about two years ago a reporter got involved with many of the players, and damaged the name of all women. Here I am now and I have to lift our image high. So I can not dress very flashy or put on heels, even if I want to… I keep my distance, I almost never say hello, and sometimes they ask me "why are you so serious?", But I have to be like that.
Phew! I'm exhausted just by hearing you. What do you do to release so much tension?
I love cooking. And drink wine! Laughter. I love my days off when I can be myself, without measuring myself as much, and dress as I want.
When you're not into baseball what are you doing, some hobby?
I love wine, going home and pour me a glass of wine while I cook something, for example pasta and making the sauce fresh from scratch. I also like to go to the movies, and I love to dance, to do some exercise with music, like Zumba… I like it a lot! It makes my mind go blank and I do not think about anything else.
What message would you like to leave out there?
Have confidence in yourself! It gives me great security to hear things that people say to me like: "Hey Alex, you navigate very well this position". That encourages me to have more confidence, which is very important to hold you in positions like this.
---
After our talk, I get the feeling that Alex is carving out a way for women to have a space in a world as traditionally masculine as baseball. She's experiencing in her own flesh the difficulty of creating a path for women for the first time. There are not many more that are doing it. And like anything else that is done for the first time, there is a lot of tension and pressure, but I think Alex is doing quite well.
The proof is that in past weeks she gave me the great news that she was being promoted to Manager of Baseball Administration in the Operations Department of the Houston Astros, working directly with the President and General Manager of the Team, Mr Jeff Luhnow. Bravo Alex!
We are so proud and above all, very excited for the great legacy that you are achieving for women in scenarios like this one, and that you are doing in your own very professional and restrained style. Today it is from the office of a baseball team, tomorrow lets hope, from the fields of US football.
We wanted to celebrate Alex's story and there are more and more voices replicating the great work she's doing. To this interview in La Revista Mujer, it adds up her recent nomination to the Tribute to Latin Women by Solo Mujeres Magazine. Once again, congratulations, and that all these acknowledgments to your story are one more stepping stone and an amulet of strength to continue doing more "homeruns" in favor of women's empowerment.
— end —