NIÑO DE PURA – A GUITAR OF PURE FLAMENCO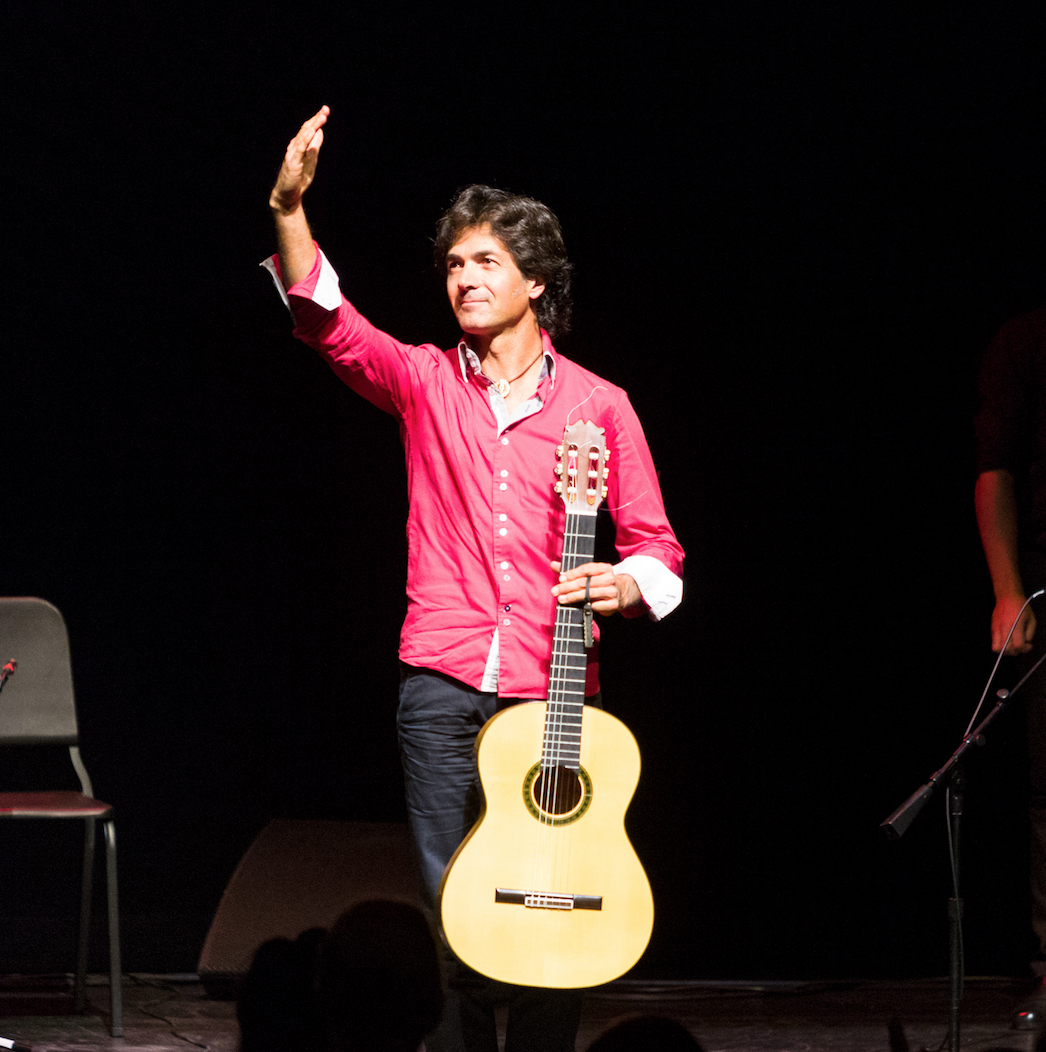 By Elsa Tovar
When Daniel Navarro Cruz (Niño de Pura) goes on stage wearing his traditional red shirt and begins playing his guitar, the first thing you notice is a dizzying "picao", a restless and melodic sound coming from his guitar, a sound no one else creates.

Born in Seville, Spain, from an early age Daniel demonstrated impressive abilities with the guitar and a deep attraction to the world of flamenco. No other member of his family played the guitar, his father being an auto mechanic, in an area where there were only two mechanics, the Bellavista neighborhood, in the south of the city of Seville, in Andalusia, Spain.

His interest in the guitar came by chance one day when his father took him to the mechanic's shop looking for tools. There, Daniel was impressed when he saw the son of the other mechanic, roughly his same age, barely six years old, sitting playing the instrument from which a sound emerged that fascinated him. He was so entranced that he declared then: "I want to learn to play the guitar". Well, the rest is history.

"Flamenco is for me, and it has always been my way of life and it is where others will find me and where I can let go as a person"

Niño de Pura
At twelve Daniel left for Sanlúcar de Barrameda (Cádiz) to take classes from an authentic master, Manolo Sanlúcar. It is from Manolo that he acquired great technique and learns to feel, to love and even pamper the guitar. Later Daniel became the official guitarist for Juan Valderrama, whom Daniel also considered a wise man as well as a grand maestro.

Daniel's list of awards is endless and his extensive career as guitarist from a young age places him currently among the first rank of the flamenco guitarists, both in composition and in concert as well as an accompanist.

In addition, thanks to the contacts made through his brother, the dancer José Joaquín, Daniel managed to learn enough to take part in his brother's show along with other guitarists, expanding his knowledge of dance performances.

Niño de Pura's guitar has traveled practically all over the world, excelling in London, at the Royal Albert Hall, France, Germany, Belgium, Chile and Spain. When asked in an interview if he is in favor of the fusion of flamenco with music from other cultures or genres, he states: "I am in favor of fusion, but not " confusion "; since one thing is flamenco, another is "flamenquito" and another is new flamenco. "
Women in Flamenco

Regarding the participation of women in flamenco guitar, he says that there are not many women guitarists, but this is not a matter of culture but a matter of physical strength, a woman does not have the same strength in her hands as a man. However, women are an essential part of flamenco in singing, dancing and performance with the palms of the hand like his daughter singer Pura and his wife María.

Pura Navarro Alvarez, "Pura de Pura" was born in a family in which flamenco has played a leading role. Pura spent all her childhood quietly listening to flamenco at national and local festivals, concerts, contests and performances. At fourteen she began to show interest in flamenco and even more so in high school when she actively sought to learn to sing flamenco starting at the Cristina Heeren Foundation.

Pura studied with outstanding professors such as José de la Tomasa, Julián Estrada, Virginia Gámez and Jeromo Segura, and began her degree in Journalism at the University of Seville. She has accompanied her father, Niño de Pura in his shows in recent appearances, including Poznan (Poland), the Picasso Museum in Málaga, in Seville at the Teatro Central, the Maestranza Theater and at the prestigious International Guitar Festival of Córdoba with his new show "Flamenpura".

On March 12, 2019, she was part of the new CD launching program "Pura Gloria" by Niño de Pura as a guest artist as part of the Flamenco Viene del Sur cycle program at the Teatro Central in Seville.

María José Álvarez Tinoco was born in Huelva, Spain in 1968. At age 12 she began to participate in flamenco dance classes with Carmen Giralde and then with the prestigious dancer José Joaquín. Later she joined the dance company and acted as an instructor teaching those classes. She has participated in numerous flamenco recordings and has been touring with "Niño de Pura" for the past 10 years.
This show could not be complete without the performance of flamenco dancing. When Rafael del Pino "Keko", award winning flamenco dancer and native of Córdoba, enters quietly on the stage, prepare for a stunning surprise, as he gradually produces a dramatic sound with the heels of his flamenco shoes following the sound of the Niño de Pura's guitar. His technique and temperament on stage are  thunderous – and you never see a misstep.

He started dancing at the age of five, and by age 14, he decided to pursue dance professionally. He received a Spanish and Classical Ballet Dance degree by the School of Dramatic Arts and Spanish Dance of Córdoba. Keko has performed as frequent guest artist and choreographer at many festivals in Spain and appeared in tours with other Spanish companies in Japan, France, Italy, Holland and Belgium, Poland, New York and México.

Niño de Pura expressed himself in another interview regarding whether or not he feels much difference between performing within his own country and performing abroad. He responded that: "yes, of course; when you perform at home the level of demand is higher, because in Spain there are many guitarists who are going to see you. Abroad, it is easier to please.You play more relaxed and better. "

When asked what flamenco means in his life, he declared: "For me flamenco is, and has always been my way of life and that is where others finds me and where I can let go as a person"

And with this in mind, you can expect a concert nothing short of engrossing with a more relaxed artist and willing to perform above expectations. It is a great honor to have Daniel Navarro Cruz "Niño de Pura" in Austin.
Thanks to the great efforts and collaboration from Austin Classical Guitar, an institution that promotes the highest level of music in the community, we do not have to go to Spain to witness one of the best guitarists in the world, we can enjoy that for one night here in Austin, flamenco in the purest sense of the word.