RUBY CITY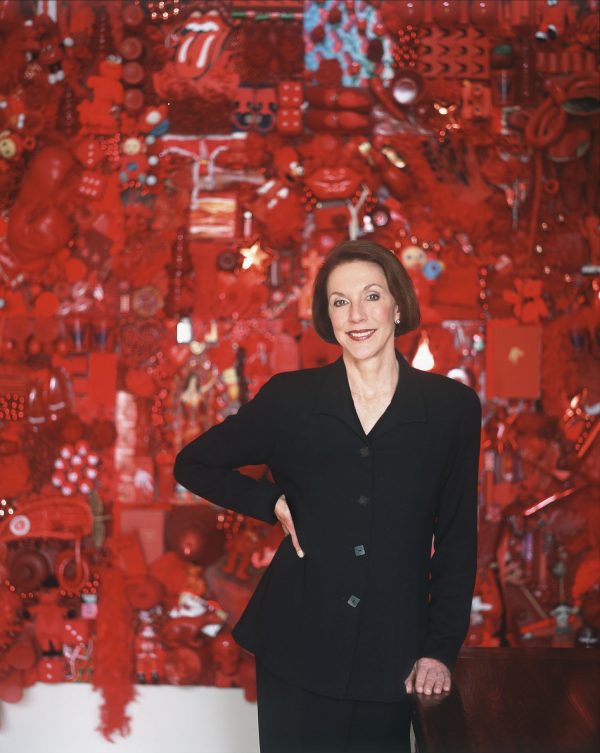 The Dream of a Woman
Linda Pace was an artist, collector and philanthropist, a cultural force in herself, who tirelessly promoted the work of today's most adventurous artists through the non-profit organization she created, Art Space. Her efforts went beyond San Antonio and all the way to the Whitney Museum of American Art in New York, as well as being a member of the International Council for the Tate Gallery in London.
Shedied on July 2, 2007, after a battle against cancer, but her spirit and dreams still live. One of those dreams is about to be accomplished, the name of the project being Ruby City. This dream being realized is overseen by Sir David Adjaye, renowned architect from Ghana, who was named as one of the most influential individuals in the world. His largest project so far is the $540 million Smithsonian National Institute of African-American History and Culture. In 2016 he received the Panerai London Design Medal. One of his most recent projects, this art complex called Ruby City on the southside of San Antonio, was conceived by Linda Pace. The materials for the concrete exterior walls were manufactured in Mexico to produce the desired color: red, the color that was most important to the woman who dreamed this project into being. 
---
During my tercentenary visit I managed to escape to a special place south of downtown San Antonio, Linda Pace's residential complex in a renovated nearly 100 year old pecan factory and across the street, the park she created, Chris Park, in honor of her fallen son, with its art exhibition space, Studio.  
Why the red color? This color was of great importance to Linda Pace, as witnessed by the book she wrote and had published called "Dreaming in Red" (Trinity University Press 2014). This vibrant color as well as the natural landscape of this particular part of San Antonio provide the bright exterior walls of Ruby City with dazzling effects. To make the walls bright, the exterior is constructed of pre-built concrete panels with fragments of red glass that will reflect brightly in the sunlight. Special emphasis will be placed on the light that enters through several skylights in the structure, inspired by the lighting seen by Adjaye during his visits to the famous missions of San Antonio, specially San José.
With  protective helmets such as engineers wear while working on site, we head towards the location where the building is underway. The tour guide, Kelly O'Connor, Programming Director for Ruby City, explained the following:
What was Linda Pace's inspiration in creating Ruby City? 
As Linda became an important collector and highly regarded by her peers, she began to realize how important it was for her to share her collection with the public. 
After the building designed by Sir David Adjaye is completed, are there any other plans for construction contemplated within the Ruby City Complex?  
Currently, our campus is made up of Chris Park, a one-acre park and Studio Gallery, which are both open to the public. The building designed by David Adjaye is the only other part of the campus scheduled for development and it will join these two areas and all together will be part of a single destination known as Ruby City. 
With an overall area of approximately 14,472 feet, how many galleries will be available under this roof? 
The Ruby City building has three galleries on the 2nd floor as well as other opportunities to exhibit the collection such as the lobby, sculpture garden and auxiliary exhibition space called Studio.
Ruby City and its collaboration of these two cultures in its building represents, to us, something of the heritage of San Antonio. Selecting Sir David Adjaye being from Ghana and England, as the architect seems an unexpected but inspired choice for its design. How did that happen?
In 2005 Linda had begun exploring her options for architects to design a space to exhibit her collection. In 2006 her dear friend and artist Isaac Julien introduced her to architect David Adjaye, who had designed Julien's studio in London. It was an instant connection. Linda was very into dream analysis and dream tending. Before her site visit with David in San Antonio she literally hada dream of a city the color of rubies,which she shared with David who was marvelled by it. David Adjaye credits Linda's vision as being a strong influence and inspiration to design Ruby city.
Is this the first project by Sir David Adjaye in Texas? 
Yes, and we are very proud!
How did you happen to find the material, the spectacularly light reflective concrete panels made in Mexico City, for the Ruby City exterior?
We explored different fabricators throughout the US, but found Preteca, a company just outside Mexico City in business since 1890 to have the best product. The earthy, red-infused slabs contain pieces of red glass and mica aggregate that simmer in the light. The precast panels were created in Mexico because it is one of the only areas in the world that can produce this quality of cast concrete with special aggregates. The craftsmanship that goes into creating these panels is rarely found in the U.S. and it is widely considered a dying art.
And what of  your current exhibit schedule for the summer at Chris Park exhibition space?
Our gallery located in Chris Park is called Studio. This space was originally used as Linda Pace's studio, as she was a practicing artist. Our current exhibition is a selection of works from the permanent collection titled Reclaimed. The show features an all female group of artists culturally and generationally diverse. We wanted to create an exhibition that was relevant in the current political climate of women speaking out against abuse and objectification.When do you anticipate Ruby City's opening?
Our inaugural exhibitions are scheduled for October 2019.
---
Celebrating the tercentenary not only means celebrating the past of the city but also the path to the future, a future that includes this singular art center dreamed of by Linda Pace and created through her Foundation with Sir David Adjaye. It is a significant contribution to the impressive art world found in San Antonio, the most brilliant art being made in Texas.
For more information please visit rubycity.org