Green within glass at the San Antonio Botanical Garden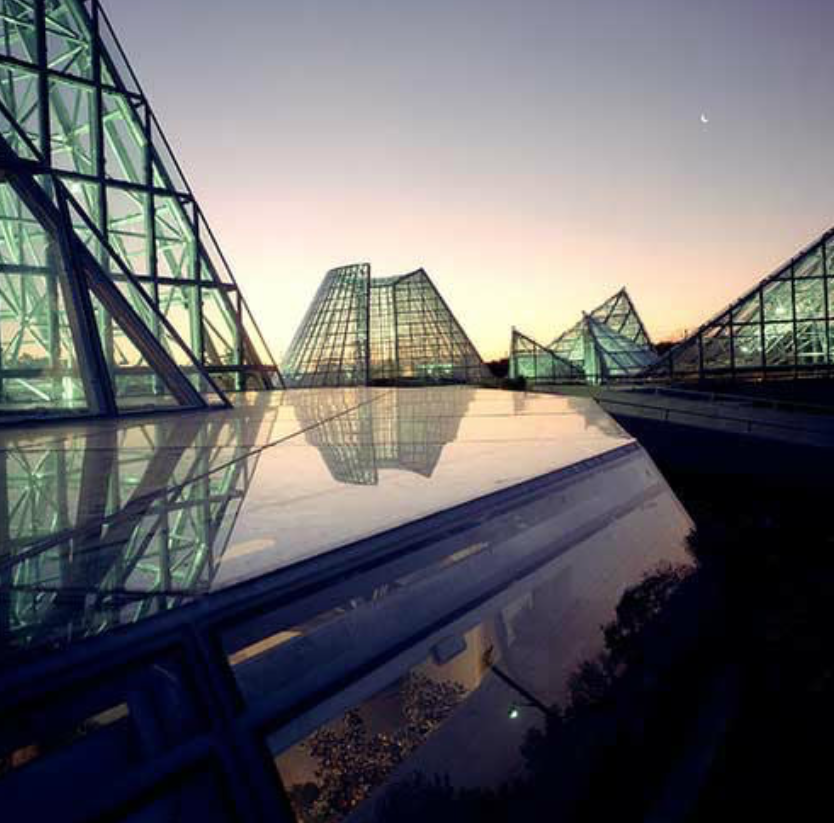 Emilio Ambasz, thirty years of the Lucile Halsell Conservatory
By: Mónica del Arenal for La Revista Mujer
Argentine-born American architect and industrial designer, Emilio Ambasz, was in San Antonio on November 15, 2018, on the occasion of the celebration of 30 years of the Botanical Garden of San Antonio. Ambasz, in addition to having multiple industrial-mechanical design patents, was the curator of Design of the MOMA in New York for seven years and he is responsible for the exhibition 'The Architecture of Luis Barragán', presented between June and September of 1976, by which  he introduced the great Mexican architect to the United States. Ambasz defines himself to date as «a museum man».
The creator of the Lucile Halsell Conservatory is a precursor of green architecture in the world: Green over gray is the leitmotif of the firm Emilio Ambasz & Associates. For Sir Ebenezer Howard, the English founder of the Garden Cities Movement at the beginning of the 20th century, the average was 50% for green areas and 50% for the built environment; for Ambasz it must be 100% nature-house as one and the same, green should predominate over gray, soft over hard, so that green roofs can «kiss» the earth.
The premises that govern the practice are: integration with the landscape and with the environment, plants and nature should be considered living ornaments, the proper insulation of buildings should ensure low energy use and last but not least, do not forget the presence of art to touch people's hearts.
The five glass and steel greenhouses of the Botanical Garden of San Antonio are built around a large courtyard in the center, with a pound of water lilies. The first greenhouse, called the Exhibit Room, houses a wonderful collection of epiphytes of which orchids and bromeliads stand out. The Robert and Helen Kleberg Desert Pavilion is dedicated to protecting species of cacti and succulents from Mexico and southern Africa. A third greenhouse, the Gretchen Northrup Tropical Conservatory, has tropical forest species; For its part, the pavilion of palms and cycads (Palm and Cycad Pavilion) is the most generous in size and allows you to observe the large scale species thanks to the soft ramp designed to have a «bird's eye view» and, finally, the Fern Grotto displays a collection of these fascinating primitive plants.
During the press conference that he offered in the morning, Emilio Ambasz expressed admiration and his thanks especially for the state of conservation and maintenance that his work has been kept  in after three decades: … «for a building the amount of money for its maintenance is never enough, and to come here and see how it is extremely well maintained, is something for which I am truly grateful. The maintenance of a building is a never ending race every day you have to start again, like bringing up children… at least they'll never disappoint you… " (he jokes). One of the attendees asked the architect what he thought of when he was designing the project, to which Ambasz responded:
«I do not think in words, I think with images, I create images. To me the building came as an almost full drawn image. And so it is with all my work. I do not proceed in a rational way from step one, to step two, to step three. Somehow I absorb the problem, I macerate it and at certain moment I have an image. The images, as you know, if they are prototypical images, contain a great amount of novelty and I try to understand what is contained in them, to interpret what they mean. Sometimes you might do it right, sometimes you might do it wrong, and that is where the architecture discipline comes into play, making sure that the image grows as it should and leaving aside what does not work, caprices or strange extravagances.  I experiment and that is the reason why I do not teach, because my real work cannot be taught. In Princeton I taught solving problems but not how to design architecture. Problems of any sort, I provided a methodology, a way to solve them. Freshmen and sophomores don't know what they want to do, they don't know if they will be doctors or lawyers, I can tell them how to solve problems, but I cannot transmit the capacity of making images. It is a gift and I am immensely obligated to honoring that gift every night. «
During the evening reception, he presented his most relevant projects undertaken throughout the world, in Spain, Japan, Italy, Singapore, Mexico.
He closed his speech with this recognition, referring to the Botanical Garden: «Many  participated in this great project, starting with philanthropists. It is not my lack of memory but time that prevents me from mentioning all the people who participated. In this case I feel that the idea was materialized very well: I gave you a naked baby, you made it real, you had fleshed it out, you have dressed it off, thank you for that".
The botanical garden was officially opened on May 3, 1980 and its mission is «To inspire people to connect with the world of plants and understand the importance of plants in our lives».H
More information: www.sabot.org
Address: San Antonio Botanical Garden, 555 Funston Place, San Antonio, Texas 78209
Hours of Operation: 9:00 am – 5:00 pm Daily (Closed Thanksgiving Day, Christmas Day and New Year's Day).
---
Monica del Arenal
Mexican architect from Pachuca, Hidalgo, Mexico, Monica del Arenal is a woman who symbolizes culture in all its expanse. Her career is as broad as her curriculum vitae, which is about 35 pages long, a testament to her trailblazing career. Former Director of the Mexican Cultural Institute in San Antonio, she received the 2017 Visionary Award from the San Antonio International Chamber of Commerce, as a woman that will make her mark on the world. Monica is now a Consultant for the Public Arts and Culture of  San Antonio.