SILVIA BELLOT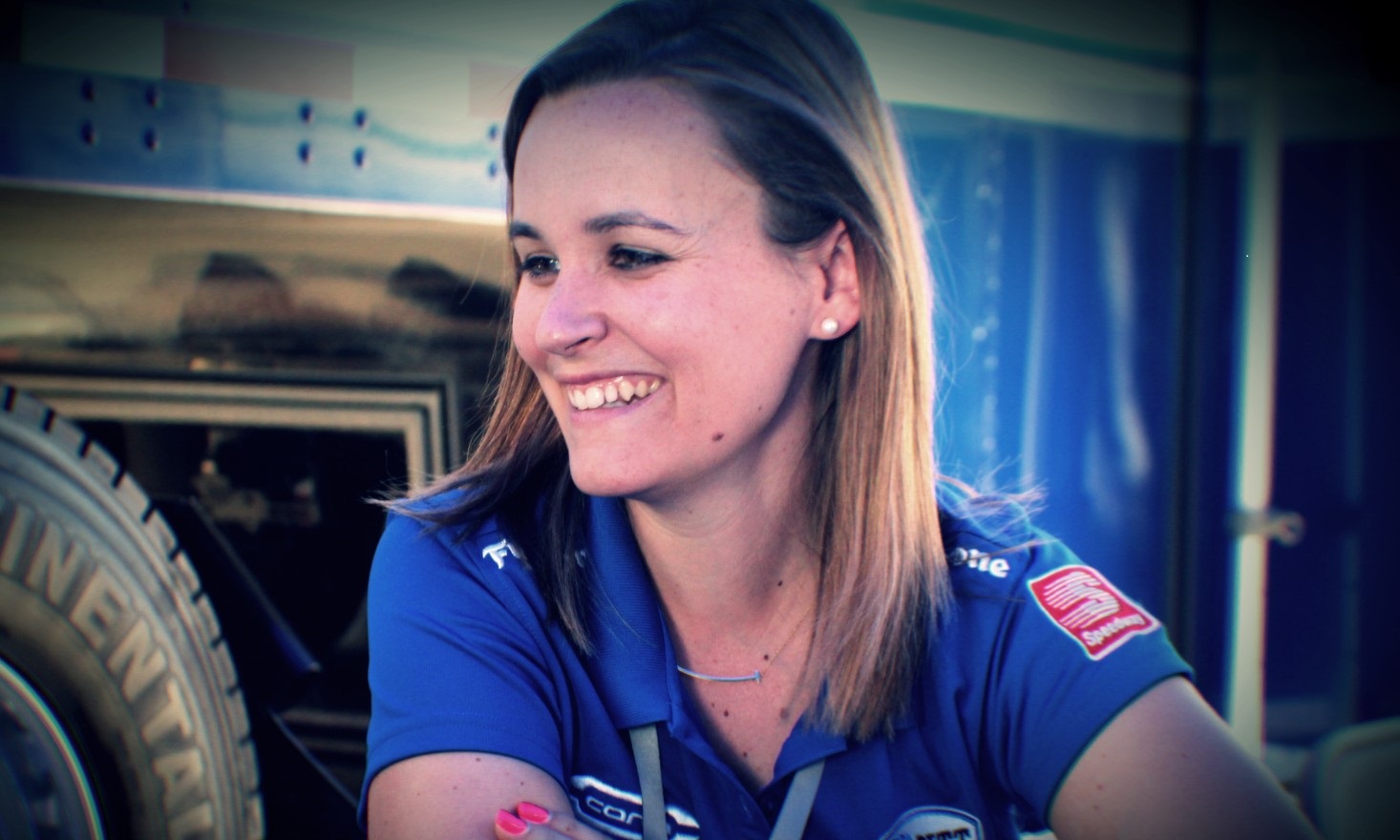 CAR RACING WITH A FEMININE TOUCH
By Lilia Davis
Photos by: Oliver Davis
Silvia Bellot breaks stereotypes by being the first female and the youngest Steward in Formula One, and she now enters a new stage in her career as assistant to the manager of a professional racing team Carlin Motorsport Europe and the United States. She has also a degree in Biology and studied Fashion Design in London. Silvia is a member of the Commission for Women in Sport of the FIA (Fédération Internationale de l' Automobile) as an ambassador, representing the Female Motorsport Commission with the mission to create opportunities for women in the world of motor-sports. Silvia talks now about her career as a Steward in Europe, her experience with Carlin Racing, working with Patricio O'Ward and the participation of women in the automotive industry.
======================================================================
Green-eyed, tall and attractive, born in Barcelona, stands out in a world dominated by men who play everything at a dangerous speed. We had the pleasure of interviewing Silvia Bellot at the Circuit of the Americas, during the pilots' practice the day before the main Indy Classics race. I hoped to find a woman outstanding in the car racing, and was glad to discover that Silvia was part of the team of Mexican driver Patricio O'Ward with Carlin Racing.
Silvia excels in her personal presentation, with impeccable care of her hands, nails, facial makeup and dressing, providing a feminine touch in contrast to the rough and ready environment surrounded by tires, cars, gasoline, engine noise and portable outdoor cubicles and men working non-stop. When you talk to her you realize the passion she feels for her work and how happy she is while engaged in it.
Silvia, how do you go from being a Biologist, then a fashion designer in London and finally an International Steward in Formula One, and how did you learn the latter?
I studied Biology, and I worked for a few years on that, but I also studied fashion design, in fact I worked as a designer in London, but in the end my passion for cars won over the other two.
And well, I had the fortune of learning with my father, Josep María Bellot, who was president of the Committee of Commissioners for Auto Rallies of the Spanish Federation. When I was barely five or six years I got up at dawn to see the F-1 and I remember going to the circuit when I was about eight or nine years old. And that's how my passion for cars arose, which led me to obtain my first license as a Routes Steward since I was 16 years old. And so I went forward and studied for the highest level of licence, and only the best ones can make it there: to Formula One.
What attracted you most about car racing?
One of the things that really attracted me is that motor racing is one of the few sports where men and women can compete with each other at the highest level of the sport, and that in sports is very rare. We don't see that in other important sports like football, basketball or baseball. And although in the races there are few women triumphing as race car drivers, there is a large number of talented women with a wide range of functions within the world of motor-sports that contribute a lot.
You now work on the "opposite side", in a professional racing team like Carlin Racing. How do you feel that change, let's say, from enforcing the racing regulations to being careful and seeing they are not broken?
At first I thought I already knew a lot because of my years of experience as a Commissioner (Steward) in Europe. But in St. Petersburg I realized the great difference is in working within a professional private racing team like Carlin Racing.
The first thing I noticed is that there are more job opportunities because you learn more functions.Sometimes we do everything, you learn about gasoline, tests, logistics. You have to meet with engineers in matters of car engines. And as well, you expand your knowledge, because you learn new regulations different from those in Europe. For example, the start of the cars to start the race on the tracks in Europe are static in the tests, but in the United States, the cars start from the moment they give the flag.
What are your responsibilities as assistant team manager with Carlin?
I help to organize the team, to manage the logistics, to organize the insurance, basically, I am involved with the whole team. This is the first full season for the team at IndyCar, so I began this work at the end of last year.
I also help the race car drivers coordinate pit stops and I am in contact with Race Control. I direct the mechanics and engineers if we have a problem. I have to know the regulations, and well, I have a lot of experience with the regulations, coming from Formula One.
SAFETY
Have you had any negative experience or accident that made you think about changing careers?
Well no, I knock on wood so there is never that, (laughs) but what I can tell you is that safety for the drivers is extreme and with the technology continues to improve to protect them even more. For example, in this race, Patricio used a racing helmet for the first time with a special new design that protects his neck, in case of any strong impact he cannot avoid. That's great, and it was something that we did not have five years ago.
How does this type of helmet help in the safety of the race car driver?
This consists of a support system for the head and neck in the form of a carbon fiber collar that is fastened under the driver's safety belts and connected to his helmet by two elastic straps. The purpose is to prevent the driver's head from hitting the steering wheel in case of accidents.
What is it like to work on the team with Patricio O'Ward?
First I will tell you that when Patricio enters a room or a venue, you feel that he has a self assurance that emanates a winning energy. I have seen and worked with many race car drivers and Patricio is different. You feel that you are facing a born champion because of his way of thinking, acting and working. He is also a gentleman and very respectful with everyone.
Does most of your work takes place in the office?
No, I'm usually in the area near the starting line called pit stop with Patricio; where cars pause during competitions. A lot of strategy comes into play here, the engineers are consulted to plan stops and allow cars to take less fuel and use tires for a shorter duration, depending on the type of track, which in turn allows the race car drivers to improve performance in a race.
WOMEN IN RACING
Upon entering the circuit I noticed that there are many women working around the COTA facilities. Do you think there are enough women in professional car races?
We have women, yes, but we need even more women in this industry. I think that women contribute a lot. For the simple reason that they can do many things at the same time and are able to focus on one at a time, without losing the threads of the others.

Silvia Bellot, Ambassador for the International Automobile Federation
What do you advise if a woman shows an interest in entering this sport?
I advise that you should definitely go to the nearest institution in your region and start exploring the possibility of studying to become a judge or arbitrator or engineer and start acquainting yourself with this sport. Remember that it is not just for men and we need more women in this sport as well as the business of racing.
How do you think the participation of women in the future could be increased?
I think a girl should start when she is young. The first thing we have to do is work so that more young female kart racers are interested in the sport and karting races and, the more you have, the more chances you will have to find one that reaches Formula One.
I believe that a woman can perfectly be a driver; we have had examples like the french driver Michelle Mouton and Susie Wolff from Scotland. Danica Patrick in United States is a perfect example to show that women can perform in motor sports. All we have to do is have more women involved.
Now that you live in the United States do you speak much Spanish at work?
Not much, but this time I've been lucky because although Patricio expresses himself perfectly in English, being Mexican, of course I can speak in Spanish with him at a speed of one hundred kilometers per hour! .. Literally! (laughs).