YAYIS VILLARREAL – Lunch with your Dog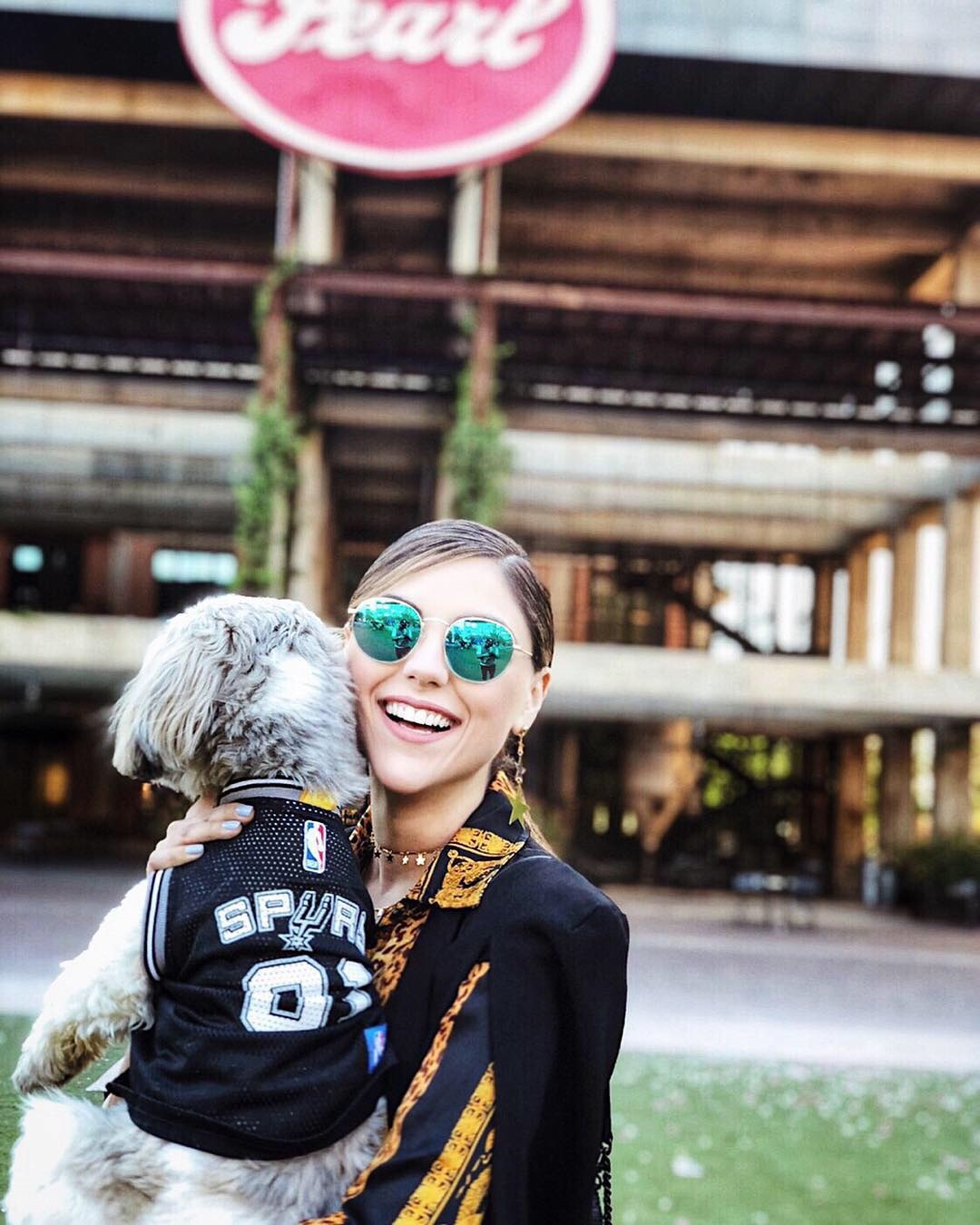 By: Yayis Villarreal
Photos by: Marco Cadena
THE HEART OF SAN ANTONIO ON FOUR-LEGS

Going out to eat in San Antonio with your dog can be one of the most enjoyable experiences during this summer season if you know where to go and if you have some rules for your dog in mind.

According to market research data, eight out of the Generation Z and Millennials people own pets and consider them as part of their family. The tendency to take their pets to eat in restaurants has also grown.
I identify with Gen Z and I have an adorable dog named Luca. San Antonio has plenty of places where you can take your pets, but I want to mention in particular seven places that are my favorites.
One of my favorite places to go out during the week with my dog ​​is The Pearl, by default! This place has become one of the most valuable jewels in San Antonio and has had a great impact on the people of San Antonio, a place full of life, colors, art and history, fun, laughter, food, music, culture. Visit here also the Farmers Market on Sundays. Plenty of space to walk and sit outside. Our pets enjoy a morning full of conviviality and exquisite treats for their palate. Without a doubt it is one of the favorite places where for sure your pets will have a great time. Everyone is welcome!
Down on Grayson is an ideal destination to take your dog because it has one of the largest patios in the area where you can dine under the shade of an oak or an umbrella with your dog by your side. It also has a spacious interior dining room full of light with huge arched windows and itt offers delicious lunches and dinners every day, which you can happily share with your pet!.
If you and your pet prefer something calmer and like you, he enjoys breathing, nourishing and connecting in a more holistic way, this place is ideal for both your pet and you. It is a rustic-chic place, with a fast food restaurant that offers coffee, tea and breakfast and a gluten-free cafeteria throughout the day. Remember: BREATHING … NOURISH… CONNECT will be your priorities while you are here with your dog. Ahhh.
If your pet and you are on a vegetarian diet, this is the best option to go eat with your dog. The mission of Green Vegetarian Cuisine is to serve delicious and affordable vegetarian food to a diverse community of customers. It offers a wide range of options for vegetarians, vegans and omnivores to promote healthier options in a world of fast food. The patio offers picnic style tables and fans to cool off on hot days.The company of your pet will be essential in this place.
Don't let the elegance of the name prevent you from taking your dog to this place. The luxury is quirky and fun, with order service at the counter and located in adapted cargo containers, remodeled for fun. The place is located next to the River walk, but removed from the tourist area-perfect opportunity to relax on one of the swings and enjoy the view of the river.They serve plentiful portions of eclectic and informal food and have outdoor seating … And remember, French fries are some of the best in Bexar County. Your dog will be delighted!
This place is perfect to meet with your friends for pizza with wine, accompanied by live music and your pet! The courtyard surrounded by trees and good atmosphere makes your experience in this place memorable. They also offer corkage for a price, if you prefer to bring your favorite bottle of wine or beer to accompany the delicious options of Italian cuisine. Your dog will love it!
Finally, I dare to say that I found a very valuable treat around San Antonio: the Saint Tryphon Farm & Vineyards in Boerne, Texas, just a few minutes from the city. In this spectacular place pets are welcome and what better way to enjoy a beautiful vineyard than seating outdoors with the company of delicious glass of wine.Take advantage of its excellent pizza made in a wood oven. Your pet and you will be fascinated!

===========================================================
TIPS FOR GOING OUT TO EAT WITH YOUR DOG
Feed your dog before going out to eat in a restaurant, this way, he will not get excited by the aroma of the food when your dish is served!
Although most restaurants offer a bowl of water for your dog, take your own bowl for your dog, just in case.
Don't let your dog eat from your plate, even after you finish eating and put the plate on the floor, preferably not, so as not to make other restaurant customers nervous.
If you are eating inside a restaurant, tie your dog always next to your place or chair, to avoid contact with other dogs and possible unexpected confrontations.
Don't forget to bring biodegradable bags in case your dog has an accident while you're in the restaurant. You have to be prepared for everything!
Finally, keep your dog hydrated in these strong heats in Texas, it is super important to keep drinking water and be hydrated.
Oh last tip: don't forget your dog in the restaurant!
Now then, with these rules in mind you are ready to enjoy a meal with your dog without problems. And that's it!
=====================
Yayis Villarreal. Gen Z blogger and influencer from San Antonio. Currently working in CRIT USA – Teleton Children's System, in fundraising and in charge of Heroes for CRIT. On Tuesdays she is part of the Primera Hora team on the Univision television network where she talks about fashion trends. Born in McAllen, Texas and raised in Reynosa, Tamaulipas. She received a degree in Psychology from the University of Texas at San Antonio and an MA in Psychotherapy from Our Lady of the Lakes University in San Antonio. She is passionate about raising funds to support children with disabilities and making and designing show-stopping cakes. One of her favorite things to do is hanging out with her four-legged companion – her dog Luca.

Follow Yayis on:
@ayayisvc
@kkacheesky