A SUNSET IN AUTUMN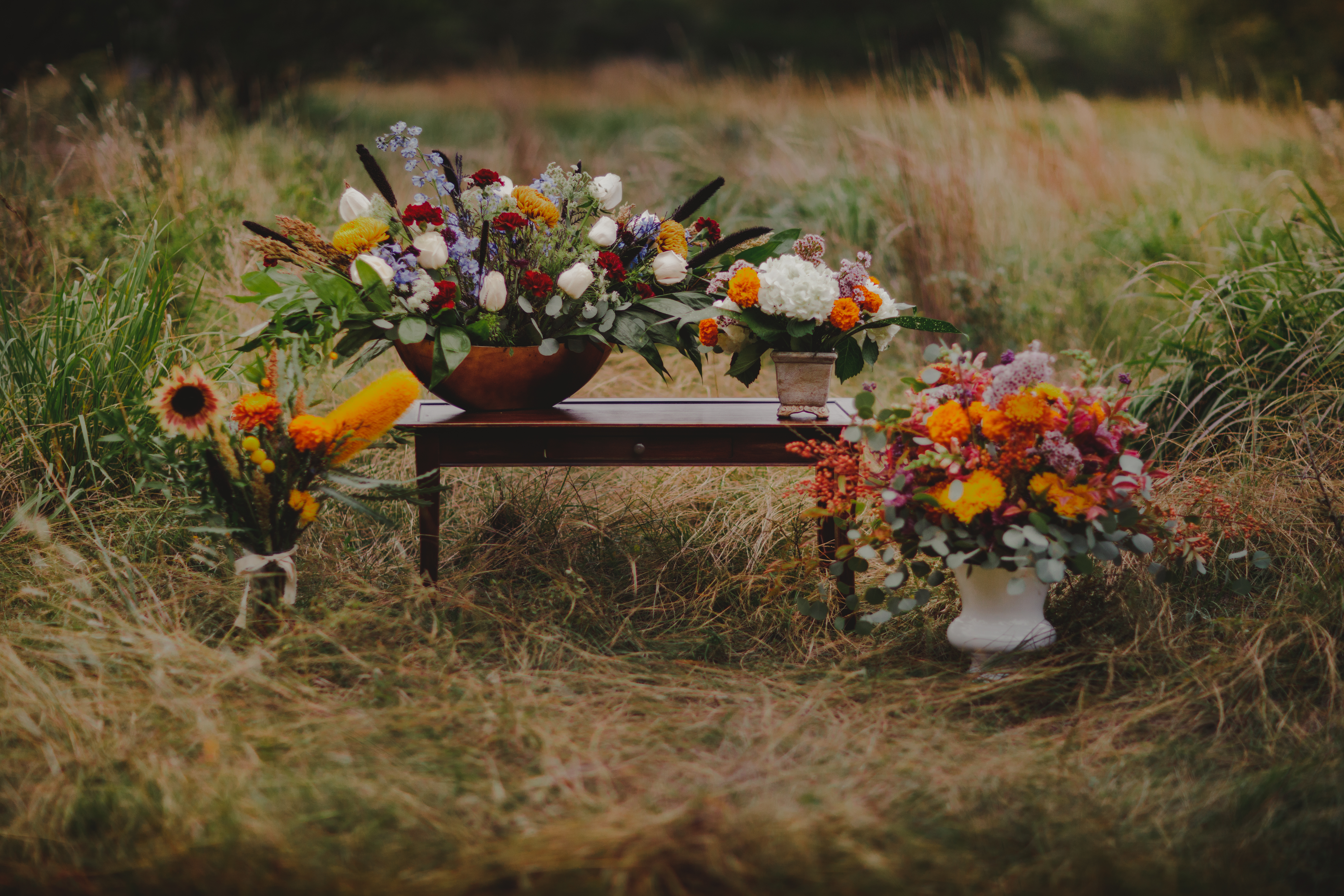 FLORAL ARRANGEMENTS FOR YOUR TABLE DURING THE HOLIDAYS
Text: Lucero Salinas  |  Photos: © Encanto Rojo
As a wedding photographer I have had the great fortune of sharing one of the most special days in the lives of my clients, the celebration of their union in mutual love. In these moments, to be surrounded by beautiful flowers has become an essential element of my artistic style.
While the meaning of flowers continues to develop both in my wedding photography as well as my personal conceptual photography, (and in the daily decoration of my home) without a doubt I continue to find traces of my love for flowers from the time I became conscience. In this manner, I have started upon a new stage in my artistic adventure, creating floral arrangements to accompany my photographs and to continue celebrating these special moments of our lives with something as magical as flowers.
Inspired by the warm sunsets of autumn I have collected flowers of various types to present four arrangements that I think will make your tables look like having a lovely sunset in your home during this season. Our flower selection for these pieces is based upon the type of flowers that are easily available right now and are likely to be found in your local flower shop. They are warm and invite your  friends and family to join you during these holidays. I'm certain the flowers will be the center of conversation!
---
Autumnal Inspiration No. 1: Apuesta Medianoche
Abundant Horizontal Floral Arrangement to be used as a centerpiece or displayed in a hall.
Flowers you can use: For this abundant horizontal arrangement use the following flowers: Ivory Garden Spirit Rose, Burgundy Cornflower, Deep Red Carnations, Bronze Chrysanthemum, Purple Royal Mixture, Delphinium, Queen Anne Lace, Silver Dollars, Grevillea Foliage and Emerald Leaf.
Lucero's Tip: With this floral piece, my emphasis was on designing an arrangement exclusively ideally viewed from the front. It is not necessary to fill in the back side since this arrangement will be used at the entrance of a house and against the wall. Apart from having more control of your design you will have more space in your budget to highlight your favorite flowers, such as the use of Garden Roses in this piece.
---
Autumnal Inspiration No 2: Tonalidades Ámbar
Monochromatic Floral Arrangement in a Fan shape for a tall and narrow crystal base.
This medium size arrangement is an excellent option for a normal table.
Flowers you can use: Marigolds, Evening Sun Sunflower, Golden Cremone, Banksia Protea, Billy Balls, Chrysanthemum Cushion Pom Poms, Wheat Stalks , Italian Ruscus
Lucero's Tip: With tall arrangements like this it is important to distribute the weight of the arrangement since flowers such as Sunflowers and Proteas tend to be heavy. In this instance we placed mixed decorative stones with dry petals at the base, not only to give weight but also to add color and texture. Make sure you don't leave any stems pressed, as the stem is responsible for the transportation of water to keep your flowers hydrated for longer.
---
Autumnal Inspiration No. 3: Cempasúchil Perlado
Small table arrangement for all occasions.
Flowers you can use: White hydrangea, Cempasúchil (Marigolds), Lavender Wax Flower and Milky Way Leaves.
Lucero's Tip: Low arrangements are perfect for the dining table so that your guests have plenty of space to see others' faces when talking or dining at the table. An arrangement like this allows hydrangeas to fill in most of the base, and then add just a few Cempasúchil flowers asymmetrically. In this situation, and I emphasize, less is more!
---
Autumnal Inspiration No. 4: Amanecer Salvaje
Floral arrangement with a high, wide, and elegant base.
Flowers you can use: Bronze Chrysanthemums, Cempasúchil (Marigolds), Purple and Golden Chrysanthemums, Cushion Pom Poms, Orange Sorbet Snapdragon, Orange Cremones, Beauty Berry, Lavender Wax Flower, Silver Dollar, Nandina Foliage.
Lucero's Tip: This magnificent and elegant arrangement is perfect to for any narrow space in your home. Its radical elegance lies in the amount of different types of flowers it contains. The theme of this piece is a combination of amber and lavender colors, provoking a sense of light. With round arrangements, make sure that while turning the base you continue filling the arrangement in with flowers so that it may be admired from all angles.
---
I encourage you to create your own arrangements! Or as you may have guessed, I will gladly do it for you! Just contact me here at www.encantoflorals.com – (210) 209-4973 when you need something special this holiday season. I assure you that my arrangements will always be a reason to take a photo as a memory of this holiday season!