AMAUTA – A Peruvian Magazine that Made Artistic History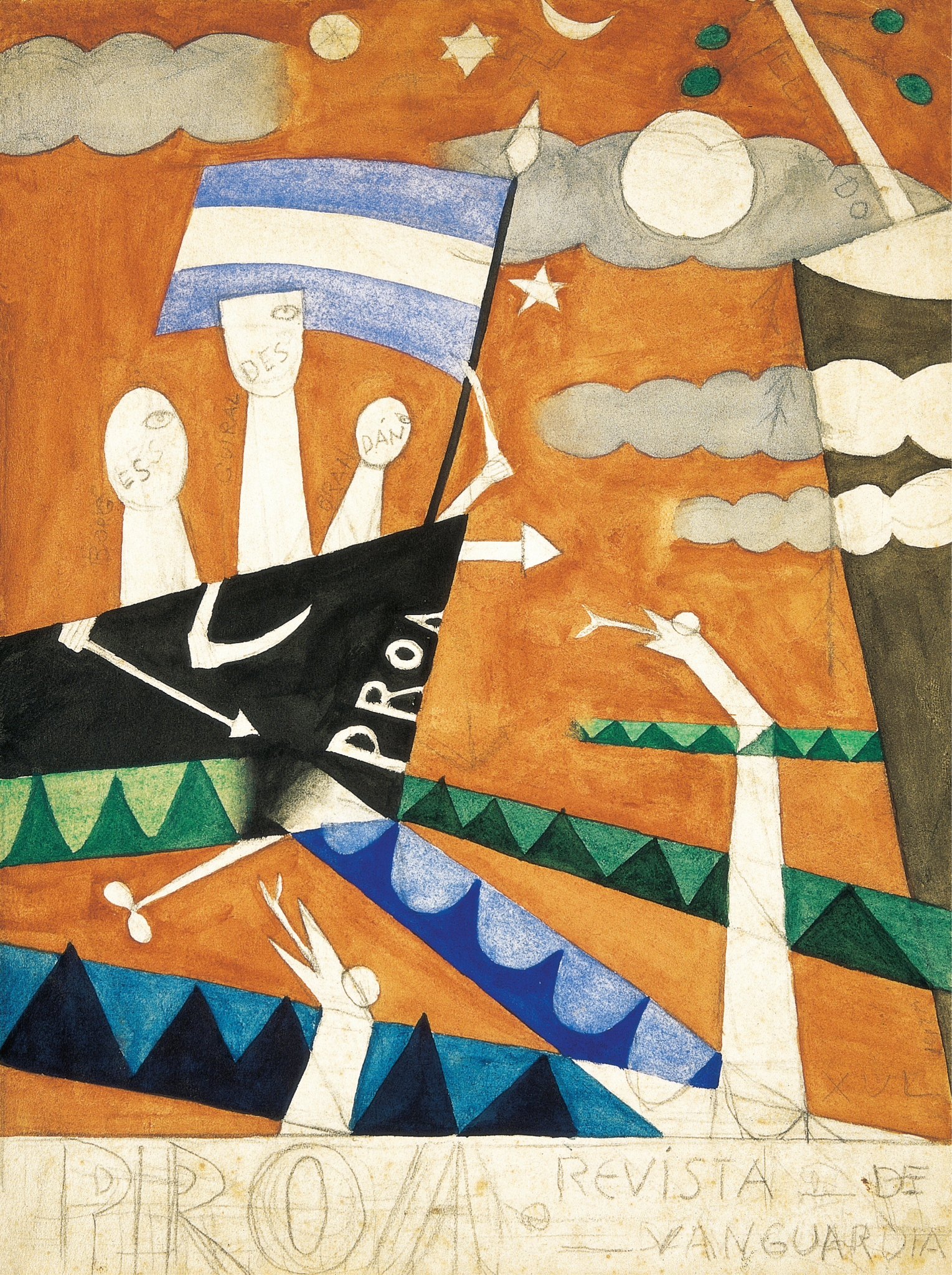 By Elsa Tovar
If you thought that the life of printed magazines is fading and magazines are no longer a way to convey a major change, you may have to reconsider that opinion. This Peruvian Magazine AMAUTA made Artistic history and more; it had the power to inspire and circulate new ideas and even produce one of the largest collections of Latin American art. And it is now the main subject of a complete exhibition of art travelling to Spain, México, and finally arriving in the United States at the Blanton Museum.
THE EXHIBITION

This exhibition is called The Avant-Garde Networks of Amauta and Illuminates Latin American History, Culture, and Politics of the 1920s emphasizing art from Peru, Argentina, México. It was co-organized by the Blanton Museum of Art and the Museo de Arte de Lima.
The curators for this exhibition were Beverly Adams, previous Blanton Museum curator of Latin American Art and now the Estrellita Brodsky Curator of Latin American Art at the Museum of Modern Art, who curated the exhibition with Natalia Majluf, previous director of the Museo de Arte de Lima.
The exhibition traveled to the Museo Nacional Centro de Arte Reina Sofía in Madrid, the Museo de Arte de Lima in Peru, and the Museo del Palacio de Bellas Artes in Mexico City before its concluding presentation at the Blanton Museum in Austin, Texas.

The Avant-garde Networks of Amauta is the first exhibition to examine this crucial period of artistic production and political engagement, with a special focus on Peru as a nexus of avant-garde activity. The exhibition includes more than 300 objects in an expansive range of media and styles including painting, sculpture, poetry, traditional crafts, publications, and ephemera.

The Blanton Museum offers this new perspective on this period and presents these rare materials from Latin America, many of which will be on view in the US for the first time.
MAGAZINE AS AN HISTORICAL OBJECT
The Avant-garde Networks of Amauta considers the magazine both as a political and artistic project and as an historical object. It features issues of the magazine, art reproduced in the journal, and works by prominent artists and writers who were significant contributors to Amauta.

Created and directed by the Peruvian intellectual and activist José Carlos Mariátegui, Amauta was published in Lima between 1926 and 1930. During its four years of publication, it reached more than sixty cities in Peru as well as another eighty cities internationally.
GALLERIES OF THE EXHIBITION

The exhibition's main Galleries include:1) Birth of the Amauta; 2) Imagining an Avant Garde for The Americas, 3) Against the Academy: New Ways of Teaching Art; 4)Forms of Realism; 5) Indigent Prints.
The Birth of Amauta includes Mariátegui's European journey influenced his desire to establish a magazine that would place international artistic movements in dialogue with local aesthetic developments and political contexts.
"With its immense network of contributors at the forefront of artistic and political thinking in their countries, Amauta offers an unparalleled lens through which to view Latin American modernism," – Beverly Adams, previous Blanton Museum curator of Latin American Art
The Formation of Avant-garde Networks were made by Amauta's collaborators involved in networks of exchange via magazines, written correspondence, international travel, and contact with individuals living in political exile in other countries, spanning Latin America and reaching Europe.
Some of vast network of contributors included work by Jorge Luis Borges, his artist sister Norah Borges, André Breton, Georg Grosz, Víctor Raúl Haya de la Torre, Sigmund Freud, Gabriela Mistral, Pablo Neruda, Emilio Pettoruti, Diego Rivera, and José Sabogal alongside many others.

"With its immense network of contributors at the forefront of artistic and political thinking in their countries, Amauta offers an unparalleled lens through which to view Latin American modernism.." – Beverly Adams, previous Blanton Museum Curator.

Traditional Crafts as Innovation. At the same time, artists began to re-examine traditional media, reconceptualizing handmade crafts such as weaving, ceramics, wood carving, and woodcut prints as avant-garde artforms. Artists that embraced local popular traditions radically questioned the idea of "fine art" as defined by European and Latin American academic standards at the time.
Many artists and intellectuals featured in Amauta rejected modes of academic teaching imported from Europe in favor of socially integrated schools for popular art that celebrated national traditions.
An example of that is one of the pieces that impressed me the most: a large door from the Convent of La Merced  (Puertas del claustro de La Merced) made out of red cedar wood carved by the students of the Escuela Libre de Escultura y Talla Directa under the direction of Javier Hernández Ledesma (Aguascalientes) and the Sculptor Guillermo Ruiz (San Luis Potosí). 
It was photographed by Tina Modotti and published in the twentieth issue of Amauta magazine. It became an example of an alternate teaching method based on traditional arts and crafts.

The exhibition delves into Amauta's political program, especially Mariátegui's pluralistic editorial approach that united diverse artistic styles under a leftist umbrella.
It includes examples of socialist periodicals from Latin America, as well as artworks in a variety of media extolling workers, organizers, and activists. An example of this a painting by José Sabogal, Estela Bocángel Montesinos, 1932 (see painting above) a famous Peruvian social activist.
Such as members of the Argentine group "The Artists of the People," and works by Mexican Muralists David Alfaro Siquieros, Diego Rivera, and José Clemente Orozco alongside Rufino Tamayo, Tina Modotti, Gabriel Fernández Ledesma, and Rosendo Salazar.
Indigenism as Avant Garde. Amauta's editorial program and graphic identity were both associated with Indigenism. Articles supporting indigenous rights, land reform, and the incorporation of indigenous peoples into new ideals of national culture appeared alongside indigenous-influenced motifs, typography, and stylized depictions of contemporary indigenous figures.

===========================
I had the opportunity to see this exhibition right before the museums were closed and its impact and content struck me as most original as well as startlingly beautiful. There s been nothing like it that I can recall in recent years. You must see it.

If you didn't have a chance to visit this exhibit, you can still enjoy it with the excellent book published for this exhibition:You can order the book entitled: The Avant-garde Networks of Amauta. Argentina, México and Peru in the 1920's.
Authors: Roberto Amigo, Patricia Artundo, Fernanda Beigel, Pablo Cruz, Silvia Dolinko, Lynda Klich, Ricardo Kusunoki, José Carlos Mariátegui, Natalia Majluf, Natalia de la Rosa, Horacio Tarcus, Ana Torres.

In the framework of the exhibition The Avant-garde Networks of Amauta: Argentina, Mexico, and Peru in the 1920s, el Museo Reina Sofía presents a publication with the same title, edited by Asociación Museo de Arte de Lima – MALI, that bring together the artworks reproduced in the Peruvian journal Amauta (1926-1930), founded and directed by José Carlos Mariátegui (Moquegua, Peru, 1894 – Lima, Peru, 1930) and one of the most influential publications in twentieth-century art.

You can take a 360 Virtual Tour of the Exhibition in the Blanton Museum here: https://blantonmuseum.org/exhibition/amauta/