ANA FABIANO. Rioja is for Wines as Ranching is for Texas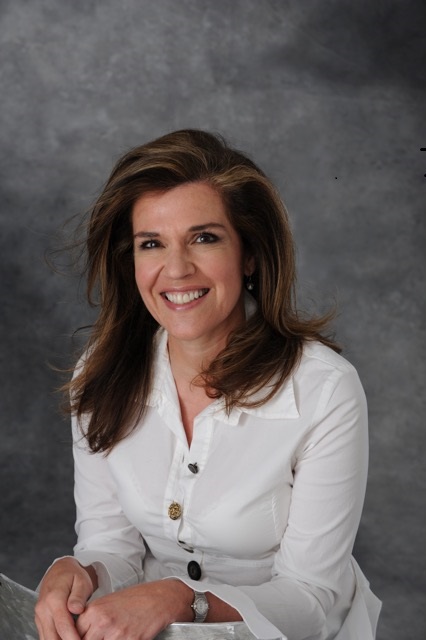 By Lilia Davis
Ana Fabiano explains why Rioja is for Wines as Ranching is for Texas during wine tasting at Austin Food + Wine Festival in Texas. She is the first American hired by the Embassy of Spain's Commercial Office and one of three founders of Wines from Spain.
In Rioja, Ana Fabiano started promotional programs and key relationships with trade professionals and wine writers at a time when Rioja, Jerez and Penedés (predominantly known for its Cavas) were the only wine regions of Spain with recognition abroad. There were 26 D.O.s (Denomination of Origin) today, there are 72, and counting.
In 2009, Ana Fabiano was appointed Brand Ambassador for the DOCa and in 2010 Trade Director for Rioja USA. In 2015 Ana's territory has taken her to Canada extending the horizons of the fascinating market of Rioja wine even further. She is the current North America Trade Director for DOCa Rioja & Brand Ambassador.
Ana Fabiano is also the author of the first and only book by a US publisher dedicated to Rioja Spain, called The Wine Region of Rioja, a second edition of which was published earlier this year 2019 and where you can feel her passion about Rioja. It is an authoritative, informative and beautiful reference source for enthusiasts as well as for seasoned professionals. Much of the research for this work was done in Castilian libraries since so very little has been published in English.
THE WORD «RIOJA»
One of the first things I learned during my very first trip to Spain on Iberia Airlines on my way to school in Madrid years ago, was the word "Rioja". I still remember that word distinctively printed on the miniature wine bottle an elegant Spanish stewardess brought to me during my flight. It was delightfully smooth and with a faint fruity taste. I thought: what an elegant way to be introduced to a new country!
Next thing I learned was that La Rioja is a province in the northern Spain with an important local wine industry. Its vineyards occupy the Ebro Valley, just below the Cantabrian Mountains. It is famous for it summer festival Batalla de Vino or local wine battle and its capital is Logroño.
Now, many years later, while attending the Austin Food + Wine Festival, -an incredible array of food tasting from the best local chefs with the largest wine list to taste in one single place-, I came across the word Rioja again by way of Ana Fabiano during her wine presentation and tasting.
We couldn't be more excited to have Ana Fabiano in our magazine, a woman so involved in the wine industry and who has contributed her knowledge winningly with a perfect smile!
===========================================
A PASSION FOR RIOJA
Ana, does anyone in your family have the same passion as your for wine?
No, my parents are of Italian descent, not from Spain. But my passion for Rioja was born later, when I was in college, I went to Spain as a part of my study abroad program and I really fell in love with that area.
During your class today you mentioned Rioja is for wines as ranching is for Texas, why?
Yes, I wanted to make that reference here in Texas as a way to emphasize how important is the wine in Rioja as ranching is for Texas.There are several generations of ranchers in Texas who are so proud of their ranching and it is the foremost important activity in their lives. The winemaker families in Rioja have the same feeling and passion for their wine.
However, the wine industry is still dominated by men, do you think that the percentage of female winemakers in Spain, has grown since then, Rioja specially?

We have an unexpected growth in the number of outstanding female winemakers in Rioja Region. I feel this is because this region is a very inclusive society. Very democratic.
There is a phrase they use, and I sometimes quote for the Rioja region: "our wine breathes democracy" and I believe that summarizes it all!. The decision making is by common consent in fourteen districts regardless of gender.

"SABER QUIÉN ERES"

I noticed that your presentation materials had the phrase: «Saber Quién Eres", what is its significance?

In 2017 Rioja launched this global campaign in London, among other things to create an emotional connection with consumers, which translates as "Knowing who you are" to be used in all countries including Spain, the UK, Canada, China, Denmark, Germany, Ireland, Mexico, the Netherlands, Russia, Switzerland, and the US.
It highlights the identity and origin of the region and connects Rioja with consumers in an emotional way. Knowing who you are means living with pride and staying true to your roots and dedicating your life to a passion. Consumers want to know authentic stories behind the wines.
Keeping this message in Spanish in all countries was important as in Rioja, a monastery is found where the first clues to the Spanish language were discovered, making this the region where the country's dialect was born.
DOCA AND QUALITY CONTROL

I learned in your class today that there is a very strict quality control in Rioja. How are the different wine categories protected?

Rioja has a wine control board, called the Consejo Regulador DOCa Rioja, (DOCa Rioja Regulatory Council) who inspects the quality of producers to ensure consistency. This is a benefit because wines from Rioja labeled "Crianza" will have a similar taste profile.But this control also goes back in time and has a lot of history!
«Since the twelfth century, when King Sancho of Navarre officially recognized the wines of Rioja, it has been desirable to protect the quality of those wines and keep outsiders from claiming to make an equal product.»
Traditional Riojas from 1600-1700,s used a kind of knitting or golden mesh around the bottom of the bottle to protect the wine and to prevent fraud. You had to cut the mesh away to open the bottle. It was part of heritage and thus hard to duplicate. This is still used on Marques del Riscal today.
How do you recognize each category and respective label?
The laws that regulate how Rioja wines are made focus more on aging rather than the percentage of grapes used to make wine.
There are 4 different main ageing categories of Rioja wine as you mentioned, depending on the aging process followed: Genérico (Green label) wines are usually in their first or second year, with no minimum oak aging requirement. Crianza (Red label) wines are aged a minimum of two years with one year in oak barrels.
Then we have Reserva (Burgundy label) wines, aged a minimum of three years with a minimum of one year in oak barrels. And Gran Reserva (Blue Label) are aged a minimum of five years with at least two in oak barrels.
«Rioja is the only wine region in the world that does not release any of its wines until they are ready to drink.»
TEMPRANILLO

Rioja region produces almost 70 tempranillo varietals, are there any other varietals that grow in the Rioja region that would make fantastic wines?

Well, by agricultural tradition, Tempranillo reigns as queen grape, with 90% of the grape varietal that grows in Rioja. But all Rioja wines are special, including the three main wines regions of Rioja Alta, Rioja Alavesa, and Rioja Baja. And the name Tempranillo comes from the Spanish word "temprano", which means "early" because its grapes ripens earlier than other grapes native to Spain as a result of its short vegetation cycle of 215 days.

Most of us are now familiar with that region, but how can you differentiate wines one region from another?

Yes, they all have different temperatures and soil particularities. For example, In Rioja Alta the elevation and cooler temperatures produce wines with higher tannin and acidity and it tends to be more elegant, such as the wines of Campo Viejo where two women winemakers oversee production at this winery.

In Rioja Oriental (formerly Rioja Baja) the vineyards are on the flatlands extending towards the Ebro river. Rioja Oriental wines are more fruit-forward, and focus on richer type of wine, rounder and with more lush such as the wines from Bodegas Ontañon: a winery that sits high in the Sierra Yerga Mountains, and has been one of Rioja's outstanding wine-making centers for three centuries.
You can still find the characteristic fig flavors in older wines from this region such as Viña Herminia, whose winery's name is a homage to a woman – Herminia Casas Madorrán, wife of owner Joaquín Lagunilla Artacho, are designed for you to drink right away!
Rioja Alavesa, close to Alava region produces wines more similar to Rioja Alta. These areas have rolling hills and the best wines are in the south facing slopes.They have combined tradition with new technology.

You can sample everything from vintage aged in medieval caves to wines produced in the most technologically advanced installations such as that of the Marques de Riscal. This winery is an architectural masterpiece designed by Canadian architect Frank O. Gehry, also part of of the on-site Luxury Collection Hotel, Elciego.

RECOMMENDATIONS
The wines you offered for tasting today are exceptional. What wines do you recommend trying first?

Ideally, you should go to Spain and try all these wonderful wine at the source, if at all possible, but while that opportunity arrives, you now are able to try a large sampling of these wines here in the United States. This was not possible before. I prefer trying the lighter wines first and gradually taste the strongest wines.

Your job seems glamorous at times, but there is a lot going on behind it, what would you recommend to a woman who wants to start working in the wine industry?

I recommend to be open, because this type of work has non-traditional hours. Sometimes you work weekends straight into the week, and is non-stop. However, you have to let passion drive you.

For example, my presentation and wine tasting at the Food + Wine Festival here in Austin, is the 10th day straight I have done so. I was in Houston, I have been in San Antonio and my last stop is here in Austin. So there you have an example of this work. You may think it is glamorous, if you wish, but it requires a lot of energy, physically and mentally.
What favorite place do you recommend in Rioja, for a culinary experience?
For a truly unique culinary experience in Rioja I would say calle Laurel in Logroño, the capital, the epicenter for all things tapas! Other great places to visit for exceptional restaurants and tapas are Haro, Elciego and Calahorra!
================================================================
After participating in Ana Fabiano's wine tasting classes, you enjoy not only the best wines of Rioja carefully curated by Ana, but also her knowledge of Spanish history and geography of Rioja region, spiced with fun and interesting tales. The experience is rich and complete. You really feel that "Saber Quién Eres» ("Knowing who you are») makes the perfect emotional connection with each glass of Rioja wine.
We celebrate Ana Fabiano for her devotion of thirty years to the Rioja region as it has been invaluable.
Follow Ana here:
IG: #anafabianorioja
FB: Ana Fabiano
T: @AnaFabiano
Follow Rioja Wine here:
IG: https://www.instagram.com/riojawine/
FB: https://www.facebook.com/RiojaWines/
T: https://twitter.com/riojawine