ANDREA GONZÁLEZ CABALLERO, the Feminine Voice of the Spanish Classical Guitar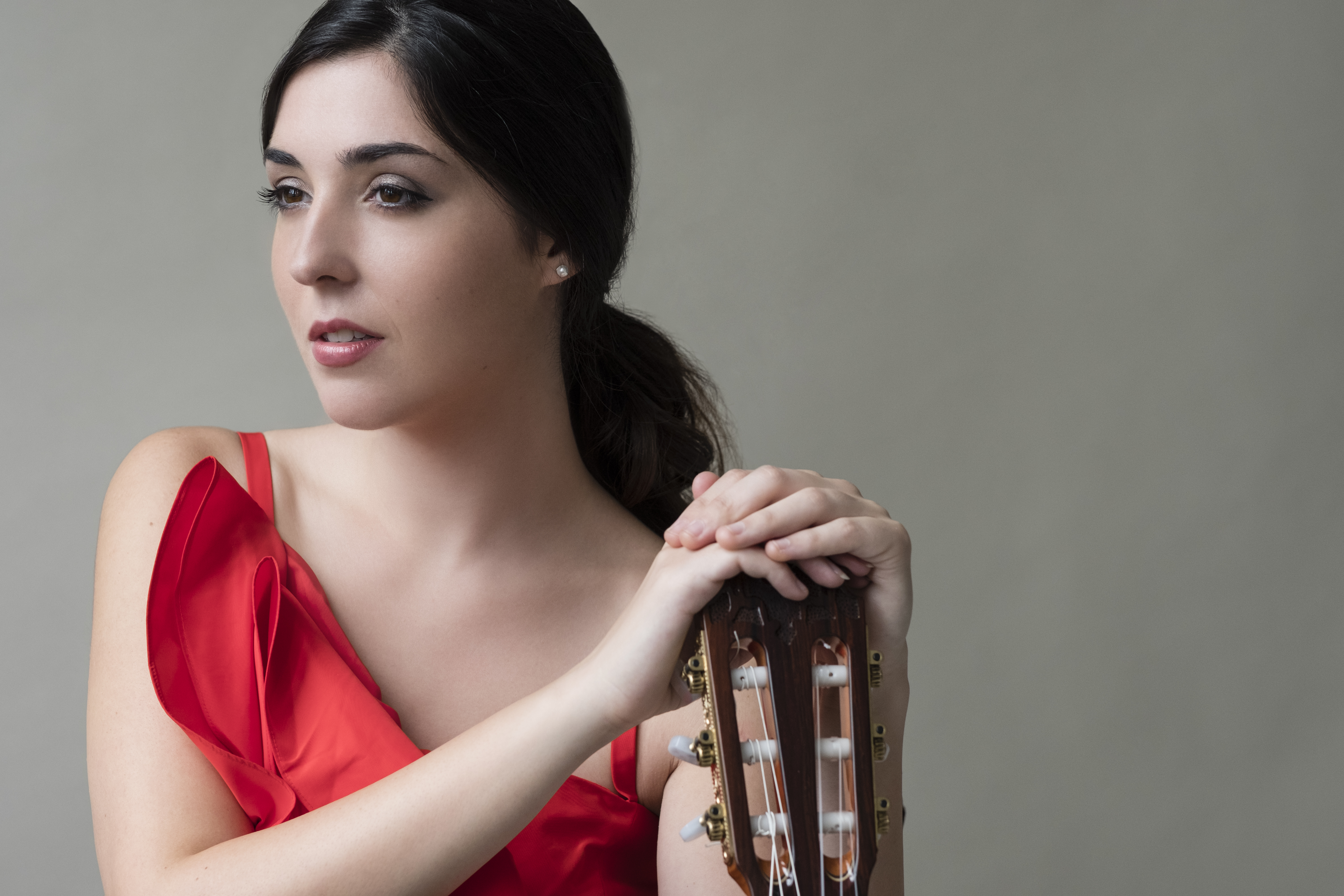 Written by: Lilia Davis
Photos by: Celia Ruiz / Mikel.
Andrea González Caballero, is one of the rising young stars of Spanish Classical Guitar. She was selected by the International Guitar Foundation in London to perform as a soloist at international music festivals including the «London Guitar Festival», and made her debut in the United Kingdom in concerts at venues such as King's Cross in London and Sage Gateshead in Newcastle.
Awarded in more than twenty prestigious international guitar competitions, among others, Adriana received the First Prize and Special Prize in the «XL International F. Sor Competition» (Rome), and First Prize in the «XIII International Guitar Competition Alhambra» (Valencia), in which she was the youngest guitarist to receive First Prize.
Andrea has been praised for her mesmerizing agility in her right hand, making her performance seem almost effortless when playing her guitar, while bringing out a clear and beautiful sound. OperaWorld magazine has described her as «the Female Voice of the Spanish Guitar».
I had the opportunity to talk with Andrea González Caballero prior to a concert coming up with Austin Classical Guitar of Austin, Texas in November. Andrea received me at her home for the interview by Zoom, all the way from Austin, Texas. I noticed that her screen had a beautiful panorama of the sea as a background behind her image.
It was a pleasure to hear her voice in very clear and crisp Spanish and with answers with a beginning and an end, complete. During our lively conversation Andrea expressed herself about her childhood, her career, women guitarists in the industry, the distribution of classical guitar music on the internet and even how to take care of her hands.
Miami, Florida
Andrea had just moved to Miami, Florida to begin her doctoral studies in Music Performance. At this time, Andrea is combining her artistic career, which she confesses that her artistic activity is not functioning in any normal way. However, she is currently working on presenting herself in concerts as a soloist with other concerts organized to be performed together with other orchestra musicians, as well as organizing some concerts and online master classes. All these are projects to be carried out later in time.
When COVID arrived on this continent, Andrea had concerts scheduled in Mexico, while in Europe there were concerts arranged in Germany, and Spain also. And as well, she had just been offered concerts in the United States in February, in Minneapolis and in Buffalo, NY.
Andrea thought, as many of us did, that the COVID was a matter of a month and that would be it. At the time Andrea was a student of Manuel Barrueco at the Peabody Institute in Baltimore, finishing her Graduate Performance Diploma for April.
PRODIGY GIRL
Andrea is originally from the north of Spain, from the Basque country, specifically from a city called Eibar. «I will have to name it, it is a city not so big, but I was born and grew up there» says Andrea with pride. The first guitar she played was when she was about six or seven years old.
Her mother was a guitar teacher and there was always a guitar at home, so out of the desire to imitate her mother, she started playing, «I don't remember my first song, maybe it was a happy birthday, or something like that» exclaims Andrea. Her grandfather bought her a smaller guitar so that she could begin with her child's hands, then she learned the first notes, and after ten months she switched to a normal guitar.
Andrea explained that her mother did not encourage her to play the guitar, on the contrary, she thought it was better not to take up any instrument. However, her mom thought it was okay for her to learn about music, maybe she wanted her to try the violin, but undertake it more like a «hobby». Her mother changed her mind after she saw Andrea was still practicing the guitar, and subsequently the family supported her completely. She gave her first concert when she was only nine years old.
WOMEN CLASSICAL GUITARISTS
When discussing why is it uncommon to see women playing the classical guitar and even more, excelling at it as she has done, Andrea commented that while it is true that women on the guitar have been a minority, there has been an increase in the number of performances of female guitar players, and she feels that something is changing there for the better. However, "If we compare the situation with that of ten years ago, there is a lot of interest now and we see more and more women who are present on the guitar", explains Andrea.
When she played the guitar, she did it without much thought, Andrea says that "it's like whomever decides they want to be a painter, or an architect. So, I didn't see myself playing the guitar as a job, it was guitar as a discipline that was attractive to me. It was like a motivation, a challenge to get and perform a job that I liked and I tried to accomplish that."
It is evident that Andrea is one of those people who when she starts something, she finishes it, and she considers herself to be quite persevering, for sure. The greatest influence upon Andrea, and continues to feel so, is maestro Joaquín Clerch, who has been her teacher since she was 12 years old.
THE PROS AND CONS OF BEING A GUITARIST
When I asked Andrea what she feels are the benefits of being a classical guitar artist, she replied that the best thing about her profession is that in the end you create from your passion, a job. Then it doesn't matter how many hours you have to dedicate to your work, because it doesn't feel like any effort.
However, Andrea feels that there is a part of being a classical guitar artist that is both positive and negative at the same time, because you can try and believe in your projects, but you also have to be accepted by people, by the public. "It's like a double-edged sword, because you are exposed to being judged and you risk others not liking or appreciating the work and time you have dedicated to it", she added.
DIFFICULTIES IN HER CAREER
One of the most difficult stages of Andrea's career happened when she went to study for her Bachelor's and Master's degrees in Düsseldorf, Germany, at the age of 17, with her professor Joaquín Clerch. «It was a drastic change because not being with my family and learning a new language, the different food, the climate, was difficult. She explained that those two years she had to grow up and had to evolve, because she was a little out of focus.
«It was at an age when many things are changing in you, and you don't have a clear mind. Consequently, I was not happy with my work, with my goals or with what I wanted to achieve,» she added.
However, Andrea confesses that during that stage she never doubted the long-term goal for which she had moved to Germany, that period was more like a lack of confidence in herself.
She has always been a person with pretty clear ideas, and she knows what she wants, but at that time she didn't know. She felt like she was out of focus in those two years in Germany. And how did she resolve that? – She started working on her mind, organizing her life with short and long -term goals and that helped her to mature and overcome that phase as a professional.
COVID AND ONLINE MUSIC DISTRIBUTION
During these months of pandemic, Andrea commented that she has been thinking a lot about the distribution of her music, because she has had to change her active life for a few months to doing it online. "Now there is more freedom, because now you can express yourself through the video and music you make, without having to produce an album", she added. "Imagine that you want to make a Spanish music album and you have been waiting for two years for a record company to sign you, – but today there is no need for that wait."
Andrea thinks that in the world of classical music we should not be afraid to take a step forward and join the digital environment and the tools we have around us.
«COVID has made musicians rethink what could be the future of music distribution. You didn't have these tools before. Many musicians have bought equipment and cameras and those can be their tools to do their own work. COVID has forced us to be more independent, and therefore, in music, we have fewer intermediaries. Maybe this is the future, I don't know", she explained.
FEELINGS IN INTERPRETATION
Spanish music is expressed with a lot of feeling, like flamenco. Likewise, when playing her classical guitar Andrea expresses that feeling towards the music she is interpreting, and she often expresses it in her face. When asked if it is the artist's obligation to put all of her personal emotions into the music she is playing, Andrea explains that it is complicated but yes, one must put the emotions on the stage.
However, she says: "There has to be a rational part, a control part. For example, if you lose the technical control, you lose control of the music. So, you have to have a balance and a basis to support that. But of course, it's about being able to express yourself."
PREPARING MUSIC FOR A CONCERT
Andrea prepares and chooses her music for a concert depending on the season. In the last few concerts, she has been working with Spanish composers, with an almost completely Spanish repertoire. After having released her album Naxos in 2017, which includes new compositions for classical guitar and pieces by composers such as B. Britten, Albéniz or Tárrega, the album being received with great acclaim, says: «This first CD was something that caught me off guard after winning the competition, so the repertoire recorded was not something that followed a theme or was dedicated to a particular period or style, but rather I chose a set of works with which I felt identified in some way.
But I feel that maybe you don't have an identity if you put in a little bit of everything. Now I'm working on a repertoire where I enjoy each of the works. And as far my practice discipline, well, normally I try to practice four hours a day – if I can!"(laughter)
EUROPEAN VS AMERICAN AUDIENCE
When asked how she feels a European audience receives her music compared to an American audience, Andrea says that It is difficult to generalize, however, you notice some different things in the reaction of the audience. She has a memory in the USA, she remembers people always end up getting up and applauding, and you can easily see that they are very happy with the concert, and it's a great ovation.
In Europe, on the other hand, she says, like in Germany, maybe they do it too, but usually they are more discreet, and they extend the applause for longer, and that is their way to show that they liked your concert very much. These are details that she has noticed – "Maybe it is just a custom they have in the way they react to live concerts."
CARING FOR YOUR HANDS
One thing that always makes me curious about women who play stringed instruments is the care of their hands. When asked about how she takes care of her hands, Andrea explains that her hand care develops over the years. "When I was younger, I used to take a lot of care with sports and was more careful with my right hand and not expose it too much to things that could be risky, like going ice skating, for example" says Andrea.
In another aspect, playing the guitar involves taking care of your nails, and to that respects Andrea added, «we need the right hand to have long nails and the left hand to have short nails. I also use hand cream, but not very often because when playing an instrument, it is too oily and that affects the strings when playing the guitar».
Guitar Recommendation
Andrea recommend for beginners to try a Spanish brand guitar, which sponsors her and is No.1 in Spain at the student level, the brand name being Alhambra guitar – "Because in quality and price it is very good, I say that with a good conscience because I have tried a lot of them."
ANDREA'S PERSONAL NOTES
Do you play another instrument? I played the piano when I was younger. I would have liked to learn to play the cello. Composer? I don't dare yet. For now, I prefer interpretation. Favorite guitar? I have two, for sentimental reasons, a classic guitar of my mother made in Spain by Antonio Marín Montero from 1979 and my first official guitar was also by Marín, but from 2004. Favorite activity when you don't practice the guitar? I like to go out, go to a restaurant, to a new place, go to the beach – now in Miami, it's perfect.
Hobby? as a hobby, I liked to paint a lot. Something that few know about you? Well, I can tell you that I'm a pretty impatient person, but with the pandemic, I've learned to see things differently and I've learned to be more patient, – that's for sure. Have you visited Austin? No, I only went one day, my plane landed in Austin, via Houston, but I escaped to go to the BBQ! (laughs).
We celebrate Andrea for her musical talent, her accomplishments, and her devotion to music, hoping to inspire others with her talent. We are confident that this star of Spanish classical guitar will continue to rise and shine for a long time. Stay tuned for her upcoming concerts because, when you hear Andrea Gonzalez Caballero's guitar, it will take you on a delicate, elegant and majestic musical journey across the Iberian Peninsula that you won't want to miss.
For Austin you can make a reservation at Austin Classical Guitar ACG
TWITTER: @AndreaGCGuitar
INSTAGRAM: @andreagcguitar
FACEBOOK: @andreagcguitar