Carrot Cake with Cream Cheese Frosting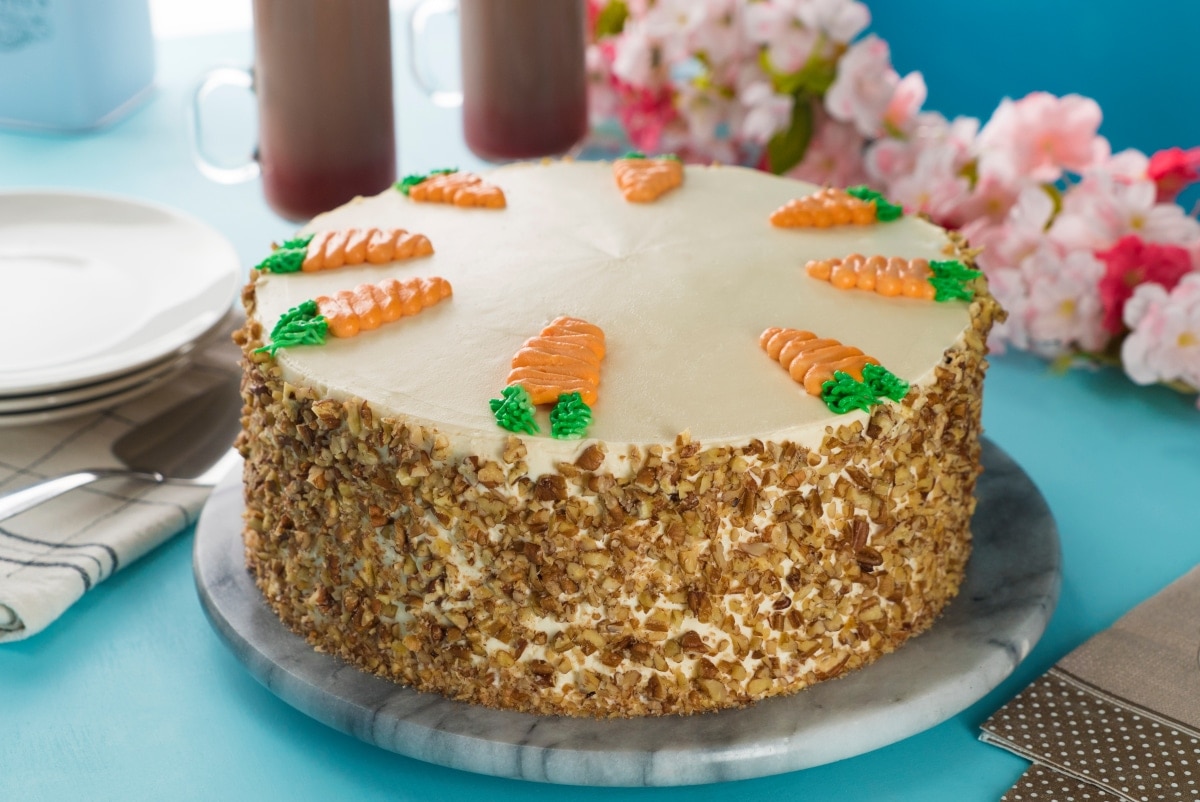 By: Lorenza Ávila
Photos: Kiwilimón
Carrot cake today is probably one of the most beloved desserts in culinary history. We invite you to try this special Kiwilimón recipe for a delicious carrot cake with cream cheese frosting decorated with chopped pecans. A sensational dessert that will make you appear a superb baker to all your guests. You will be surprised how simple it is to prepare, and you can  decorate it as you like!
Ingredients
Serves 12
FOR THE CAKE
3 cups of flour
1 1/2 cups of sugar
3 teaspoons of baking soda
3 teaspoons of cinnamon
1 1/2 teaspoons of Salt
2 cups of corn oil
6 eggs
1 tablespoon of vanilla
3 cups of fresh carrots, grated
3/4 cup of pecans chopped and roasted in the oven
FOR THE FROSTING
1 cup of butter
380 grams of cream cheese (about 13.5 oz)
3 cups of powder sugar
2 milliliters of vanilla
2 drops of vegetable food coloring (orange & green)
5 pieces of pecans to decorate
Preparation
CAKE
Preheat oven at 350°F
Grease and flour pans. Sift the flour, sugar, baking soda, cinnamon and salt.
Add the dry ingredients to the blender, stirring constantly adding the oil until thoroughly incorporated; add the eggs one by one, then add the vanilla. Stir in carrots and beat for 5 more minutes.
Add the pecans and beat lightly. Divide the mixture and pour into prepared round pans.
Bake for 1 hour or until a toothpick inserted into the center of the cake comes out clean.
FROSTING
To make frosting, beat the butter until creamy, add cream cheese with powder sugar and vanilla until mixture is smooth.
Release the cakes from cake pans, let cool and spread a bit of frosting on one of them and place the other cake on top. Decorate with the rest of the frosting and nuts.
Tip: You can add a bit of lemon zest to the frosting to give it an acid touch
SEE VIDEO IN LINK BELOW:
https://www.kiwilimon.com/receta/postres/pastel-de-zanahoria-con-betun-de-queso-crema