DANIELA OLIVER | Discovering my Confidence as an Artist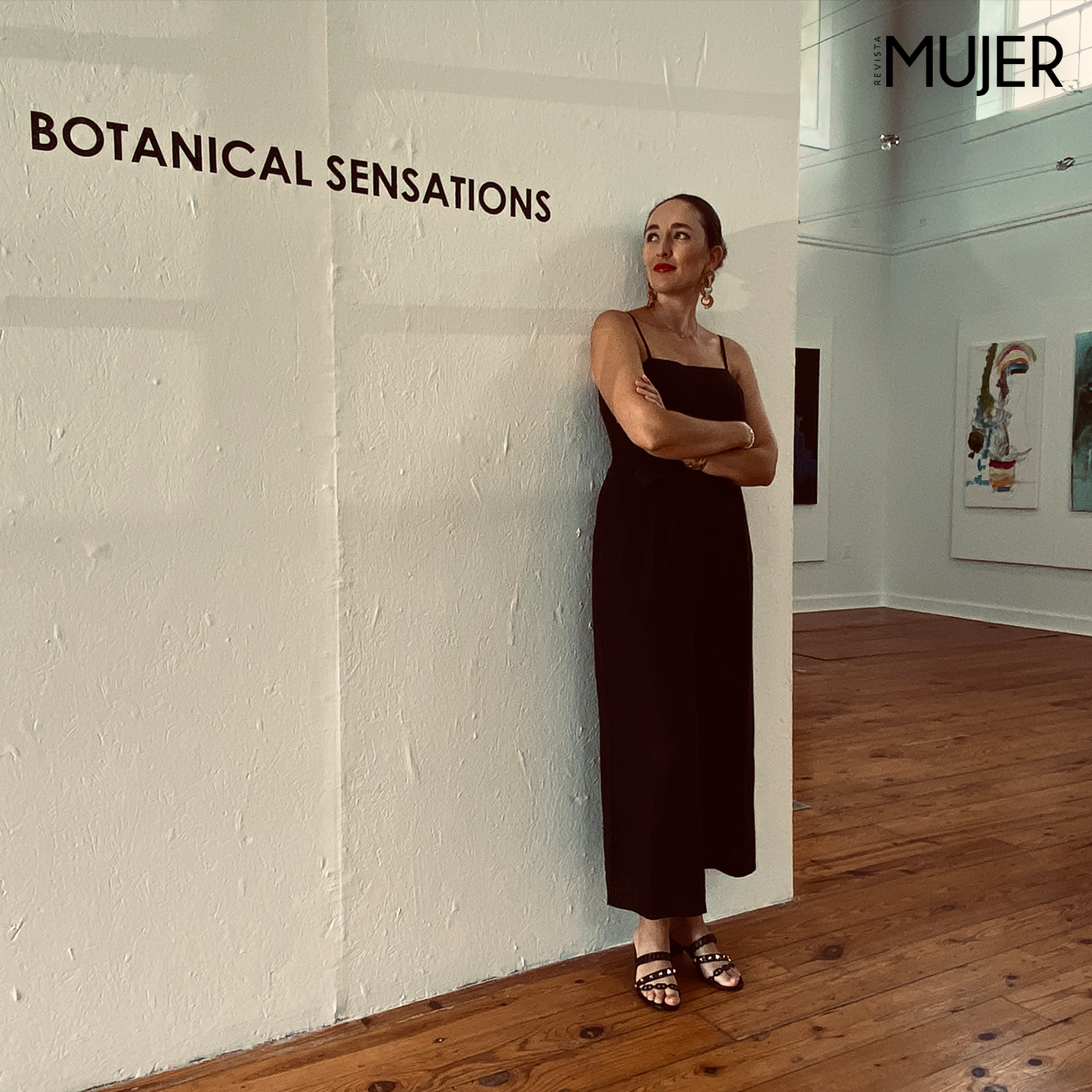 Daniela Oliver and her mother Carmen Oliver presented their first mother-daughter exhibition at the Bihl Haus Arts in San Antonio, Botanical Sensations. This also is the real beginning of Daniela Oliver's journey as an artist. You can almost say this is a three-generation exhibition as Daniela Oliver's young sons were "collaborators" in her paintings.
However, she never though herself as an artist. Thou, growing up she always though that she was going to be an artist, just like her mother. After more than ten years in a rewarding career surrounded by museums and art, and after the unavoidable pause during the pandemic, she resolved to start painting again, discovering her confidence as an artist.
Growing up with Art
Daniela Oliver grew up surrounded by art in Mexico City. Her mother Carmen has always been a painter and artist, and Daniela felt her destiny was to be an artist too. Daniela never took art lessons, she learned by observing her mother and accompanying her in her art lessons. However, in high school she had the opportunity to study art in Florence, Italy, with a well-known Italian painter, Mario Pachioli.
From Mario Pachioli she learned drawing. Mario Pachioli was extremely disciplined and wanted his students to excel in this fundamental technique above all others. While benefiting from his curriculum, Daniela grew frustrated because, she felt that she was not able to express herself and it discouraged her as an artist. "I was too young to realize then that art goes beyond accomplishing a perfect technique", explains Daniela.
Arriving in San Antonio
Mexico City had become a dangerous city during this period. Her father, Jorge Oliver was having a good season in his hometown, Mexico City. His business, TASA, Técnicos y Alimentos, was thriving after more than 30 years of hard work. He owned a successful industrial food catering business, serving large institutions such as the city's hospitals and prisons.
Daniela's father was constantly threatened with kidnapping and demands for a ransom. The family's situation become tense and unsafe, to the extent that they were strongly advised to leave the country for their safety. They decided to move to the United States, arriving in San Antonio in 2002.
At the time Daniela was about to start college. In fact, she already had studied for one semester in Universidad Iberoamericana in Mexico City. She was admitted at Trinity University, something she feels fortunate to have accomplished.
Even then, however, she did not think of herself as an artist and instead she earned a Major in Communications. And obtained a double Minor in Business and Art. She managed to have two small exhibitions.
Surrounded by Art
Life, surprisingly, was about to take her back to art. After an internship with local art gallery Patricia Ruiz Healy Art, Daniela went to work at the McNay Museum as a head of Communications and Marketing department.
She worked there over ten years, leaving only to raise her two children. Daniela considers her experience at the McNay as the equivalent to a master's degree in art. She is grateful to that institution for the experience.
McNay Museum and Miguel Bosé
One anecdote that Daniela Oliver remembers with affection while working at the McNay Museum, was hosting the famed Spanish pop singer Miguel Bosé, as a special guest on a visit the Museum in 2017.
She had been a fan of his for many years. And she was aware that Miguel Bosé has a serious interest in art. So, taking advantage of Bose's one of his very few concerts in San Antonio, she decided to invite him to the McNay as a special guest.
Not believing that he would answer her invitation, she nearly forgot about it. But to her shock and surprise, he accepted! Everyone was excited and his visit brought huge attention to the Museum.
After Daniela Oliver left the McNay Museum, she started her own communications and public relations firm. She adds a global, urban, and multicultural perspective to her work. Ruby City, was her very first client. Other clients included Blue Star Contemporary and DoSeum, children's museum in San Antonio. Ultimately, whether or not she considered herself an artist, she was always surrounded by art. She understood it and knew it well. Then, the pandemic arrived.
Pandemic
The pandemic pushed her to a blunt decision to become an artist. She decided to paint and draw something every day while staying at home. Daniela thought she might consider herself a painter, but only to arrive at frustration when she discovered her children had used their crayons all over her paintings.
She then realized she could never succeed in becoming a painter, with two children and housework to do. Her husband, a physician, supporting her dreams, still had to go to work every day.
A "Collaboration"
After a while Daniela decided to embrace the fact that her art was not perfect. Rather a collaboration with other "artists" -in her case, her toddler children. She allowed her children to write and paint all over her art work.
"But as I started to do more and work more in collaboration with my children, I noticed something interesting. They started to work a lot on how to make the plants look like real. My children matured a lot. they wanted "to paint it the color it actually is", expressed Daniela.
Daniela Oliver's surprise was great when her husband started noticing the art and encouraged her to set up an exhibition. Ironically, while Daniela was doing her paintings, her mother started painting again as well. But they never saw each other's work. They didn't talk much about their work or discuss the details.
Her mother, Carmen Oliver
Her mother Carmen Oliver owned a flower shop, Floraliki in México, one of the best flower shops in the city the area of Polanco/Anzures. In fact, Daniela expresses that the aroma of a flower shop, is part of her growing up.
Her mother's sensitivity for flowers and memories of going to the markets in Mexico inspired her to start painting flowers during pandemic. She remembers admiring the flower's bright and abundant colors. This was something that Carmen had not done in a long time, since her art work until then was mostly abstract paintings.
Influences
She was mostly influenced by Mexican artists such as Louis Nishizawa in Toluca Mexico, and Alberto Mijangos from San Antonio. When the family moved to San Antonio in 2002, Carmen had finished studying at the Antigua Academia San Carlos in México. Five years later she established El Estudio in San Antonio, now closed because of Covid.
Daniela told her mother that perhaps they should submit a proposal to have a mother/daughter exhibition at the school where her mother is currently teaching art, Bilhl House Art in San Antonio. They made a proposal, and it was accepted. And that's how the Invasive Plants Exhibition was born.
BOTANICAL SENSATIONS
Mother/Daughter Exhibitions
Daniela Oliver and Carmen Oliver feature their first mother-daughter exhibition at the Bihl Haus Arts in San Antonio this summer.
The exhibition is called "Botanical Sensations" and is a celebration of thriving and surviving through the pandemic, and coming through stronger and better than ever. This also is the real beginning of Daniela Oliver's journey as an artist. The exhibition includes two individual exhibitions: Carmen Oliver's exhibition is named: "For the Love of Flowers." Daniela Oliver's exhibition is named "Invasive Plants."
Daniela's Invasive Plants refers to "our own invasive thoughts that don't allow ourselves to become the persons we want to be. Whether you want to be a painter, chef, lawyer, etc.", expresses Daniela.
This exhibition wants to convey that it is more about coming to the realization that you can actually be what you want to be. And not to postpone it to: "perhaps one day". "No", says Daniela, "you can start now".
Hispanic Women in Art
Also, Daniela Oliver feels that: "as a woman, we have the sensibility to appreciate art and I think that in my case it comes a lot from my family."
My mother is my standard of a woman, and seeing how art nourishes her life, it nourishes mine also.
"And in the same way, that's why I support art a lot. Because I think art gives you a mechanism to be able to appreciate how beautiful or how difficult life is sometimes."
Hispanic Women in Art
Daniela mentions the important role of Hispanic, sophisticated and educated women that have contributed a great deal to the arts. "Hispanic women stand out a lot in art here in Texas and all of them are inspiring in many ways", expressed Daniela.
"And I am inspired by, for example, the Mexican gallerist Patricia Ruiz Healy for the way she has supported the art of Latin Americans of great renown. But also, in enlightening local San Antonio contemporary artists. She is there for her community."
Discovering her Confidence
When I asked Daniela Oliver what she learned from this exhibition, she replied: "I learned from this: that one day you see your children in their childhood – and the next day they have grown up. In fact, the last work she did she entitled it: "And in the end, you see everything that you don't see during".
"Because in the end, I managed to appreciate what a great gift it was to be spending time with my children. And this helped me to see, and discover the confidence to keep on saying: "I am an artist, one hundred percent."
By: Lilia Davis
Editor in Chief and Publisher
Photos: Botanical Sensations Courtesy of Bhil Haus Arts/Claudia Loya