The Splendid ELENA and her Love for Music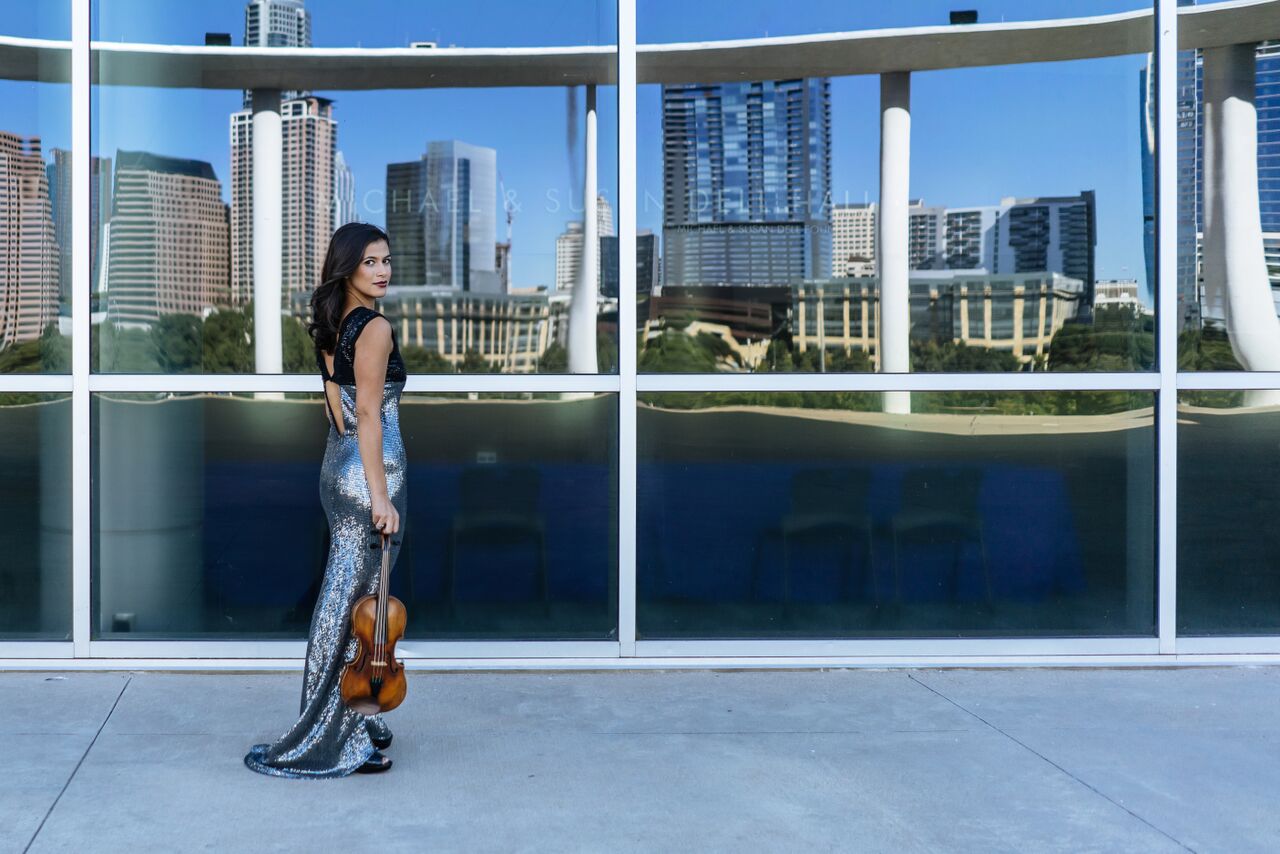 By: Lilia Davis
Photos by: Daniel Cavazos
ELENA URIOSTE
ELENA URIOSTE is a beautiful violinist of Mexican-Basque origin who has triumphed in classical music. Recognized by Symphony Magazine as a new talent. Winner of countless awards and acclaimed for her confidence, skill, technique and fire when playing the violin, as well as admired for her physical beauty on stage.
Elena has played as a soloist with numerous groups such as the London, Würzburg and Hungarian Philharmonic Orchestras, as well as in the United States and Mexico. Elena was also designated as one of the BBC Radio England's Generation 3 New Artists (2012-2014). She talks about her musical career, film, yoga and her love of music.
I had the pleasure of attending her concert on her first visit to Austin, Texas, at the Main Auditorium of the Long Center for the Performing Arts, just back from her tour in London.
THE BAREFOOT VIOLINIST
Elena entered the stage smiling, accompanied by the applause of the audience wearing a stunning long silver sequined dress. Small flashes of light with every movement she made, a true star. She was wearing her hair elegantly pulled up to the nape of her neck which made her classic features stand out.
We all waited in silence. But once she placed the violin on her left shoulder, resting her cheek on it and began to play the strings of her violin, is when her features became expressions of pure emotion that oscillated between joy, sadness, nostalgia and deep tenderness.
This unison transported the listener to a magical moment, closing your eyes you could continue listening to Beethoven's notes in his symphony D minor, directed through the direction of the conductor Peter Bay. Elena demonstrated her confidence, technical skill and luminosity while playing.
Suddenly, in the middle of the concert, Elena, bows down to take off her heels, and before anyone could react to such an act -since all were within the trance of the music- she turns to the audience and says with a big smile: "… and I invite you to do the same" indicating her shoes. With that simplicity and humility, she returns to her post and continues to play her violin without losing a beat, but this time, barefoot!
And so a great night came to a close, the audience applauded with a standing ovation to Elena and the maestro picked up Elena's shoes and offered her his arm to accompany her off the stage barefoot while bowing to the audience.
BEGINNINGS
Elena Urioste was born in Hartford, Connecticut, an only child and her Basque surname comes from her father's Mexican family, however, she also has Italian, Russian and Hungarian ancestry on her mother's side." So together it's a tremendous combination, and we weren't very quiet", says Elena (laughter).
Her passion for this instrument began when she saw the renowned violinist Itzhak Perlman on the Sesame Street program when she was just two years old and announced to her parents that she wanted to do "that", pointing to the violin. So Elena began studying at the age of five and at only thirteen made her debut as a soloist with the Philadelphia Philharmonic Orchestra.
MUSIC SCHOOLS & AWARDS
Elena is a graduate of the Curtis Institute of Music in Philadelphia, and the Julliard School in New York. She won the Sion International Violin Competition and first place in the Sphinx competitions in Detroit. Elena says it has been an honor to be a Latin Ambassador of Classical Music with Sphinx's support, not only in her role as a soloist with some of the best orchestras around the United States, but also to introduce communities to classical music that otherwise would not have had the opportunity to enjoy it.
HER VIOLIN
How did you get your Gagliano violin, made more than 300 years ago in Italy, and how does it affect your performance?
My violin comes from a private collection of the Stradivarius Society of Chicago, thanks to Dr. Charles King, who decided to donate this valuable instrument that belonged to him, to a young and talented violinist. I am extremely proud to be able to play it.
Playing an instrument is a symbolic process because it informs the musician who plays it and vice versa. My Gagliano violin has a dark, rich tone that begs to be caressed out of the instrument; it is not a violin that is known to have a particularly bright or high tone.
Therefore, it inspires me to seek out the sounds and colors that will bring out its best qualities. It pushes me to demonstrate with the greatest clarity the musical message according to the music I am playing.
HER MUSIC
When you think of music, do you always think of violin music?
No, of course not, although the violin is my first love and passion, I enjoy listening to other musical genres and instruments. I like everything from Nat King Cole to Stevie Wonder to Björk. I love music deeply, regardless of gender, age or instrument!
In addition, I always take the opportunity to listen to music that can inspire me or help me in my own performance in ways I never would have imagined before.
Do you usually choose the music you will play at a concert?
If I am going to be the soloist in an orchestra, I usually send a short list of concerts I would like to play and the orchestra selects one of those, unless they insist on including a special one, which I usually do, – well, I wouldn't want to turn down an opportunity!
Otherwise, if I don't feel comfortable playing the piece, they ask me to play or if it is not in my repertoire, then I would very kindly refuse it.
Do you prefer Chamber Music?
I really like to play in Chamber Music, because I usually have a little more artistic control over the programming. I am fascinated by selecting a program that transports the audience on a specific journey, however, that type of concert requires much more strength, condition and preparation time.
It is the process that is most rewarding because of the investment that is made in it, either in the performance or in the musical journey to which it transports you.
Have you produced a CD with other musicians?
I have just produced my second official album, ECHOS, with my great friend, pianist Michael Brown where I play the music of Romance, by Amy Beach , the first successful female composer and pianist of the great music competitions in the United States. ECHOS is now available on iTunes, eClassical.com as well as on the website of BIS Records, the recording company.
*New CD ESTRELLITA
I have a new CD – ESTRELLITA -It's a collection of violin classics with British Pianist Tom Poster including compositions, transcriptions, and arrangements of music by some of the greatest, and most beloved violinists of the past. Also, Estrellita is … one of my absolutely favorite pieces by Mexican composer Manuel M. Ponce. Tears come to my eyes just thinking about that song!
You have played with many great conductors, do you think the same song is played differently with each conductor?
Absolutely!
It's like you have a few different chefs preparing the same recipe each: the basic ingredients may be the same, but the process, the touch, the finesse and finesse of each particular conductor can result in a slightly different concert or one that is completely unrecognizable from each other.
That is the most fun – and occasionally the most feared – part of working with so many different musicians, not just conductors.
Mexico
Tell us about your experience with Mexican conductor Alondra de la Parra.
I had the opportunity to work with Alondra de la Parra. She was the musical director of the Philharmonic Orchestra of the Americas and we performed the Barber Violin Concerto. I could appreciate that she is a very kind, attentive, compassionate, extremely intelligent and absolutely electrifying person in her performance at the podium. I hope that this will definitely not be the last concert we do together!
Have you played anywhere in Mexico?
Yes! I played at the University of Guanajuato, Mexico, with Portuguese American conductor, Jacomo Bairos. It was a last-minute concert, but the experience was unforgettable! The people were warm, cheerful, opened their hearts effusively, the orchestra was exceptional and the food was delicious!
Female violinists
Do you think that classical music is more dominated by men than women?
One great thing about music is that it puts us all on the same level, so you don't notice the difference between whether it's male or female, or what nationality it is. I feel that music transcends borders of all kinds. I have played and still play with a lot of violinists and musicians, both men and women, and I have never felt a difference from one more than the other.
What is the greatest satisfaction of playing the violin?
To play the violin is to have a vehicle to express yourself, a way to connect with people all over the world without having to say a word, it is the greatest gift I could ask for. Similarly, to have the means to explore masterpieces of great classics from centuries past – it is a great privilege, as well as an immense responsibility.
ADVICE
Is there anything that you have never played on the violin before, or that you would love to play?
I would love to explore the Britten Violin Concerto further – I think it is one of the most enchanting pieces of music in all or any violin repertoire. I would also like to play more chamber music that I have not yet fully explored, including the Dvorak Trio in F minor and the Elgar Piano Quintet – I am passionate about English music!
What would you recommend to an adult who would like to take violin lessons?
Just go ahead and do it. My cautions would be: don't be too hard on yourself, because the violin is probably the most difficult instrument on which to produce a beautiful sound. It takes years for a child to get over the stage of all those nasty squeaks, and I would imagine that an adult might find such sounds irritating under his or her own ear! However, your tone will come, as will the other technical pieces of a puzzle. I would also highly recommend taking care of your body.
Itzhak Perlman
Have you never met violinist Itzhak Perlman since you first saw him on Sesame Street?
Yes, I had the opportunity to meet him, – although in passing and very briefly. Imagine how many other lives he has inspired simply by that episode on Sesame Street!
CINEMA
How did they approach you to make your first film "But Not for Me"?
In 2008 I had worked with the director, Ryan Carmichael, on a documentary in which he profiled my daily routines to demonstrate the amount of work and dedication it takes to be ready for the stage. Five years later he wrote a script specifically for me and I found it incredible, although I didn't feel very prepared in that, I was encouraged and acted in my first film "But Not for Me", which you can now see on Netflix Premier. It was fun and different because I play my violin accompanied by rap music!
How is acting similar to performing your music?
The performance experience is a lot like playing an instrument: instead of using the violin to express certain thoughts or emotions, I had to use my voice, my face and my body. In the end, it's all about having a conversation with someone else, and what you have to do is listen and react according to what the script or the musical pattern asks you to do.
YOGA
How do you relax from your intense violin practice?
I practice Yoga, to the point of obsession! For seven years now. Bikram yoga has made me feel more liberated, more in control of myself, more centered. The practice of yoga has helped me a lot with physical problems related to the violin, and especially with my nerves on stage, through the breathing technique I learned in class.
I cannot recommend regular yoga practice enough for both musicians and non-musicians in general. In fact, a project that I have been thinking about for seven years to include violin music in yoga is about to become a reality. Stay tuned! (INTERMISSION)
Future
What would you like to do in the next 5 years?
I would like to start taking more control of my career, which up to this point has been dictated and guided almost entirely by my agents and the work they seek for me. So, I'd love to start some festivals, seminars and other initiatives of my own, – I can't say much – since there are many things and projects just processing right now, but, let's see in one or two years!
High Heel Shoes
You're usually standing on stage playing, can you wear high heels?
Yes I can, but I don't like it! But the discomfort makes me more alert and sensitizes my senses to focus on the performance. That said, – tonight you have seen me do something that I have never done in a performance: – I took off my heels in the middle of the concert on stage in front of an audience of 2,500 people! (smiles).
I felt very uncomfortable, but you know what? – playing the violin barefoot – during those minutes it made me feel closer to my roots and connected not only to the floor physically, but to the music itself. I think I have discovered something to consider for the future! (laughs).
Love
What does Love mean to you?
For me, love means truly connecting with another soul; whether it be romantic, family, platonic, or spiritual. True love transcends borders and gives you the assurance that you are taking the same place in the universe in the same way as the other person. There is a sense of trust, of freedom, and the feeling that you can fly.
Elena's Musical Notes
I've never... improvised at a concert – it's a skill I'd have to work hard to cultivate. I don't write… violin music – fortunately not, thanks, I don't think it's for me! Estrellita... one of my absolutely favorite pieces by Mexican composer Manuel M. Ponce. Tears come to my eyes just thinking about that song! Average number of concerts per year ... in high season from 60 to 65 official concerts, plus other presentations of diffusion. My piano lessons… were quite disastrous. My poor teacher! I don't collect ... any musical objects. I'm terrible at … cooking! I don't discriminate … ah, I definitely don't discriminate with food! My dream would be… to sit down one day in a section for Mahler's 9th Symphony. For me, there is no music more powerful than that. My musical crush is … I have many!  Fritz Kreisler, Josef Hassid, the Guarneri String Quartet, Claude Frank, Ella Fitzgerald, Thom Yorke from Radiohead, just to start with! Many people don't know that ... I am ridiculously obsessed with Corgi dogs. Those big ears and their short, chubby legs, they drive me crazy!"
It is wonderful to see a Hispanic woman excelling as a violinist in classical music as Elena has done through her work, discipline and dedication and with such great enthusiasm; she is a star we will see shining for a long time to come. LRM
Follow Elena's upcoming concerts and projects on Facebook, Instagram and Tweeter @elenaurioste