FASHION DREAM: NYFW 2019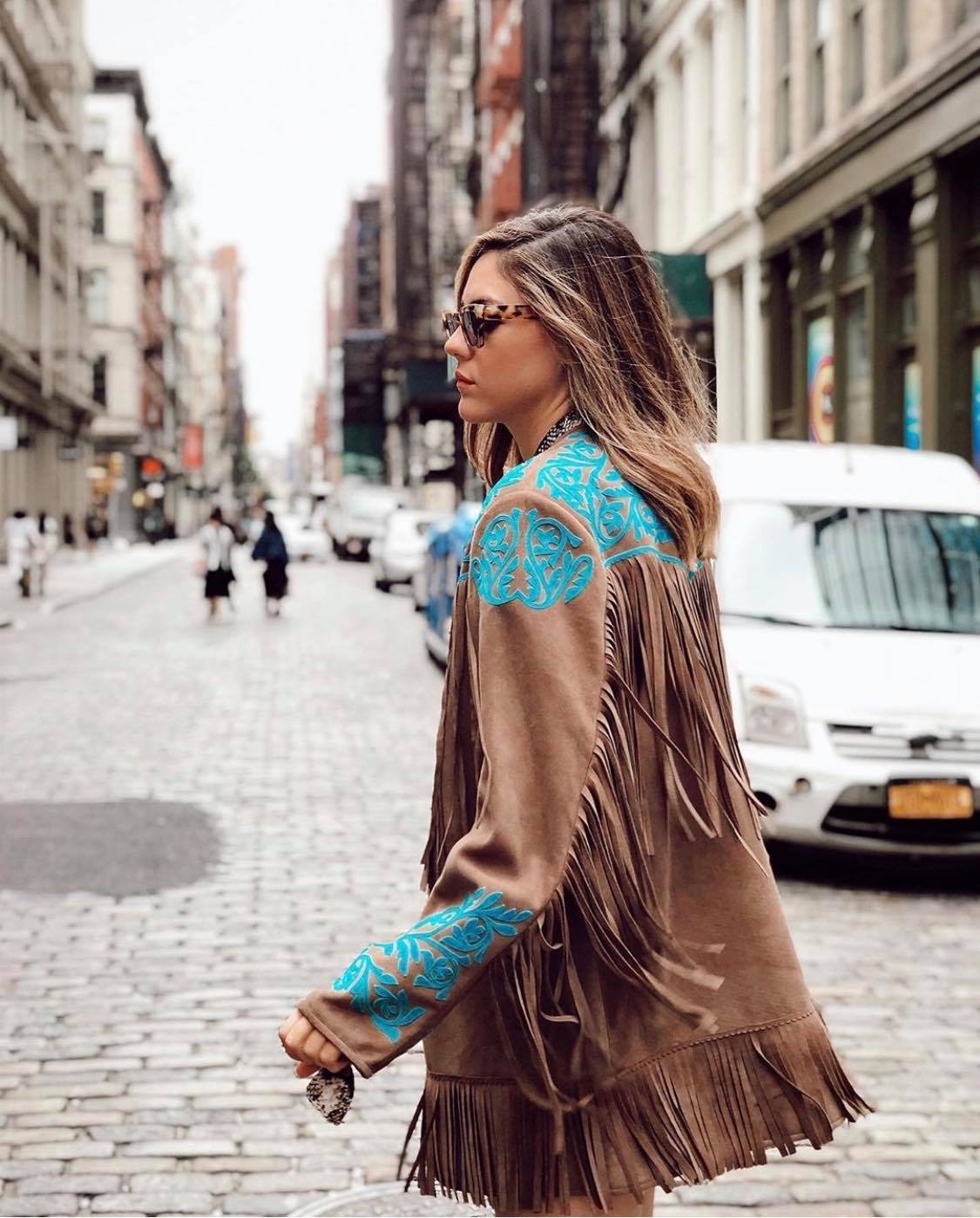 By: Yayis Villarreal
Photos: Manuel Martinez
New York Fashion Week (NYFW) had been a dream I saw as almost being impossible from the time I was young going to school in McAllen, Texas. One of those dreams or moments that you think will never reach, or that will not happen, not until you work so hard that you make it happen! Several years later, now that I live in San Antonio, that dream has crystallized. What a joy to share a memorable experience and that has definitely marked me forever, NYFW 2019!

Everything happened so fast, photos, meals and especially with nonstop long walks! I have to admit though that in this dream the fashion experiences went hand in hand with culinary experiences. Every day I saw something impressive in the world of fashion, another interesting bet to make on where to go to eat came up! Personally, I feel this is one of the best ways to enjoy fashion in New York.

As a Blogger, I had invitations to thirteen shows and with only five days to attend! A challenge that I definitely accepted with great pleasure.The walks were long but full of energy because I had to get from one event to another just in time. Here I have described my experiences in this small five-day journal, and the shows that I could finally see in a most subtle and elegant way.
FIVE DAYS OF FASHION
Day 1
FRIDAY. September 6th
From San Antonio to New York
It all began with a flight from San Antonio that arrived in Manhattan on Friday. The city filled me with energy immediately and as soon as I checked into my hotel, Soho Grand Hotel, they handed me the clothes that designer Derek Lam had sent me to wear during Fashion Week. Once I left my bags in my room, I had become so hungry I went straight for a delicious lobster roll at ED's Lobster Bar and finished that off with a dessert at the Milk Bar Store.
Then I kept walking to feel myself really in the city. I took lots of pictures; you could see models and beautiful women in person on almost every corner, one of them being Elsa Hosk, the Swedish model and Victoria's Secret Angel, looking beautiful and wearing a very stylish outfit: a power suit with her long straight beautiful hair pull together at the neck.
At the end of the first day, after so much walking, I was very happy to go to dinner, so I stayed on course and arrived at the restaurant Le Coucou where I had a singularly matchless dinner – mmmmm ..

Day 2
SATURDAY. September 7th
Bloggers Everywhere!
I woke up early the next day, Saturday with the intention of taking advantage of it, started my day with photos modeling for Derek Lam – of course after a delicious breakfast at Nomo Kitchen.
It was crazy and exciting to see so many bloggers taking photos all over the streets and sharing that passion we were all there for … fashion!

Later, I had the honor of being invited to the fashion show by designer Rebecca Minkoff, one of my favorites! She fuses an urban vibe with feminine styling. Not only could I meet this lovely designer but also several bloggers that I admire very much like Paola Alberdi, Tezza, Rocky Barnes, among others.
Here neutral colors predominated and as key pieces and "must haves", the famous blazers and outfits with more than three layers.
After so much excitement, I craved a delicious Mexican meal at the Atla restaurant, which is famous for "having Mexican food at any time of the day" and I was able to rest for a minuscule moment in time.
Later I went to the hotel to change, and continuing with the Mexican vibe, I changed my look from one of the designers from Tamaulipas, Hanna Herrera, to attend the Jovana Louis show, which seated me in the front row!
Day 3
SUNDAY. September 8th
One day as a Tourist at The Vessel –
I took the opportunity to visit the city as a tourist and found myself at a spectacular site: The Hudson Yard Vessel or the "staircase" of New York, an impressive structure in the form of a giant honeycomb that rises 16 floors and so many stairs! with an infinity of steps! – You can climb to the top to admire a view of the famous Hudson River. I felt as if I was in front of a modern, especially iconic location, a perfect background landscape for fashion!
Of course with so much walking and climbing stairs, I was left with a craving for a great meal at Seamores, a modern Mexican Seafood restaurant where I tried one of the best Crab Mac and Cheese. From there, wearing an outfit from Cinq à Sept (Five to Seven) via Saks Fifth Avenue San Antonio, I attended the Net a Porter show.
Upon leaving this show, I decided to stroll around and just observe the street style for a while among so many people who kept taking photos and kept posing all over the city.

One of the fashion accessories that I most admired on the streets in the NYFW Street Style, were the headbands and hair accessories, small belt bags or mini fan packs and feathers everywhere !, as well as oversized jackets, monochrome colors and the blue color stood out as eyeliner. And I finished the day with a delicious dinner at the Korean Steakhouse Cote NY restaurant. Of course!

Day 4
MONDAY. September 9th
Shopping around Brooklyn Bridge
I spent this day modeling another Derek Lam outfit during the morning, and having a good breakfast at Bistro Jack's Wife Freda in Soho, followed by a long walk on the Brooklyn Bridge. What a bridge! I decided to go shopping around this area and found and visited a fun and wonderful pop-up store.
I went to the Shopbop, the great designer clothing store of countless brands of all kinds of dresses, shoes – from tennis to sandals to boots of endless designers such as Golden Goose, Isabel Marant, Jacquemus and you can also find super nice bags by Kate Spade, APC and Maison Margiela among many others.
I found amazing pieces of jewelry – and I was fascinated with all the unique garments and an incredible vibe throughout the store. And the end of the day, after a long walk and to top it off, – as a good sushi lover … I ended my day having Sushi dinner at Soho -Sushi. Delicious! Perfect to get ready for the next day and, my last day…
Day 5
TUESDAY. September 10th
Mexican Pride
My last day in New York was unforgettable! I was inspired by the fashion of my Mexican roots and decided to go out on the streets of New York wearing an artisan "Cuera Tamaulipeca" a traditional fringe leather jacket, the garment that moves me most, since it represents the state of Mexico in which I grew up, that undoubtedly stole many looks from whomever and wherever I passed by wearing it.

"It was an honor to have had the opportunity to put the name of Mexico on New York streets."

It was an honor for me to wear a traditional but modern, handmade garment, especially for this special moment – from Haeberli Piel from Victoria, Tamaulipas and custom handmade boots from Ant -Official brand. The brands are created by Mexican women which I admire and respect. I literally spent long phone calls with them so they had this jacket ready for my trip and it was all worth it! Its a good feeling to wear something from the region were I am from, it feels natural and styling our Mexican fashion is what will make us stand out in the whole world!

And to close my trip, my last show was a dream. Pamella Roland presented a show that I still think about and I get goose bumps. In an interview she commented ". . . I think the woman whom I design for likes beautiful things, likes to wear dresses that fit well, since for us it is of the utmost importance that the dresses are made to fit. . . That is what we focus on in our work and at the end of the day – our purpose is to give confidence to women".

And I think that sums it up!. The magic of Pamella Roland's pieces took my imagination to places I didn't know! To attend her show I dressed up with a special and unique dress of Nicó by Nick Perez , a talented Mexican designer in Corpus Christi, whom I met in McAllen a few years ago.

================================================
This experience brought back memories from the first day I set a goal for myself to one day be in the NYFW and everything I went through to accomplish it and to get there- that day.
The only thing left for me to say to you is that everything was worth it, and remember that your dreams DO come true – and that incredible things will be achieved. Stay tuned!!

Tips for Your Next NYFW trip:
PLAN the logistics (flights and hotels) well in advance, because that week – demand and cost are running high and skyrocketing even further!
ORGANIZE all your clothing. Have a rack to hang clothes in the hotel to have everything much more organized. As many of us know, the hotels are a bit small, and it could be a very difficult trying to find your clothing in order for every event – in a short time!
WALK and practice walking a lot before the trip and bring comfortable shoes to Fashion Week. It's Essential! You have to walk and even run sometimes from one show to another without being able to change outfits between shows, so I recommend that you go prepared to walk countless blocks!
Yayis Villarreal.
Blogger and influencer from San Antonio.
Currently working in CRIT USA – Teleton Children's System.
Born in McAllen, Texas and raised in Reynosa, Tamaulipas.
Studied in San Antonio -Psychology UTSA and an MA in Psychotherapy from Our Lady of the Lakes University.
On Tuesdays she is part of the Primera Hora team on the Univision TV network where she talks about fashion trends.
Follow Yayis here: @yayiscv FB: Yayis Villarreal T: @oraliavc