FASHION IS ART! – A Celebration of the 90's at The McNay Museum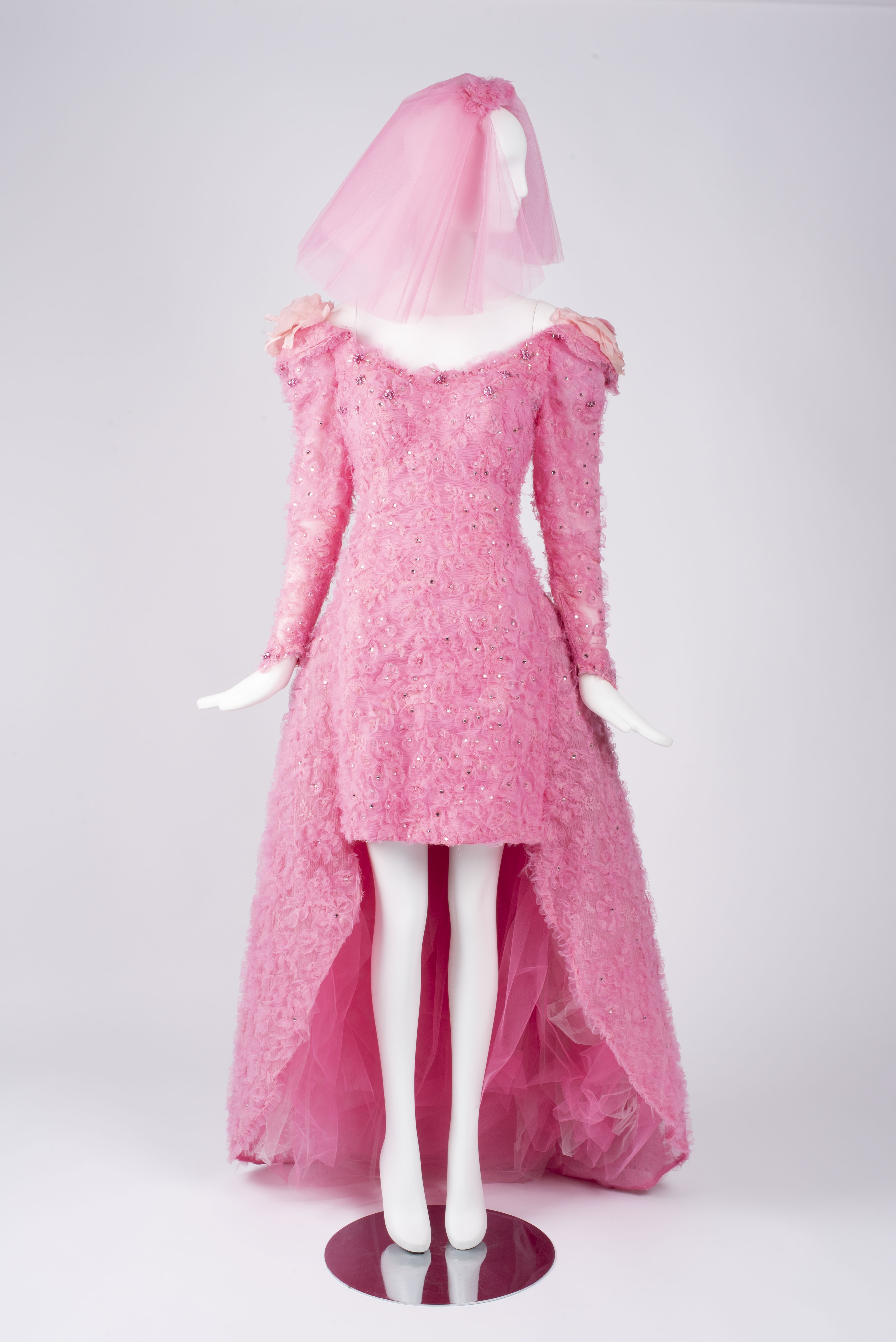 By Lilia Davis
FASHION NIRVANA: RUNWAY TO EVERYDAY
Fashion is Art at the McNay . FASHION NIRVANA: RUNWAY TO EVERYDAY marks the first large-scale fashion and video art exhibition in McNay history.
Set in the wake of the Cold War, in a decade of great hope and freedom ushered in by the fall of the Berlin Wall, the innovative installation celebrates the fearless designers, photographers, and video artists who made the 1990s iconic and worthy of the current revival.
Fashion Nirvana features over 60 runway to everyday garments by famous designers such as Martin Margiela, Thierry Mugler, Franco Moschino, Dior, Tom Ford, Jean Paul Gaultier, Azzedine Alaïa, Giorgio Armani, Carolina Herrera, Patrick Kelly, Isaac Mizrahi, Todd Oldham, Oscar de la Renta, Vivienne Tam, Gianni Versace, Vera Wang, and more.
This exhibition is co-organized by the McNay Art Museum and Texas Fashion Collection at the University of North Texas, curated by Kate Carey, Head of Education; Jackie Edwards, former Assistant Curator; and Lauren Thompson, Assistant Curator with major support provided by Mercedes T. Bass, Mercedes T. Bass Charitable Corporation.

FANTASTIC RETROSPECTIVE OF FASHION, HERE IN TEXAS.
When I visited the Exhibition FASHION NIRVANA: RUNWAY TO EVERYDAY at the McNay Museum after the reopening I was received with a friendly and appreciated welcome by the Director, Mr. Richard Aste. He explained to me that The McNay is open with enhanced safety measures, required facial coverings, and a limited attendance per state guidelines. So I felt very safe and I was able to enjoy my visit to the max.
After seeing that so many runway shows around the world had been cancelled or shown virtually due to the pandemic I thought, «Fantastic! A retrospective, and about fashion, here in Texas, and at the McNay, one of my favorite museums in Texas.»
A few days later, I telephoned Kate Carey, Head of Education and Curator of Fashion Nirvana exhibition to learn more about the exhibition.
WHEN DID YOU COME UP WITH THE IDEA THAT MOTIVATED THE McNAY MUSEUM TO PUT ON AN EXHIBITION OF FASHION?

Two years ago, when I worked together with Jackie Edwards, former Assistant Curator, we shared an interest in fashion. We would meet the day after a gala, or talk about gowns we had seen and other times trade images of the styles shown at the Academy Awards ceremony, and so forth. It was a fascination with fashion.

Then we did some research at the Texas Fashion collection at the University of Texas at Denton where they have an incredible warehouse of about twenty thousand garments, a history of fashion; and in her research there, they presented to us some of their garments of the 1990's, and that's when we came up with the idea.
WHERE THE 90's SPECIAL TO YOU?
Yes, I was very familiar with that decade. I started 6th grade in 1989 and graduated from college in 2000, so my formative years were defined by the music, fashion, and pop-culture of the 1990s decade.
HOW KIND OF OBSTACLES YOU FACED IN GETTING ALL THE DESIGNER GOWNS AND OUTFITS TO SAN ANTONIO?

We didn't have a problem gathering all the clothing, as we borrowed some from Denton, also ten items from Phoenix Art Museums, as well as from the University of Texas.
However, around a month before the exhibition opened we had all the garments arriving, but we realized that we had NO MANNEQUINS! We were short of them, we had to purchase them last minute – a lot of them are sheer color so all you see is the garment hanging.

As an educator, I was interested in the inner structure of the garments, such as those from GIVENCHY, because they are so well done and beautiful, that aspect is sometimes overlooked.
VIDEO ART
THE VIDEOS AT THE ENTRANCE OF THE EXHIBITION ARE MAGNETIC IN THEIR ATTRACTION, I COULDN'T STOP LOOKING AT THEM OVER, AND OVER AGAIN. HOW AND WHEN DID YOU DECIDE TO INCORPORATE VIDEOS AS A PART OF THIS EXHIBITION?

Advances in technology made video art increasingly accessible during the 1990s, and video artists responded to music, pop culture, advertising, and fashion of the time.
Paired alongside fashion ensembles, projections by video artists Rineke Dijkstra, Mariko Mori, Tony Oursler (in collaboration with 90s band Sonic Youth), Pipilotti Rist, San Antonio-native Jim Mendiola, and more have created a multi-sensory experience. Paintings and sculptures from the McNay's collection are also included in the conversation with the garments on view.
We hired local talent from San Antonio to edit the videos and a movie. This was one of the first things we wanted the visitors to engage with the whole 90s- scene.
The 90s were kind of formative years for some people, but others don't know that music videos then were a big thing for fashion designers, all those things we came to recognize as fashion because of the videos. We used cheap video – it was intentional, to reflect the technology of the era at the time.  
WHAT IS YOUR FAVORITE DESIGNER IN THIS EXHIBITION?
My favorite is PATRICK KELLY –, an African American fashion designer that came to fame in Paris, France. I loved that mid 90's challenge issues of racism in such a clever way.
I also liked some women fashion designers such as Carolina Herrera and Vivienne Tam. I especially loved Vera Wang evening gowns. We tried to get items from British fashion designer Vivienne Westwood, but we were not able to in time for the show.
A NOTE ON PATRICK KELLY
Patrick Kelly was famous for incorporating mismatched, multicolored buttons on jersey dresses. At the time, he said that "that this look was inspired by his grandmother, who mended her clothes with whatever buttons she had on hand". For example, one black dress features red buttons sewn on in the curved shape of a smile, with two googly eyes in the middle.
Kelly was aware of everything that blackface represented. He had studied art history and black history at Jackson State University.
He collected more than 8,000 pieces of black memorabilia, including boxes of Darkie toothpaste and figurines of Aunt Jemima. For Kelly, these artifacts held personal meaning.

WHAT DO YOU THINK IS FASHION'S GREATEST CONTRIBUTION IN ART?

This is precisely why my curators and I designed a T-shirt for the exhibition,- that you can purchase in the gift shop – , and its says: "FASHION IS ART"

I think many people who are interested in fashion are also interested in art, so I wanted the exhibition to blend fashion and art together- for example video art – I didn't want there to be a separation, I wanted it to be fused together.
WHAT DO YOU EXPECT THE VISITORS TO GAIN AFTER THEY LEAVE THE SHOW?
I do think the discovery for me and for others that fashion and art are one and the same. From television reboots to combat boots, the nineties are having a comeback. Plus you can come and have your own fashion picture taken in our professional fashion booth!
«I hope the exhibition sparks connection with visitors of all ages to the cultural touchstones that made the decade so iconic."
WHAT DO YOU THINK THE POST PANDEMIC FUTURE HOLDS FOR THE FASHION INDUSTRY (from manufacturers, to designers) ?
I wish I knew. I will just say that one thing the designers in the show we titled Fashion Nirvana of the 90's were so innovative, they came out with remarkable collections, so accessible and so creative.

I trust that designers will adapt, in terms of the big ship of the business and will turn and reinvent again. They do it every season for their collections. So, I trust they will survive or the very least to reinvent themselves. Maybe with a different focus, more concerned in sustainable fabrics, organic fabrics, ecologically correct manufacturing and so on.
WHAT HAS BEEN THE RESPONSE FROM THE PUBLIC SO FAR?

Well the images and collages and the 90s were so visual – people are fascinated by the video art that came from the 90's – ideal scene. So people have been interested in learning more.

Models of the 90's
At the end of my visit, the exhibit brought to mind the Supermodels of the 90's such as Naomi Campbell, Cindy Crawford, Christy Turlington, Laura Evangelista and Claudia Schiffer (at one time called "The Big Five" of the 1990's), later joined by the iconic Kate Moss.

They demonstrated that it was possible to be glamorous and feminine and at the same time furiously independent, such as Linda Evangelista famously commenting that she would not get out of bed for a session before the camera, for less than $10,000. These young women became spokespeople, MTV presenters and genuine icons of the 1990's.
An atmosphere developed in which various models became true muses for certain designers and their images captured by photographers, some of whom became just as celebrated, were unforgettable, being fused into our popular culture.
Kate Moss for example is as followed now by the press as much as she was in the nineties. Others such as Christy Turlington, and Lauren Hutton to name just two, seem to have returned to fashion and modeling with as much presence and charisma as they had two decades ago.


Come and visit this historic exhibition at the McNay Museum- available date has been extended until September 12, 2020, Don't miss it! https://www.mcnayart.org/

Facebook, Twitter and Instagram: @mcnayart #mcnayartmuseum