K A R L A E S P I N O S A Mexican Pastry Chef – Baking Outside the Mold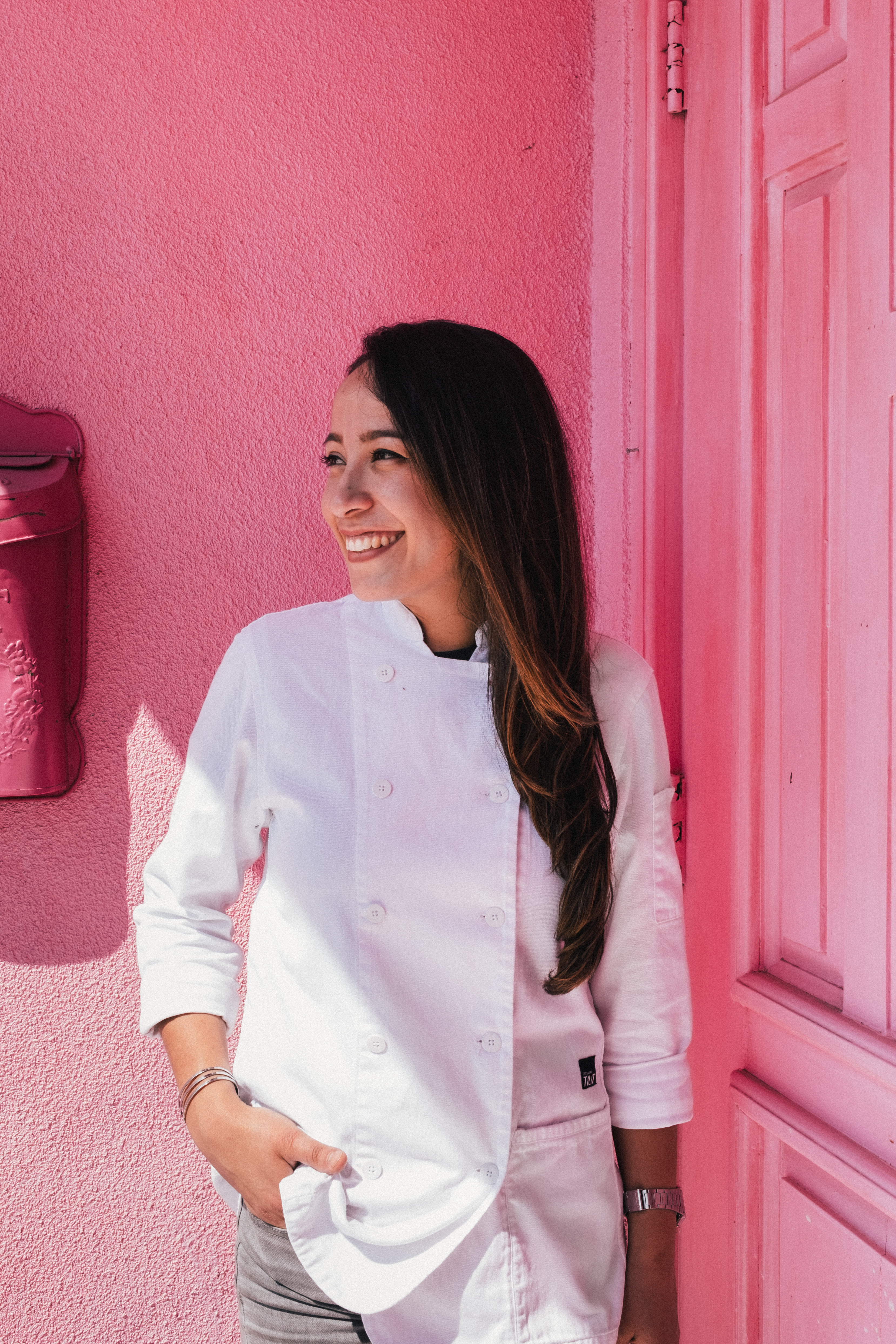 Written by: Lilia Davis
Photos of Karla by: Ashley Garcia- Location: McAllen, Texas
Photos of desserts: courtesy of Karla Espinosa
Karla Espinosa is an award-winning Pastry Chef and consultant from Xalapa Veracruz, Mexico who creates surprises, creating pastries that have not been seen before. Doing the unexpected, Karla is a pastry chef you would have to call "an original" being inspired by her Mexican roots, combining tradtional recipes with the flavors of some of the most iconic dishes in Mexico. 
Recent Awards
Karla has been successful in competitions such as the Signature Plated Desserts at the Pastry Live 2016 contest winning 2nd place at the Truffle Masters 2018 in Houston. She was one of the 10 winners of the THINK OUTSIDE THE BOK contest in 2018, from the Callebaut Chocolate company.

Mexican Roots
With Karla at the helm in the kitchen, you might find Mexican mole combined with Tamarindo in pastries, or piloncillo (raw brown sugar cones) candied coated Chicatana Ants (flying ants) from Oaxaca and Pumpkin seeds (pepitas) combining flavors that are traditionally used in savory entrees but in Karla's hands, result in an exquisite sweet flavor.
Elegant Presentation
The presentation of their desserts has a diverse aesthetic with influence from their Mexican roots and the traditional French and Japanese pastries to more modern and molecular techniques or a combination of all of them. Her desserts are unparalleled miniature works of art. Karla is also a keen appreciator of art and architecture and often builds on those practices when creating her pastries.
After more than ten years' experience, chef Karla Espinosa currently creating desserts in her Pastry Studio and at MAD Houston, which is generally recognized as one of the best new restaurants in the city, as Head Pastry Chef and has recently started her KE consulting business, in Harlingen, Texas.
Accidental meeting
I discovered Karla's talent by accident. I was touring Brownsville, Texas during the Charro Days Festival and a visit had been recommended to the Italian restaurant Dodici. However, surpirse! Once there, the desserts caught my attention immediately with their elegant presentation and originality of flavors. After sampling a few I became a fervent fan and looked to congratulate the chef personally. I was informed that the desserts were made by Mexican chef Karla Espinosa.

CHEF KARLA ESPINOSA
I never expected that the creator of these desserts – works of art – to be a petite young, cheerful, attractive Mexican woman with a contagious smile, who from childhood has had a serious interest in pastries inspired by her grandfather's bakery in Veracruz.
I had the pleasure of interviewing chef Karla one afternoon by Zoom of course, and during a nonstop energetic and fun conversation Karla talked about her life and culinary adventures that began in Mexico, and continued by way of Madrid, Buenos Aires, Los Angeles, Belgium and Houston. As well we discussed her new pastry studio KE Harlingen Texas, molecular cuisine and the new trends in pastry.
A CULINARY ADVENTURE
VERACRUZ
KARLA, TELL ME YOUR ABUELITO AND HIS PANADERIA IN XALAPA.
Yes, as a girl I spent a lot of time in the bakery with my grandfather, in a city called Martinez de la Torre, Veracruz. My grandfather was from there, and my parents met there and then moved to Xalapa.
My grandfather had his bakery for many years, but then he became very sick and unfortunately, passed away when I was 13 years old. But I remember that every time we went to visit him it was like a game – since I was a very curious child and was very interested in the bakery. I will never forget that aroma from the bakery – it's like home to me. I don't know if it was the fragrance of butter or flour, but I recall it very intensely.
MÉXICO
DID YOU START YOUR CULINARY STUDIES IN MÉXICO?
Yes, you see when I was in high-school I remember well once my mom saw that I was very interested in baking and she took me to a cooking school nearby to get the information about it. And so I began, although it increased my workload! The last semester was like this: in the morning I went to high school, in the afternoon I went to the cooking school, and on Saturdays I worked in a restaurant.
SPAIN
LATER IN THE COOKING SCHOOL YOU WON A TRAINING SCHOLARSHIP IN SPAIN, CAN YOU TALK A LITTLE ABOUT THIS?
Well, in the last semester of the cooking school, a Spanish company came to school to offer scholarships to four students to go to Spain for an internship. There were four groups of twenty students and then the chef decided to organize a contest and in the end three students and I were those chosen. I didn't expect it! I was only seventeen. The internship was in Marbella, Spain, in La Taberna del Alabardero. At first, I was nervous but my parents always supported me in everything.

I finished the program it in one year. And I wanted to stay longer and study for postgraduate courses – and that's when I realized I wanted to do this professionally. I realized how in Mexico, you see this profession so differently as compared to Spain where this career is more advanced and they view it with a lot of respect.
ARGENTINA
HOW DID YOU GET TO MAUSSI SEBES CULINARY SCHOOL IN BUENOS AIRES?
Well, when I returned to Mexico from Spain, my mom and I started looking for universities. But this type of study in a university at that time was very new and also very expensive. Looking for other options I researched and found a school in Argentina – Instituto de Artes Culinarias en Buenos Aires, with more feasible costs and my parents supported me.
So, Karla Espinosa goes to Argentina, by herself, at the age of 18, and without knowing anyone! (laughter) You could do the program in one, two or three years. I decided to complete the curriculum in one year. Then I did another year in molecular cuisine. And so I stayed there doing my internship, and well after that I went back to Mexico.

MOLECULAR CUISINE
WHAT IS MOLECULAR CUISINE TECHNIQUE FOR PASTRIES?  
The plated desserts are my specialty and what I like to do most, so I always like to include some technique to bring that interesting or amusing touch to the experience of the guests at the table.
For example, a simple carrot cake includes the carrot sponge, which is prepared with the mixture passed through a siphon, (the utensil to make emulsions and textures quickly as a mouse), it is refrigerated and then the mixture is baked in the microwave for thirty seconds. Then you can accompany it with a "caviar" as its name indicates it is small pearls like caviar, but of different flavors, like cream cheese for example.
In molecular cuisine it is very important to look for different textures that contrast with each other, for example the soft with the crunchy, the sweet, with the sour. We try to ensure that the dessert captures a whole sensory experience on a single plate, from sight, smell, touch, and of course taste, that is satisfactory and complete.
MÉXICO CITY
DID YOU ARRIVE WORKING IN A RESTAURANT IN MEXICO?
No, back in Mexico, at the age of twenty two, my mother worked for the Judicial Branch – who is a lawyer by profession, and since I didn't have much to do – I started preparing my mother's breakfast food for work in very nice boxes. Her colleagues in the office liked them and started ordering more. I started with two breakfasts – then five – then a hundred a day! At first, I cooked at home and then my mom complained that she went to her office to work in her suits smelling of onions (laughs). So, I started a culinary kitchen at my grandmother's home.
THE UNITED STATES
HOW DO YOU DECIDE TO COME TO THE USA?
After returning to Mexico and after a restaurant project in Querétaro that did not work well, I decided to come to the United States, arriving to downtown Los Angeles, where I found work for a while, and everything was very good, but later, for personal reasons I decided to leave and make a change of scenery.
Houston, Texas
With references from a friend I came to Houston. My experience was really good, as I worked in various restaurants such as XOCHI, with award-winning Chef Hugo Ortega, author of the book "Street Food of Mexico" and winner of the James Beard Award. I was also the manager of the pastry team at Yauatcha Houston, an international extension of Hakkasan Group's Michelin star restaurant, Yauatcha London and Japanese inspired Kuu restaurant. But after a while, I didn't feel at home, I missed it and wanted to go back to Mexico. 
Harlingen, Texas
However, when I was about to go back to Mexico, I met my current husband and decided to stay and we have lived in Houston, Texas ever since. Currently, and because of my husband's career, we moved temporarily to Harlingen, Texas, where his family lives. And from here I have been able to work in my studio and remotely during the pandemic.
PANDEMIC
MANY RESTAURANTS HAVE BEEN CLOSED WITH THE PANDEMIC, HOW HAS ALL THIS AFFECTED YOU?
It has affected me because some of my customers have been closing for months, and as a consequence my sales are lower. But what I think in this type of situation, is that never before has something so difficult happened in the world – and the only thing we can do is readjust to the situations.
And that happens to me a lot in my career, maybe in a much simpler way, but that's how I can compare it, when for example, a cake or a service something goes wrong, and it's part of a preparation and the customer is waiting for you with the dish! Then you have to act quickly, and solve problems with the tools available at that precise moment, – that for me is the pandemic, as far as adapting to unexpected changes is concerned.
On the positive side, it's that being in confinement has given me time to focus on another aspect of my business, now I've been trying to create many more desserts than before that, due to my busy schedule, I didn't have time to do it. For example, I am already writing a recipe book, along with a photographer's collaboration, and I hope to finish it soon. That's the good side.
BELGIUM
HOW DO YOU GET TO BELGIUM AS A CHOCOLATE AMBASSADOR AND WHAT ARE YOUR DUTIES?
This was after winning two "Great Chocolate Stories" contests sponsored by the Belgian and French chocolate company CACAO BARRY AND CALLEBAUT, while I was creating desserts at the Japanese-inspired restaurant Kuu in 2016, and in 2018 at Yauatcha Houston.
Well then one day, I got a call from the representatives of Chocolate Callebaut, – and they invited me to their Ambassador program and so obviously I accepted – although inside of me, I didn't believe it!- did they call the right Karla Espinosa, I wondered? (laughter). I actually went to Chocolate Academy Belgium after winning the "Think outside the Box" contest
What does it mean to be an ambassador? Basically, it's using their chocolates in my recipes. But the truth is that I have always used those chocolates because they have been my inspiration, so I know their brand very well.
KE PASTRY CONSULTING
NOW YOU HAVE A CONSULTING BUSINESS, TELL ME, HOW DID YOU STARTED IN THE MIDDLE OF PANDEMIC, AND WHAT WAS YOUR FOCUS?
Just before I moved to Harlingen, a chef made an offer to me to start a project in Houston as a head pastry chef, with very good possibilities.The project was with Spanish restaurant MAD, (Madrid's airport code) which has been named one of the top new restaurants in Houston in 2019 – 2020.
And that's where the idea of consulting begins, focusing on small businesses, or restaurants that need technical help and design a new menu. No matter where they are, I can do it from here in Harlingen, and that's how I started and it's already organized under the name "KE" by the initials of my name Karla Espinosa.

WHAT DO YOU LIKE THE MOST AND WHAT DO YOU LIKE THE LEAST ABOUT BEING A PASTRY CHEF?
What I don't like so much about the profession in general is that your calendar always goes against the world's calendar, since I work on Christmas, New Year's Day, Mother's Day, Valentine's Day, and I don't like that. Also, that you always have many challenges, because pastry making is very precise, it requires a lot of precision in its preparation and technique. And well, sometimes the schedules are very long, you get up at three o'clock in the morning and finish very late.
In everything else, I consider myself a very lucky woman – because I am doing what I like. I can't complain because I love what I do! And I do it every day. That's very, very important to me, because in my profession as a pastry chef.

COMPETITION
DURING YOUR CAREER, HAS IT BEEN DIFFICULT FOR YOU TO EXCEL IN COMPETITIONS THAT ALSO INVOLVE MALE CHEFS?
Surprisingly, pastry is a career that is very male-dominated, although lately there are a little more women chefs being recognized. But there is still gender inequality. But I think sometimes it has to do with how women are – if you let yourself be taken advantage of… well, you know. For example, in the beginning it happened often, and all those experiences made me learn how to handle those things.
Look, apart from the fact that I'm very petite, small in height and build, I'm barely five feet tall and I weigh 40 kilos, and in a uniform, people see me as even being smaller, and I look younger than my age – so there are always people who have tried to minimize me and try to take advantage of me. But I've learned, and now, I don't let people take advantage of me, anymore, I've learned to value myself.
One has to appreciate oneself, that is, to give value to oneself – before and above all.
Advice
DO YOU THINK BEING A PASTRY CHEF IS BETTER TO LEARN WITHOUT SCHOOL, JUST BY PRACTICING WITH A GOOD CHEF, OR IS IT PREFERRED TO GO TO PASTRY SCHOOL?
I think that if you didn't go to school, many times it's not necessary to be a master chef to have the skill and technique, why? because many times it's the practice that gives that knowledge to you.
For example, I have hired many people and I see that a young person who comes from pastry school sometimes has no idea or where to start. On the other hand, when someone who didn't go to school arrives, that person does everything in a flash, and with minimal supervision.
I believe that not going to school does not limit you to succeed, school obviously gives you knowledge, more technique, helps you, but it is not strictly essential.
PASTRY TRENDS
DO YOU SEE A PASTRY TREND COMING UP?
I think that what is already coming strong is healthy baking. It's something I'm already preparing and doing more research to incorporate into my desserts. The combination of alternative flours and with natural sweeteners for people with diabetes problems, for example, is different from French pastries that have a lot of butter and sugar.
Healthy baking is very tasty and even those who don't need it will start asking for it because the flavors with natural ingredients and different flours sometimes reach a different level than traditional baking. The disadvantage at the beginning is that this kind of pastry is a little more expensive, but I think that later it will become more accessible and people will be more familiar with it.
WHO ARE THE CHEFS YOU MOST ADMIRE?
I admire and respect the work of many chefs, my greatest mentor is the Argentinean Chef Juan Pablo Colubri (Head Chef of Chocolate Academy Zürich), and I feel very inspired by the Spanish chef Jordi Roca, the Danish chef René Redzepi, the Mexican chef Francisco Migoya, the Spanish chef Albert Adriá, and uyyy no, the list is long!
AND FINALLY, HOW DID THE THEME OF THE CHACATANA ANTS COME UP IN A DESSERT?
Ah, the theme of the ants came up when I worked on a project at the Xochi restaurant with chef Hugo Ortega. Before starting the project, we took a trip to Oaxaca. Then, observing that the ants there, are used as an ingredient in savory, salty dishes, but not in something sweet, and that's when the idea came to me. It's an original, interesting flavor, and you may love it, or maybe not! (laughs)
IF YOU ONLY HAD THREE FLAVORS TO USE IN ONE DESSERT, WHAT WOULD THEY BE?
Chocolate, Chocolate, Chocolate! (laugther) Noo, also Mango and Maracuyá (Passion Fruit), I love tropical flavors.!

===========================================
We celebrate Chef Karla Espinosa for her devotion to pastries, for celebrating her Mexican roots in her original desserts, and for pushing her talent to another level, baking outside the mold. LRM
Instagram: @kar.lotta
Facebook: @Karla Espinosa