KAMALA HARRIS' CELEBRATED OUTFIT, MADE BY SOUTH TEXAS HISPANICS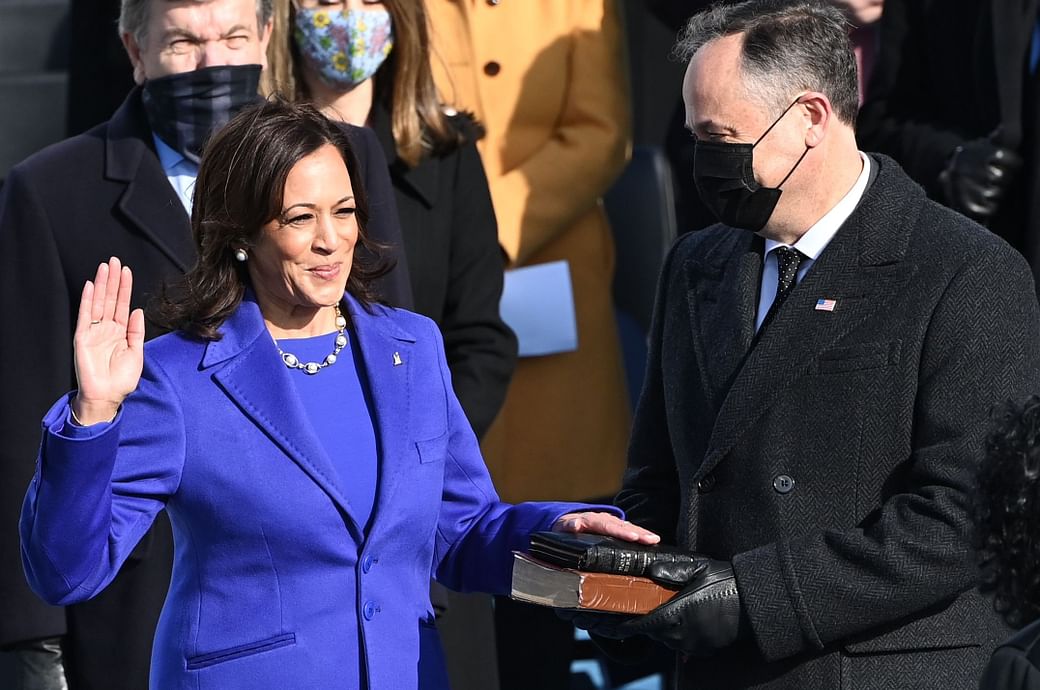 Text By: Lilia Davis
Photos: Courtesy of Arturo Castañeda
Kamala Harris wore a stunning purple suit on Inauguration Day on January 20, 2021.This was a historic day in many ways and even more so for Hispanics. This outfit honors not only the first woman of color to be elected vice president in the history of the United States, but wearing a suit made by Hispanics, symbolizes the hard work and support of the skilled handwork that Hispanics have contributed to this country for generations now, sometimes unappreciated or unnoticed.
The actual sewing, cutting and tailoring of the outfit was done in a design atelier in New York, led by Mexican designer, Arturo Castañeda who grew up in Mercedes, Texas and whose mother came to this country from Chihuahua, Mexico. He had the assistance of Daesha Cano from Pharr Texas, who participated in the project.
We congratulate these people as they inspire pride and emotions. We called Arturo Castañeda's company in New York, and asked him to tell us this story .
ARTURO CASTAÑEDA
HI ARTURO, THANK YOU FOR MAKING A SPACE FOR US. EXCITED TO BE ABLE TO TALK DIRECTLY WITH YOU AND ASK YOU ABOUT THIS HISTORIC EVENT. LET'S START WITH THIS QUESTION, HOW WERE YOU APPROACHED FOR THIS PROJECT?

Thank you for your support Lilia. Well, I was approached through working relationships with other colleagues such as designers Christopher John Rogers. They are amazing designers who have dressed Michelle Obama before. Through my contacts and friends we met and they asked me if I could collaborate on this project. And of course I could, I told them that I supported them and that's how we started. 

COULD YOU EXPLAIN TO US A LITTLE BIT HOW WAS THE PROCESS OF MAKING THE OUTFIT FOR KAMLA HARRIS, LIKE HOW MANY STEPS FOR EXAMPLE?

Well, first let me explain that I have my own design company called ARTURO NYC. I also have a company called Storytellers and Creators Mfg. Company. Roger asked my company to make the overcoat. I then sewed the dress and another jacket myself. Generally the process can be visualized in three steps: 1) The Design is made, 2) The Pattern is made and 3) The garment is made.

THE OVERCOAT
But not always are all the steps carried out by the same person or company, for example for the Overcoat, the design (step 1) was done by designers Christopher John Rogers; the pattern and confection (step 2 &3) ) were done by me. Regarding the dress, the design (step 1) was made by Christopher John Rogers, the pattern (step 2) was made by a company that collaborates with us (hips.studio) and the confection (step 3) was made by me, Arturo. We also made another jacket (blazer) the third garment.
WHY DO YOU THINK THEY CHOSE YOU, SPECIFICALLY, AND NOT OTHERS?
I think because of our craftsmanship and the work we have done with other great designers like Rogers. The workmanship that we have is excellent, of very good quality, much higher than normal.
THE DRESS
THE COLOR PURPLE
WHAT TYPE OF MATERIAL IS THE FABRIC MADE OF, AND WHAT IS THE MEANING OF THE PURPLE COLOR?

Well, I am not authorized to disclose information about the fabric, but I can explain why the choice of the color purple. It is a symbol of bipartisanship. A combination of the blue-Democrat and the red of the Republican party.
THE JACKET
But purple is also the color of women's suffrage and the preferred color of Shirley Chisholm, the first woman of color elected to congress and the first woman of color to run for president. An example that has inspired Kamala Harris.
DESIGN CAREER
WHERE DID YOU STUDY DESIGN, AND HOW DID YOU COME FROM MERCEDES, TEXAS TO NEW YORK?
I didn't go to school, I learned everything from my mother, a talented dressmaker and seamstress.I helped her a lot in her work in a sewing shop when I lived in Mercedes, Texas and from when I was very young I always wanted to dedicate myself to fashion design.
One day, when I was twelve years old, a church gave us a bag of clothes that had been donated to the family. At the bottom of the bag, I found a Polo Ralph Lauren shirt and I couldn't believe it, I loved that shirt brand. My mom told me that not everything material is important.
But for me it was a sign of getting ahead, because Ralph Lauren had a dream and he achieved it and my dream was to go work with him. I told her:'"today is the last day we are poor, mom" and "I'm going to make my own history». My mom supported me and years later, I went to New York.
RALPH LAUREN
COULD YOU TALK A LITTLE ABOUT YOUR EXPERIENCE AT RALPH LAUREN?
When I arrived in New York, I came with less than a hundred dollars and had to sleep in my car for the first six months, but I started at the bottom at the JCREW clothing company in packaging, opening and organizing the boxes. Two years later I had advanced in the presentation and styling of the merchandise in the store.
One day I met an important man who saw the work I did in the store and said to me: «You belong with us»
"Well, who are you?" I asked them.
"We are from Ralph Lauren, and we would like for you to work with us" – and that's when I became emotional, tears in my eyes. And then my dream came true and I started at Ralph Lauren. Later I advanced to becoming the designer of all the best designs there, I was the right hand at RL. After eight years, I decided to leave because I had fulfilled my dream of working with Ralph Lauren. Now I had to do my own thing.
I REMEMBER THAT RALPH LAUREN OUTFITTED THE UNITED STATES TEAM AT ONE TIME, DID YOU HAVE ANYTHING TO DO WITH THE OLYMPIC CEREMONY IN 2016?
Yes, very much so, because I was in charge of taking the measurements of the uniforms of all the athletes who participated in the Olympic parade. Although I had already left RL by that time, the designs were what I had been doing from before, but I had also previously worked on the uniforms for the tennis teams at Wimbledon and in the United States.
CAN YOU TALK ABOUT HOW YOU STARTED YOUR COMPANY STORYTELLERS AND CREATORS MFG CO.?
When I started my own brand, I had the option of sending my designs to other companies for manufacturing, as most designers do. But I thought, if I'm going to do it, I'm going to do it with my own company.

Why? Because it reminded me of how my mom, who was a single mother with six children, had suffered from working long hours and in very poor conditions. I would fall asleep under her sewing machine and when she couldn't do it anymore, she would wake me up and I would continue sewing so that she could rest.

So with my own company, I can offer my employees a decent place to work, with good pay and support them while they continue developing their own talents. I focus a lot on giving value to the human side.
PUBLICITY
HOW HAS THE PUBLICITY YOU HAVE RECEIVED AFTER THE INAUGURATION AFFECTED YOU?
The only thing it has been for me is to be able to appreciate and value my team. To let the world know that I have an excellent work team and that it is not only the talent of one but of all of them who sacrifice themselves to give their best. My workforce is from all over Latin America, for example Guatemala, Honduras, Dominican Republic, Panama, Chile, Colombia. We are a great team. My team is 50/50 men and women.
(More on Arturo Castañeda at the end of this article)
We talked to Daesha Cano, one of Arturo's team members from Pharr, Texas to ask her about her experience with this project.
DAESHA CANO
HI DAESHA, HOW DID YOU BEGIN IN FASHION DESIGN?
I wanted to be a fashion designer from when I was 6 years old, and that also was my mother's dream, but she couldn't achieve it. She was 19 when I was born. I was accepted at good universities but I didn't have the money to go, so I went to UTRGV – to study business instead, but I only finished two years.
DID YOU ALREADY KNOW ARTURO BEFORE YOUR WORKED IN NEW YORK?
No, I met him through my mom's friends. Then I listened to his talk at TED/ MCALLEN'S TALK, the BREAKING BORDERS series, under the title «CREATING YOUR OWN LABEL» and it really inspired me. I started looking at his work and realized how come nobody had told me about him before, he has so much talent. I wanted to work with him.
My mom encouraged me to contact him and said, «The worst thing that can happen is he'll say no.» So I contacted him on a Tuesday and he was arriving precisely that day at the airport in McAllen to visit his family to celebrate his birthday.
HOW DID YOU STARTED WORKING AT ARTURO»S COMPANY?
That same afternoon we talked and at the end he said, «If I could grant you one dream, what would it be? I replied, «To work for your company as an intern in New York. I want to learn. And so he offered me the job. I couldn't believe it.
That summer I moved to New York although a little concerned since we were in the middle of pandemic, but at the same time I was determined to fulfill my dream. When I arrived to New York, I went straight from the airport to work at Arturo's design atelier.
IT WAS A SECRET
HOW DID IT FEEL TO PARTICIPATE IN THE KAMALA HARRIS PROJECT?
I helped him cut the overcoat. I was like, in the middle of it and I was like, 'Oh my God, am I really cutting it, who would have thought?»
But at first we didn't know who it was for. it was a secret. I was shocked to find out later that we were involved in a historic moment!
HOW HAS THIS PROJECT AFFECTED YOU?
Well, it has given me recognition in the Texas Rio Grande Valley, they didn't know about me before, and now they call me to give me support and it's amazing and at the same time it was touching. It has encouraged me to use my platform (@daeshacano) to encourage others and give support. Also want to continue studying at the NY Academy of Art.
(Back to Arturo Castañeda)
PANDEMIC
THIS YEAR WAS VERY HARD FOR SOME CLOTHING COMPANIES, HOW DID YOU SURVIVE THE PANDEMIC IN NEW YORK?

We were fortunate enough to be able to work and help people during the pandemic. The city of New York awarded us a contract for a hundred thousand gowns for the hospitals. And then we got busy with another fifty thousand gowns for other private hospitals. We were working with twenty employees at full capacity.

ADVISE
ARTURO, ¿WHAT WOULD YOU RECOMMEND TO SOMEONE ELSE WHO WOULD LIKE TO PURSUE A CAREER IN FASHION DESIGN?
I recommend that they study the process of making a garment. They don't have to go to school, but research, study and see what the process is like through practice. Because dreaming without working, nothing will be achieved.
DEDICATION
TO WHOM DO YOU DEDICATE THIS IMPORTANT PROJECT?
I dedicate it to my mother who worked in a clandestine workshop to support her family with six children and her dream was always to dress a president, or in this case a vice president.
This story is really about my mother, because we also worked in the field. She's very proud, and it's amazing for us to come from the fields and make history in the White House with the first female vice-president of the United States.
Instagram: @arturo_nyc