LALI ESPÓSITO- FROM ARGENTINA TO THE WORLD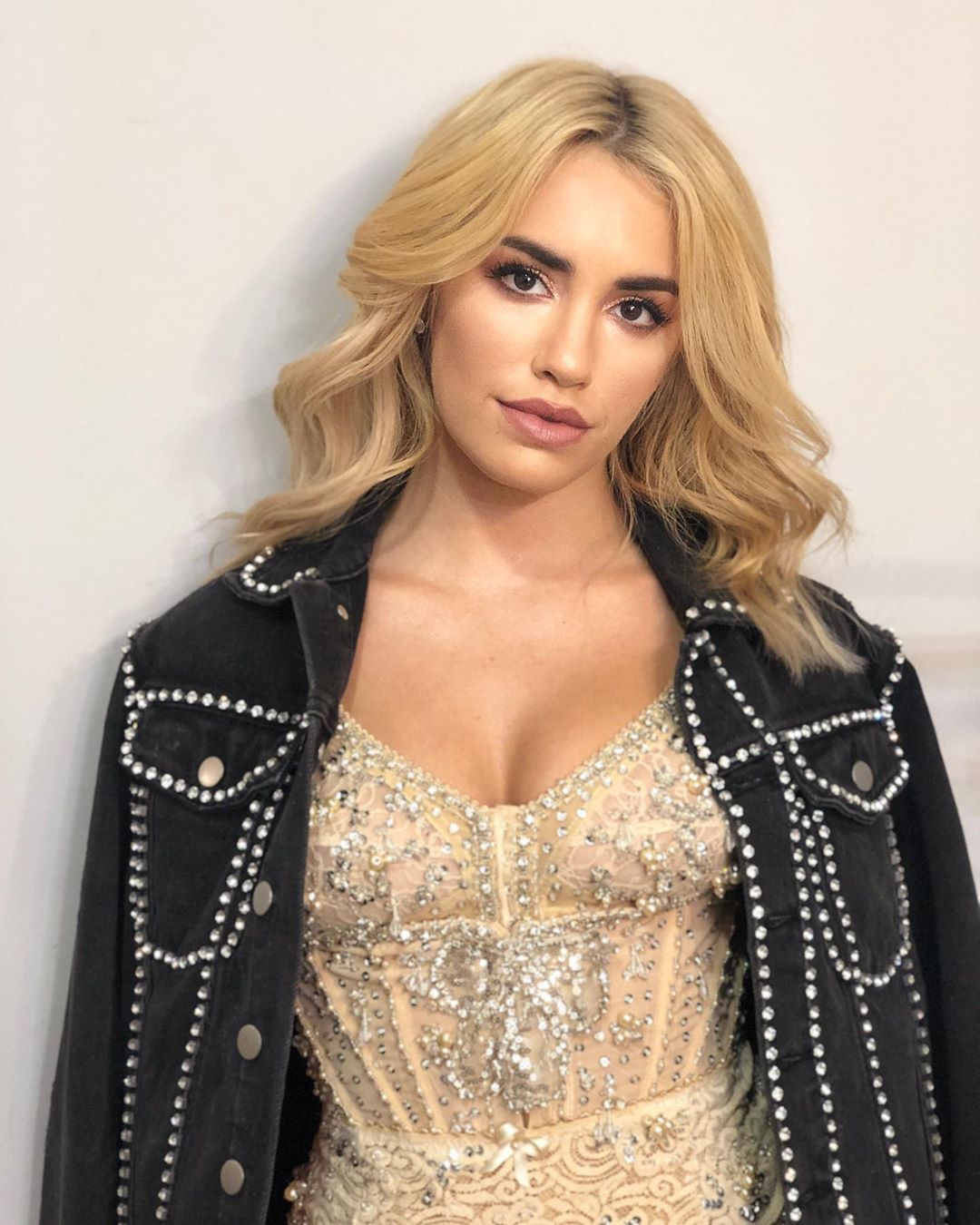 By Lilia Davis
Lali Espósito comes to Argentina to the World starting her Brava Tour No.1 in Texas. She is an Argentine pop singer-songwriter, and actress, and this is her very first tour in United States, starting in Texas. Her tour is certified as  a "Gold" album the first week of its release. Over her career, Lali has received thirty-nine awards and more than seventy-one nominations. She was awarded the Best Artist of the South, by the MTV Europe Music Awards 2018. Lali is in the Top 5 of the global Social Artist list of Billboard magazine, with 6.5 million followers and her music as well as music videos counts millions of reproductions in the different digital platforms.
She has been invited to open the concerts with Ricky Martin, Julio Iglesias and Kate Perry, among many others. She recorded a duet with Mexican singer Thalía "Lindo pero Bruto" which won a Gold award. And on September 2018, Lali was nominated at the Venice Film Festival for her performance in the movie "Acusada" along with Mexican actor Gael García Bernal and Argentinian actor Leonardo Sbaraglia.

=================================================
THE QUEEN OF ARGENTINIAN POP

Her name is Mariana, but her brother baptized her with the name "Lali" as he could not pronounce her name as a child. She began her career as a child actress in Telenovelas, soon after that she became part of the Teen Angels, a youth musical group, later going on her own with her first solo album entitled "A Bailar", at a time when Argentina did not have a woman present that type of pop musical shows, with choreography and costumes.

She transformed herself from being a youthful actress into a musician as an adult. Lali is a spectacularly beautiful woman and along with her charismatic personality you will find a sensitivity that may well make you start dancing when you hear one of her songs such as "SOY" or listening to another, such as "TU SONRISA" find yourself enveloped in a profound nostalgia, deep enough to make you cry a little. Her concerts are heavily attended, full houses most often, with an impressive number of fans in Argentina, Chile, Mexico, Israel, Russia and Spain. Lali is conquering the world, one stage at a time.

The first thing that you realize when talking with Lali, is that she loves conversation and the words fly at a meteoric speed, as if one word invites another without halt. You feel her energy burns at one hundred percent while you are speaking with her. She makes you feel as if you have known each other from a long time, and remembers your name without a wink, only to become part of her vocabulary instantly.

In a lively whirlwind of words, I had the pleasure of interviewing Lali during her tour in the United States, just before starting her concert in Nashville, TN. With her contagious energy, she conveys herself as a warm and humble person, the first thing he said was: "Lilia, thank you for your time and your interview." Here below, Lali talks about her tour, women, the cinema and her next projects.
==========================

Lali, what a thrill you are with us. What does it mean for you to be on tour for the very first time in the US and precisely opening with a concert in San Antonio, Texas, a predominantly Hispanic community?

Well, for me, as a woman from the South, the hemispheric south, it's like the American dream,- it's a big step! Singing in Spanish and meeting an audience with people from everywhere that there is representation and familiarity, brings a strong sense of brotherhood.

It is being away from home and getting live and feeling your music. We come as we say in Argentina "with the backpack behind" and go out into a new world. The audience in New York, responded wonderfully, with great empathy, they identified with me.
WORK, RESPECT AND RESULTS

You had already taken Brava through Argentina, what were the differences you have to consider when setting up a tour with an audience in the US?

Perhaps this tour and concert is different from what I do in Argentina. Everything is very new, it is a challenge, I like to try on new stages, it doesn't bother me, in fact I really want it, it is a rich experience and it nourishes me a lot as an artist .

It means a lot to me for someone to go buy a ticket here, where I've never been, and come to see me. It is coming here as an artist with a version that also allows you to show all your charisma. To a super new audience. Conquering other worlds.
How does the name "Brava" for this tour come up, and what message you convey in all this new material?

It means many things. I had a lot of material that I gathered in one album, and I realized that almost all the songs define a very positive force. I started when was a child, at ten years old and I discovered myself as a woman and as an adult. I realized that as a woman you have to impose yourself in this industry that is run almost entirely by men.

"Brava is born from being able to say whatever one person wants to say, with a lot of feminine power, there are songs that at my age I want to tell about everything and it is perfect to define it. Open up my Argentinian side, to say what I want."

You have to get tough or "brava", but in a positive way, in certain things in life, to asset yourself. Take out either the sexy, or intellectual side, a whole world of sensations that makes us women very unique.

What do you want to convey with "La Ligera"?

This is kind of part of my biography. To show you something from Argentina, but we are also "porteños" from Buenos Aires, from the city, show a Buenos Aires neighborhood. I was born in Parque Patricios, a humble neighborhood "barrio" of Buenos Aires, near 25 de Mayo Avenue.

I loved to go rollerblading on these tracks in the gymnasiums of the schools and the first audience I had was there at the age of five performing with my skates and continued until ten. From there I continued in the soap operas and continued growing as an artist as the person I am now.
It's like claiming the dreamer, because the world is sometimes a bit hostile. In my family, nobody was an actor, leaving that example that with work, with respect and with results, you can go forward. I had this opportunity and maybe that can inspire others.

CELEBRATING BEING A WOMEN

Do you feel that the current movement about women and feminism has influenced you to write songs?

Undoubtedly, as a woman, it means being able to say what grandmothers could not do, today it is something else, to express ourselves about what makes us happier. Also openly talk about issues such as the law regarding abortion, gender inequality, which also exists in the music industry.

Being a public figure and a woman, you have a platform to express yourself individually, what message do you want to leave?

Summon more women to give them more spaces. Re-educate. I just turned 28 this October and I think it is a very important age, one of the best. My generation has to change even more, and for me it is "cool" to be part of that generation. Anyway, my global message itself is that I want to build a better place and a better country.
CINEMA
You surprised us with the movie "ACUSADA" with the leading character of "Dolores Dreier", and being nominated at the Venice Film Festival. How did the idea of ​​making movies come up while you're busy as a singer?

It was a super cool experience. I like working in my music one hundred per percent, but diversification is also important to me. I want to deliver other things to the public. Another facet of mine. I don't want to be labeled in only one thing. This reflects my intention to show the public other ways of expressing myself as an artist.
It is a strong theme, and your image is radically different on the screen, very short hair, washed face and simple clothing.

Yes, it is about a young woman accused of murdering her best friend. It was a unique experience to work with actors like Gael Garcia Bernal and Leonardo Sbaraglia as well. How does the family suffer the judicial process, the problem of a crime and how it affects society. An internal disorder. What happens to a father? This movie was like playing other keys on the keyboard for me, as an actress.
What's next after finishing the Brava tour?

Continue with acting and immediately after the tour we have new singles in a week – "La Ligera" has a partner. Then I will be one of the presenters of the LATIN GRAMMY awards, and that is the second time they have invited me. It will be super interesting.
===============
The echo of the choreographers and theater staff is heard as background music during the phone conversation with Lali, and they let us know that the time is up for the interview. So we asked Lali to quickly answer the following "POP" questions:
DO YOU PREFER BLOND OR BLACK HAIR? Blond, for now …
RICKY MARTIN OR JULIO IGLESIAS? Ricky!
KATY PERRY, OR RIHANNA? Uff, this one is difficult, but I'm going for Katy Perry!
FAVORITE SINGER WHEN YOU WERE A GIRL? Queen Freddie Mercury
HOW MANY PAIRS SHOES ARE IN YOUR CLOSET? More than 400! I am a declared "Shoe Queen". (laughs)
THE HIGHEST HEEL YOU HAVE WORN IN YOUR LIFE? Mmm I think 25 cm, high (about 9 inches) – I think!.
AS AN ARGENTINE AMBASSADOR WHAT IS YOUR FAVORITE PLACE YOU RECOMMEND?
My country is very rich in everything! – either in the North, or in the South, Buenos Aires. Ahh, but the South is magical, like Patagonia, you can't leave without visiting the South of Argentina!
=================================================== ================
THE TIMING IS RIGHT!

Latin music stars have the attention of music-lovers more than ever. This has opened a path for Spanish-language stars like Lali Espósito to shine for a broader audience, at the right time, and at the right place.
LALI Espósito could not have arrived at a better time to introduce herself as an artist, as a woman, Hispanic, celebrating her twenty-eight years this October, the best age to bring her concerts to the USA and we hope she returns soon to do many more!
@lalioficial (Instagram)
@USALaliEsposito (Twitter)