My Italian Viaggio @ Numero 28 in Austin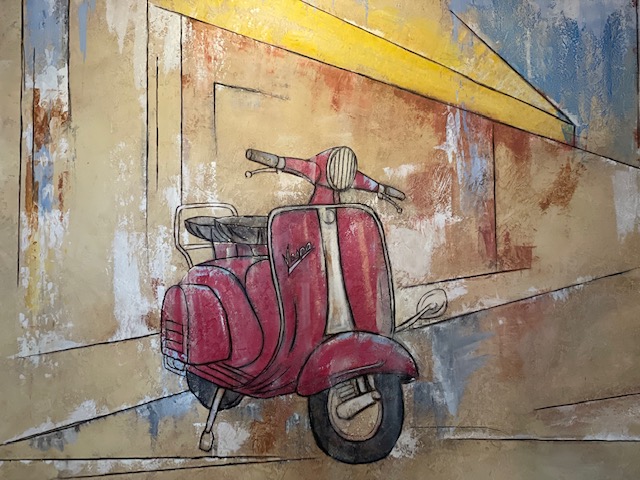 By: Lilia Davis
Art by: Michael Rosato
Italian food is something that most people tried and enjoyed while growing up in United States. However, my case is to the contrary, I have to confess that up until recently I was not a fan of pizza, or much of any Italian food with the exception of spaghetti and then only occasionally. Perhaps due to coming from México and Spain and growing up along the South Texas border with a strong Mexican food culture, I wasn't exposed to genuine Italian food.
One day here in Austin, long past the years of growing up, I visited the Italian restaurant Numero 28 in the Second Street District downtown Austin, because it had been recommended enthusiastically by a family friend that works there. I visited and my opinion of Italian food has dramatically changed. Not only did I like it, but I wanted to learn about it all, the Italian language included.
I also wanted to do something completely different than anything I had done before and work a few hours with my hands. So my friend recommended to go and talk to one of the owners. I still remember during my short interview that my heart was beating faster than usual because it was something I never tried before. I was more nervous than when I interviewed at a corporate law firm in the Pennzoil building downtown Houston.
Before I knew it, and without any experience in the restaurant industry I was welcomed onto the staff of No. 28. Someone said: "In bocca al Lupo" – (or literally to be in the wolf's mouth) an Italian phrase to wish you good luck, – which I was instructed to reply with "Crepi il lupo" – (may the wolf die) otherwise you don't get that good luck!
Leaving my comfort zone
Like Michelle Yeoh's new movie premiered at SXSW FIlm in Austin: everything, everywhere, it all hit me at once.
Read more on Michelle Yeoh here: SXSW Film 2022| Meeting Michelle Yeoh by Lilia Davis
First, I saw myself working with my sans-manicure hands, as opposed to working with my mind, and I found myself standing up for long hours, as opposed to sitting down, editing for hours. Also I started working mostly with men as opposed to working mostly with women in the magazine.
And my attire changed dramatically. For instance, my Italian Marni high heels were exchanged for a collection of black Adidas, Swedish Treton and New Balance tennis shoes to keep up with the work pace.
Finally, my icy pastels colors and my paisley design by Italian designer Veronica Etro, were exchanged for monochromatic black uniforms customary of the service industry. To the extent that now black is my new black! And after tying my hair up, you would not recognize me. I felt like I had gone undercover. Incognito.
Now let me tell you about Numero 28 located in the 2nd Street District of Austin's most vibrant scene right in the heart of the city.
Interior Design
When you come into Numero 28 you will feel a special soul in the building which has an intimate Italian -European feeling design. First, your eye will catch the image of an interesting mural at the back of the restaurant. A vivid red Italian Vespa designed by Michael Rosato, an artist and friend of the owners, and FSU Graduate widely known as the Muralist of Harriet Tubman and other murals in Texas. He is known for his large murals, ​​such as the Tulsa Race Massacre, and not only painting them, but also installing each piece of artwork personally. 
"We had a short time frame and budget, so we tried to make it fun," said Michael, when talking to him over the phone.
But don't leave the bar without checking out the longhorn mural in the wall, colors of the wall, feeling a connection with Texas, designed also by Michael Rosato. Two little art touches very few people know about.
The Service
Although it may seem chaotic at times when servers are setting up the tables for the day or night shifts, teasing each other in camaraderie, that changes noticeably at peak time when the customers start coming in bunches. Silence you can hear when the servers pass by you like silent ships at sea, bringing the hot entrees to the customers' tables with quickly purposeful strides.
Servers often multitask, for instance you may see a server holding a sizzling Margherita pizza with that basil fragrance difficult to forget in one hand, and a Diavola pizza in the other, while anticipating that Chicken Parmigiana order to be prepared by our master cook Sergio Hernández for another tavola – table.
All delivered with a friendly smile and or a chat about an interesting subject whether in English, Italian, Spanish, Portuguese, French or MIlanese.
The Bar and Sarters at Numero 28
While the bar, the heart of the restaurant, is another show going all together with Campari orders along with Negroni Italian cocktails or sending Limoncello liquor shots in tiny glasses. I suggest trying the espresso martinis in the patio tables outside, accompanied with an arancina tradizionale, one of my favorites starters in the menu that takes you all the way to the history of Sicily.
Or try a fried calamari and zucchini before enjoying our popular pasta dishes, such as Cacio e Pepe delivered in an impressive pecorino cheese wheel of about six inches tall, one of the most ancient dishes from Rome, and the most photographed pasta dish by our customers in the restaurant.
An often overlooked starter is Bresaola Rotolini. A very lean type of air-dried and salted beef that originated in Valtellina, in the Lombardy region of the Italian Alps. It has a unique curating process removing the fat from the meat thus resulting in a healthy and powerful lean beef protein. Filled with Arugula and ricotta cheese, it's worth sampling.
And so, you can hear the clicking of glasses at the bar that come and go with sounds and murmurs of making new friendships on the go. One thing for sure, nobody is leaving in a hurry, everybody with lingering looks in their eyes.
An economy of words.
As an editor of a magazine I love words. I love to shred them, mince them, chopp them, julianne them, and toss them all together to create a story. However, one thing that I had learned to adjust while working in the restaurant industry is to deliver your instructions straight to the point, economizing words in an effort to get things done when time is of the essence. However, you may lose track of politeness while doing it. No hurt feelings allowed.
When critized for being rude at times, Spanish chef José Andrés, founder of the World Central Kitchen, mentioned in Ron Howard's latest documentary "We Feed People": "How do they want me to say it? .. like this? (he starts mimicking a polite singsong)… I have to feed people, get things done.." he explained during the premiere at SXSW 2022.
How did I worked it out? I found that it's much like editing an outline of an article. Focusing on the headings of the article, making sure the content is relevant, complete and on time! Done.
The Language of Music
At Numero 28 I found myself surrounded by sounds of a new language, Italian music. I exchanged my favorite Mexican classical music director Alondra de la Parra playing Danzón No. 2 of Arturo Márquez with her Orquesta Imposible, or conducting Prokofiev Classical Symphony IV movement, to enjoying warm Italian song accents.
For example while having dinner you may listen to Italian singers such as Andrea Bocelli's with pure italian classics such as Vo-la-re, and Can-ta-re. However you will also hear female Italian pop singers such as Alesandra Amoroso and the sound of Italian blues of Pino Daniele and of course, Biagio Antonacci and Eros Ramazzotti.
Don't be surprised to receive your order with a waiter singing, such as Alessio, one of our lead servers and singers at the restaurant. He can pick up the exact voice tone of an Italian music playlist without missing a beat.
Italian Language Classes
Numero 28 is one of the few restaurants that also offers Italian language classes in the premises with Elsa Gramola and the Taste of Italy of Austin.
A native speaker full of charm that can help you get ready with enough Italian conversation to survive your next trip to Italy.
Elsa also gives you tips when ordering food in Italy, for example, order "vino locale" or house wines as opposed to other wines, she says, because often they are better in taste and in price.
Italian Wines at Numero 28
But if you want to try Italian wines right here in Austin at Numero 28, you should try the combination of wines carefully curated among the most important wineries in the Italian nation.
Our sommelier Marco Borghi, or Bernardo Nolfo, the owners, will be happy to guide you through their Italian wines to enhance your food experience with every entree in the menu. Enjoy half-off bottles of wine all day every Tuesday. Cin, cin!
Ladies are Always First
At times, you may see mostly men customers at the Numero 28, such as a Ducati motorcycle driver, a doctor from Iran, successful lawyers, technology firm employees, financial brokers or architects, perhaps giving the appearance of a men's club. Specially during calcio (futbol soccer) season, when you hear men enthusiastically cheering for their Italian favorite calcio clubs in the Serie A teams such as Juventos, Napoli, Salernitana, ACMilan, Fiorentina or Roma.
However, it easily becomes a place to see and be seen as you often see an increasing number of affluent and stylish ladies who like to have lunch, or taking a stroll at night with their poodles.
Their dogs have the most incredible haircuts, and you can see their owners stopping by to say hello and chat about the events of that day, or their life.
One kind and old lady came for dinner one night and shared her memories with nostalgia about growing up in North Italy, "I was born in Trieste", she said with pride. Upon telling her that I was from México, she said "oh I remember that a statue of Maximilian, Emperor of México was created there." She gave me a warm hug before leaving. A cardinal rule at Numero 28, is that ladies are always first.
A Rediscovery
You may say I have accomplished what I intended to some extent, and then some, shaking off my writing stiffness and learning about a new language, and rediscovering homemade Italian food.
New treasured friends have been made along this Viaggio in Italia, as the title of the 1954 movie directed by Roberto Rosellini with Swedish actress Ingrid Bergam.
But I have found a deeper appreciation of the food industry, and a realization there still so much more to learn. One thing for sure, it has been an experience that I will cherish and never forget.
So one day, come over to Numero 28 during SXSW or any other time, and try their menu, perhaps you expand your culinary horizons as I have, or maybe you may see actress Michelle Yoeh back again in our restaurant, you never know. Can't wait to see you here. Ciao!
Lilia Davis
Editor in Chief
Instagram: @davislilia