MYRNA SALAS. Spanish Reporter Behind the News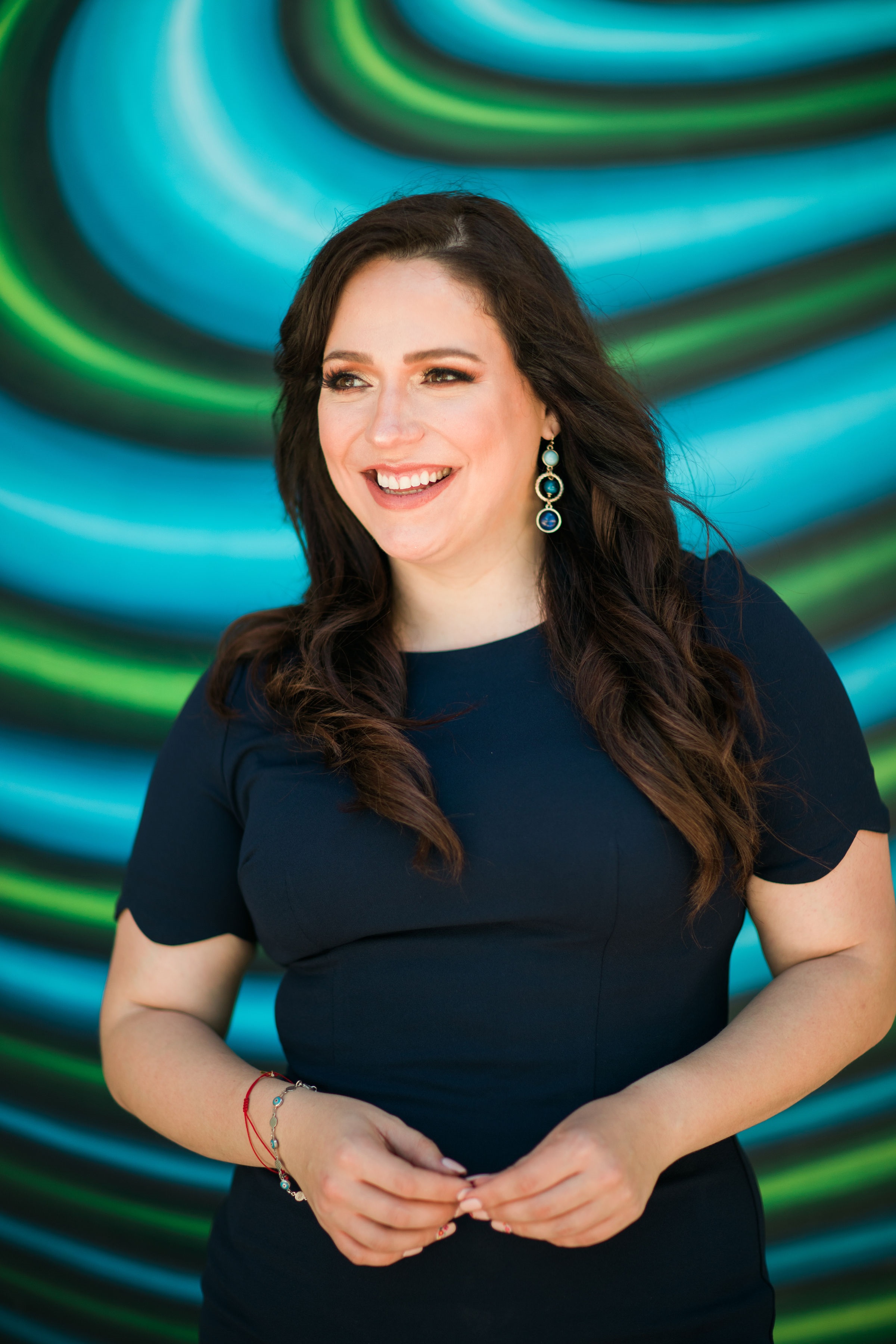 Por: Lilia Davis
Fotos: Lucero Salinas
Location: Yanaguana Garden at Hemisfair Park
and the San Antonio Public Library
A Conversation With Myrna Salas
Mexican, from Monterrey, TV presenter, and news reporter at Univision 41 in San Antonio, Texas, with ten years of experience in the area of ​​communications in Mexico and the United States. Her multimedia journalist work has excelled in participating in the production of news.
She just received a National 2019 TELLY award: Pearl Harbor: The War That Changed My Life, as a Reporter and the program's Producer. She has also won 5 EMMY awards for social interest stories and crime reporting. She is speaks Spanish, English and Italian.
Myrna expresses herself below about her career as a reporter in both Mexico and the United States; the importance of Spanish language in the media; and about the recent mass murder of Mexicans in El Paso, Texas and Hispanics as a target of the attack, as well as the death penalty.
===================================================
Our favorite contributor and  photographer in San Antonio, Lucero Salinas of Encanto Rojo met with Myrna to do the photo shoot for La Revista Mujer. They met in the CommonWealth Coffe House in  the historic Hemisfair Plaza in San Antonio, The resulting photographs were nothing short of spectacular.
Later I had the pleasure of interviewing Myrna Salas and could confirm the great person she is: humble, sincere with a lot of passion for what she does and a person full of compassion for human beings. The interview became an intimate conversation as you will see below.
====================================================
BEGINNINGS
Myrna, when you started working in the news in Monterrey, you said that your dream was to work in a foreign news, making journalism about Mexico. Now that you are in the U.S. do you feel you have fulfilled your dream?
I think that I have surpassed my dream. As a girl I always wanted to be a reporter. I admired the women journalists that I watched on television and my dream was to be like them.
So when I grew up, I studied Communications at the Autonomous University of the State of Nuevo León (UANL) and even got to work with one of the people I admired on television. Working at Univision in San Antonio has been an invaluable experience.
JOURNALISM IN MÉXICO VS USA
What was your first journalist job at Televisa Monterrey?
I started monitoring international information. Since everything was local in Monterrey and we had no national or international correspondents, I was in charge of "monitoring" what was happening nationally or internationally. My job was to watch the news to see what was happening and summarize the news.
There was an agreement with TV Mexico and with Univisión for the news of both networks to be shared. Something like Reuters.
I later had the opportunity to work at Multimedios Television and Milenio Television as presenter of segments and in charge of national and international content.
Do you think there is a tendency for Mexican reporters to come to work in journalism in the United States?
Yes, I think there is a generation of journalists who emigrated from Monterrey here at a certain time. You look for the opportunity but in fact you also needed here. I am passionate about human issues and practicing journalism in the United States that has more openness to human issues.
Here the immigration issue, for example, social issues, can be handled with a journalism and more research and a difference can be made and this has allowed Mexican journalists to contribute something positive here in this country.

"One of my mottos in journalism: 'It is not a good journalist who does not get his shoes dirty'. You have to walk the street…"
What do you think are the main differences in work when arriving from a newschannel from Mexico to the United States?
Well, first, the spaces are shorter, as opposed to several hours in Mexico, here they are half an hour. Consequently you have to be more concrete, more concise.
Also in Mexico I had a producer and / or editor, here I do everything. This at the same time has allowed me to be a producer of my own news. There is a lot of opportunity to learn new things. I learned to be a video journalist, but I confess that it was not easy to adapt to the news in the United States.

One of my mottos in journalism is: "It is not a good journalist who does not get his shoes dirty." You have to walk in the street. You appreciate and have more sensitivity, than just seeing everything from a little box inside an air-conditioned office.

THE CORRECT SPANISH
When you are presenting the news do you feel that you have had to change Spanish a bit to adapting it to viewers in Texas?
I think so, definitely. Our primary responsibility is that they understand the message. Sometimes you have to adapt and use synonyms in Spanish. If we use very sophisticated or different words, the average viewer may not understand you.
For example, in the news in Monterrey we use the word "nosocomio" very often – to describe a place where sick people are treated for their ailments and health problems. A word derived from the greek "nosos" (sickness) and "komein" (take care of). Therefore it is synonymous with hospital.
If we mentioned "nosocomio" here they will not understand it or only a few will know its meaning, and therefore this limits our audience. So I have chosen to change the word to hospital or medical center.
Another thing we have to consider now, is that there are also immigrants who come not only from Mexico, but from Honduras and Guatemala and we use what we call a more international Spanish.
The audience is different, you have to adapt it to your language, while remaining correct. You have to permeate the correct Spanish in a way. Believe me, I struggle to have things spoken as they are in the correct Spanish.
And what about Italian?
Well, I speak it for the love of art. My father Raúl Salas, is a dentist by profession, but he sings opera at events in Monterrey and I listened to Italian a lot when I was a child. At school I always studied English as a second language. But after I finished studying English,  my mother mentioned to me: why don't you study another language and I will pay for it.
So I decided to study Italian at the Società Italo-Messicana Dante Alighieri in Monterrey. I obtained a PLIDA certification issued by the Università della Sapienza di Roma. And yes, I like to sing.
DEATH PENALTY
You have made and produced many reports on crime and especially regarding the death penalty, what do you think about the lethal Injection?
It has been difficult, coming from Mexico, where there is no death penalty. But here in the United States I have witnessed several executions. My first experience was just two months after I started my work here in the US.
I had not met the person, I simply went to interview the person. I did not feel anything. I didn't know what was going on, but something inside me told me that I needed to learn from these things.
The next time I knew they were going to execute a person from San Antonio, they gave me permission to be present. I armed myself with courage and left with a cameraman and a producer. It impressed me to see how they lived in a cell, and talked to a person with 25 years of being in prison for homicide.
I was present at the execution of that person and it was the opposite of the first time. He said he was innocent, he said he was not to blame, I had a need to know more about the matter.
Finally, one day I got to interview one person who simply said: "I was paid to kill someone, I was a sicario, a hitman and I killed someone" – while everyone else I had interviewed before had said they were innocent, "It was not on purpose", "It was not my intention".
But this other one was a declared sicario, a hitman and it was different. Someone hired him to kill his wife to collect life insurance. You have to consider all those angles.
But there is something interesting and in common that I remember when interviewing all of them, they all agreed on something; at the time they were not given the advice they needed, many of them could have argued psychological problems, you could see it in their eyes, their sadness, their resentment.
Why is it important to interview them before they die?
It is very complex, and journalistically speaking the main reason why I continued to see and interviewed them, was for them to tell their story before they died. And sometimes you don't have an opinion – it definitely changed my perspective.
HISPANICS BEING TARGETED
The recent shooting in El Paso, Texas in which more than 20 people died, was something that impacted everyone, as Hispanic, Mexican and as a journalist, how does it affect you?
It affects me too much, sadness has flooded me since we heard the news. I felt devastated, I allow myself to feel and cry because we are human before all, but as journalists we have to be very objective and we are not activists, but we have a representation and it hurts to know that we are a target of attacks.
When we arrive in this country, we come with a desire to work and with the illusion of moving forward by ourselves and to help our families. After this you cannot help thinking ironically: there are so many people who come from Mexico, avoiding violence thinking it will be safer here, and when they arrive, it is much worse.

Being a news reporter in Spanish, you're in a more visible place than most Hispanics. What do you think you could do to help educate people and avoid this?
Sending a message, trying not to disturb people, not to fall into sensationalism or exaggerated information. Being objective and speaking with the truth to guide the psychological issue, speak directly with parents – to make time for their children and talk with them, to tell them the truth.
Because a boy who has a racist background, and who is watching the news, who knows that there are 300 Hispanic people in Walmart – he already knows where Hispanic people are and undesirable things like this happen. A young person that is still unformed, and you could say truly uninformed.
I repeat, as reporters we are not activists but I think the policy should be modified to prevent these tragic situations.
Now that you are the mother of an eight month old daughter, what do you think about her future being Hispanic here in the US?
The truth is that I feel panic and fear at this moment, and how serious the situation is. You can identify with this yourself, especially you as a mother, because that fear and panic exists.
But as I grew up and as my mother educated me, my job as a mother is to teach my daughter to be valuable for what she is and for what she has, and fight for her ideals and that no one has to go stamp all over her, nor she over others. Having conversations with her and instilling her the immense pride in being Hispanic.
Do think you may return to Mexico one day, or prefer to you stay here in the USA?
I really like working here. Mexico will always be there, my family, my parents, my friends, certainly journalism in the US has enriched me a lot and I would like to continue living here. But life is a roulette and you never know where you will fall. You never know.
What do you do to relax after an intense day of work, and what do you recommend?
There are three favorite things that I enjoy a lot, I like music, literature and good coffee! (laughs) What are my favorites? Mmm, well in music: I like Mexican regional music. Books: I really like regarding journalistic issues, for example Jorge Ramos' book, Sin Miedo ( Fearless): Rebel Lessons, it is a compilation of his most important interviews and how he achieved them.
For coffee I recommend a place near downtown on Louis Pasteur Street, Café Martínez and Bakery Lorraine's pastries at the Pearl, I love them!
What advice would you give to other women who would like to follow your example in a career of journalism?
I would advise that if you want to be a journalist, it has to be your passion, because it is a profession that takes your days off, your time off, it takes time away from your family. You have to be willing to be available 24 hours, and as a mom and as a wife you have to find a balance. If not, it is very complicated.
We celebrate Myrna Salas as an example of successful women because of her extraordinary work as a journalist, reporter, producer and news anchor work. And because her courage and her passion for helping the Hispanic community by delivering the news full of the truth, is priceless.