PATRICIA FISAS + NATURA BISSĒ | IN PURSUIT OF INNOVATION IN BEAUTY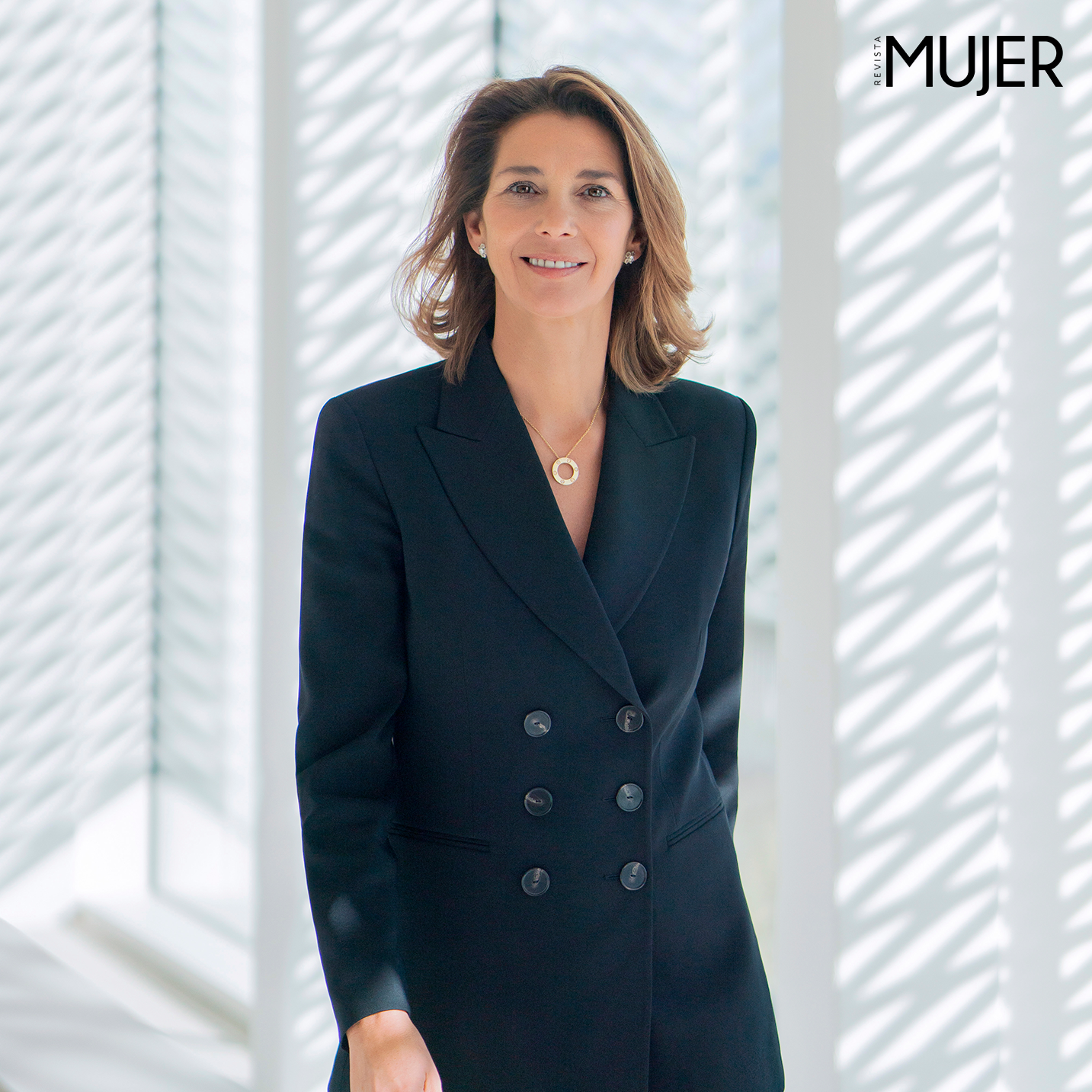 Patricia Fisas is the Vice President of Innovation of the Natura Bissē group. A family company from Barcelona, Spain in the luxury skincare beauty sector that currently has subsidiaries in Spain, United States, Mexico, United Kingdom and China and presence in 40 countries. Natura Bissē is present in the spas of luxury hotel chains and in the most prestigious department stores in the world, reaching more than 7.5 million treatments per year.
Natura Bissē has also developed a cult following among celebrities such as Catherine Zeta-Jones and Beyoncé among many others. For its excellence, Natura Bissé has been named the "World's Best Spa Brand" at the 2018, 2019, 2020 and 2021 World Spa Awards and ambassador of Forbes Travel Guide, from 2017-2020, being the only and exclusive official cosmetic firm of the Forbes Travel Guide.
One distinctive trait of Patricia Fisas and her family, besides their passion in creating excellence in their products, is their serious commitment aiming to contribute to the wellbeing of those who live under vulnerable conditions. Specially through the Ricardo Fisas Natura Bissé Foundation in Spain for women and children and recently extended to the United States with a project with Susan G. Koman foundation.
BEGININGS
When Patricia Fisas was only 10 years old, her father decided to set up his own business after the economic crisis in Spain in 1979 closed the company where he worked. Patricia only clearly remembers the meeting at which her parents announced that, "from that moment on, everyone in that house was going to be selling creams."
The idea for the creams came from her father Ricardo Fisas Mulleras, who recalled that he was always surprised that the operators who worked in the protein hydrolysates company always had very soft skin when he shook their hands.
After much research and with the support of family and friends, Natura Bissé was born on June 7, 1979, entering the professional cosmetics market with five creams aimed at various skin needs.
McALLEN, TEXAS
Years later, they decided to broaden their horizons to the USA, and so they arrived in Texas. At that time I was working for a Spanish company that exported medical products. And one day, Mr. Ricardo Fisas showed up at our office and left some Natura Bissē bottles of skin creams on my desk in McAllen, Texas, to see the possibilities of introducing them to the U.S. market.
HOUSTON, TEXAS
I later went on to pursue my specialization studies in business and legal translation in Madrid, and had the pleasure of meeting the Fisas family on a visit to Barcelona. However, I didn't meet Patricia Fisas until years later, during a Natura Bissē event at Neiman Marcus in Houston, Texas. I remember she arrived with an abundance of gifts for my son – about to be born, and we immediately connected because I recognized in her cheerful smile, professionalism and passion for what she does, a hallmark of her family.
BARCELONA
Celebrating Natura Bissē's 40th anniversary, I decided to contact Patricia Fisas again to write this article that I had been contemplating for a long time. We conducted her interview by e-mail sent to Barcelona.
It has been a great pleasure to renew contact with Patricia just as if we were resuming a conversation since the last time we met. I was happy to learn more about her family, their philosophy behind the brand, their new products, and Barcelona. Below are her answers.
A CONVERSATION WITH PATRICIA FISAS
A FAMILY BUSINESS
PATRICIA, AFTER THE 40TH ANNIVERSARY OF NATURA BISSĒ BEING A FAMILY BUSINESS, WHAT DO YOU THINK ARE THE ADVANTAGES OR DISADVANTAGES OF WORKING IN A FAMILY BUSINESS?
It's all about perspective. As a family business, what moves us is the genuine passion we have for what we do. Excellence is a priority to the family, hence, to the company. At once, involvement is high, not only from our part, but with all the teams and channels. At Natura Bissē, we look for people who want to become a part of our family over the long term, who learn and grow with us, who contribute.
Because we are a family company and not a big corporation, we have the ability to quickly and gracefully adapt to current needs. Thus, we bet on dynamic and flexible professionals. I will tell you… I very much enjoy working hand in hand with my siblings, in-laws, and even with my husband. It's calming and motivating to be in it together. However, we prohibit ourselves from talking about work when we're home.
YOUR FATHER, MR. RICARDO FISAS
PATRICIA, WHEN I FIRST HAD THE OPPORTUNITY TO WORK WITH YOUR FATHER IN MCALLEN TEXAS. I NOTICED HOW MUCH ATTENTION HE PAID TO THE WELFARE OF HIS EMPLOYEES. WHAT IS THAT RELATIONSHIP LIKE TODAY WITH CLOSE TO THREE HUNDRED EMPLOYEES, MOST OF THEM WOMEN?
As a family company, we always try to have a close and compromised relationship with all our employees. Just as you said, it was always one of my father's most important principles, and we have been trying to honor that as a family. Doing so is our commitment and the only way we envision our company existing. At Natura Bissé, every person counts and contributes his or her value.
YOUR FATHER USED TO SAY THAT, AS A JESUIT-EDUCATED MAN, HE BELIEVED IN THE SOCRATIC METHOD OF LEADERSHIP, WHERE EVERYONE PARTICIPATED IN THE PROCESS, DO YOU STILL USE THIS METHOD?
Absolutely. Natura Bissē wouldn't be what it is without its wonderful team. As we say, we look for professionals who add value and contribute, who make mistakes and learn from them, who grow along us. My father always said his success lay in having surrounded himself with a team that was better than he was. That philosophy about looking for talent and sharing, is still alive in Natura Bissē.
THE WOMEN OF NATURA BISSĒ
YOUR SISTER VERÓNICA
I HAD THE PLEASURE OF MEETING YOUR SISTER VERÓNICA IN BARCELONA BEFORE SHE BECAME THE GENERAL MANAGER OF THE COMPANY. JUST LIKE YOUR FATHER, SHE HAS ALSO BECOME A REFERENCE IN THE DIRECTION AND MANAGEMENT OF THE FAMILY BUSINESS, WHAT HAVE YOU LEARNED FROM HER?
Verónica is a great leader. In fact, that is why I and my siblings chose her as my father's successor. And we weren't wrong! From her, I've learned to think ahead and to be persistent with our way of understanding beauty.
We have always been ambitious to lean towards a universe of wellbeing, and she has been maintaining this principle as the pillar of our company.
YOUR MOTHER MARÍA GLORIA
AFTER YOUR FATHER'S PASSING IN 2012, YOUR MOTHER TOOK THE CHAIR OF NATURA BISSĒ GROUP AND RICARDO FISAS FOUNDATION, AS SHE IS THE SOUL OF NATURA BISSĒ. WHEN I MET HER, I WAS IMPRESSED BY HER SERENITY, HER OPENNESS, AND HER DIGNITY. SHE HAD A GREAT SENSE OF HUMOR, AND HER SKIN LOOKED GORGEOUS. HOW DOES SHE MANAGE TO MAINTAIN THE FAMILY UNITY AFTER SO MANY YEARS?
I think the fact that she always knew how to keep the values intact with which she raised us is very important. Values of unity, generosity, and empathy, that I, as well as my siblings, have tried to transmit to our own children. There hasn't been a year when we skipped any of our family traditions: an escape in the summer, an extended family reunion for Christmas…
My mother has always been the first to enforce the rule of "no work talk at home" and has kept her sense of humor intact. Nobody in the family can resist going on vacation with her because of that.
THE THIRD GENERATION
ARE ANY OF YOUR DAUGHTERS OR NIECES THINKING ABOUT ENTERING THE COMPANY FULL-TIME?
Yes. In fact, my niece Lucía, Verónica's daughter, has been a part of the company for a few years now. My daughters and many of my nieces and nephews, have collaborated with Natura Bissē in some particular projects. Being a part of the company is and has always been a decision they are encouraged to make freely on their own. It has never been an obligation.
ADVICE
ONE PIECE OF ADVICE THAT YOUR FATHER INCLUDES IN HIS BOOK IS "REPEAT THE GOOD AND FORGET THE BAD". YOU MAY HAVE MANY, BUT WHAT IS THE BEST ADVICE YOU HAVE RECEIVED FROM YOUR PARENTS, EITHER FROM YOUR MOTHER OR YOUR FATHER, FOR THIS BUSINESS?
Choosing only one is tough. I remember they both loved their jobs. It was their passion. They always say: "enjoy what you do; and if you don't, change your direction." To this day, I can say I live with passion every day at Natura Bissé.
CHALLENGES
WHAT HAS BEEN THE BIGGEST CHALLENGE WHEN POSITIONING THE BRAND IN THE WORLD'S MOST EXCLUSIVE COSMETIC MARKETS?
The biggest challenge in Natura Bissē's evolution has been managing constant growth, knowing how to transmit our company culture. Also finding teams and talent that align with our values and the ethic of a family company, so we can manage our brand in every place in the world we are present without losing the company's values.
THE AESTHETICIAN'S CULTURE

I REMEMBER WHEN NATURA BISSĒ STARTED WITH THE DISTRIBUTION OF PRODUCTS IN A SPA IN SOUTHERN TEXAS IN THE LATE 80'S. AESTHETICIANS CAME FROM SPAIN TO COMPLY WITH CLIENTS IN A SPA-LIKE SETTING. HOWEVER, AT THAT TIME, WE DIDN'T HAVE AN "AESTHETICIAN CULTURE" YET. HOW DID YOU MANAGE TO INTRODUCE THIS CONCEPT IN THE U.S.?
When we first launched in the U.S., we tried to replicate the business model that had worked for us in Spain, but we made a mistake, because, as you have noted, there wasn't a spa culture in the U.S. Some time later, we tried again and realized the way to go was big department stores. We knocked on Neiman Marcus' door. I remember the only thing my father asked for was a treatment cabin so that clients could try the magic of the products on their skin in the hands of a professional.
The result was spectacular. In a few weeks, we became one of the most successful skincare brands. Skincare started becoming more and more important in the country and Natura Bisseē started gaining presence where women wanted to pamper, from hotels to independent stores to aesthetic centers.
CUSTOMER SERVICE
I REMEMBER WHEN I WENT TO NEIMAN MARCUS IN HOUSTON FOR A NATURA BISSĒ FACIAL AND A HAND TREATMENT WITH A SPANISH AESTHETICIAN. YOU WERE THERE, TAKING NOTES AND MAKING SUGGESTIONS. THAT IMPRESSED ME; CUSTOMER SERVICE DOESN'T END AT THE REGISTER. WHAT IS YOUR PHILOSOPHY WHEN IT COMES TO CLIENTS?
Always learning. Our will is to accompany our clients' skincare throughout their lives, from their day-to-day when they do their skincare at home to when they decide to enjoy professional experiences that transform not only their skin, but their senses as well.
Our professionals listen, assess, and attend our clients to adapt to their needs and offer them what they really need and that, hence, will make a difference in their skin, and consequently, in their wellbeing.
INGREDIENTS
ROSA MOSQUETA
I ALSO REMEMBER YOU MENTIONED THAT ONE OF THE STAR INGREDIENTS IN YOUR PRODUCTS IS ROSA MOSQUETA. COULD YOU TELL US A LITTLE ABOUT THIS INGREDIENT?
Rosa Mosqueta is a wonderful ingredient that we've used as base in one of the star products in our collection for sensitive skin, NB Ceutical. We've combined this active, rich in vitamin C, with tamanu oil, to provide  extraordinary nourishment and comfort, plus impressive anti-age benefits. 
Together, they form a masterly formula that helps fight stretch marks, soothe sunburns, and fade scars. Moreover, it fights wrinkles and hyperpigmentation. At Natura Bissē we consider this to be our ultimate skin repair product.
2021 NEW PRODUCTS
EARLY THIS YEAR, YOU LAUNCHED INHIBIT RETINOL EYE LIFT, AND IN THE SPRING, YOU LAUNCHED DIAMOND WELL-LIVING: THE MASTERY OF TOUCH, AIMED TOWARDS THE MIND, BODY, AND SURROUNDINGS. COULD YOU TELL US A LITTLE ABOUT THEM?
Sure! They have both been impressive launches with great global success. Inhibit Retinol Eye Lift is an anti-wrinkle fluid for the eye contour that inhibits, fills, tights, and brightens the area.
It helps relax the appearance of expression lines and wrinkles, gives an astonishing lifting effect, and minimizes undereye bags and circles. It comes with an ergonomic ceramic applicator that facilitates the application substantially.
Diamond Well-Living is the collection made to make us happier. A line that invites you to stop and enjoy the pleasure of taking care of yourself, alone or in the company of your loved ones, with body products meant to use at home. It includes a complete menu of personalized spa treatments that tend to the body, mind, and surroundings. It's a mosaic of textures and scents that transform the skin and mood. And it's a vegan collection with more than 90% natural ingredients and recyclable materials. I am personally in love with it.
NATURA BISSĒ PRODUCTS IN THE WORLD
WHICH SPECIFIC PRODUCT DO YOU THINK WAS THE ONE THAT REALLY PUT NATURA BISSĒ IN THE SPOTLIGHT IN THE U.S. MARKET, AND LATER, GLOBALLY?
I would say Diamond Extreme and Inhibit High Definition Serum. Diamond Extreme has become our best-selling product and a favorite among celebrities and skincare experts. It's a hydrating, anti-age cream that diminishes signs of aging, while providing energy to the skin. Inhibit High Definition Serum is a product designed to minimize the appearance of lines caused by facial expressions.
An effective alternative or complement of a medi-aesthetic procedure. It was a success in the U.S. because of its efficacy and, to this day, it still is an essential for the most demanding skins.
AN INVESTMENT FOR THE FUTURE
IN HIS BOOK, "BRUSH STROKES OF A LIFETIME", YOUR FATHER MENTIONS A FEW MARKETING IDEAS TO INTRODUCE THE PRODUCTS WITH A PRICE HIGHER THAN THOSE OF COMPETITORS. PEOPLE ASKED HIM WHY. HE RESPONDED: "BECAUSE ONCE CONSUMERS CONFIRM THE PRODUCT WORKS, THEY FORGET ABOUT THE PRICE." WHAT DO YOU THINK ABOUT THIS?
I believe buying Natura Bissē products is an investment for the future. Like my father said, our products are not expensive, per say, because they truly work. Expensive is when something doesn't deliver results.
At Natura Bissē, we have no set budget for research and development. This way, we can offer our clients cosmetics from the latest technology that actually deliver on their promises. For this reason, we are fortunate enough to have customers that are loyal to the brand.
CONCEPT OF LUXURY
WHAT DOES THE WORD "LUXURY" MEAN TO YOU?
For me, luxury is a synonym of excellence. It's quality, attention to detail, efficacy, a work of art… but it's also tied to wellness, enjoyment, to that time we take to pamper and take care of ourselves and our loved ones.
The delight of dinner conversation while overlooking the sea with good company or those 60 minutes we spend in the spa treatment room with expert hands taking care of our skin. That is what we call well-living and what has inspired our Diamond Well-Living collection.
IF YOU COULD CHOOSE ONLY ONE NATURA BISSÉ PRODUCT, WHICH ONE WOULD YOU RECOMMEND STARTING WITH?
If I could only recommend one product, it would be Diamond Glyco Extreme Peel. It's an enzymatic exfoliant capable of transforming the skin in only 15 minutes. A must-have in any skincare routine at any age. It minimizes the appearance of wrinkles, dark spots, pores… It provides luminosity and a lifting effect… all of this in a safe, non-aggressive way.
MAKEUP LINE
IT IS DIFFICULT TO FIND A FOUNDATION WITH THE QUALITY STANDARDS OF NATURA BISSĒ. HAVE YOU CONTEMPLATED THE IDEA OF CREATING A MAKEUP LINE?
Since our inception, Natura Bissé's core business has always been–and will always be–skincare. We design products for face and body. We are focused on what we do best: skincare treatments.
For those looking for a natural, flawless finish my recommendation would be to try our Diamond Cocoon Sheer Cream, a color enhancing moisturizer. It hydrates, helps diminish the appearance of signs of aging (such as wrinkles, dullness and sagginess), and offers a lightweight natural coverage, making it an ideal substitute and/or complement for make-up.
FORBES TRAVEL GUIDE
NATURA BISSĒ WAS NAMED THE ONLY AND EXCLUSIVE OFFICIAL SPA BRAND OF FORBES TRAVEL GUIDE FROM 2017-2020. WHAT WERE THE RESPONSIBILITIES OF THE BRAND AS THE OFFICIAL SPA BRAND OF FORBES?
Back in 2017, for the first time in history, Forbes Travel Guide named Natura Bissé its only Official Spa Brand. The prestigious institution also granted us the "in partnership with" seal, certifying that we met their rigorous quality standards.
It was a fantastic recognition that we held from 2017-2020 and motivated us to keep thriving for excellence like we've been doing all these years.
Also, many of the spas that carry Natura Bissé products or offer Natura Bissé treatments, are recognized by Forbes Travel Guide.
NATURA BISSĒ DESTINATIONS
ONE OF THE MANY THINGS THAT IMPRESSED ME FROM NATURA BISSĒ WAS YOUR ORGANIZED TRIPS. EVERYBODY LOVED TRIPS ORGANIZED BY PATRICIA FISAS. FOR OBVIOUS REASONS, DUE TO COVID, THESE TRIPS HAVE BEEN CANCELLED, I ASSUME. BUT HOW DOES THIS PROJECT STARTED?
This project surges as an acknowledgement of gratitude towards our partner clients. Natura Bissē's success comes mostly from the trust and support we receive from our spas and aesthetic centers, who advocate for the quality of our products and trust us to be a part of their professional services and offer transforming experiences.
For us, the direct relationship we have with all of them is vital. Nothing better than enjoying a delightful trip and connect with them, share ideas, sketch out future projects, and show them our gratitude. The last one we did was very special. We visited New York, the city that never sleeps. A place for dreamers. We all felt tremendously inspired. We wish to continue doing these trips when the situation allows us.
MÉXICO
YOU MENTIONED THAT NATURA BISSE IS IN MÉXICO CITY, DO YOU HAVE ANY INFORMATION THAT YOU WOULD LIKE TO SHARE?
Natura Bissé has been operating in Mexico since 2004, when we opened our second subsidiary, located in Mexico City. We have a presence in department stores such as El Palacio de Hierro and at the most extraordinary hotels. My recommendation: if you ever have the opportunity to go there, either for work or leisure, try to enjoy the unforgettable experience of a Natura Bissé treatment at one of our hotel spas.
BARCELONA POLO CLUB
DURING THAT VISIT TO NATURA BISSĒ IN BARCELONA, YOUR FATHER TOOK ALL OF US TO EAT TO THE POLO CLUB. DURING LUNCH, HE EXPLAINED TO US THE DIFFERENCES OF LIVING IN TEXAS AND LIVING IN SPAIN. WHAT WAS YOUR EXPERIENCE LIVING IN TEXAS AS THE INTERNATIONAL MARKETING DIRECTOR OF NATURA BISSÉ?
It was wonderful. Texas is an ideal place to live with your family, with large, spread out spaces and an extremely welcoming and kind community. Time is enjoyed more calmly. I remember with delight the BBQ we had with my friends on Sundays. To this day, I am still in contact with them.
BARCELONA
WHEN I STARTED TO GET TO KNOW THE PRODUCTS, THE WORD "BARCELONA" WASN'T PART OF YOUR LOGO. THE YOU DECIDED TO PUT IT UNDER THE ORIGINAL NATURA BISSĒ LOGO. COULD YOU DESCRIBE HOW THIS SIMPLE DETAIL AFFECTED YOUR BRAND'S IMAGE IN THE MARKET?
We decided to put the word "Barcelona" under the name of Natura Bissē when we expanded to the U.S. In fact, we were inspired by Neiman Marcus. When we introduced them to the brand, they asked, "why don't you say you're from Barcelona?" In that moment, in the early 90's, Barcelona had just been globally renowned because of the Olympics.
BARCELONA AS A CITY
HOW DO YOU PERCEIVE BARCELONA AS A CITY?
Barcelona has been recognized as the avant-garde of European design. It's an exciting city, full of contrast, history, tradition and innovation. It has a unique style that goes beyond aesthetics, and beauty is something that takes part in our understanding of life.
I think Natura Bissē is as dynamic and ambitious as the city it was born in. The brand perfectly represents the style of Barcelona, and, for this reason, we decided to include it in our logo, which had a positive impact in the positioning of our brand.

Patricia Fisas
NATURA BISSĒ HEADQUARTERS
NATURA BISĒ HAS INAUGURATED ITS NEW HEADQUARTERS AND FACTORY SITE IN PARC TECNOLÒGIC DEL VALLÉS, WHICH IS VERY MODERN, AVANT-GARDE, AND ECOLOGICALLY BEAUTIFUL. WERE THESE HEADQUARTERS DESIGNED BY A SPANISH ARCHITECT?
We put our trust in architect Juan Trias de Bes, because we knew he would perfectly portray our brand identity, ambition, history, and spirit in his design. The result was a flexible space with organic shapes, a delicate chromatic range and a harmonious setting with numerous details. Just like our products, it's a building that, I'm proud to say, has a soul.
The Mediterranean light of our origins fills out the spaces with serenity, envisaged to be inhabited, lived, and enjoyed. Today, tomorrow, and for many years to come.
IT LOOKS THAT CREATIVITY FLOWS THROUGH EVERY SPACE. HAS IT HAD AN IMPACT IN THE COMPANY'S RESEARCH, DEVELOPMENT, AND GROWTH?
Indeed, in fact we recently opened our new factory. We were looking for a space that facilitated our production processes, boosted our growth and creativity, and supported our never-ending search for innovation and excellence.
A building that reflected our way of understanding life and work; that honored those who one day imagined and gave life to Natura Bissē, and that would become a legacy for future generations.
Patricia Fisas – HER FAVORITES IN BARCELONA
43 The Spa at Hotel Arts Barcelona. Its unforgettable 360 views of the city and the Mediterranean Sea are amazing. It's the perfect place to disconnect while enjoying a Natura Bissé treatment.
I like to try new restaurants and we have so many good ones in the city. One of my favorites is called ESTIMAR which means "to love" in Catalan. It is owned by chef Rafa Zafra. They serve the best seafood ever–their sea urchin and oysters with green sauce are just delicious.
FUTURE
AFTER CELEBRATING THE 40TH ANNIVERSARY OF THE COMPANY AND HAVING RECEIVED THE WORLD BEST SPA BRAND AWARDS IN 2018, 2019, AND 2020, AMONG MANY OTHER RECOGNITIONS. TOO MANY TO INCLUDE IN THIS QUESTION. WHAT IS NEXT FOR PATRICIA FISAS AND NATURA BISSĒ?
What's next is to keep being loyal to our values and principles. We will keep advocating for innovation with the flexibility that characterizes us and allows us to adapt to the present moment and keep contributing value to society. We have many projects planned for the future that go beyond skincare and aesthetics and that, I promise, will be astonishing.
After finishing this article about the pursuit of innovation in beauty with Patricia Fisas, I realized that Beauty means something different to each person. It could be a ritual, an art, or the way of seeing something around you. Natura Bissē conveys all of the above and more.
I also realized how fortunate I was to be present at the beginning of Natura Bissē, now revered in the beauty industry around the world. I say clearly: never underestimate the objects that land on your desk, you may be at the very presence of a legacy about to be born, and a priceless memory. LRM
Follow Patricia Fisas and Natura Bissē in the links below:
Instagram: @Naturabisse_usa
Facebook: @NaturaBisseUSA
By: Lilia Davis, Editor in Chief
Photos: Courtesy of Natura Bissé