Perrier | Releases Limited Edition Día de los Muertos Drink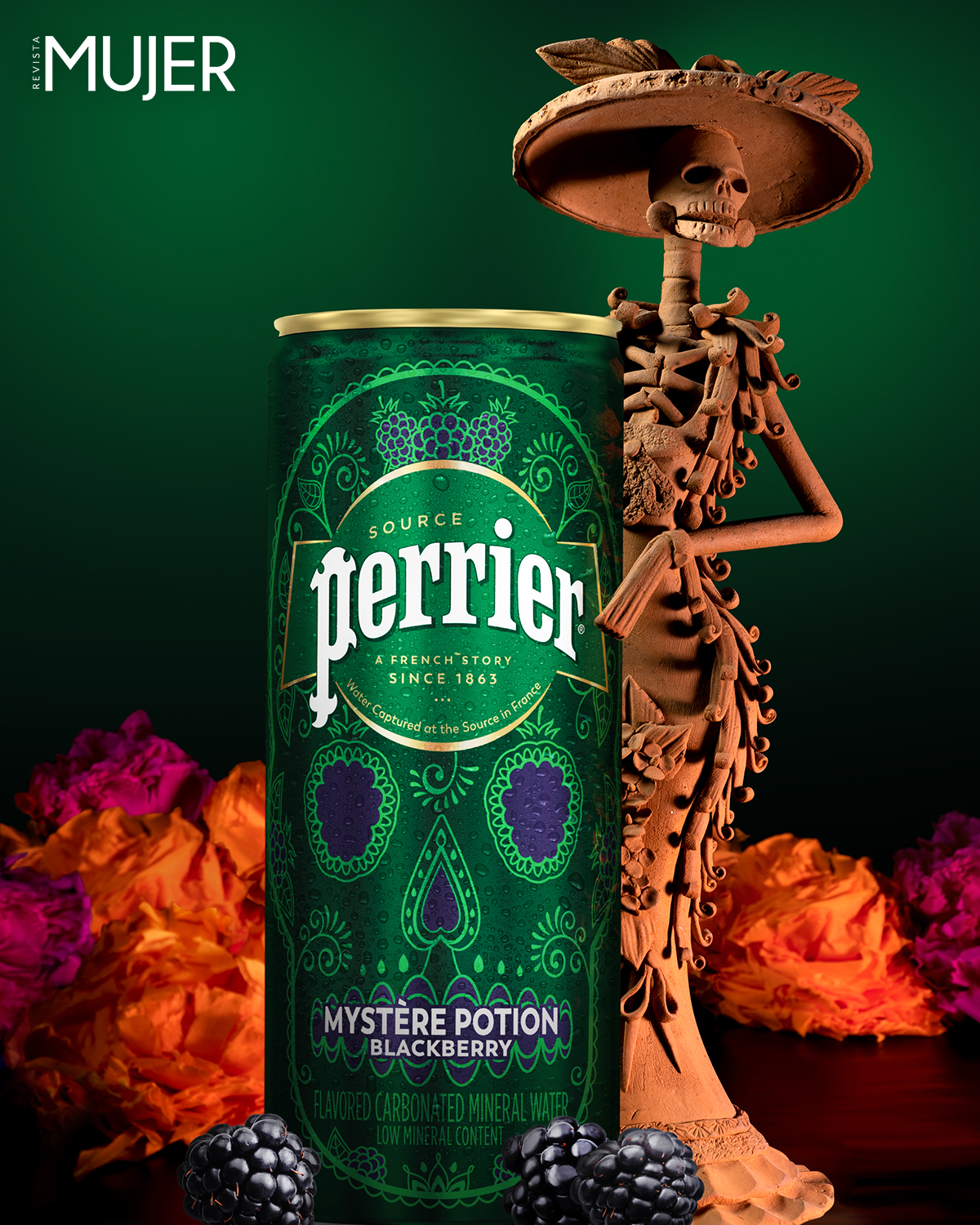 By: Lilia Davis
Photos: Courtesy of Perrier
France and México celebrate Dia de los Muertos with a French touch.
Perrier released early this fall a new limited edition drink to celebrate the Mexican tradition of Dia de los Muertos. France and México have always been close in the spirit of celebration and have had a physical connection for all things beautiful since Napoleon III.
Napoleon III and Emperor Maximilian in México
In 1863, Napoleon III invited Maximilian, Archduke of Austria, to become Emperor of Mexico. Maximilian accepted the offer and arrived in Mexico in 1864. Even though Maximilian and his wife Carlota's reign was relatively short, it began the process of modernization in Mexico that l continues today along with a popular idolization of all things Gallic. Young students in México always directed themselves toward France considered an emblem of a higher, more cosmopolitan education and sophistication.
(You can find more in "Maximilian and Carlota: México's Last Empire in México" by award winning author Mary Margaret McAllen, of McAllen, Texas. Published by Trinity University of San Antonio.)
Henry Rousseau and Mexican Jungle
French artist, Henry Rousseau, referred to his jungle landscapes as "my Mexican pictures," claiming they were inspired by his military service in México. Whether his time in the army there was imaginary or not, the reference to México's physical surroundings was made.
Bernard Villamot.
The geen contoured pear shaped glass bottle we all know as signifying Perrier as a classic became more known through product posters originally designed by French graphic artist. Bernard Villamot.
He was known for a sharp artistic vision that was influenced by photography, and for his ability to distill an advertising message to a memorable image with simple, elegant lines and bold colors such as Perrier. He played a central role in marketing and advertising for Perrier and produced many posters with different and sensual beautiful images of and for Perrier during the1940s, while the bottle always kept the same classic shape.
Regarding the Bottle shape
According to Perrier's website, bottles of water from the Les Bouillens spa in Vergèze were available only to its rich patrons. In 1898, the spa's medical director, Dr. Louis Perrier, determined the water was therapeutic. He wanted to take the water to market but couldn't afford the cost of mass-bottling it. So the owners sold the spring to a British, Sir John Harmsworth, in early 1903. Harmsworth closed the spa and by the end of the year was selling Perrier in markets across southern France.
Sir John Harmwsorth
Sir John Harmsworth has a tale about how bottle shape was adapted by Perrier and still continues. According to Mashed magazine, legend has it that Harmsworth's Perrier turned tragedy into opportunity in 1906 after he lost the use of his legs in a car crash. As the story goes, Harmsworth used bowling pin-shaped clubs to exercise his upper body. The clubs' shape supposedly inspired Perrier's unique bottle.
Perrier | Limited Edition Día de los Muertos
Now Perrier presents another surprise, especially for its Mexican patrons. This fall Perrier launched a new limited edition can for the "Dia de los Muertos' celebration. The can is decorated with a mysterious and attractive "calavera" or sugar skull associated with the Mexican holiday celebrating loved ones who are deceased.
The new limited-edition can features classic Perrier carbonated mineral water, infused with bold blackberry flavor. To accentuate the flavor, the skull is designed over the iconic green Perrier color with two blackberries as eyes.
Perrier Cocktail
You can enjoy this delicious new Perrier Mystére potion infused with with blackberry, or "mora" flavor alone, or you can make a cocktail such as the one carefully created by Erick Castro (@hungrybartender), a renowned Mexican-American mixologist and creator of the award-winning podcast Bartender at Large, with ingredients allude to the holiday and are appropriate for the Day of the Dead celebration. The recipe is as follows:
Spicy By Erick Castro
2.5 ounces of blackberry flavored Perrier water
1.5 ounces white tequila
.75 ounces lime juice
.75 ounces simple syrup
3 blackberries
2 slices jalapeño peppers
Preparation:
Crush and mix well all the ingredients except the Perrier water. Once mixed, shake well and pour into a balloon glass. Add the Perrier water and garnish with a slice of lime and a blackberry.
A note about Erick Castro
Erick Castro has been perfecting his mixology creations for over 10 years, running cocktail programs that have earned a place on some of the most coveted lists in the country, including Best Bars in America by Esquire, Top of the World's Best Bars by Food & Wine and countless nominations at the prestigious Tales of the Cocktail Spirited Awards in New Orleans. Erick also hosts the award-winning Bartender at Large podcast, where he speaks with some of the bar industry's top talent about craft cocktails and more.
A note about Hispanic Heritage and Perrier
As part of the overall celebration, Perrier has committed support to The Hispanic Heritage Foundation and United Farm Workers, two organizations who work to empower members of the Latino community, as expressed by the company. Where to get the new Perrier? Perrier Día de los Muertos is available at Target in a 10-can fridge pack of 8.45-ounce cans with a suggested retail price of $6.89.
Enjoy the tradition and celebrate this mixture of cultural backgrounds in a single drink.
Tip: You can use the empty cans to decorate your Día de los Muertos Altar, suggesting a French touch. LRM