SANDRA DELAPORTE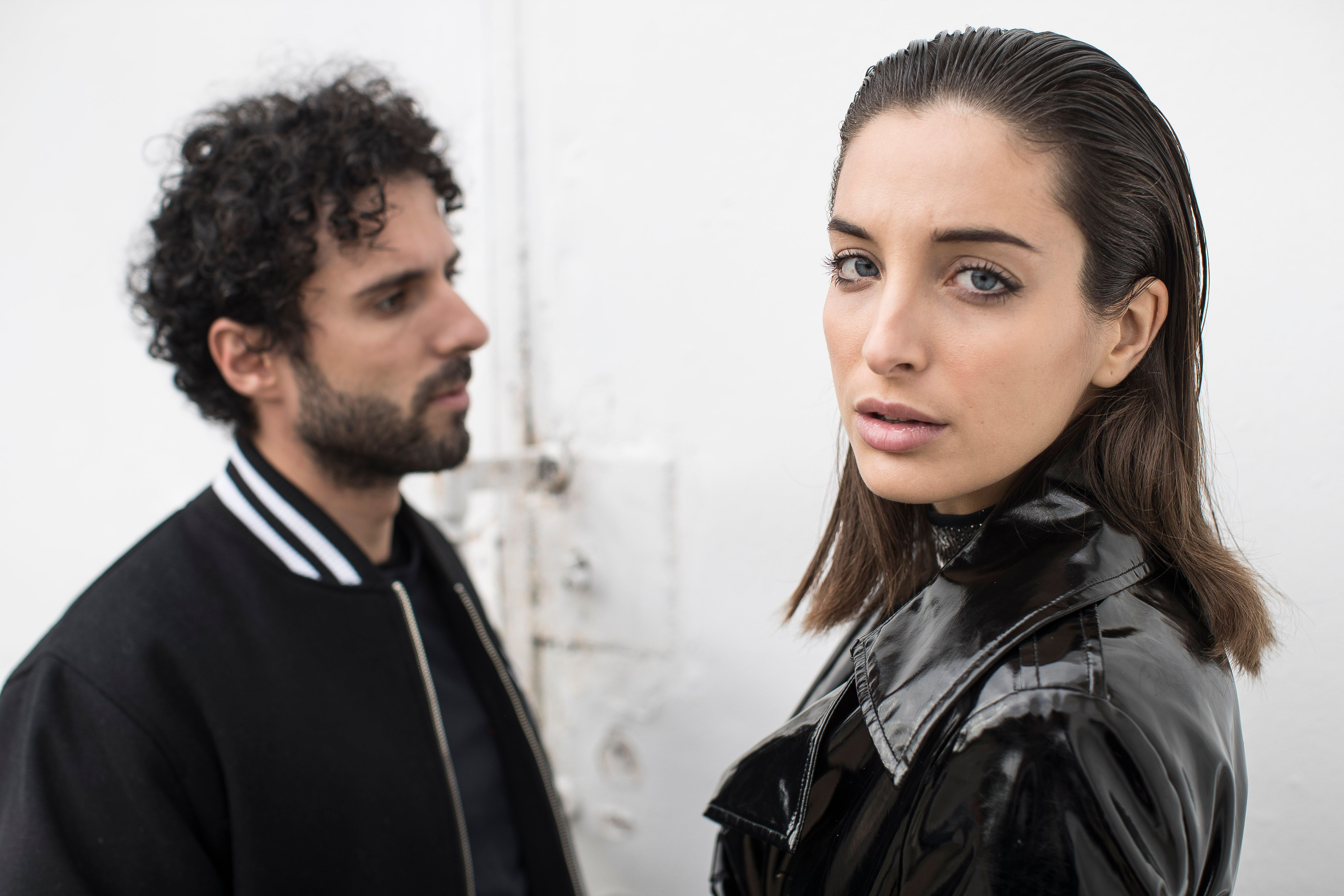 Spanish Millennial Jolts SXSW with Electronic Music
By Lilia Davis
Photos by: Jaime Massieu
Millennial singer, composer and producer from Madrid conquered SXSW Music 2019 Sounds of Spain with her impressive energy and electronic music and with the debut of her new album "Como Anoche" in a duo with Sergio Salvi of Delaporte Music.
Sandra is opening the way to electronic music in Spain with her own sound and her own style on and off stage that has taken her to the pages of Vogue Spain and Glamour Spain and has been named a Nike ambassador. In an exclusive interview for La Revista Mujer Sandra talks about electronic music in Spain, her new album and advice for women.
FROM LA PUERTA DEL SOL TO SXSW.
When Sandra takes the stage on a sunny spring afternoon during the SXSW music festival within the Sounds of Spain event, people gradually approach the stage and begin to move and dance. It is a clear sound, fresh, clean, but with modern rhythm that "hooks you" as Sandra says.
The echo of her voice echoing around and beyond the Austin Convention Center on César Chávez Street, was as if you were listening to a soundtrack created for the whole city.
Her movements on stage are spontaneous, her body bends, she jumps, her arms invite you to repeat her words, and all this in Spanish with a contagious energy. While behind the stage, we see her partner Sergio, playing melodic electronic music non-stop. There are only a duo and yet they produce a multidimensional sound. People around say "they are fantastic, who are they? Who is Sandra Delaporte?"
---
DELAPORTE MUSIC
I had the great pleasure to meet Sandra and Sergio at the Sounds of Spain event at SXSW 2019 Music Festival, their first time in Austin, in an animated, absorbing conversation where Sandra addresses this question and others.
Sandra Delaporte and Sergio Salvi formed the Delaporte duo just a few years ago. An Italian-Spanish mix of electronic music that will have a powerful presence. One of their first songs "Un Jardín" was a great success and has already exceeded 500,000 views on YouTube. Electronic music performed with the delicate, soft and sensual voice of Sandra.
She was born in Madrid and studied psychology, she is tall, thin, with thin features and big, beautiful and expressive blue eyes. What captures your attention most is her broad, sincere and enthusiastic smile.
Sergio is from Italy, a Napolitano, a professional engineer and his musical training is in classical piano. He is quiet and a good listener and easy with his warm smile. Sergio is the soul behind the mixes in the songs of Delaporte Music.
SANDRA DELAPORTE
Sandra, how did your journey in music begin?
I played music since I was a girl, jazz music but I liked electronic music more, however it was not until I was 21 that I started playing it more seriously. Nobody in my house was dedicated to music, except that my father was a "tuno" singer, a tradition that began in Spain and Portugal in the 13th century as a means used by university students to earn money or food.
They sang serenades dressed in medieval era capes. The senior member was called a "tuno". Then my dad was that, a "tuno". Nowadays, they just keep the tradition alive, to have fun, travel and meet people.

"Contrary to the United States, which already has a long history of playing electronic music, in Spain it is not very present now but it is finding its own identity."
You started with Afro founded music, soul, jazz and sometimes rock. What was the "click" in your head that made you cross over to electronic music?
I started listening to electronic music with a lot of prejudice, but I was curious. I was hooked to those new sounds that don't sound like guitar or bass. And suddenly, at 21, I said: "that's what I have to do".
It was another language and I did not know how to produce it and it was more than I could handle. I needed another person so I started to work with Sergio, who is the other 50% of Delaporte Music, and we searched for our own sound together.
SANDRA'S STYLE
You have been the image of Amazon Fashion in Spain, appeared in Vogue Spain and Glamour Spain, you could easily dedicate 100% to being a fashion model, but you decided on music. Do you think that fashion and music go essentially together?
Fashion is an artistic expression in itself for me. I want to convey a message that is a complete image and that has a lot to do with fashion, for me it is art. I like fashion and as such it is an expression of yourself. Also, I am also very athletic, I practice a lot of fitness, running is very important for me and I try to get something comfortable – for example check these black Nike tennis shoes out with a bright look, with little sprinkles of colors- that is interesting. They are"Guayos"! (cool). And I really like high-waisted pants because they help me look slender.
ELECTRONIC MUSIC
How present is electronic music in Spain?
There has always been electronic music in Spain, but not as a genre that stands out from the rest. Contrary to the United States, which already has a long history of playing electronic music, in Spain it is not very present, but it is finding its own identity.
I think it's just starting as a genre that stands out with unique sounds. We are opening the way. Most electronic bands in Spain come from outside, but we are already opening the way.
Your music has been identified as electronic music for the millennial generation, do you characterize yourself as a millennial woman?
I am very millenial in that I am very impatient! … (laughs) But I really believe that my music is for everyone with a young spirit and that's it. Just look at the different age groups that are here this afternoon and you'll see that there are more than millenials (laughs)
SERGIO SALVI
Do you write all the songs, or does Sergio write them?
The lyrics are mine, but as for the central composition of the theme, we do both, along with our two black cats (laughs). In fact the name of a song: Otomaquie I invented to refer to one of Sergio's cats, who always accompanies him in the studio. But Sergio does more mixing and I'm in charge of the lyrics, the melodies and the choruses.
Sergio, what impressed you the most when you decided to work in duo with Sandra?
I was impressed by her desire to work, her enthusiasm and her talent. The ease of working with her. And there was never any prejudice of any kind.
You released your new album this spring, "Como Anoche", what can you tell us about this musical project?
"Como Anoche" or Like Last Night is a story in which each song is like a stop on a road trip. Each stop represents a relationship of one night, one year … It starts with a "like", continues with the insecurity that it will be reciprocal, we fall in love, we distance ourselves and it's over!
In the song "Me Encanta", I feel that the sound is contagious and is a song a little more intimate than the others – why?
"Me Encanta" or "I Love It" is a more personal song. It's when you love someone a lot, a person, with a strong and super nice feeling. This was my first single from the EP and it's a theme with a more Latin touch, more pop. We like to pick up what inspires us from other genres.
Sanda, being from Spain, your songs have Latin American influences, like the cumbia, in your song "Cariñito", does it fit well with the electronic music?
Cumbia is a huge genre, and we wanted to get closer to it, as well as to the Latin American beat, creating our own version. At first we did not know how to do it, because including a cumbia rhythm could get too far from our sound, but in the end we managed to give it our touch.
Your birthday is in April right after SXSW, what do you want as a gift?
Be very happy!
Would you like to collaborate in singing with someone else?
Yes, I would love to do it with Mexican singer Ximena Sariñana and also with a Colombian band called Bomba Estereo.
Advice for women who want to start playing their music but don't dare?
The main thing is that there be no "I can't" words in your vocabulary. Don't let yourselves be subjugated and fight for what you want, you have to have courage, focus on what you want and things will happen as you expect. It's proven!
===================================================
Follow Sandra Delaporte at:
Instagram – https://www.instagram.com/delaporte.m…
Facebook – https://www.facebook.com/delaportemusic
Twitter – https://twitter.com/Delaportemusic