SANDRA DELAPORTE + TITANAS | AN ODE TO FREEDOM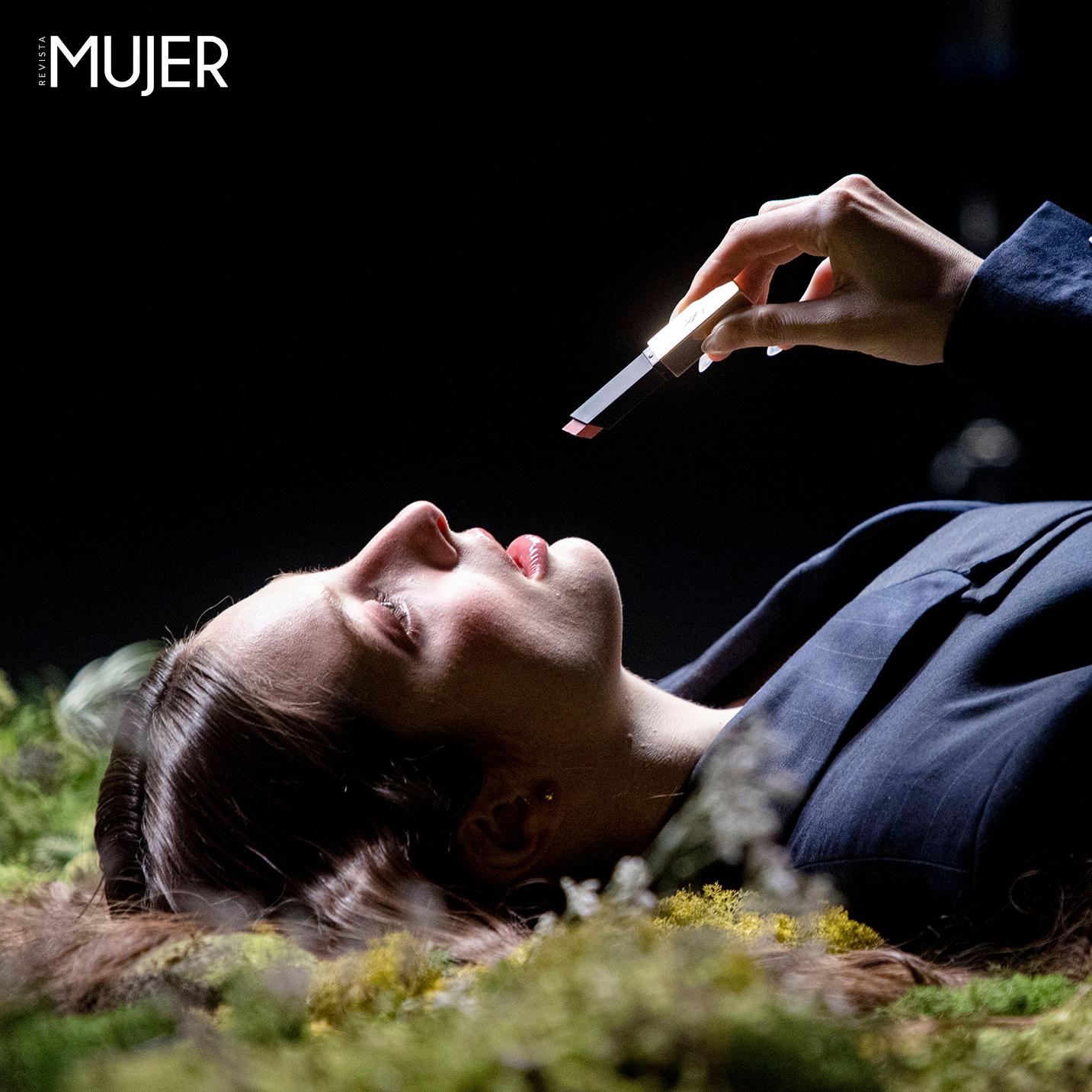 By: Lilia Davis
Photos: Jaime Massieu
Sandra Delaporte, Spanish pop singer, launches TITANAS, her latest musical project that aims to increase the significance of women in the industry performing live or on stage. Maybe described as an effort at sisterhood effort, a rare artist sharing her music with other female artists to join in creating music together. An Ode to Freedom.
In this project, Sandra Delaporte shares her arrangements from her album "Las Montañas", adapting seven different songs with seven other Spanish singers. This album comprises a journey of inner struggle against all forms of oppression that prevent a person from being who they want to be, that prevent them from being free.
Sandra Delaporte makes a startling turn from her electronic music and joins in duets with each of the other singers and in their particular style of music. The result takes your breath away. The voices together are nothing short of super. Sandra with her light soprano voice, achieves high-pitched nuances, a pleasure for the listener.

INTERVIEW
When la Revista Mujer sought to interview her, Sandra Delaporate was in Madrid recording her seventh and last song for Titanas. She sent us the answers to our questions, recorded in an audio format. She talks about her album Las Montañas, her experience in Mexico and her duet with Mexican singer Ximena Sariñana.
In this interview Sandra Delaporte also shares her Cantabrian roots, her recent appearance in a movie filmed in Madrid and México called "YOU CANNOT HIDE" and her love of mountains.
It is a great pleasure to have Sandra Delaporte back in the magazine as well as to hear her voice again. Even from a distance she conveys her profound sensitivity when talking about music.
AWARDS 2021
And as I was finishing typing this article, Sandra was receiving the 2021 Best Musician Award by Amazon Music Spain. And the videoclip of "Las Montañas" awarded the best videoclip in Spain directed by Eduardo Casanova. Couldn't have a better timing.
SXSW
SANDRA, YOU'VE DONE A LOT OF THINGS SINCE WE HEARD YOU LIVE HERE AT SXSW IN AUSTIN, DO YOU FEEL THAT DELAPORTE HAS GROWN AS YOU THOUGHT IT WOULD?

Well, Delaporte has grown a lot, it's true, since the last time we were at SXSW. But there was a pandemic in between. So all our plans, especially a very important tour planned for 2020, with the presentation of the album "Las Montañas", and all the growth we had planned was a little truncated.
However, we continued to grow and thanks also to this world-wide breakdown and this crisis, we have been provided the time to do many other projects as well, and in a different way, such as TITANAS.
Read more on Sandra here: Sandra Delaporte Jolts SXSW with Electronic Music by Lilia Davis
TITANAS
WHAT INSPIRED YOU TO MAKE THE TITANAS PROJECT?
Titanas is a project that we had been planning for many years. We had the idea of joining forces with female artists here in Spain who inspired us the most and with whom we felt identified.
The purpose was to show the world that we artists do not compete with each other – that we do not get along badly, on the contrary. We unite and make music together and generate references and lay the foundations for future generations of artists to come.
TITANAS's PROJECTS
WHAT WAS THE COMMON DENOMINATOR FOR CHOOSING THE PARTICIPATING ARTISTS?
We made a list of female singers that we wanted to collaborate with. In fact, at the beginning we only thought we could arrange to have three or four songs, but since almost all of the women we asked said yes, so we ended up with a project of seven songs.
And we are happy because it has turned out to be a very nice thing. The artists in Titanas are seven women and incredible projects. Watch TITANAS studio recordings videos here:
They are seven projects of different ages, different tastes and we have managed to bring together all the styles, bring together all the generations and into a single thing, and define our image, empower ourselves and move forward.
CANTABRIAN ROOTS
YOU ARE FROM MADRID, BUT WITH STRONG FAMILY ROOTS IN CANTABRIA, NORTHERN SPAIN, DOES THIS INFLUENCE YOUR SONGS?
Well, I have origins from the north of Spain, it's true, I'm from Madrid, but I have family there. And I really like the north because there are a lot of mountains.
I have always been very connected to nature, since nature has always been the one thing that has inspired me the most, both to compose and to live, and to be happy and to face life, which sometimes is not very easy.
I am crazy about the mountains. Not only those of northern Spain, but the mountains all over the world. In fact, when I have days off I take a flight and go to the mountains, they are personal projects that I have.
THE LYRICS
DID YOU WRITE THE LYRICS FOR THE SONGS ON TITANAS?
Yes, the lyrics of all Titanas songs are lyrics that belong to the album "Las Montañas." Which is an album that Sergio and I wrote entirely.
The lyrics are mine, and it is very nice to see how each artist in Titanas has made those lyrics their own and has felt identified with them in the same way. This is because the album has a feminist character and a lot of care and love.
I am very excited about this project. And well, we hope that the lyrics of these songs will make them grow and make them feel freer, and hopefully inspire many more Titanas to emerge.
Las Montañas song
YOU INCLUDE THIS SONG THAT YOU SING TOGETHER WITH EVA AMARAL, WHICH RADIATES INSPIRATION, WHAT INSPIRED YOU TO WRITE THIS SONG?

For me, the mountains are a place, besides being very inspiring, where you can really feel the purity and beauty, and at the same time how hostile and raw and threatening mountains can be. I really like the feeling of being small in all that environment and feeling all that beauty in its purest form and all that emotion.
And I wanted to capture it in our song and tell from myself, and my point of view, that no matter what happens to me, the mountains are a shelter for me and to be there does me good.
For me the mountains are a refuge and somehow I wanted to express that I myself am my own refuge. And I hope that as long as I can, I will be able to be climbing mountains for the rest of my life."

BAND vs ELECTRONIC MUSIC
IN"TITANAS" YOU LEAVE BEHIND THE ELECTRONIC-POP SOUND THAT WE ARE USED TO LISTEN TO WITH DELAPORTE. WHY DID YOU DECIDE TO CHANGE A LITTLE BIT?
Well, we decided to change the arrangements of electronic music with a band, with a bass, with drums, piano, etc., mainly because we listen to many varied references, sometimes we are listening to Prodigy, The Beatles, YES, rock bands, or punk bands, or bands of all kinds.
Both Sergio and I come from making music of African-American descent, jazz, soul. Sergio displays his skills as classical pianists, such in the song "La Bestia"
We have always liked the band, so we decided to take advantage of this project and to suddenly give it a twist and play it in a band – why not?
Music Labels

DO YOU PREFER NOT TO LABEL YOURSELF WITH ELECTRONIC MUSIC?

We don't like labels, and we don't like to be predictable either. I think artists should do what they feel like doing, and surprise. And yes, we make electronic music, but I love the band arrangement that we were able to do for the song "el volcán" with Belako, (photo) which is more rock. I feel that we have gotten closer to the other artists.
As an example also with Amaral, when we sing "Las Montañas" the concept of the song changes a lot by playing it with a band, it has more light, it's different. (Photo: Titanas – Belako singing "El Volcán")
Also by trying to get closer to each one's style and having that generosity in terms of arrangement for them, we got closer to their universe in some way. I think it has been a success to do it at an organic way.

MEXICO
SANDRA, AFTER OUR INTERVIEW AT SXSW IN AUSTIN YOU WENT WITH YOUR MUSIC TO MEXICO CITY, COULD YOU TELL US A LITTLE BIT ABOUT YOUR EXPERIENCE THERE?
Well Mexico was incredible, I remember clearly that I thought when we arrived in CDMX that it could be a place where I could easily live, and be happy. I consider it to be very similar to Spain, surprisingly it is very similar in many things.
And I really liked the culture, the people. I loved the fruit stands on every corner everywhere, and the food! They took us to the best places and we ate a lot. I gained five kilos of happiness! (laughter)
I remember a lot of love and a lot of support from the people who really liked our music. It inspired me. I would love to go back, I really miss it.

XIMENA SARIÑANA
SANDRA DELAPORTE AND XIMENA XARIÑANA TWO OF OUR LA REVISTA MUJER MAGAZINE COVERS SINGING TOGETHER "NO DIRÁS", YOU HAD MENTIONED BEFORE TO BE YOUR DREAM PROJECT, HOW DID THAT COME ABOUT?
Well with Ximena, it has been a dream come true, to be able to collaborate with her. Ximena is a woman with a lot of light, she is an incredible personThis happened when she was on tour here in Madrid, and we were able to record the vocals in the studio.
We wanted to make videos together, and the idea was to go there to México, but with the pandemic we had to do everything from a distance. Luckily the dancing and choreography video was filmed earlier. In the end everything went well and we are really happy
From here I take this opportunity to send a big kiss to Ximena and her family and everyone. I hope everything is going great for her and I send her lots of love. Watch video here: DELAPORTE fit, Ximena Sariñana No Dirás.

GOOD HEARING
IN AN INTERVIEW YOU SAID THAT WHEN YOU STARTED STUDYING MUSIC, YOU DIDN'T LIKE TO READ MUSIC, YOU ONLY SANG WHAT YOU HEARD, BY LYRICS

Well, I sang what I heard, because I guess learning to read music requires more concentration, and I was a little scattered (hahaha) and yet singing as is, what I heard did not take much effort to me because I had a very grateful ear.
So, since I was scattered in my thoughts I found that what I liked was music, but music – as little technical as possible. – It was more about exploring, more about researching, and being more of a curious person.

FILMS
WE RECOGNIZED YOUR ELECTRONIC MUSIC AND SONG "SUPERMAN", IN A SPANISH NEFLIX SERIES – "YOU CANNOT HIDE". EDUARDO NORIEGA Y MEXICAN ACTRESS BLANCA SOTO WERE IN A SCENE AT A LIVE CONCERT AND DURING AN EXPLOSION. COULD YOU TELL US ABOUT THAT EXPERIENCE?
Well that was a film series that wanted our music. Then they also wanted to have a live concert and recreate it as a bombing.
In fact the shooting, well they had to close down a very mythical square, here in Madrid, which is the Plaza de Callao, well it's Gran Via, it's like closing down in Mexico – the Plaza del Ángel in Mexico City, something very mythical.

We did it all at dawn, and it was a super nice shoot. The moment of the explosion also scared me and everything was very shocking. Frankly, I haven't seen the series, because I watch a few series, but I want to see it soon. I really enjoyed doing this shoot and I hope we can do more.
VISIT TO AUSTIN
AND THE GOLDEN QUESTION: WHEN DO YOU COME BACK TO VISIT YOUR FANS IN AUSTIN?
I wish I could go back to Austin tomorrow! The truth is that I loved it. I was amazed with the festival, with the life there, with the amount of music, with this meeting of artists, musicians and super interesting projects that are generated there. I think it is something beautiful that happens only a few times a year.

This opportunity to bring together so many projects and so many proposals and things is difficult to see and also to have it all in the same city. We really loved it, so we left SXSW inspired. I hope we can repeat it soon.
PERSONALS OF SANDRA 
Although my name is Alejandra, my mother has called me Sandra, because my mother liked actress Sandra Bullock!
My musical crush when I was very young was Freddy Mercury, Queen. I bought all their records. Then I had a very Ricky Martin period, very Cold Play and with Queen I'm still in a total crush. Also, when I was 15 years old I was obsessed with Aretha Franklin.
The Mountains of Krygyztan in Central Asia are my favorites, it makes me happy to be there.
The cocido montañés, it's a dish that is made in the Cantabrian Sea. The pavada is also very tasty. But the cocido montañés is my favorite of favorites!
Spanish designers are bringing out really cool collections, such as Ana Lokin, and Dominnico, that I also love. Brain and Beast -they mix a lot of "street" with fashion which I love.
Blue is my favorite color, sea blue, is so strong, I like blue a lot.
The beach without sun is my favorite because I am used to the Northern climate. I love good weather too, but in the sea and the beach, I have a hard time with the sun.
The feeling of freedom challenges me to climb the mountains, and when I am there, it's like a mental vacation. From up there you see everything very differently.Sandra Delaporte
A Message of Support to Women
We conclude the interview with this message of support for women that Sandra wants to express, and which we feel transcends borders:
"The women in the Titanas's project want each other to feel free, strong and we have the same thing in common: to strive to move forward with our voice, our music in an industry that has historically been dominated by men.

For more women artists and musicians to emerge, it is essential that there are female referents. Anything that supports us in changing this is an advance towards equality" – concludes Sandra from Madrid.
Hoping that other women can be inspired and many more Titanas will emerge, creating voices to propel the live music industry forward. Because that's where Sandra Delaporte returns with all the energy, charisma and good vibes that only she knows how to transmit on stage. LRM.
Spotify: DELAPORTE
Instagram: @delaporte.music
Facebook: @DELAPORTE
Tweeter: @Delaportemusic