SARAH HALL AND THE SOUNd OF HER HARP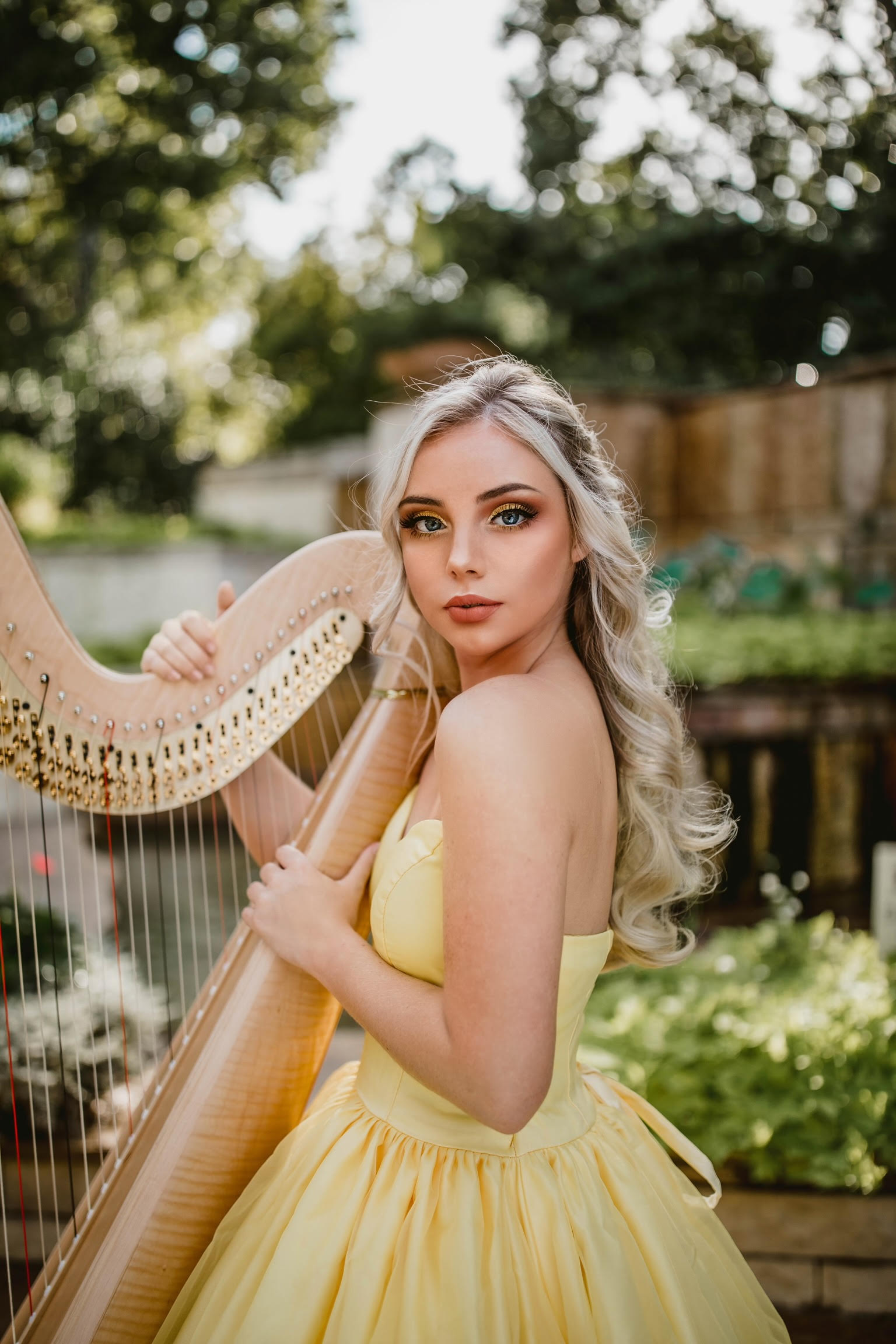 Por: Elsa Tovar
Sarah Hall plays one of the most beautiful instruments in the orchestra, and the sound of the harp is in myths associated with being played by the otherworldly, angels in a word. Sarah Hall whom plays like an angel grounds that myth by her talent with the harp.
An Afternoon at Lake Austin
The idea behind this article about Sara Hall and her Harp arrived while I was sitting at popular Mozart's Cafe on the Lake Austin deck, writing other articles and thinking about the ongoing covid crisis. I sat listening to beautiful soft music coming live from a small stage under a tree- an image that is something you wouldn't expect while in the middle of a pandemic.
The sound was so delicate yet so full, elegant, and so sonorous as we say in Mexico all at once and coming from the strings of a beautiful harp. The female harpist had her face covered with a mask, all that was visible were her beautiful eyes that were fixed on her sheets of music. Sarah continued playing for a while and later thanked everyone, followed by discrete applause from the small crowd.
It was just an intimate moment in which I think most there that had heard her play, realized how fortunate they were to have experienced it
Sarah Hall plays beautifully, but it called my attention that she also speaks fluent Spanish! Sarah's presence that afternoon was a delight to her audience as she has brilliant blond hair and was wearing an elegant spring dress. Her presentation was complete and she was every bit as professional as her music was.
I was curious about her, and decided that we should meet and talk about her passion for the harp, a conversation that is recounted in this article.
MEET SARAH HALL
Hi Sarah, tell us about your family, any musicians? When did you start playing the harp?
I was born in Lufkin Texas, no one in my house is a musician, although my mother used to play piano. I am Canadian, dual citizenship because my parents are both Canadian. My mother grew up playing piano, and her mother was a piano teacher, so she wanted me to learn an instrument. As well, it's proven that learning an instrument helps develop memory and the brain. I started playing harp when I was six years old, and I discovered I really liked it.
What did you study before becoming a harpist?
I've played harp since I was six years old and worked as a harpist since I was twelve years old, as a job while going to school. I'm currently continuing to study harp as well as biology at UT Austin, and I work as a freelance harpist.
How do you decide on the harp as instrument?
My mother felt piano was something that most people don't continue with when they get older, and about that time we discovered I was allergic to rosin, which is used on bowed string instruments.
So violin, viola, cello and double bass weren't an option for me, and my mother wasn't familiar with brass and wind instruments. A college nearby had harp lessons available so we thought that would be fun and interesting to try. So, I decided on the harp!
A NOTE ON ROSIN
For those like me, that are not familiar with string instruments, could explain to me a little about rosin?
Well, rosin is one of the most important aspects of playing any bowed string instrument. They use a bow to make the sound on the strings and you use rosin on the bow. I can play the harp, guitar, ukelele etc., which are also string instruments but you don't use a bow or rosin on them.
PLAYING THE HARP
Once you decided on the harp, how difficult was to study harp growing up?
My mom helped me a lot with encouragement. First, I did it for fun, but to be honest, later when I was growing up in middle school and high school, it felt more like another assignment. It was later on that I started to really be taken by it.

Is it harp very hard to start playing it, when do you think is a good age to start?
All I wanted to say is that harp usually is misconceptualized as a very scary instrument, or very intimidating instrument, but please don't feel intimidated by it.
Even if you are just curious about it, don't be hesitant to ask questions. And, if you want to learn, it is never too late to start, even if you don't want to get at the professional level, just do it as you are comfortable, because it is FUN!
While you were performing today, I noticed that you were touching some pedals under the harp. Why does the harp have pedals? How many are there?
On a harp there are seven (7) pedals, one for each note in the music scale. The pedals control rods that go through the column of the harp and turn discs at the top of the harp that shorten or lengthen the string to make the string sharp or flat, like pressing frets on a guitar or pressing black keys on a piano. Usually the more difficult the work, the more foot work is involved!
PERFORMANCES
Do you also play with an orchestra?
Yes I do. One fun fact though is that compared to other instruments, the harp just recently was part of the orchestra starting in the 1800's. I have been a member of many different orchestras since I was eight years old. I've played with string and full orchestras, concert bands, choirs, and pit orchestras for ballet and opera.
How do you schedule most of your performances?
I would say about 75% come from social media like Instagram contacts, and the 25% remaining comes from word of mouth.
What is your favorite season of the year to play harp?
The best season is Christmas, for sure, I am super busy in that season, and then during early and late summer. Not much during the hot weather months.
FEMALE HARPISTS
Why do you think there are far more females playing the harp than males and the best harpist in the world is a female harpist?
Before the 20th century modern day harps were not used in orchestras and were seen as a parlor instrument. In Europe and the United States prior to the 20th century, young ladies were encouraged to learn an instrument as part of their education and harp seemed more delicate and feminine because of the sound. It then became a stereotype that it was a feminine instrument in Europe and the United States.

Although there aren't as many male harpists as female harpists when it comes to the concert harp, male harpists tend to actually be better in some ways It takes a lot of strength to pull the strings and produce a good sound, and most things we do are easier when you have larger hands, for instance.
LATIN AMERICAN HARPISTS

There are many important male harpists like the great young Mexican harpist Emmanuel Padilla Holguín, barely twenty years old, who became the first Latin American harpist to win a major international harp competition when he took first prize at the Dutch Harp Competition (now called the World Harp Competition).
As well, the Latin American harp, which is a beautiful instrument, is more often played by men than women. The most famous Latin American harpist is Dr. Alfredo Rolando Ortiz who plays the Paraguayan harp ("arpa paraguaya") and is extremely loved and respected in the harp world.
ADVICE
What advice can you give to those who want to start playing the harp?
I would say, when you decide to play the harp keep 3 things in mind:
Start when you are young.
It helps if you start playing piano because you learn to read both treble and bass, which is the same as harp. It would have helped me if I had learned piano first.
Make sure you learn Music Theory. I didn't take it either, but I wish I had. It will help you in being creative, it will help you understand what you are playing. Also, it will help you in the memorization skills and music improvisation skills.
TRANPORTING THE HARP
The harp is also one of the most beautiful instruments in the orchestra but is difficult to move about due to its shape and weight, how hard is for you to transport it, and how many do you have?
Yes, unfortunately, the harp is not collapsible! (laughter) But after playing for so many years, since I was a child, I have all figured out by now. I own two harps: an electric one that I use for social performances, usually smaller – in Austin and then I have another real large one, not electronic, for professional performances and for playing with orchestras. Today I performed music with the latter.
PERSONAL
I heard you speak Spanish how did you learn it?
My parents had lived in Chile for awhile before I was born, and so my mother wanted me to learn Spanish from a young age. She felt it was important to know Spanish and there was a Dual Language Program in Lufkin, TX where we lived.
So from kindergarten to 5th Grade, I took Math and Language Arts in English, but Social Studies and Science were in Spanish, as well as Spanish reading and writing. Besides, almost every year we would travel to Mexico or Central America. I love Spanish!
How do you take care of your hands?
As with all skills, practice is very necessary to build strength and endurance! So my hands are definitely different from most girls. For example I have to keep my nails short in order to play the harp and I have to confess to you that I have never had long nails!
When I play a lot, my hands start getting calluses and that is not unusual. In fact, that is part of the job. But when I get new blisters, I follow this homemade remedy: I deep my hands in black tea to help them get harder and eventually a callous texture, so It doesn't bother me again!
Do you do any work in the community with your music?
Yes, I go to nursing homes to play for the elderly and I also go to the Children's Hospital to play for the kids, they really love it!
===============================================
Sarah currently resides in Austin, TX and is the Principal Harpist for the UTUO and continues to play as a soloist, accompanist, and with a variety of ensembles across Central Texas. LRM
Instagram @harpistrytx
website: https://linktr.ee/harpistrytx