SUMMER ON MY RADAR!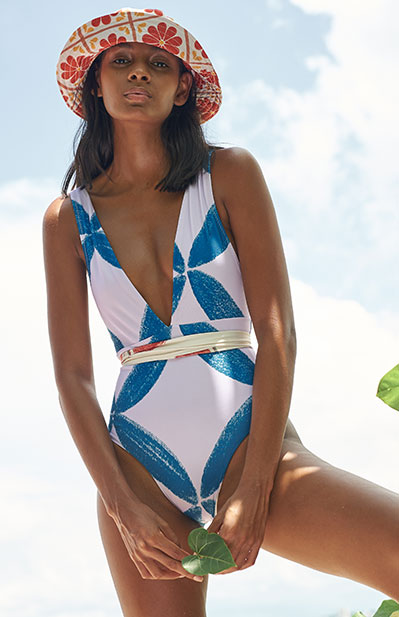 By: Yayis Villarreal
As with everything we have been experiencing these past months I thought for a moment that our approaching summer could be paused, put on hold but, on the contrary and thankfully, no! Without a doubt, summer is already on my radar and this summer promises to be a very different summer from other years, because we have learned so much.
What does summer mean to you?
Summer for me is freshness, freedom, fun, simplicity, nature, sea, joy, conviviality and celebration. This summer brought a very special moment for me personally, a time of reinvention, and for all of us, a time to pause and reinvent ourselves.
Living through a pandemic has led to several changes, which the clothing industry has been approaching and contributing to in different ways.
And that is how, in the blink of an eye, summer arrives at our doorsteps. And nothing says summer better than a new bathing suit! Today I introduce you to 4 brands of LATIN AMERICAN swimwear that will leave you with your mouths wide open.
But first let me tell you about Stitch Lab
STITCH LAB

This company is an incubator for Latin American fashion talent in Miami, founded by Karina Rosendo, a woman who is breaking barriers and opening paths so that other women can achieve their dreams, in other words a «Latina Powerhouse».

Stitch Lab has been filling us with essential information about the industry and how we as buyers, designers, entrepreneurs can contribute in different ways.
«Stitch Lab supports designers who use sustainable fabrics and materials in their creations, while preserving their original craft heritage»
Similarly, it presents to us great brands rich in talent, quality, creativity and not only that, but at the same time, educates us to be more responsible buyers, supporting brands with social responsibility.
Sustainable Purchasing
Starting with a more intelligent purchase, it's important to ask ourselves certain questions when it comes to the clothes in our closet and I'll share these seven questions with you… like, for example;
Where is it from?
What is it made of?
Who made it?
Where did they make it?
Does it fit my personality?
Am I really going to use it?
Would I wear it more than 10 times?

Besides, when I think of a garment I think of it as my accomplice. Rule #1: it has to go completely with me and certainly represent my personality.

That's how Stitch Lab presents 2 of these Latin American brands: Ilora Luxury Swimwear and Bahama Mama.

Without further ado, here for you:
ILORA LUXURY SWIMWEAR
A fusion of urban, tropical, classic and contemporary, the Colombian-Mexican siblings María and Sebastián Pérez Morad create sophisticated, feminine and elegant garments, easy to wear on any occasion.
We see this «elegant mystery» that allows us to express through the garments our identity and personality.
Without a doubt, their garments are totally versatile when it comes to adding any piece or accessory, letting your imagination fly and creating different looks with just one piece.
Can you imagine one of them with a Maxi skirt or Palazzo pants in a romantic dinner by the sea?… yes, AFFIRMATIVE.
DETAILS: sober and elegant tones
Price point: USD$100-$200
IG: @iloraofficial
Website: www.stitchlabmiami.com
BAHAMA MAMA
I would like to tell you about a dynamic Colombian duo formed by Nicole Acosta Lejour & Rocio Borré Solano, who create some of the most original pieces, transmitting freshness, fun and the feminine side we all carry inside.
Bahama Mama's designs are a little piece of life, Latin richness, they are all unique and unmatched that it is difficult for me to tell you which collection is my favorite, but I certainly share with you my TOP 3: The Waves, the Sun and Me, pieces from the Pompeya and Bromelias collections.
«Bahama Mama loves green» being a brand focused on sustainable materials, process and production.
And what can I say about their pieces that add to your look such as their kimonos with wide sleeves, buckle hats and skirts that are a spectacular, and which will give the final touch to your «cherry on top» look!
And, you will soon be able to find Ilora and Bahama Bama on the official Stitch Lab website, which will be launched in early July 2020.
DETAILS: prints, colors, ad-on-pieces
Price Swimwear: USD$110-$160
Price Apparel: USD$100-$200
IG: @bahamamamabw
Website: www.stitchlabmiami.com
Other new Mexican brands I want to introduce to you are:
MAR DE AMORE

Hazly G Cantón Caballero is behind this minimalist Mexican brand with cuts that will take you out of your comfort zone when wearing sweet or exotic colors.

Mar de Amore designs will make you feel strong and sensual in and out of the sea.
The «V» cut and «high-waist» of their bikinis will make your figure stand out naturally making the center of attention your waist. My top 3: Set Noelia, (see photo) Set Itaca and Olivia collection.
Mar de Amore means «sea of love». Inspired by the sea, its movement and flow, the design of the brand is linear, slim and minimal.
DETAILS: exotic colors, bold designs, V cut bikinis
Price point: MX $900-$1590
IG: @mardeamore_
Website: www.mardeamore.com
EXEYA
A brand made in Mexico by Fernanda Palacios with the purpose of creating a design and a quality that would go hand in hand and easy to adapt to the sizes of each woman, making them feel safe and comfortable.
What is special about this brand is not only its creativity and style but that you can customize any of their pieces. They send you models, color catalogs and prints so you can create your own piece according to your style and preference. Very cool, isn't it?
I hope you liked these beautiful pieces that radiate, freshness, freedom, fun, simplicity, elegance, nature, sea and joy and start enjoying this summer now. Simply: Put summer on your radar!
See you next time!
Yayis Villarreal is a Hispanic model, influencer, columnist, blogger and lifestyle enthusiast in San Antonio. She is passionate about fashion, lifestyle, and beauty.
Always looking for inspiration and discovering new brands in the fashion industry, Yayis shows her romantic, feminine, edgy and chic style through her different social media outlets.
Having the opportunity to creatively direct and style her own photo shoots, she has developed different partnerships in the Fashion Industry like Saks Fifth Avenue, 7ForAllManking, Neutrogena, Garnier and more. Pastry Designer and Founder of @kkacheesky and Yayis is an advocate of sustainable fabrics in fashion.
Follow her on IG: @yayisvc