TANIA ARRAYALES RODRIGUEZ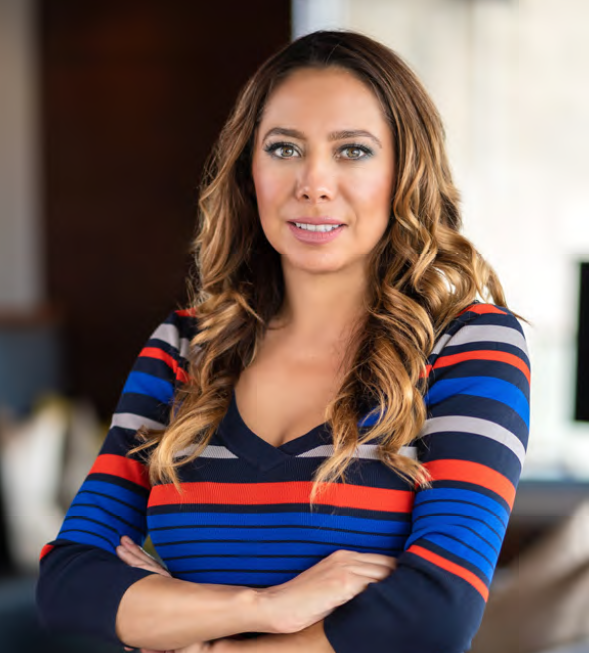 Architect of the future 
We celebrate an example of a successful woman with a compassionate dream: an ecological environment in harmony with an increasingly complex human society. An architect that is one of   the few to apply 3D printing to build homes in 24 hours for victims of disaster areas in state of emergency. Her Company Green Habitat Preservation has accomplished 121 rescued endangered or threatened species, and converted 15 tons of ocean pollution into plastic just in Tulum, México.  And she Thinks Outside the Box to help build sustainable schools for children, sending all building materials in a container by sea to countries from Haiti to South America.
INTRODUCTION
Tania Arrayales Rodríguez is a Mexican architect, entrepreneur, athlete, international public speaker who advocates for dignity and quality of life through the practice of Sustainable Architecture through her company Green Habitat Global and her non-profit project Green Habitat Preservation to help people and communities to live in balance and harmony with nature. That is her passion and her conviction. Her activities have been recognized in the  book 50 VOICES of Inspiring migrant WOMEN, published in London 2017.
ATHLETE AND BUSINESSWOMAN
Tania Arrayales grew up in an environment without what we think of as privileges in the economic sense, but the many other advantages by living very close to nature. Her family was poor, her grandmother barely had enough financial resources to buy shoes for the whole family. But from the moment her mom bought Tania her first tennis shoes, Tania's enormous energy and love of sports led her to excel in athletics, which later helped her  obtain a scholarship to the Technological Institute of Monterrey, Pachuca branch, Mexico to study architecture. 
«The discipline of sports from an early age has helped me a lot. One has to know and have an ear to listen for  the starting signal, be ready to start running as quickly as possible to reach the goal. Sometimes it seems as if all my life I've been running. It's all competition and I go on and on. (laughter) Also thanks to sports, I have stayed healthy, physically and mentally, «says Tania
With this experience she founded an athletic gym open to membership, Proforma Gym, buying the fitness equipment with her own credit cards, the revenues from the gym which helped her be able to rely on a steady income during and after her college career studies. She designed her gym using her architectural skills, «but I didn't know much about business, so there I decided that I had to study for a master's degree in business,» says Tania (laughter)
She enrolled in two programs for masters degrees in Business Administration and Management, Finance and Operations at the School of Business, EDGADE in Mexico and at the University of Texas, being the President of the Association of Mexican graduates of the school of  business Network McCombs at UT Austin, making  a mark in the Latino community and creating events to raise funds for scholarships and donations.
---
I met Tania at the Blanton Museum Cafe in Austin, Texas a few days before Tania was off to Amsterdam to participate as a guest speaker for a Women's Association in Spanish there.  I was happy to meet an attractive woman, with a contagious energy,  confident in herself, but at the same time open natured and pleasant. I was pleased to hear she uses the Mexican phrase «my love» (mi amor) before saying your name, and it makes you feel like you ve met an old dear friend or family member. The baristas at the cafe certainly appreciated it.
ARCHITECTURE
Tania studied architecture «because as a child I realized that you have to feel good in your environment, where you live. If you have that right, you can work at your best in what you're passionate about «. She grew up on the outskirts of Mexico City, surrounded by forest and ancient pyramids and she think that this was her greatest influence." But when she became an architect, Tania found it difficult to work in her profession in a society dominated by men.
GREEN HABITAT GLOBAL
She decided to start her career by establishing her own international company Green Habitat Global based in Austin, Texas, with a branch of the architecture office in Mexico City, which has excelled for its focus on sustainable architecture.Her company has recently invested in a 3D printer to build houses in 24 hours to help in countries with ecological disaster.
«The 3 Dimensional printer is revolutionary as a solution for the lack of houses after a climatological disaster, for example earthquakes, floods. Using a series of products not only of regular cement, but what they call «airy cement» that is more porous along with other ecological materials, which are mixed to provide a lighter structure. «Explains Tania 
However, this works well here, but if we go to other countries such as Nepal, for example, it would be very expensive since we would have to pay for the transportation of the 3D printing machine. «As a consultant in this I interviewed the King of Nepal after the earthquake with an intensity of 7.3, in April 2015. The earthquake in Nepal was like a mudslide of an entire hill. They hired me to look for a different and sustainable proposal, to act with what the place needs «says Tania.
Tania was invited to partner with a Japanese Solar Company to create solar networks and power generation throughout Mexico, Texas and throughout Latin America and the Caribbean in an effort to promote the use of renewable sources in the world and stop dependence on fossil fuels.
GREEN HABITAT PRESERVATION
Tania is co-founder of Green Habitat Preservation, a non-profit company under which she carries out several ecological projects that Green Habitat Global develops. These two companies go hand in hand in their projects; the first develops them, the second executes them. Your mission here is to implant an architecture with a high social impact.
For example, the Vitalum project in Tulum Mexico, dedicated to rescuing trees, the project to protect the turtles in danger of extinction as well as  the melona bee in Mexico and the plastic garbage collection of the beaches, as well as the project «Think Outside of the Box » for sustainable schools for children, building materials to be sent in a container by sea to countries from Haiti to South America.
«What you have to do in order to achieve an ecological balance is that as an architect you have to design the terrain as nature, what it asks and requires. In the Vita Tulum project we protect the trees; For example, where it is required to build in a density of no more than one thousand square meters, we only touch 400 square meters to help water permeability, respecting nature «, says Tania. 
As the Poet of Deep Ecology, Gary Snyder, Pulitzer Prize winner says; "Nature is not a place to visit, it is home". "So we need to take care of our home"  says Tania.
PERMACULTURE 
This is a practice that Tania emphasizes in her projects, which is a design system that seeks to create a permanent culture with nature which began in Australia in the 1970s. Tania explains that «the system collaborates with projects dedicated to promoting economic practices and of productivity in indigenous communities around the world, without exploiting resources or polluting the environment", that is sustainable in the long term and believes in the expansion of Permaculture and Urban Agriculture as a social solution for humanity. «
Tania has visited more than 39 countries with a great diversity such as India, Indonesia, Singapore, China, Taiwan, Thailand, Turkey, Jordan and Egypt to meet various groups that encompass social change and in search of technological innovations. She recently traveled to Japan to study Zen gardens, and just returned from a South American journey visiting large ecological treasures such as Tambopata National Reserve in the Amazons, exploring the virgin rainforest.
COMPASSION
One of the tools that Tania uses in everything she does is «to have compassion not only for a human being, but also your environment, trees, plants, animals. Build with compassion for birds, for example, do not cut the trees where the birds feed and teach their babies to keep flying «, says Tania. «Before being professionals or someone else, we are souls, when tragedies occur we develop empathy, and you see the world with compassion,  you stop making  judgments. «
As an international speaker, Tania was also the President of the Budapest Mexico Club as part of the International Budapest Club family that is bringing together humanitarian activists around the world such as the XIV Dalai Lama and Deepak Chopra. Her most recent presentation was in Monterrey, México, and presented SHE Entrepreneurs in Amsterdam last October 2018 
Tania thinks that in sustainable architecture, seeking and protecting the earth is a more feminine function. Contrary to  architecture in general where men still dominate. 
 «Well, the feeling of permaculture of working and protecting the earth is very feminine; therefore you do see many women participating. Compared with the image of the businessman who is a man who works on the Wall Street stock exchange for example, he disconects himself from this feeling. But in a vortex, like Tulum, or Portland where there are very green areas, there are more women participating at an approximately rate of  50 -50 male -female. 
«The woman is in a triangle: the heart, the intention and the resource, usually you have the first two and need someone to provide you with the resources. Then comes along the man who arrives to support them, «explains Tania.
50 VOICES of INSPIRING MIGRANT WOMEN
In December 2017 Tania participated as an international speaker along with several women from around the world to celebrate the launch of the book 50 Voices of Inspiring Migrant Women – From Struggle to Success – at a conference in London. «The author Mireya Sula, contacted me to include me in this project of women who have left their country and have triumphed, and so I had the honor to tell my story and be with a group of extraordinary women. At the end we make inspirational presentations all over the world «says Tania.
Tania recommends to a young professional woman that when she arrives in the United States to study and improve herself as she did, that as soon as she arrives, she begins to get involved with communities. They will be your family and your support.
 www.greenhabitatproject.com
www.mygreenhabitat.org