THE GREAT ALONDRA DE LA PARRA! – AND THE IMPOSSIBLE ORCHESTRA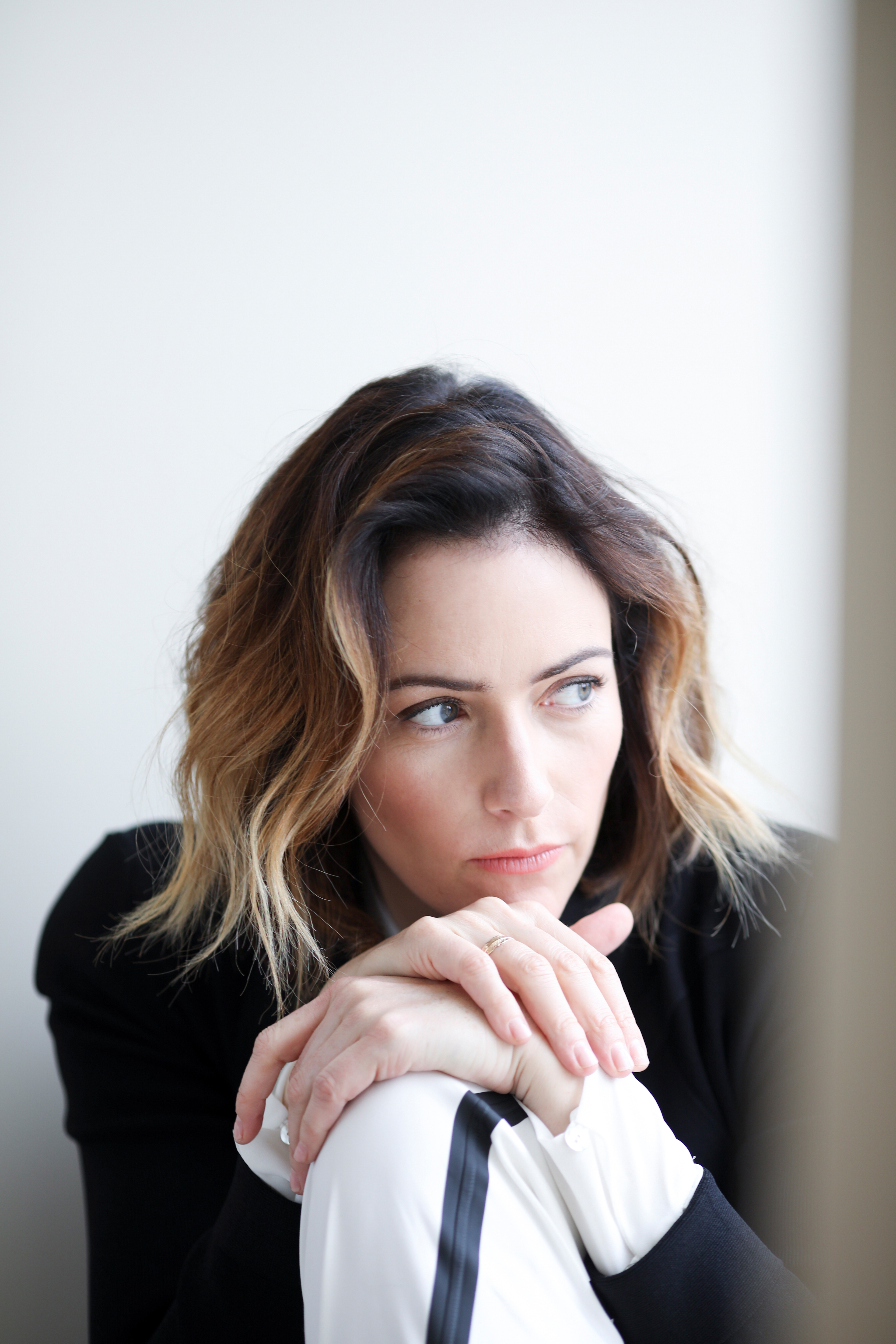 By: Lilia Davis
Alondra de la Parra creates the Impossible Orchestra, launching one of the most ambitious projects in contemporary classical music: thirty of the best musicians from around the world brought together by a woman that with all her talents, has a deep social commitment for supporting the women and children of Mexico affected by the pandemic.
Alondra de la Parra is a conductor who numbers among the five most accomplished symphony orchestra leaders in the world, one characterized by her absolute determination that is perhaps a requisite in the career she had pursued.
During the last few years she has reached the highest level, captivating her audience from the moment she appears on stage and begins to move her baton giving her first gesture to her musicians, and as she says «that's where the magic of music occurs».
NOW, ALONDRA DE LA PARRA
The press in Queensland Australia, when she was selected as the first female conductor in that nation, and worked for the last three years, described her in front of an orchestra with the adjectives: «fascinating,» »exciting,» »shocking.". Her performance makes your pulse race,» according to the Australian press.

Alondra's musicians describe her as presenting them with «a fresh and charismatic energy in music», and «as a conductor that brings tremendous vitality to concerts», and «a real artist». These are just some of the long list of descriptions which her presence provokes as she worked as the first female symphony conductor in Brisbane, Australia in 2017.
A DAZZLING CAREER

This year Alondra de la Parra celebrates twenty years as a professional career that has led her to become a pioneer in classical music: both as a conductor with many of her own firsts, and as an innovator and visionary willing to change the face of classical music towards the future.
A future in which the traditional wall between the orchestra and the audience collapses into a single entity.
Have I mentioned that she is Mexican?

Alondra de la Parra is proudly Mexican. She was born in New York to Mexican parents and grew up and studied music in Mexico City and the Manhattan School of Music in New York where she earned her Bachelor of Music in piano performance and subsequently with a Master of Arts in Orchestral Conducting with Kenneth Kiesler.

At the age of 23 and still a student she demonstrated her determination by organizing the first Philharmonic Orchestra of the Americas making its debut in Town Hall of New York. This was an orchestra to showcase the young performers and composers of the Americas, positioning the music of the Americas in an undisputed place in the standard repertoire for orchestras.
BEYOND CLASSICAL MUSIC
Alondra's career goes beyond classical music. An example of this is her album «Travieso Carmesí,» a concert with three of Mexico's talented indie pop and rock'n roll singers: Ely Guerra, Natalia Lafourcade and Denise Gutierrez .
This album was memorable when it was performed in concert in the border city of Cd. Juarez in 2013 at the Plaza X named for the sculpture by Sebastian, of La Mexicanidad, during the instability in the city. More than 140,000 people joined in her music.
Also, her album «Mi Alma Mexicana» went platinum just two months after its release. Mi Alma Mexicana is the result of the musicological research carried out by Alondra including a selection of symphonic works by Mexican composers, making it a valuable historical musical record.
A FONDNESS FOR COLLABORATING

Alondra as a conductor navigates among the compositions by the great classical composers but she is also keenly aware of the talent of a new generation of composers and musicians – perhaps the new classics- and often reaches out to collaborate with them.

Alondra has invited and collaborated with other Mexican talents such as the Guadalajara pianist Jorge Viladoms, among others, and her musical instincts have led her to direct rather unusually modern or new music such as the music of song Íngesu, by Mexican composer Enrico Chapela, which recreated musically a famous soccer match between Mexico and Brazil.
BRAZIL OLYMPICS 2016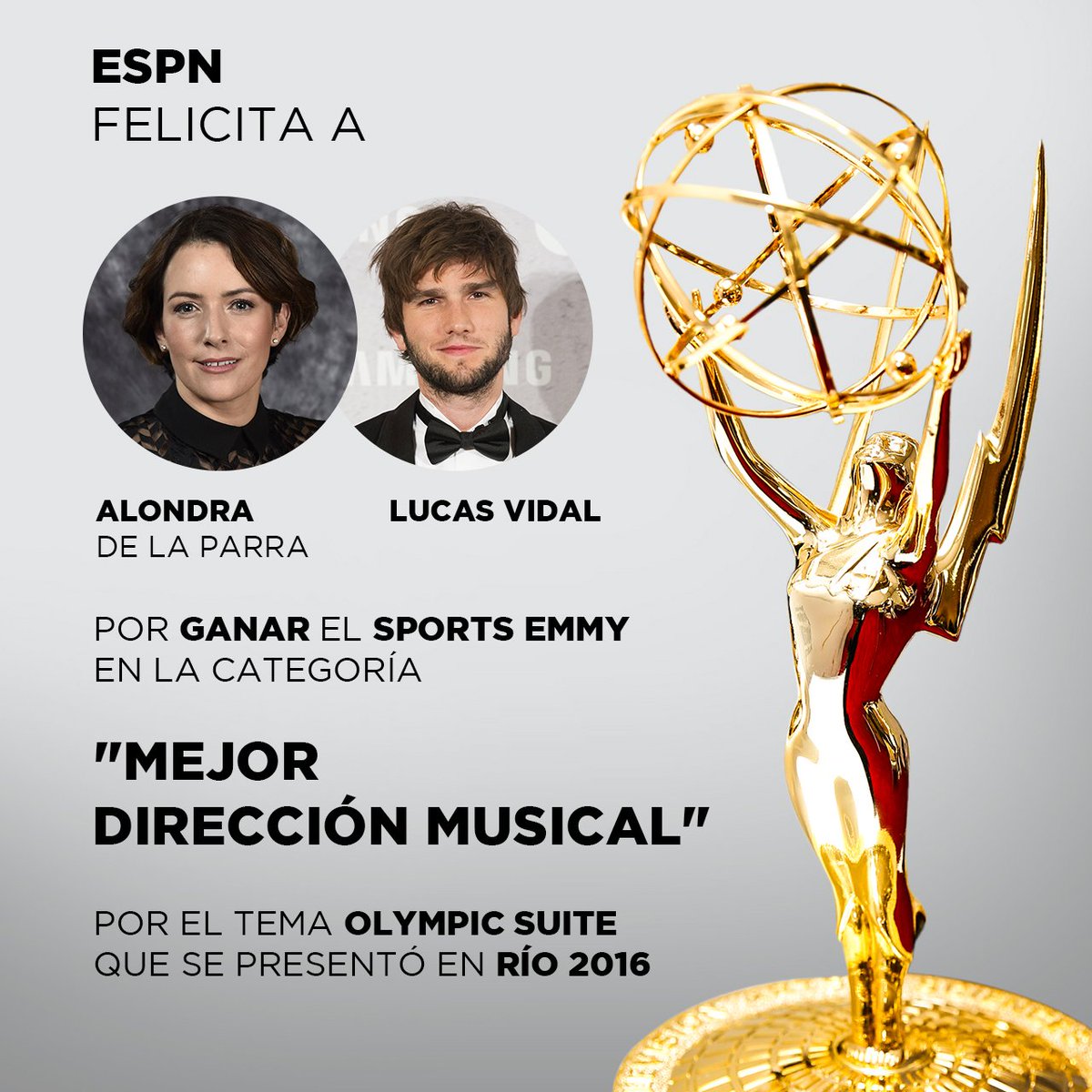 Alondra de la Parra is also the first woman to conduct a theme for the Olympic Games, specifically the 2016 Brazil Olympics for ESPN, presenting the music of Spanish composer Lucas Vidal (Fast & Furious 6) in an inspiring video, with the orchestra and choir of the Queensland Symphony. With this majestic direction she received an Emmy in the category of Best Musical Direction for the song «Olympic Suite», which was presented in Rio de Janeiro 2016. An award that she did not expect but that gave her great satisfaction.
«There is a perfect parallel between music and sports because it goes through a process of preparation, execution and triumph,» said Alondra in an interview.
MÚSICA MAESTRA
Since 2017, she has presented a series of fun and interesting videos on the web and television as both a host and reporter interviewing musicians and artists behind the scenes called «Música Maestra» in conjunction with Deutsche Welle Broadcasting. Alondra showcases her vitality and a young spirit apart from the conductor's podium with her excellent connections with other musicians and artists made obvious.

It is not uncommon to see Alondra de la Parra learning to play marimba or talking to artists behind the scenes of a ballet concert with dancers from Romeo and Juliet, or even cooking a Chinese dumpling recipe with Li-Cunxin the artistic director of the Queensland ballet. Or with the Spanish guitarist Pablo Sáinz Villegas, talking about Spanish musical traditions or about ballet with the principal dancer of the Royal Ballet of London, Zenaida Yanowsky.
A LITTLE MORE ON ALONDRA

AN AMBASSADOR
REPRESENTING WOMEN
As if that were not enough, Alondra de la Parra is also the official ambassador of SHE'S MERCEDES, (please see video) a global initiative of Mercedes Benz, a platform dedicated to inspiring, connecting and empowering women, highlighting their unique success and creating a dialogue that transcends cultures, industries and experiences.

REPRESENTING MEXICO
Alondra has been appointed as Mexico's official cultural ambassador for rescuing, preserving and promoting Mexican music. She was also recognized as Woman of the Year 2018 for her career and cultural contributions in Mexico and internationally.
Alondra de la Parra is equally passionate about conducting classical European composers, among others, Austrian composer Gustav Mahler's Symphony No. 2 «Resurrection» as well as Russian composer Sergei Prokofiev's Classical Symphony Fourth Movement with the same finesse, elegance and vibrancy.
She has conducted in twenty-two countries and recently said goodbye to her newest home, Brisbane Australia. Her farewell to this country in February 2020 was unforgettable. Her musicians prepared a surprise for her performing Danzón No.2, by Mexican composer Arturo Márquez in homage to her Mexican heritage. Afterwards she humbly expressed in an interview: "Thank you for bringing a Mexican to Australia"

PANDEMIC

Alondra's career followed a due course of ascent and she was preparing for her new season of concerts in Europe. However, a month after one of the largest pandemics in history broke out; a period in which countless events in the art world were cancelled, including major classical music concerts, including her concerts in Europe for the spring of 2020.

The music world in effect came to a halt in most of its activities including all those Alondra has scheduled. During these months of isolation, she became aware of the profound needs in Mexico – especially among women and children.

Moved by the impact of the pandemic on women and children in Mexico, the conductor Alondra de la Parra, with her characteristic unstoppable spirit and determination, created something visionary. She created La Orquesta Imposible (the Impossible Orchestra); one of the most ambitious projects in contemporary classical music with a powerful message of solidarity and hope for Mexican women and children.
THE IMPOSSIBLE ORCHESTRA



In this project, Alondra de la Parra has brought together twenty-nine musicians from fourteen countries with the purpose of raising funds to support women and children in Mexico, who are the most vulnerable to the social, health and economic effects of the pandemic. Funds will be raised for two Mexican foundations that work to fight violence against women and children: Fondo Semillas and Save the Children Mexico.

This a unique performance, both by the musicians gathered for maestro Marquez' special composition of one of the most important pieces of Mexican music, Danzón No. 2, with some musicians playing instruments not normally associated with them: for example, Alondra de la Parra herself participates as a pianist and not as a conductor, while opera tenor Rolando Villazón contributes with percussion.
Among the artists is ELISA CARRILLO , the Mexican dancer designated as the best dancer in the world, with choreography created specifically for the Impossible Orchestra by renowned choreographer Christopher Wheeldon of the Royal Ballet of London. The choreography was made at a distance between Berlin and London through sessions by zoom and a phone. The design of Elisa's dress is inspired by the Mexican jacarandas, which bloom in March.

It is a masterful piece in which Alondra, again, makes the magic of the music happen and this time with an underlying call for solidarity and hope. All this is beautifully captured in the orchestra in a spectacular video launched worldwide and making history since its official debut on August 25, 2020.

«The power of music and dance encapsulated by so many wonderful musicians who came together to create La Orquesta Imposible will send a powerful message of solidarity and hope to help Mexican women and children, whose vulnerable situation has been exacerbated by COVID-19. I am deeply moved by the responses and contributions of all, and to them and all our supporters I give my most sincere thanks.

Alondra de la Parra
THE INTERVIEW

Listening in my headphones to the inspiring music of «Olympic Suite», composed by Lucas Vidal and conducted by Alondra de la Parra and performed by the Queensland Symphony Orchestra, Australia, THEN suddenly the phone text APPEARED AND we were all ready, I saw the image of Alondra de la Parra's face appearing before me, she in México City and myself in the studio in Austin. Alondra, if you have not seen her before, is a charismatic beauty, her eyes alive with light when she talks about music.

In this exclusive interview Alondra talks about her twenty-year career, her position as a woman conductor in the industry and her latest project, the Impossible Orchestra, through this enjoyable conversation.

Good morning, Maestra Alondra. It is with great pleasure and excitement that we welcome you to your home, La Revista Mujer in Austin, Texas. How are you?

Hello! Thank you very much and a hug to Texas. I am in México and it is a pleasure to be in Texas and it is a pleasure to be with you, Lilia.

Thank you for being with us. Alondra, this month of August marks a very special event in classical music, celebrating the launch of La Orquesta Imposible, which with the name alone indicates that it has been a monumental effort. Could you tell us how the idea of this orchestra came about, being made up of musicians from various countries, especially at a time like the one we are living in now?
Yes, the Impossible Orchestra is a project that is emerging precisely at this time from the COVID. I started thinking about this project in April, while staying at home in Mexico, with the purpose of helping my country, especially women and children in situations of risk, poverty and violence, whose situation has become more serious, and whose circumstances have worsened as a result of the COVID. 

This project arises from the need I felt to help in these issues in my country and that I was really very concerned. And not having concerts, because I cancelled all my concerts, and not having the normal activity of my work, to be traveling, studying, working, with different orchestras in the world and being here at home, I wonder what I can do from here? And what do I have at my disposal?

Of course first of all I have my musical ear, and my ability in that sense – but conducting orchestras is not really possible today – there are very few possibilities.
So like many of my fellow musicians I started playing the piano, – since I have a degree in piano, an instrument that I always played and studied at the Manhattan School of Music and since I focused my career on conducting orchestras I hadn't played constantly,- and at the moment of confinement now that I have more time – I start playing more.

And so the idea of The Impossible Orchestra as a tool of change that I had at hand arises – and that I think of it through my skills and my friendships, the contacts of musicians and artists around the world.
Why did you call it The Impossible Orchestra?

Well, for several reasons; it's impossible, because if I had called all these classical music luminaries that make up the Orquesta Imposible, in a normal time, when we are all busy with concerts, it would have been impossible, without a doubt, to bring together so much talent and such outstanding people as this project does.

It is impossible too, because ok, you gather them, but the fact of being in the distance, the ideal would be to be able to play all together – but that is impossible.
Thirdly, it's impossible in the sense of how to do something of great quality, in these circumstances where we have no way to have control of the audio, video, lighting, because we are not in the scenarios that we are used to working,
Well, if I had already called up musicians of this level, I wanted to do a high-quality project as if we were on a real stage, then that's all you do and many more things that this project is impossible.

Is it a virtual orchestra? Well, it is also an orchestra, which does not pretend to be an orchestra that exists, it is not an orchestra that when the pandemic ends it will have a season in a theater as such.

They are all top-level soloists who are constantly playing around the world and playing as soloists in different orchestras This is a unique project that they were able to do with the initiative and the keenness to help. And well this is what we did and I feel very happy and proud to present it. I hope you like it.
20 YEARS OF MUSICAL CAREER
This year also marks 20 years in your musical career. It's easy to say, but it represents a lot of work and intensity. What do you remember from your very first appearance behind a conductor's podium, when you made your first gesture – the entrance you might say, before your musicians?

Yes, it's been twenty years of my career, as you say. Well, I remember from my first meetings with the conductor's podium, standing in front of the musicians, most of them my classmates at school, and later on in the first semi-professional orchestra, in New York since I was 19.

I remember the feeling, from the very first moment, was that I felt that I belonged there, something that felt very much mine, that I should be there. A feeling that this is the right path, and I felt it clearly. 

Maybe I didn't feel the ability to express myself with my gestures and communicate it at that moment, but I did have the ability to hear and there was something, a feeling that I CAN DO THIS. From the beginning I had that strong feeling. 

A Positive Change Through Music
How important was it for your career to have mentors, and can you tell us about one or two in particular?

Yes, without a doubt, my most important mentor is Kenneth Kiesler, he has been a special mentor, he was my teacher since I was nineteen – he is someone I admire and appreciate very much. It is precisely his teachings that have helped me to do projects like this.

Ever since I started studying with him, he made me write in one sentence – what I wanted to do and why I wanted to do it. That helped me to give a very clear sense of my goals. And from a very young age he made me come to the conclusion – or rather he led me to reach the conclusion on my own – that I wanted to do something that would provoke, that would inspire positive change in people through music 

That was like very clear from the beginning, thanks to him, he made me have that introspection and that reflection of what I wanted to do – and that always helped me – from that moment on – to include in the projects I make this desire to make a positive change through music. To link them with a very positive reason.

With this reason I think – how can I do something with the tools I have? – directing, music, assembling sounds, arranging people for a good purpose. And that is precisely what the Impossible Orchestra project does. So, it's largely thanks to him and his teachings that it is accomplished. 
FAMILY

You grew up in a family environment with a great appreciation for music and art. Your parents and your sister are writers as well as your brother Manuel Parra is an actor and singer too, and especially your grandmother Yolanda Vargas Dulché, a well regarded Mexican writer. How did all this influence your decision to dedicate yourself to classical music, and not to be a writer for example?

Yes, my family has always appreciated music and art. Art was always celebrated and I was surrounded by art fortunately, and that helped a lot, but even though I have great examples of writers in the family, writing never caught my attention. (Photo to the right: Yolanda Vargas Dulché)

No, I never wanted to be a writer, because I never had that writing streak; you either have it or you don't. What's more, I still find it difficult to write to this day. But with music, it was something else, music for sure always moved me like nothing else. Nothing else.
SPEAKING OF WOMEN

Do you feel that it is an advantage to be a woman in terms of the profession of conductor?

An advantage? No, but it's not a disadvantage either. Being a woman or being a man doesn't really play a part in how you do your job. The education and experience you have acquired through the years working in the field, and all that is combined with your personality, your abilities but also your deficiencies. And all that is a mixture that makes a human being a unique artist.
Being a man or a woman is just one ingredient, but it is not what dictates, or rules whether something works or not.

A survey conducted in 2014 revealed that on a list of the world's top 150 conductors, only five were women. I ask you, bearing in mind what the renowned American conductor Marin Alsop, expressed when she accepted to conduct the Baltimore Symphony, – «how is it possible that we can be in this year, in this century, and that there can still be «first times» for women?» Why is it so difficult to find more female conductors?

Yes, I agree with her, certainly, there should be an equal or a greater number of female conductors, no doubt, but that has nothing to do with making it easier or more difficult to conduct. I think that has to do with people's prejudices, or the fact that in many cases decisions are not made equally – but that has nothing to do with what we do on the podium.

As a mother of two young children, do you feel that your sensitivity to conduct has changed and also how do you find the balance to devote time to them in such a demanding profession?
Of course, I feel that being a mom has changed me, it gives you a great deal of patience and a sense that others are ahead of you. And of caring for and looking after other people, long before ourselves. And that comes out when working as a team, in a group, and it's a reflection that you as a mother already have.
Undoubtedly, and yet, the orchestra and the team have to work in this way – we all have to be generous, see for ourselves, and be responsible for our part, but always be looking out for the rest. Being a mom develops that sense and, well, there's a lot of learning that comes with being a mom and that certainly makes you grow up.
CONDUCTING STYLE

Herbert Von Karajan, an Austrian conductor, once said that «there is no democracy in music and that there are two places where democracy does not help: in music and in the army.» When you conduct your orchestra, do you consider yourself a leader of your musicians, or do you feel that the composer of the music which is being performed is the leader? How would you describe your style?

I think that existed for the past few decades. Conducting was confused with a question of authoritarianism, of egocentricity, of leading through fear. These are concepts that I was lucky enough not to be taught. My teachers always taught me from a team perspective of listening, accepting, receiving, as well as giving.

I never grew up with those concepts. Although I know that they were carried out for a long time. This is not the kind of leadership I want to be a part of, because I think you can be a leader without oppressing others- without canceling others.
On the contrary, I believe that the good leader is the one who listens most – the one who takes the virtues of his team into account the most. The one who allows his or her team to flourish and give of himself or herself as much as possible.
Of course, we have to order and we have to make decisions that sometimes are not what everyone wants. – In that sense, I agree with Karajan that if we wait until we all agree democratically, the process will take a very long time. And there are times when, as the leader, we have to take unilateral decisions and perhaps many people do not agree, but it has to be done. But there are ways and moments, it is a very human question, so it is not all black or white.

I feel that the composer, the music is what we are doing, it is the most important thing and that has to be the priority. The priority is to serve the composer and the music. The conductor is there to help the musicians, to organize, to give impulse, to inspire. It's the musicians who make the music, not us, the conductors. Because it's a collaboration.
A QUESTION OF INTERPRETATION

When does a conductor decide that perhaps exceeding the composer's wishes is best for the music? For example, if the composer has specified a tempo of 110 BPM in the score – and the conductor from his or her own perspective decides that if the tempo were much faster the music would be better appreciated. Is the conductor doing justice to the composer and the audience, or in some cases simply wanting to put his or her own stamp on a piece?

It's just that it is very particular – and it's hard to answer, but it's basically the same as with a film director. For example, the film director or the theater director receives a script that says: «the actor goes out to the right and says such a line». But if in that particular theater there's no exit to the right, then he has to exit to the left –

If it's an actor who for some reason isn't doing that well and causes something to go wrong, there are those moments when you have to make a decision based on that reality. But not with the idea of putting your idea above the composer just because, but because it has a reason to be.

I always try to be faithful to the composer, and as much as possible in my capacity is to stick to the composer's wishes, however, there are many things that have to be adapted to reality.

For example the tempo – you can't be the same tempo in a church, which has a very large and very slow reverberation, as opposed to a dry place. The tempo is often determined by the place you are playing, that has to do with the venue, the place.

And it has to be adapted to the circumstances, thus I am not saying that I don't care what the composer says, nor saying that everything the composer says is law – but I think you have to know very well what the composer wants and then adapt to reality.

OPERA

Here in Austin lived a Mexican opera composer, DANIEL CATÁN (il Postino) who died here in 2011, among other things he wrote the music for the Opera "Florencia de las Amazonas" – sung by Houston soprano Ana Maria Martinez, would you like to conduct an orchestra for the opera by Mexican composers or have you done it before?

Yes, I know Daniel Catán's work, and I would love to play an orchestra for an opera. I really like conducting opera and whenever there are Latin American composers, I would like it very much. Especially if he is a Mexican composer.

And how different is conducting an orchestra for opera, compared to a traditional symphonic concert?

The difference in conducting an opera orchestra versus a traditional symphony orchestra is that in opera we have more elements. For example, we have a choir, and there is also a stage manager. It's like in the movies, you have a script to follow. Such a person enters this scene and you have to say this, or sing.

The difference is that in the opera you are directing what is happening on the stage, you have a new element that does not exist in the symphony orchestra, you have the singers, the distance and the staging.

You also have a stage director. So, there's a lot more to it than just the music. Music is the most important, but it's not the only one. You have to adapt even more in the opera than in a symphonic concert.

At a symphony concert you can do purely what the music tells you to do, so that the music is in the best possible position. But, in opera you have other elements, so it's much more complex.
FILM AND THEATER
Would you be interested in conducting a musical score for movies, or for video games, or another symphonic score like West Side Story?
Yes, I would, but I don't have any plans right now. That West Side Story project was wonderful, and it was one of the hardest things I've ever had to do.

Because they were precisely the two things I was talking about. It was a symphony orchestra – but I had to adapt myself to the singers in the film, who apart from that – were not singers who can follow you and adapt themselves on stage – but it was with the singers who were already recorded, those don't move, which had been done in the '60s.

It was like making an opera, but with a recording of many decades. It wasn't just a symphony orchestra but you have to adapt to the singers in the film – as opposed to the singers on stage.
POST – PANDEMIC YEARS
What's next for you when we reach the post-pandemic years? After Australia, what's next?

The truth is that right now we are at a point where no one knows exactly what is next. The plans I had before the pandemic are one and the ones that are being real are very different.

For example, I had a new production scheduled with the Berlin State Ballet. I had several concerts to close the season of the French National Orchestra in Paris.

I was also going to premiere a new project with a Mexican artist, the Clown Gaby Muñoz (a modern pantomime style clown that tells stories from poets, philosophers, inventors, performing in a theater). So many of my concerts have been cancelled. There might be some in Frankfurt in mid-September and also other concerts in Denmark with the German tenor Julian Prégardien and another one in Milan that is still going on.
But I think that what we are coming to is to have patience, and to dedicate ourselves to improve in an internal way, in our house, with our score, our ear, our piano, our mind, to train ourselves to grow so that when we return to the stages we come back stronger than we left.

It's hard to share new plans. However, the Orquesta Imposible has come up with a good solution to this circumstance, because I have been able to put my energy, my time, my desire to make music within the parameters that we are, and it will be possible to help greatly my country, hoping to inspire others, and that is what I am focusing on.
Recommendation
What would you recommend to any woman who is currently thinking of becoming a conductor?

Well, first I would congratulate her. It's a career that gives you beautiful satisfaction, but it requires a lot of work, a lot of study and a lot of discipline. But it's really a decision you have to make very consciously, and I would certainly invite them to do it, but you have to put in a lot of effort. And it is an effort that never ends.
ALONDRA'S FAVORITES
Mexican food you crave when you travel far from Mexico? Mmm … I miss a ceviche! Favorite arm exercise? The truth is that directing is a very strong exercise and I really sweat and burn a lot of calories and I don't have to do anything extra. I try to exercise but since I had my children it is very difficult. Just now that I haven't been directing, I'm starting to notice the difference. (laughs) Mexican composer? I really like Mario Lavista's music. Vacation spot? Any beach in Mexico. Perfume? Bond
We ended the interview with the promise that due to the distance we could not deliver a bouquet of flowers to her, as is customary at the end of her concerts, and we agreed to deliver it in person should she come to Austin, either to visit or preferably to conduct an orchestra for the very first time.


Alondra's example is inspiring. After my interview, I realized that the role of a conductor goes beyond leading her musicians with a baton. That being a woman does not enter into the equation to be a better conductor or not. It is a great work effort where you have to consider everything to do justice to the composer of the music her musicians are playing and to produce the magic of the music.
To see the complete video of the Impossible Orchestra, Consider Donating and Share – go to the link here: https://www.laorquestaimposible.com/
Follow Alondra: Instagram @alondradlp FB @AlondradelaParraOfficial Twitter @alondradlp @impossibleorch