TORO KITCHEN + BAR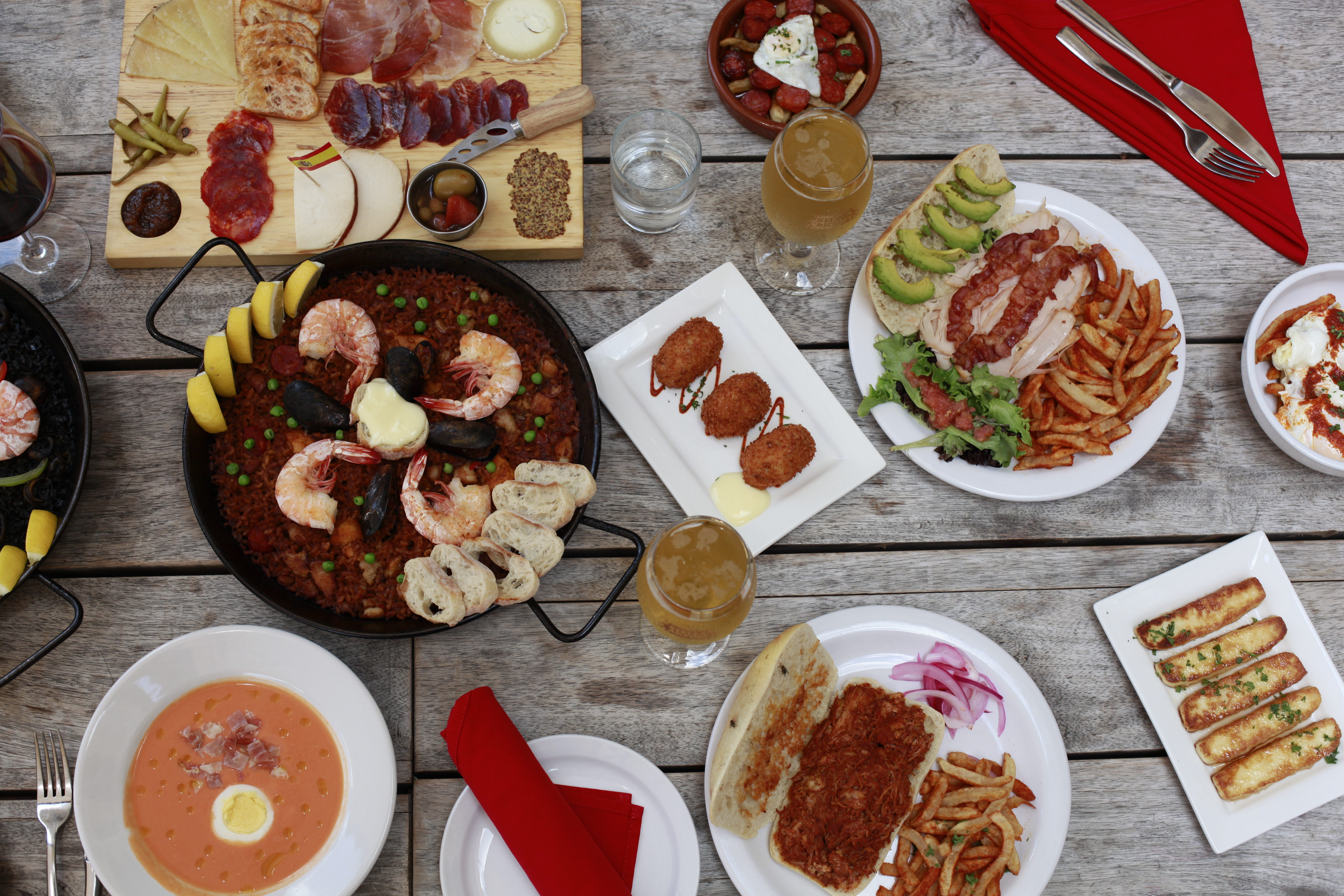 MEMORIES OF SPAIN
TORO is a culinary experience artistically created by Mexicans and Spaniards. It opened just a few years ago, but Toro Kitchen + Bar in San Antonio has made great strides. Its owners Gerardo and Vanessa de Anda together with chefs Juan Carlos Bazán and Sandra Maldonado have already received a list of recognitions among which the People's Choice Award stands out in the famous Paella Challenge of San Antonio in 2017 and 2018 consecutively, and Top 10 Best New Restaurants of San Antonio in 2017, as well as in the Express News, The Best 100 Restaurants in 2018. Famous for its Vegan paella, it has acquired a large list of loyal followers.
As in the case of my co-contributor Rocío Guenther, (see "My First Royal Visit") this month of June brings back memories of my birthday in Madrid on my first visit to Spain many years ago. I went to study interpretation and translation and without knowing anyone those first few days, I went to celebrate the day in a restaurant alone, ordering calamares with a glass of white wine. The flavors were incredible. It was a lonely birthday, but at the same time memorable and as you see I've never forgotten it.

Now, many years later, I am in San Antonio celebrating the tricentenary of the city, at the museum of the Spanish Government Palace, formerly known as the Comandancia, founded at the beginning of the 18th century, where we dined like the old Spanish lords of Texas in a colonial house, just like in their times, without air conditioning! And in fact, it wasn't bad, as during the renovation of the palace,  the ceilings had to be raised enough to preserve the flow of fresh air. In the original palace, the roofs used to be quite lower since the Spaniards were usually not tall people. The food was prepared by a Spanish restaurant called TORO. Their food was beyond my expectations.
We started with tomato bread, a toasted baguette with fresh tomato spread, delicious croquettes of ham and croquettes of honey with fried goat cheese, to die for. We continued with a delicious traditional Spanish "Tortilla" omelette, and an exquisite Mediterranean salad with quinoa, cucumber, serrano chiles, red onion and green olives. Tremendously refreshing. 
And then the coup de grace: a Toro paella with giant shrimp, clams, chicken, squid, pork and Spanish chorizo. An explosion of flavors and textures, with freshly made sangria. I could not have asked for a better welcome back and re-encounter with Madrid. But now, what exactly is Toro?
TORO 
Currently Toro Kitchen + Bar is the only restaurant in San Antonio with Spanish cuisine, a fact that makes it an exclusive locally, and just as noteworthy for the authenticity of all its dishes. All  ingredients are 100% imported from Spain, for example, Serrano, Iberian and Bellota hams come directly from Spain, as well as the blood sausage. Toro Kitchen + Bar represents honest quality supplied by the five talented people behind the same. Fate united all of them to create what Toro is today. But who exactly are they?
GERARDO DE ANDA – FOUNDER AND OWNER
Born in San Luis Potosí, Mexico. When he was 17 years old, Gerardo decided that he would go to Europe, make a stop in Pamplona and run with the bulls during the fair of San Fermín. And so he did, though what he didn't expect was that he would be the target of a bull named Caramelo. Gerardo was horned and gored by that bull and survived a near death experience. It was something that changed his life completely, he could never have guessed that this moment would inspire a dream that now is a reality: Toro Kitchen + Bar.
What was the first thing you did when you returned from Pamplona?

When I returned to San Antonio, I decided to put a stop in my career in Business Administration (at UTSA University). My experience in Spain had marked me in many ways, but one of them inspired me to dream of having my own Spanish restaurant. Then I worked in many local restaurants as a waiter, trainer and manager. I often worked double shifts to save till the last penny. I would call it Toro, in honor of Carmelo, the 1,500-pound bull that had gored me but at the same time restored me to life.
How did you get from an employee to a restaurant owner?

Later on, I made a transition to the corporate world as Sales Director at Brightstar Corp. traveling throughout the United States. One of my duties was to take my clients to dinner and so I started taking notes of everything I liked and admired. My opportunity came when a friend called to tell me that he was closing his coffee shop and asked me to stop by to see him. Once there, listening to my friend, and seeing the space, I realized that everything I had been saving for 10 years now had a destination: my dream of Toro Kitchen + Bar.
What experience do you expect the client to have in your restaurant?

At Toro Kitchen + Bar, more than offering good tapas and paella, we seek to offer the public a complete experience when coming to the restaurant, as if you were having a very cool summer Tinto on a patio in Toledo. Besides, we also have Spanish guitar night, a show by Don José (guitarist originally from Spain, and who played for Pope John Paul II in the Vatican) and Noche de Flamenco. That's where the restaurant's motto comes from: "Spain is closer than you think".
JUAN CARLOS BAZÁN – EXECUTIVE CHEF 
Executive Chef from Zacatecas, Mexico, studied Gastronomy and Business Administration at the University of Durango. He has a long experience in both Spanish and Mexican cuisine. He worked at Monastrell in Alicante, Spain, together with Albert Adriá, who has a Michelin star and in the Taberna del Gourmet, which has 5 soles in the Repsol Guide and also the Michelin Guide. In Mexico he worked at "Pujol" with renowned Mexican chef Enrique Olvera, among others.
How did you get from Spain and Mexico to San Antonio?

I had to return to San Antonio to visit my family and decided to stay and work. A week after returning from Spain, a friend told me that Gerardo was going to open a Spanish restaurant, so I called directly to the restaurant. In fact the first call received at Toro was mine! My interview consisted of cooking several dishes, but I had to prepare them at my girlfriend's home, because the restaurant kitchen was not finished yet (laughs). Once they tasted the dishes, I was hired that same day as Toro's Executive Chef.
Mexican food predominates in San Antonio, how do they receive Spanish food?

Although Spanish food arrived in the city of San Antonio 300 years ago, with Spanish colonization, the cuisine that continued to predominate was Mexican, which evolved into Tex-Mex cuisine, which is a fusion of Texan food (American) and Mexican. However, Spanish cuisine stands out for the type of ingredients and their quality, as well as the simplicity of some of their dishes.
What do you want to express with your dishes?
I want the customers to feel that the food that I have the pleasure of preparing reminds them of something made at home. For example, one of my most popular desserts is a lemon pie prepared by my grandmother when I was a kid. Something very simple but very homemade. I do the same with more sophisticated Spanish dishes.
THE THREE WOMEN BEHIND TORO
VANESSA DE ANDA – MANAGER
Born in San Luis Potosí, México. Graduated with a Master's Degree in Business Administration. After living in several places around the world, she longed to have her own family business and later join forces with her brother Gerardo, at Toro. Besides being co-owner, Vanessa is the Manager of Inventory, Human Resources, and Commerce, managing all the purchasing relationships with the distributors of ingredients and wines for the restaurant.  
How do you handle the stress of starting a restaurant from scratch and now, planning to open another one?

It is not easy, but I already had previous experience in business management. However, working with your family is sometimes difficult. One of my mottos has always been: it does not matter what life presents to you, you have to face it with a positive attitude. That helps me a lot. We are about to open a second place on St. Paul Square, in downtown San Antonio, and it will open in July 2018, (she smiles) where we will be waiting for you.
SANDRA MALDONADO – SOUS CHEF
Sandra is the heart of Spanish food and Sous Chef at Toro. Born in Murcia Spain, and with studies in Restoration and Cooking Management in the city of Murcia, she  worked in Paris at a restaurant with three Michelin stars called La Tour D'Argent. Later she traveled to Ireland where she worked in a fusion restaurant featuring Spanish and Irish cuisine. On her return to Spain, during her last year of studies in Alicante, she was offered a job as Chef de Cuisine at the Taberna del Gourmet, which lasted for five years.
How did you get to San Antonio?
I met chef Juan Carlos in Spain when he worked at the Taberna del Gourmet in Alicante. I was his boss, and well after some time, we became novios. Later on, when Juan Carlos returned to San Antonio, he invited me as Sous Chef at Toro's Kitchen, and now he is my boss!! (Laughs). The dynamics of our relationship have changed and sometimes it's difficult, because I do not like to be criticized for my dishes (laughs).

Which dishes from the menu are from the region of Alicante or Seville, and which do you recommend?

The Gazpacho, which is from Andalucia, Seville, and all the rice dishes and Fideuà (a seafood dish similar to paella but with noodles) are from Alicante. Rice is abundant in Alicante because the Valencian community has many fields of different types of rice, but there are also very good fish and seafood, Valencia being also the region for rabbits. I recommend the Gazpacho because it is a very nutritious dish for the very hot weather that there is in Seville, as in San Antonio (laughs) since it is one of the hottest places in Spain and gazpacho is a dish with many vitamins and nutrients, even doctors recommend it during the summer, more than water. 
NOHEMI "Mimi" BONILLA – BRAND DIRECTOR
How did you join Toro?
I had also always had an obsession with Spanish culture since the age of 16, including my first FIFA World Cup with the national soccer team of Spain (laughs). But one day, inquiring about my ancestors, I discovered that I had Spanish ancestry. Then I convinced my favorite uncle, whom I call "Brujo" with affection, who worked for NH Hotels in Europe to take me with him to Spain. He took me to Madrid and Toledo, where I fell even more in love with Spain's culture. Then I met Gerardo on one of his business trips from Atlanta to San Antonio. I studied psychology at the University of Texas, but it was while completing my  master's degree that I decided to immerse in the new culture of restaurants that was emerging in San Antonio. So when Gerardo and his sister Vanessa De Anda offered me the position of Brand Director at TORO, I felt at home.

Do you have culinary events for your clients?
We have two very special events in Toro: Corks + Forks, where Chef Juan Carlos creates an exclusive menu for each of them with dishes that are off the menu and we have a different brand and wine representative in each event that together with the chef explain the creation of each dish and wine, and the reason why one complements the other. In the Paella 101 event, Juan Carlos cooks the paella in front of the clients and teaches them to cook it so that they can also make it at home. We invite you to try it!

Learn more about Toro at http://torokitchenandbar.com/