VIOLINIST ELENA URIOSTE: On The Importance of Taking an Intermission… With Yoga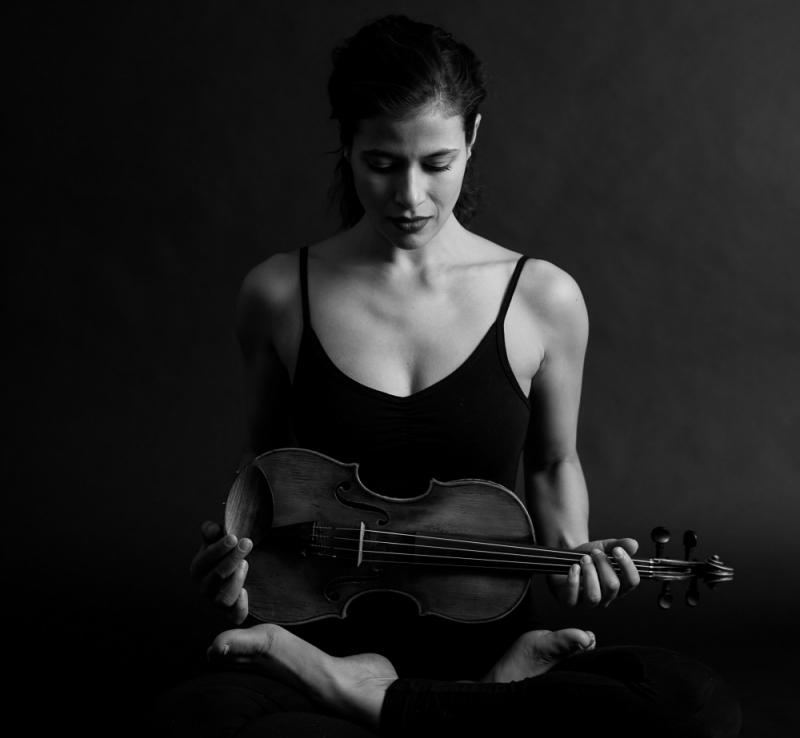 BY: ELENA URIOSTE
PHOTOS BY: DANIEL CAVAZOS
Taking an Intermission
I found myself taking an intermission in the midst of the international panic resulting from COVID-19, as classical music has been no stranger to that havoc. Concerts are suspended, travel is restricted or totally impossible, and the weeks, months, years of preparation for performances, auditions and projects have apparently evaporated into thin air.

Few have been spared, not the brightest opera stars nor those musicians who meet the next month's expenses with smaller, more intimate concerts – my friends, colleagues and students, all have been affected in some way by the consequences of this devastating pandemic.

I was immensely concerned, how will I survive the next few months financially? It's one of the many questions I asked myself. I could join the mass hysteria, scream and complain and pile up rolls of toilet paper and blame others and feel sorry for myself… or I could choose to do what my decade of experience in yoga and my training as a teacher have taught me.
IT ALL STARTED WITH MY RIGHT ARM
In my second year as a violin student at the Curtis Institute of Music, my right arm started going numb from my elbow to my fingertips on a fairly regular basis. It was sort of like how your limbs feel right before they fall asleep: not full-on pins and needles, but a dull, hot emptiness, like there was no blood to keep that piece of me alive and vibrant.

I was overworked, underslept, and using my body as a landfill for garbage like Entemann's donuts, Red Bull energy drinks, among others. The arm numbness was exacerbated by sitting to play, so I had to be excused from orchestra regularly, incurring the wrath and eye-rolls of the Curtis orchestra manager. My mentors and fellow classmates were as clueless about how to remedy my issue, let alone what might be causing it, as I was.
ALTERNATIVE MEDICINE

At the suggestion of a friend, I went to alternative medicine therapies, for fluidity of movement, such as Rolfing (and I had no idea what that meant then). This worked sort of ok, but only after I spent thousands of dollars on the ten prescribed treatment sessions, many of which had little or nothing to do with my real problem. 
My numbness disappeared for the most part – but every time the sensation showed signs of returning in the months that followed, I was terrified. And the pain continued off and on.
MY FIRST ENCOUNTER WITH YOGA
Fast-forward to the summer of 2009, when I stumbled into my first hot yoga class in lower Manhattan feeling anxious, heartbroken, and lost, with the aim not of managing violin-related injuries but rather of reclaiming my mojo out of the ashes of a relationship gone wrong. I emerged drenched and exhausted, but like a fire had been ignited within me.
From my first ninety minutes of focusing, breathing, and balancing on a mat, I knew I was home.
A COMMITMENT WITH HONESTY
As the days ticked by and I began to fall out of love with a dishonest man and in love with a yoga practice that demanded that I engage deeply, unrelentingly honestly with myself.

My fellow violinist and one of my dearest friends, Melissa White, (who later became my business partner – although none of us knew it at the time) was simultaneously dipping her toes into the same practice a few hundred miles north. A fun fact is that we both started playing violin since we were kids after watching the same Sesame Street episode with violinist Itzhak Perlman!
A DESIRE TO HELP OTHERS
That October on an early-days Sphinx Chamber Orchestra tour, Melissa and I got to chatting about our experiences with integrating yoga into our hectic lives as performers. 
She was just as enamored as I was and the benefits that we were both discovering as a result of practicing yoga regularly had, in just a few short months, already transformed our relationships with the violin. 

We noticed improved muscular control in our playing, a healthier balance of compassion and discipline in the practice room, an easier time managing performance nerves, and a greater sense of peace with the world around us (which, let me tell you, REALLY comes in handy at airports).

Both active teachers within our respective musical careers, we noticed ourselves advising students to explore principles learned in yoga classes as much as those from our own musical studies.

HOW INTERMISSION WAS BORN

And thus the idea for our program,  INTERMISSION, was born in 2017 with a little help from our friends and mentors at the Sphinx Organization.  What started as little more than a conceptual pipe dream — our desire to share the wisdom found in yoga  with our fellow musicians — over dinner at our shared kitchen table in Manhattan has grown into a multifaceted enterprise.

As of today, Intermission includes Retreats for professional musicians, Sessions for music students, and a free App that offers music, movement, and mindfulness tools to musicians of all ages and stages.
THE IMPORTANCE OF TAKING AN INTERMISSION

Our hope is that all musicians — all people! — will begin to understand the importance of «taking an Intermission» from their regularly scheduled programming (the daily grind of life, unhealthy habits built up from years of playing an instrument, emotional ruts). With the practice of yoga you can enjoy the process of exploring the connection between mind, body, and breath in order to enhance music-making.
I am not a medical professional, nor am I a student of anatomy, but what I am, now, is a recently certified yoga teacher and longtime devoted practitioner who is acutely aware of her body, in tune with how it feels at any given moment.

PHYSICAL BENEFITS

Thanks to the practice of yoga I have a healthy enough understanding of what joint, muscle. ligament is supposed to go where so that when something doesn't feel good, I know how to move it to correct the problem and prevent more serious issues.

Similarly, I know to take breaks when I feel stiff or fatigued from playing. And it's okay to admit when I feel pain or discomfort, and that it's also okay to tell people off when they roll their eyes at you. 

"One of the leading causes of injury amongst musicians is overworking our muscles when they haven't been properly warmed up»

A SPACE TO CLEAR YOUR MIND
On a deeper level, the practice of yoga has allowed my body to clear space for whatever it is that I need at any given moment — stillness, clarity, compassion, fire, deeper curiosity, patience — and has helped me to cultivate the ability to pause before I react.
MENTAL BENEFITS

Yoga is a way of life that includes a physical practice, yes, but asana are also portals to other areas: mental focus, meditation, emotional expansion, spirituality, or anyplace else that feels deeply personal or even undefinable. Love. Self-love: perhaps the most fundamental kind.
PAUSE. NOTICE. BREATH.

One silver lining of this pandemic has been that I've observed unprecedented levels of generosity and compassion from my fellow musicians. For instance, many of them are offering videos of themselves pouring their hearts out through their music, teaching tips and advice, and virtual shoulders to lean on.

My own powers to control this virus and its associated fallout are obviously limited, however, I do feel confident in my ability to bring large swaths of people — nervous performers, squirmy kids, skeptics, Type A overachievers, and habitual worriers alike — into a place of calm through slow, mindful breathing. Yoga has afforded me these tools, as a musician and a human being.

I'm determined to find ways of helping my fellow musicians, in moments of struggle and relative normalcy alike, and I hope that the intersection of my two passions — music and yoga — can afford my fellow humans even a fleeting moment of solace.
Take care of your body, always treat yourself with the kindness you would show a loved one, and happy practice!
Elena
ELENA URIOSTE
Elena Urioste, is an award winning professional violinist and has performed as solosit violinist with orchestras worldwide and at the Long Center Auditorium in Austin, Texas. Elena has been the beautiful cover girl for the magazine La Revista Mujer of Austin, which received a Silver Award by National Association of Hispanic Publishers (NAHP). Elena Urioste is the co-founder of Intermission & Retreat, presents her innovative program that celebrates the symbiosis between music and yoga. You can watch her Introduction video below where Elena shares some of her favorite yoga postures as well as some of the many benefits yoga has brought to her musical and personal life. You don't have to be a musician to benefit! LRM
Website: www.intermissionsessions.com
Facebook: Intermission Sessions & Retreat
Twitter: @IntermissionsSR
Instagram: @intermissionsessions