7 Steps for a Night at the Opera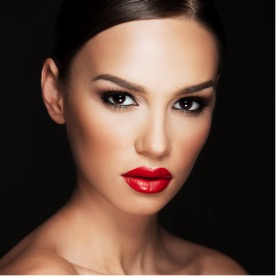 Can't decide how to make up when you go to the opera? Too Much?,  a little bit? We consulted with professional make-up artist Allen from Rae Cosmetics in Austin, Texas to give us some product tips that you can use to get an opera night look that will make you look sensational.. Let's see.

1. Primer. To begin, start by preparing your skin before putting your makeup with a primer. This formula of silica softening the skin provides the perfect smooth and matte surface for the makeup application and extends its use, as if you would not be wearing anything. Surface Primer $42
2. Tint. Apply this star product that stays on your skin all night, even when you perspire. It contains minerals that match skin tones and covers imperfections (do not forget to apply your favorite concealer under the eyes). Climate Control Mineral Tint $ 42

3. Eyeliner. We continue with this super soft eyeliner to create the perfect cat eye or color tone for a smoother and smoky look. The Mystic or Florentine color goes well with the lavender and purple shades that we suggest below. GEL Eyeliner. $ 18
4. Shades. Apply this versatile set of purple shades (or you can use brown tones) ideal for a smoky evening look. Apply the darker color in the crease of the eye, to deepen the color and give a bright
look to your eyes. Obviously Orchid Palette. $ 50
5. Mascara. This mascara of protein rich formula separates without agglomeration creating long and lush eyelashes for your evening look (dare to use Ardell 110 false eyelashes, with a layer of mascara before placing them on your eyes). Lush Silk Mascara. $19
6. Lipstick. A night of opera deserves a dramatic color upon your lips with this lipstick in a matte version that hydrates and fills creating a creamy finish. Vitamins A, C and E help reduce the appearance of fine lines. Try Bossy Bunny. Lip Lust Lipstick. $ 18
7. Blush. Finish with a highly concentrated blush for a great coverage on your cheeks, with just a little bit  is best. The color stays even when you perspire, Heartbreaker Blush, $18, and seal the night look with a powder for the cheeks, neck and shoulders to look radiant Afterglow Powder $42
Now you are ready… Enjoy your night at the opera!