RICHIE ESCALANTE | MEXICAN MOTOAMERICA RACER NAILS THE PODIUM AT COTA
Richie Escalante is from Hidalgo, Mexico and came into the spotlight of the motorcycle world after being the first Mexican to win the MotoAmerica Supersport class races in 2020. But the truth is that Richie Escalante had been building up to that moment for years, not only in Mexico and in the US but also in Spain.
That attracted sponsors to support him in reaching the next level. With all of his accomplishments, he's getting serious attention and we are proud to see him racing with Team Hammer and earning his First MotoAmerica Superbike podium of his career at Circuit of the Americas by finishing Second in the race.
A WARM WELCOME TO RICHIE ESCALANTE
Richie's optimism about the sport, his team, his opportunities, and life in general were tempered only by the grace with which he received La Revista Mujer for this interview. It was our distinct pleasure to get this slice of time from Richie's race day to learn a little more about the man who is singularly focused on the Superbike podium this year with Team Hammer.
Great things are underway for the dedicated and humble Escalante and we can't wait to applaud him with every advancement toward his Superbike aspirations.
Thank you, Richie, for taking the time to speak to the readers of La Revista Mujer! I'd like to do Lilia Rodríguez-Davis, our editor-in-chief, the honors of reading her introduction in Spanish in gratitude.
«HOLA RICHIE, QUE GRAN GUSTO TENERTE AQUÍ EN AUSTIN EN COTA EN ESTAS CARRERAS TAN IMPORTANTES, REPRESENTANDO A MÉXICO. NOS DA UN GRAN ORGULLO TENERTE AQUÍ CON UNA LARGA AUDIENCIA HISPANA. ME ATREVO A PEDIR ESTA ENTREVISTA PORQUE QUIERO QUE MI AUDIENCIA SEPA MÁS DE TI, Y ME UNO A ELLOS PARA HACERTE ESTAS PREGUNTAS:»
(HELLO RICHIE, WHAT A GREAT PLEASURE TO HAVE YOU HERE IN AUSTIN AT COTA FOR SUCH IMPORTANT RACES, REPRESENTING MEXICO. IT GIVES US GREAT PRIDE TO SHARE YOUR THOUGHTS AND EXPERIENCES WITH A LARGE HISPANIC AUDIENCE. I ASKED FOR THIS INTERVIEW BECAUSE I WANT MY AUDIENCE TO KNOW MORE ABOUT YOU, AND TOGETHER WE ARE HONORED TO HEAR WHAT YOU HAVE TO SAY.)
When did you start racing? How old are you?
I'm 28. But I started in 2004 with a little bike. So my dad raced before, in the '90s, two stroke bikes, 250 (CC) 2-stroke and also the 600 Supersport bike in '92, around thirty years ago. It's why I love racing. My dad helped me start racing in this really cool sport. So yeah, I've been racing around 15-17 years.
And how does your family support you?
I have my mom's support, but she never comes to the races. My dad shares the races with my brother. I have an older brother who also raced before and is now more like my manager. And my dad is more my coach.
So we divide that, my dad, my brother, and me. But my mom is always behind me supporting me as well with the right food to eat and helping me stay healthy in my training. I have good support from the family.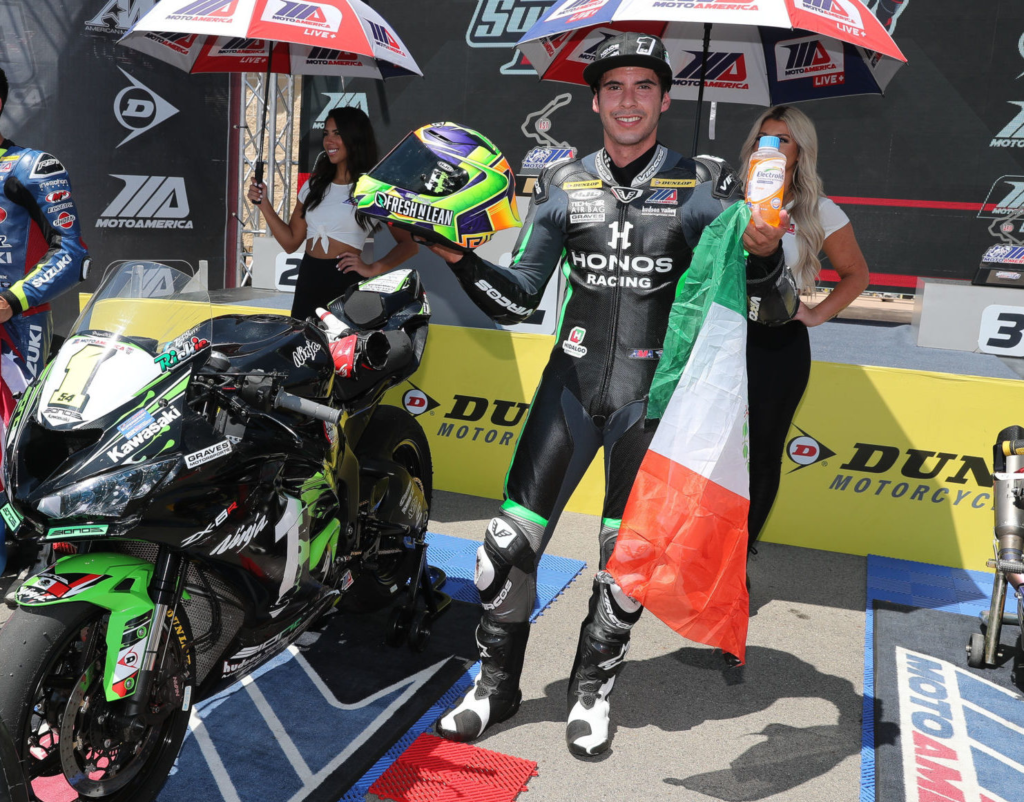 REPRESENTING MEXICO
You're the only Mexican on the team. What has been your experience around this?
It's an honor to represent not only Mexico to the Hispanic people, but It's also a pleasure to aim to put the Mexican flag on the podium. So I'm very happy to represent my country and to be in the best motorcycle championship in the USA.
And does representing Mexico in the best race in the USA feel like a big responsibility?
Of course. I think in Mexico there is a lot of love for racing, especially MotoGP. Also, the World Championship is there with so many riders, so I feel like I need to represent Mexico in the best way possible.
Many talented riders are racing there. They have the opportunity to demonstrate the talent and the speed. For sure I always feel I need to represent well, and I have the support. So it's 50/50.
And what does it mean to you to race at COTA, in Austin near Mexico?
It's a special track, hosting the championship of racing in this country. The race closest to Mexico is here, at COTA, so I'm really happy to race here, and also to start in the first round. I'm working hard in this class to put my name in the top three this weekend.
Danielle Becker, La Revista Mujer and Richie Escalante
RICHIE ESCALANTE AND TEAM HAMMER
We'll be rooting for you! When you were named to the 2023 Hammer Team, how did it feel?
I started with Team Hammer in 2022. It's funny, 2020 and 2021 I battled with Team Hammer for the championship. I raced with a different team. It was a good competition. After finishing the '21 season there was a problem with a rider and the team and it was a surprise when I made the deal with Team Hammer to race '22 and '23.
Meaning that you had to figure out and adjust to the new team dynamics?
I'm very happy to be working with Chris Ulrich, the owner. My crew is very good. My crew chief, my mechanic, my telemetry, all good, so now it feels like a big family.
FINDING THE BALANCE
You feel supported, that's excellent. And even though you're riding the same bike, every race is different. How do you find the balance to get the best qualification?
Always you want to go fast. Qualifying in this sport is difficult. Qualification time is at 10 in the morning, and then the race is in the afternoon at 3 p.m. So the conditions are always changing. The temperature is always changing.
Sometimes in the morning it's windy, sometimes in the afternoon it's not. And you have different tires, soft/medium/hard in the front, and there are medium/hard choices for the rear. So you need to decide, working during the weekend as you practice and during qualifying, what will be the best tire match for the race.
And then you also have to play with the pressure of each tire, maybe you want more or less bounce on the front or on the rear. Also the crew is working on the geometry of the bike to be higher, lower, shorter, longer. So you play with these factors.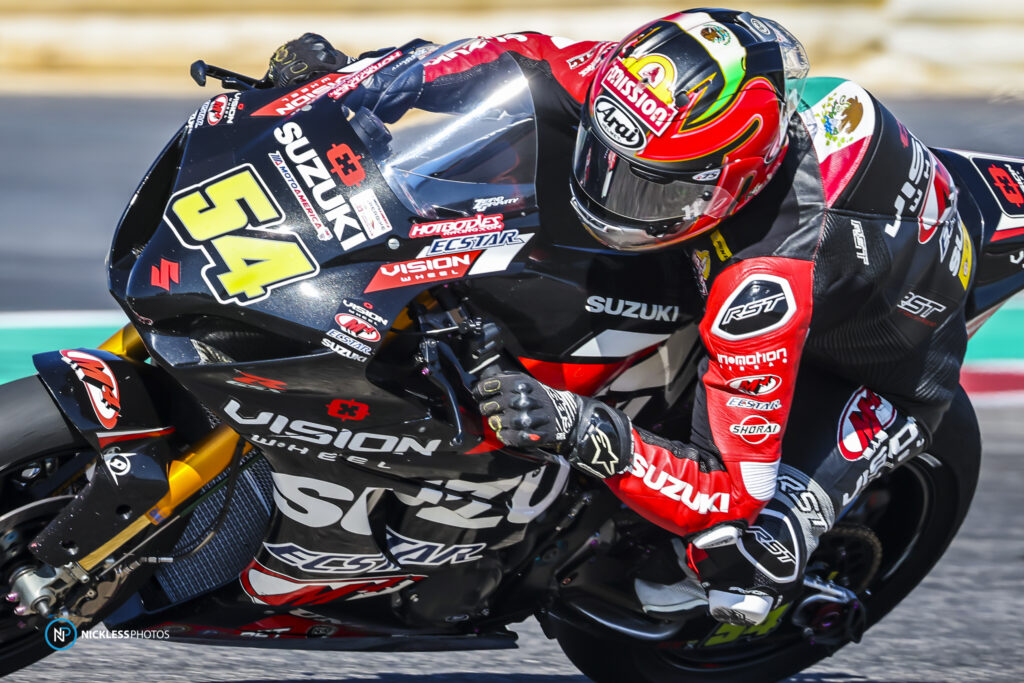 Richie Escalante competing in MotoAmerica at COTA
Photo by NIckless Photos
Where is the balance of strategy and just plain going fast?
When you finally have a good balance you change just a couple of things, a little softer or harder, 10 clicks more, 10 clicks less. With qualifying we may use less fuel, and then you need to race a full distance like this weekend at COTA so you'll start with a full tank.
So with my team and I, we give each other feedback during the weekend. We try to concentrate on the right setup. And then in the qualifying, you have the option to go to a super soft tire to run two laps fast.
Today I was happy to finally take that step so I'll be starting in the front at the race. Now I have three hours before the race and I need to decide what type of tire combination I want for the race. So it's difficult but when you get it all together you battle for the podium.
WEATHER CONDITIONS
How is the extreme heat affecting your decision?
It's difficult. I qualified already at 10 in the morning, and the conditions were nice. This afternoon the temperature will rise to 105 so for sure it's difficult to decide but the good thing about this sport is the conditions are the same for all the riders.
Whatever problem I have now, my competitors are experiencing the same thing. We have a lot of work to do, but I hope today we put it all together and aim for the podium.
RICHIE ESCALANTE – FROM SUPERSPORT TO SUPERBIKE
How is your skill set evolving in the transition from Supersport to Superbike racing?
Well the transition for sure is different. The top speed is completely different. Like maybe 40 miles difference in the straightaway, so for sure more braking with more speed and also heavier deceleration. The lines on the track are a little bit different in the transitions for sure.
Do you feel like that evolution is still unfolding for you? Or do you feel like you have a really firm grasp on it now and it's just part of you building to the next level?
Yeah, it's just part of growing. It's understanding a different class, a new group of riders.
Richie Escalante at MotoAmerica's press interview at COTA
Photo by Nickless Photos
MENTAL DRILLS
Are there any drills or mental readiness exercises that you use to prepare yourself for your peak performance? How does Richie get ready?
I like to gear up and put everything on the left side first then the right.
Where does that come from?
I don't know, just intuition. So that's the only special thing I do other than touch my bike to tell it okay, it's time to go fast. And that's it.
SPANISH LANGUAGE
Your English is excellent. Since it's not your native language has that been a barrier at all for you?
On the race weekend, no big problem. My biggest problem is off the track in daily life. It's complicated to understand people but I'm working hard to improve my English. With my crew, I have a really good relationship so we understand each other.
The most important thing is to improve the bike so I'm happy that my team understands my routines and my language.
So what's the end goal? Where does Richie want to take this ultimately?
I want to be a Superbike champion. I already won the Supersport championship in 2020. So the next step is to be a Superbike winner. With Team Hammer I use a Suzuki. That bike has a lot of history in this country.
So many riders have won with a Suzuki, like Ben Spies is a world champion. Mat Mladin I think was a six or seven-time Superbike champion so I really want to win a Superbike race to be part of these Suzuki winners for sure.
And what driver do you look up to?
My favorite rider is Jorge Lorenzo. He's Spanish and already retired. I really like his smooth style and he's mentally very strong. For now, on the grid, maybe Mark Marquez. He's strong and aggressive. Both riders are Spanish.
ADVICE
What advice would you give to a young boy or girl who's just starting out in the sport of motorcycling?
Well, I think everything starts with family. Parents need to believe in their child and believe in what he wants to do. First, maybe finish school. I think that's very important. You never know what will happen, this sport is difficult.
And then step by step, with a little bike starting with the American Junior Cup championship. That's a great place to start. So maybe start with the little bikes then jump to the 300s. I think that's the best idea.
Community support and finishing school are important. I finished in a different way so that's something I missed because I was racing in Europe and here, outside of Mexico, so I've spent a lot of lifetime in the sport. I think the family needs to support them.
And the final question, when you're away from home what Mexican food do you miss or crave the most?
My tacos with Mission tortillas. And my grandmother's enchiladas, I miss that a lot.
So we need to give a shout-out to Richie's grandmother and Mission Tortillas!
We're so grateful for your time and I wish you the best!
Thank you very much.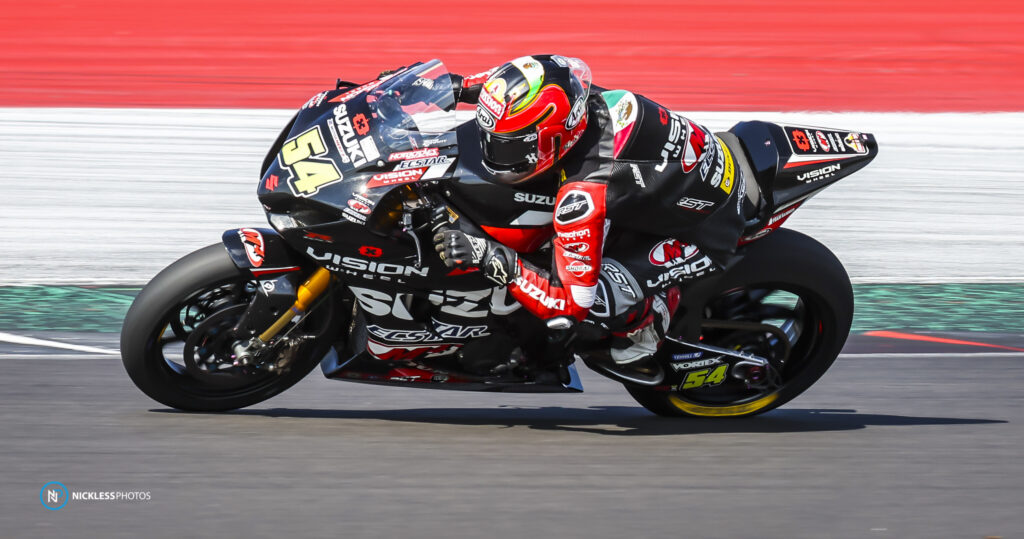 Richie Escalante at Circuit of the Americas
Photo by: NIckless Photos
By: Lilia Rodriguez Davis and Danielle Becker
Cover phot by: Brian J. Nelson
FOLLOW RICHIE ESCALANTE
Twitter & Instagram @escalanterichie
Facebook: @RichieEscalante