ALEJANDRA RIVAS| A DANCE OF COOL FLAVORS WITH ROCAMBOLESC IN HOUSTON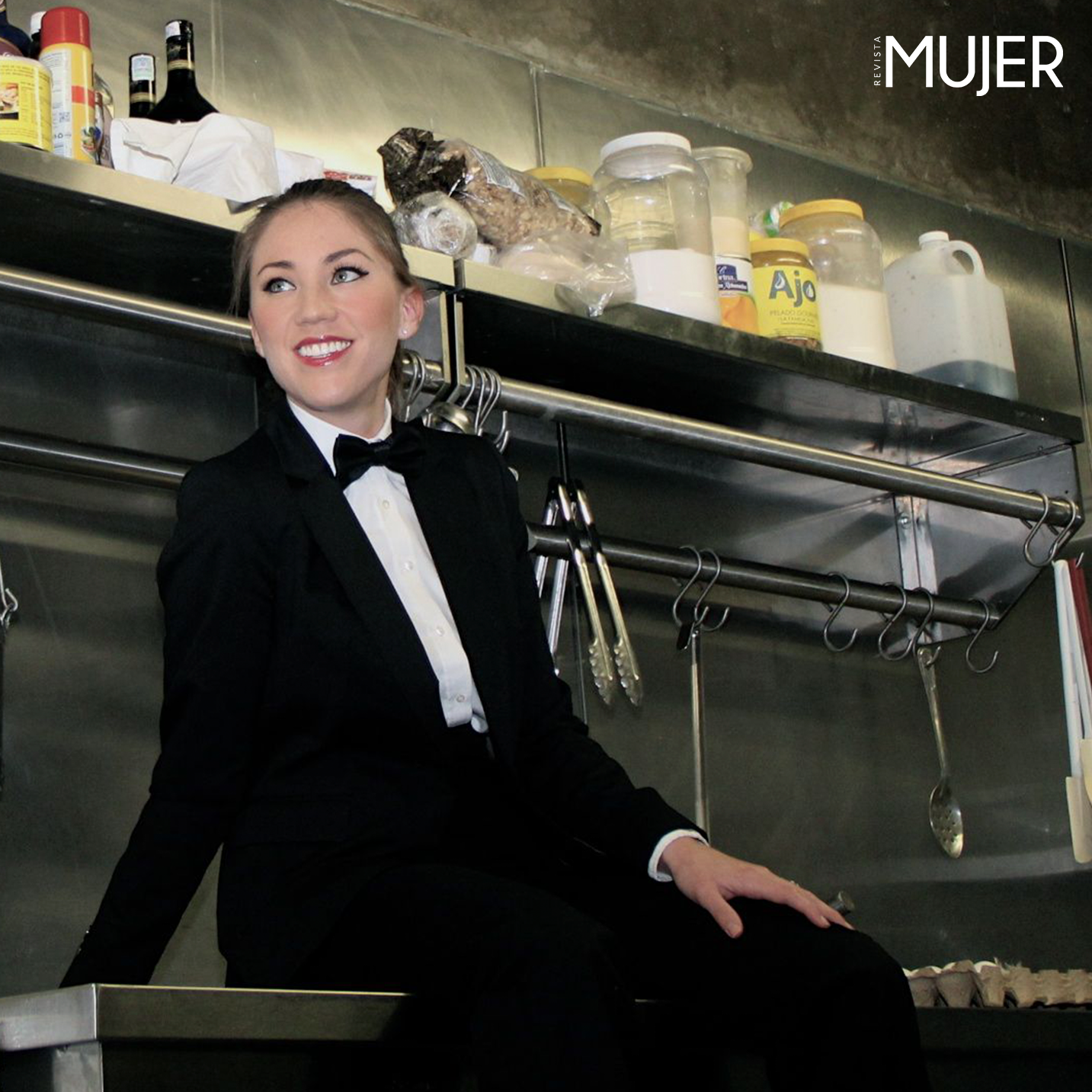 By Lilia Davis
MEET ALEJANDRA RIVAS
Alejandra Rivas is a Mexican pastry chef and ice cream maker whose professional life has taken her dancing between Mexico, Spain and as of this summer, Houston, Texas with Rocambolesc. Alejandra has been named one of the world's most outstanding pastry chefs for her innovation and contributions. It should be noted that she is petite, elegant and attractive, with intense green eyes, a Mexican that breaks stereotypes particularly in the world of pastry.
She was born and studied cooking in Guadalajara, México and later worked with several chefs at prestigious restaurants in Spain, chefs such as Martin Bersastegui, expert in the cuisine of the Basque country, moving on to Tarragona, Valencia until arriving at EL Celler de Can Roca in Girona, as head pastry chef working with Jordi Roca. There she switched to sweets.
«The idea I had of pastry was of it being restrictive, I never went outside of certain parameters. Jordi taught me that I had no limits».
She later returned to Mexico City to work at Pujol restaurant, ranked within the ten best restaurants in the world, with chef Enrique Olvera, where she was in charge of the restaurant's pastries. Then Alejandra Rivas returned to El Celler restaurant in Tarragona and began to create Rocambolesc together again with Jordi Roca, considered one of the best pastry chefs in the world, and who became her husband.
This year Alejandra and Jordi decided to open their first Rocambolesc in the United States and decided to do so in Houston. I interviewed Alejandra Rivas by Zoom while she was in Girona Spain, a week before the grand opening in Houston. Later I had the opportunity to visit Rocambolesc on my own along with Karla Espinoza, the Mexican pastry chef who has graced  the pages of La Revista Mujer as well and in charge of supervising the Rocambolesc's grand opening in Houston. A visit that ended with a nice souvenir consisting of a nice Rocambolesc tote bag full of walnut carambinas (caramelised hazelnut coated with exquisite dark chocolate and exterior glaze) and Sweet Chocolate and Caramelized and Cocoa Nibs Bars.
ROCAMBOLESC HOUSTON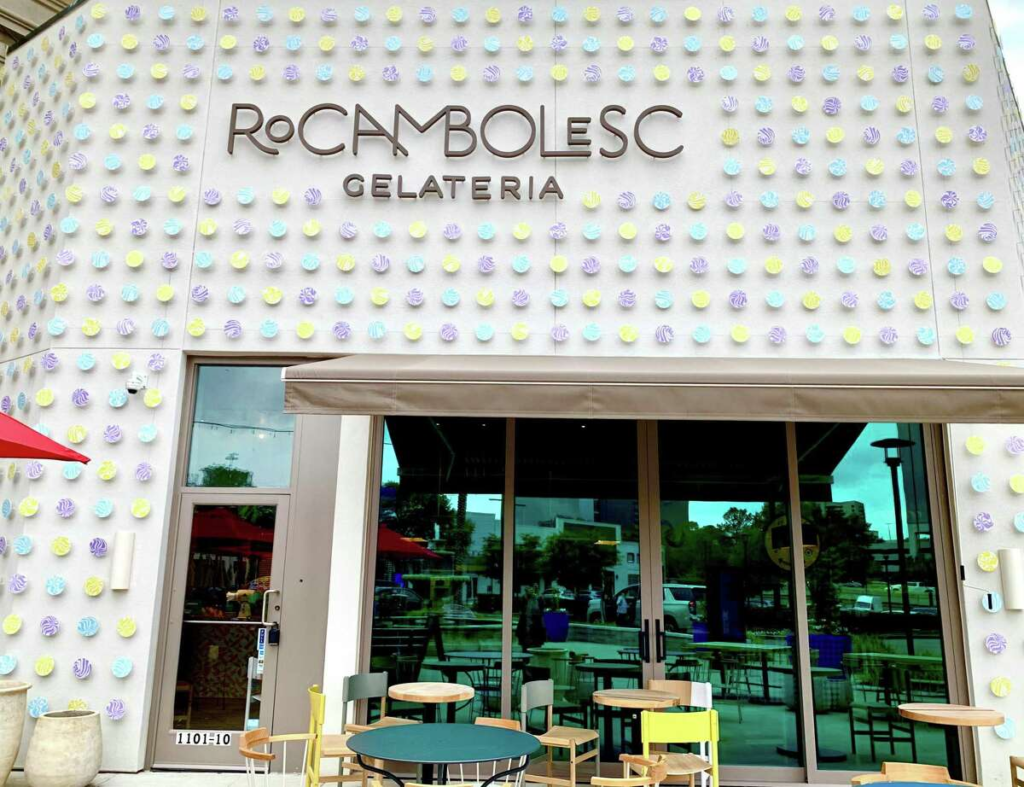 The entrance with a water fountain in Houston's Uptown Park Boulevard instantly refreshes the visitor. Immediately behind the fountain we see the entrance of a building with the name Rocambolesc in cheerful pastel little dot colors.
When you enter you don't know where to start as in every corner the eye is caught by something fun and cheerful. Everything is worthy of your attention, with an explosion of light and colors that raises the expectation you are about to discover something good and exciting.
INTERVIEW
Alejandra's voice is soft spoken, calm and all her phrases are complete and precise. You cannot help but notice that she has adapted her very Spanish vocabulary without leaving her Mexican roots combined with a spark of good humor. I love listening to the combination. It demonstrates the mix of cultures and talent that excels in Rocambolesc.
HELLO ALEJANDRA, A GREAT PLEASURE TO FINALLY BE ABLE TO GREET YOU, FIRST OF ALL EXPLAIN TO US A LITTLE BIT ABOUT WHERE THE NAME ROCAMBOLESC COMES FROM.
Hello Lilia, thank you. Well, we wanted it to be a name that was something unusual, improbable or extraordinary. We didn't want it to be a typical ice cream shop. We wanted it to revolutionize the concept of the frozen dessert, to bring energy and be something fun, and above all to be of the highest quality.
WHAT ARE THE STAR FLAVORS SO FAR?
Well, we have three machines and six flavors of ice cream, four of which are house flavors. Chocolate 72%, Haitian Vanilla, Coconut Violet Sorbet and Baked Apple.
In Houston we also have Latic, yogurt with sheep's milk as a house flavor and we bring our version of Strawberry Shortcake and the Chocolate Bomb is very popular.
And well, the idea is to adapt to each country, and to the festivities with special holiday ice creams. For example, in Houston we take into account the Rodeo festivities, the 4th of July, the Texan culture to give it touches of the city.
WHAT ENCOURAGED YOU TO INVEST IN YOUR FIRST ROCAMBOLESC EXCURSION IN THE UNITED STATES IN THE CITY OF HOUSTON?
This all came about as a result of a tour around the world with the Roca brothers, organized by BBVA, seeing several cities in the world that seemed ideal for this project. However, there was always something that was not one hundred percent sure, even though we were about to close a contract in other countries on a couple of occasions.
As I explained in the Ciudad H podcast in Houston, «Rocambolesc had many boyfriends», but in the end she thought Houston was the right choice and we finally said «yes» to the city. It not only matched the logistical and export opportunities, but also the right people and location in the city.
In addition, our current partner in the USA is Catalan and his wife is Mexican, a combination of cultures that we understood very well. With them we found excellent hands with whom to leave our project in motion.
BUSINESS MODEL
ONE OF THE SPECIAL CHARACTERISTIC OF THIS PROJECT IS THAT IT BRINGS WITH IT A MISSION TO CREATE JOB OPPORTUNITIES FOR OTHERS WITH NEUROLOGICAL DIFFERENCES. CAN YOU TELL US A LITTLE ABOUT THIS CONCEPT?
We are very happy that Rocambolesc USA opened its doors in Houston with the goal of creating job opportunities for people with neurological differences. We have currently fifty percent of employees with neurological differences and our goal is to reach seventy percent. The new company incorporated as a Public Benefit Corporation (PBC) is committed to increasing public awareness through these job opportunities and supporting their career potential. 
Therefore, Rocambolesc is partnering with organizations specializing in educational and training programs for people with neurological differences, such as @thecenter_houston, @thehubhouston, among others.
«Fifty percent of our revenue will be donated to people with neurological differences, and we go with the desire to have a social impact and encourage other people to this business model.»

Alejandra Rivas
SOFT SERVE MACHINES
YOU MENTIONED EARLIER THAT SOFT SERVE ICE CREAM WAS NO LONGER CONSUMED AS MUCH AND UNUSED SOFT SERVE ICE CREAM MACHINES WERE ALMOST ABOUNDED, AND SO YOU DECIDED TO PUT THEM TO WORK.
Well, yes, one of the things that inspired us to experiment more thoroughly with ice cream is that soft serve machines for ice cream in Spain were hardly used anymore.
The ice cream that is best known in Spain is the scooped ice cream, the soft serve ice cream was almost not so popular anymore.
So we started to think about how to take advantage of this almost ancient method and revive it with a different twist, modern, cheerful and pop. Bringing the world to see and taste the wonders we have worked at. And that's how these gelato-type ice cream desserts that you now see at Rocambolesc came about.
THE PANET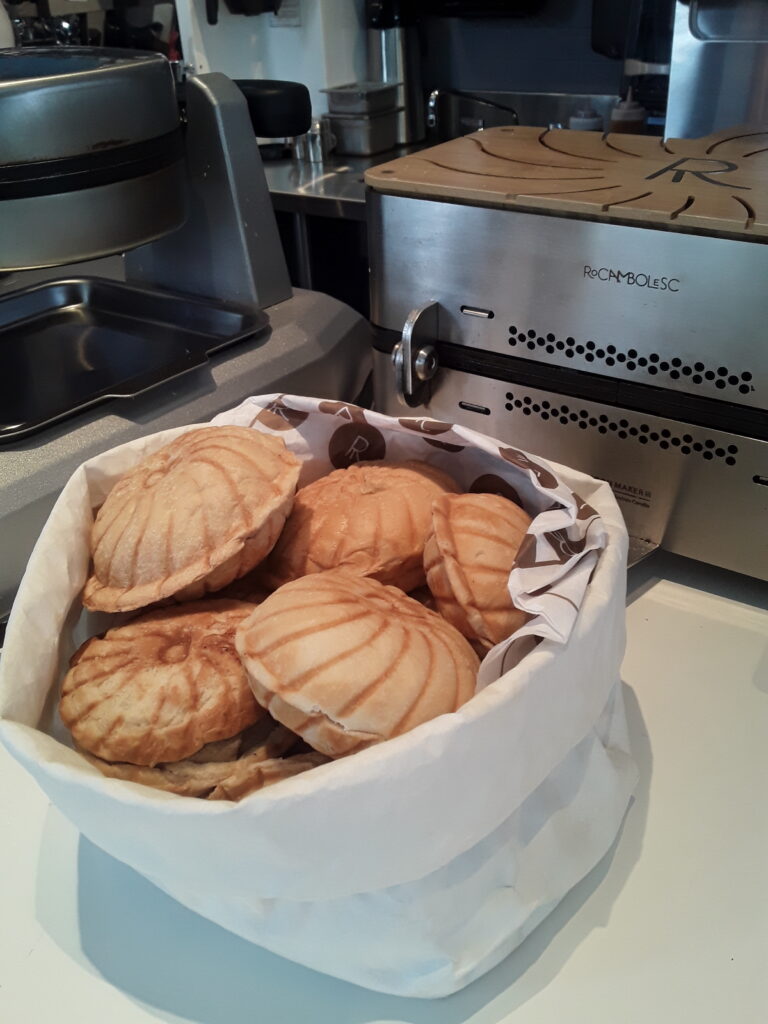 ONE OF THE ATTRACTIONS OF THE MENU THAT YOU NOTICE IMMEDIATELY IS THE PANET, WHAT IS IT AND HOW WAS THE PANET BORN?
It was born during the first winter of Rocambolesc in Girona, ironically during the cold months of the year because in Spain the culture of ice cream in winter does not exist. Therefore, is no desire to eat food so cold after the months of Easter to September.
So, in order to continue working at Rocambolesc in winter, we had to come up with an ice cream that could be eaten with warm hands.
This is how the Panet was born, a brioche filled with ice cream that is placed in the Oxymoron Maker, designed exclusively for us, which seals it and toasts it slightly, leaving a warm, slightly crunchy bun that holds the ice cream inside. I would advise trying it for the first time with the apple flavor.
SPANISH /MEXICAN FLAVOR CULTURE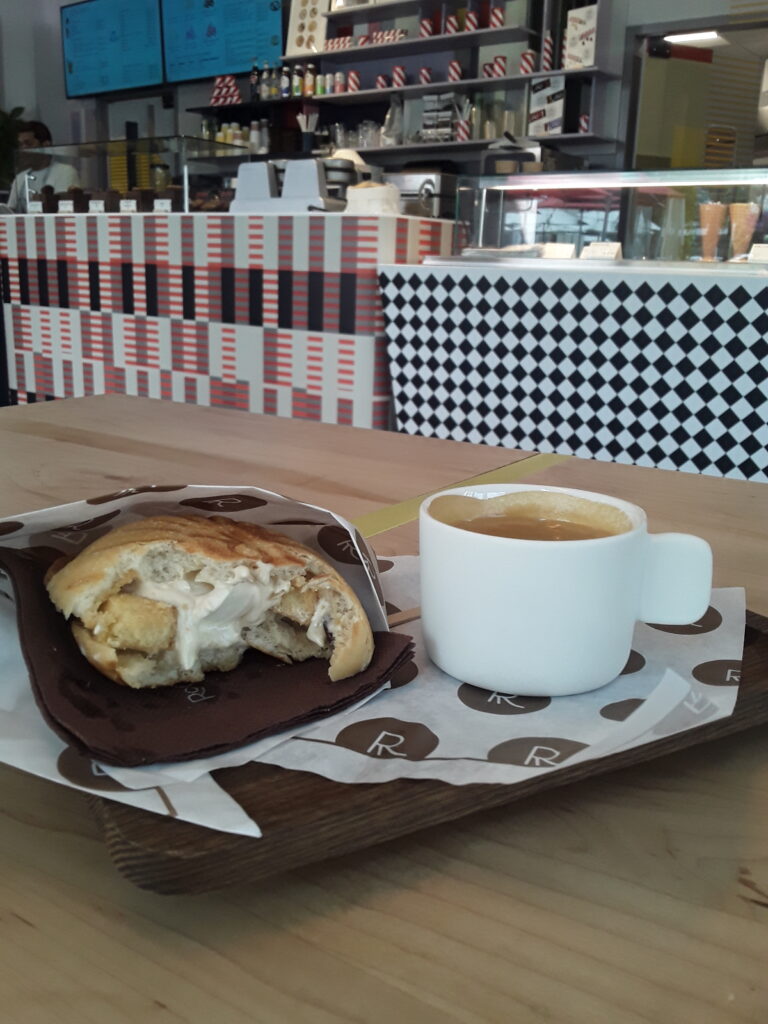 TELL ME ABOUT YOUR EXPERIENCE RETURNING TO MEXICO AND WORKING AT PUJOL RESTAURANT WITH CHEF ENRIQUE OLVERA AFTER CAREER AS A CHEF IN SPAIN.
My experience at Pujol was what really brought out my passion for pastry. Until then I hadn't experimented with presenting my own desserts.
It was at Pujol where I began to forge the freedom to unleash all this creativity I felt I had, and to showcase my own work, my own designs and my own flavors.
HOW DO YOU INTRODUCE MEXICAN CULTURE IN SPAIN, FOR EXAMPLE THE CHILE TRADITION, IN ICE CREAMS AND FRUITS?
In Mexico we are exposed to spiciness as children, like for example a mango sorbet with chile, or a mixture of tamarind with chile piquín. So I like to have something from my roots, but I am aware that they are not going to consume it in Spain, so I have to adapt the flavors a bit.
HOW DO YOU FEEL CUSTOMERS IN HOUSTON WILL RECEIVE THIS NEW CONCEPT?
I think they have reacted very well, because people in Houston are open to trying new things. As Mexican chef Karla Espinoza expressed: «As customers, they have more information and are more aware of what they are consuming».
ALEJANDRA'S FAVORITE ROCAMBOLESC ICE CREAM
WHAT FLAVORS DO WOULD YOU RECOMMEND FOR A FIRST TIME VISITOR TO ROCAMBOLESC TO TRY?
My favorite is the coconut sorbet with violet. Its texture is very delicate and super light and very refreshing, with a floral touch. The apple panet is my favorite too.The closest thing to an apple pie. The unexpected combinations of flavors and textures of these two desserts reflect most of the essence of Rocambolesc.
FAMILY
ONE OF THE CHALLENGES FOR SUCCESSFUL WOMEN ENTREPRENEURS IS BALANCING FAMILY AND WORK. HOW DO YOU JUGGLE WORK, FAMILY AND YOUR THREE YEAR-OLD DAUGHTER?
It is very difficult to be a mom with the pace of work I am used to. Besides, I don't have my family here, but it has helped me to be much more organized to be able to keep going.
For example I take my daughter to daycare in the morning, but when I pick her up I'm a full-time mom. I try not to look at my cell phone when I'm with her, and spend the time with her and once she's asleep I go back to the computer.
WHAT DO YOU HOPE ROCAMBOLESC CUSTOMERS TAKE AWAY FROM ROCAMBOLESC?
Well, in every store we want them to leave happy and feeling better than when they came in. We want them to take away a little piece of our world and transmit it with that ice cream, the work it takes to make them and we bring that flavor to the brand.
WHAT IS THE FOOD YOU MISS THE MOST FROM MEXICO, LIVING IN SPAIN?
One thing that is super hard to get, or rather doesn't exist is the green tomato!  The tomatillo to prepare the green sauce I miss most of all. So you will always find my freezer full of green tomatoes and Mexican tortillas that my family sends me.
FUTURE
ALEJANDRA, YOU STARTED WITH THE SALTY, HEADING TO THE SWEET, YOU CONTINUED THE DANCE OF FLAVORS IN ICE CREAM WITH ROCAMBOLESC, WHAT'S NEXT?
Now we have just inaugurated another concept within the rocambolesc umbrella, called ROCABMOSLESC CONFITERIA.
Many people who come to visit wanted a souvenir, and obviously that with ice cream is difficult. So we created a new space dedicated to the world of sweets, for example, gummies, smoked marshmallows, blueberry candied with violet aroma, mini cornet filled with chocolate and raspberry, among others.
We are discovering the whole world of sweets because at the beginning we thought it was just an ice cream shop, now we realize that we can create another concept that goes hand in hand.
And for the moment I'm going to stay still because with the opening in Houston and the Confectionery I have enough to do for now! (laughs).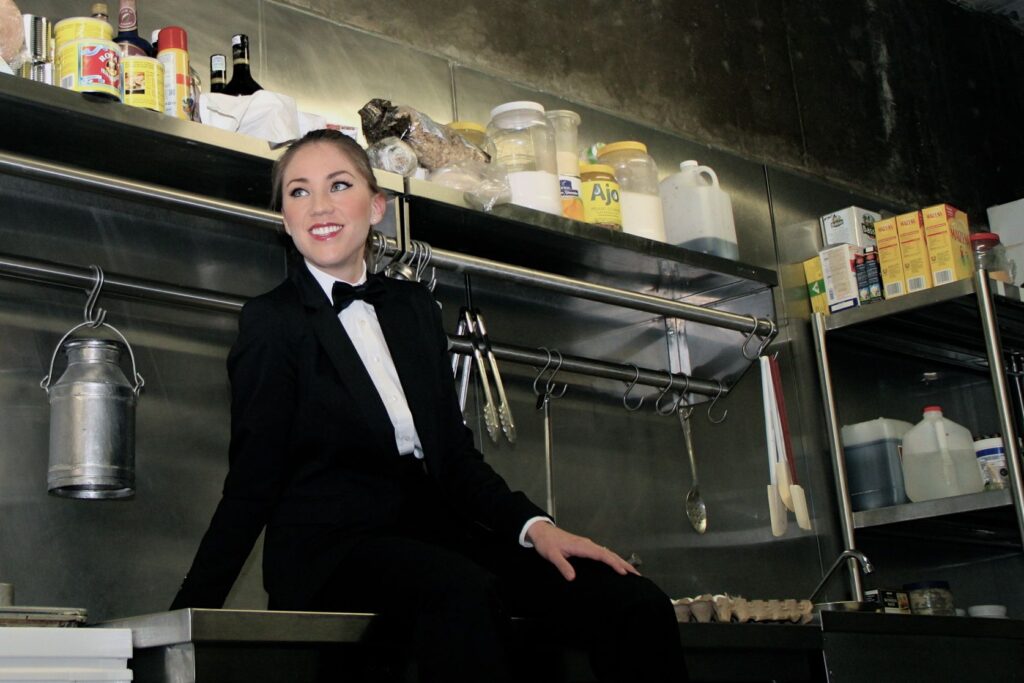 GREATEST SATISFACTION
WHAT IS YOUR GREATEST SATISFACTION WITH ROCAMBOLESC?
Brightening up the life of the person who tastes your dessert.
«There is nothing more rewarding than making the day better for the person who has gone to try ice cream. Being able to change that attitude is super rewarding.»

Alejandra Rivas
NOW THE MAGICAL QUESTION, ARE YOU PLANNING TO OPEN A BRANCH IN AUSTIN?
We have our eye on Austin too, because we'd love to open a store in Austin. Maybe you will have us there soon.
https://rocambolesc.com/usa/en/
Instagram: @rrrocambolesc_usa