ANNE NG and BAKERY LORRAINE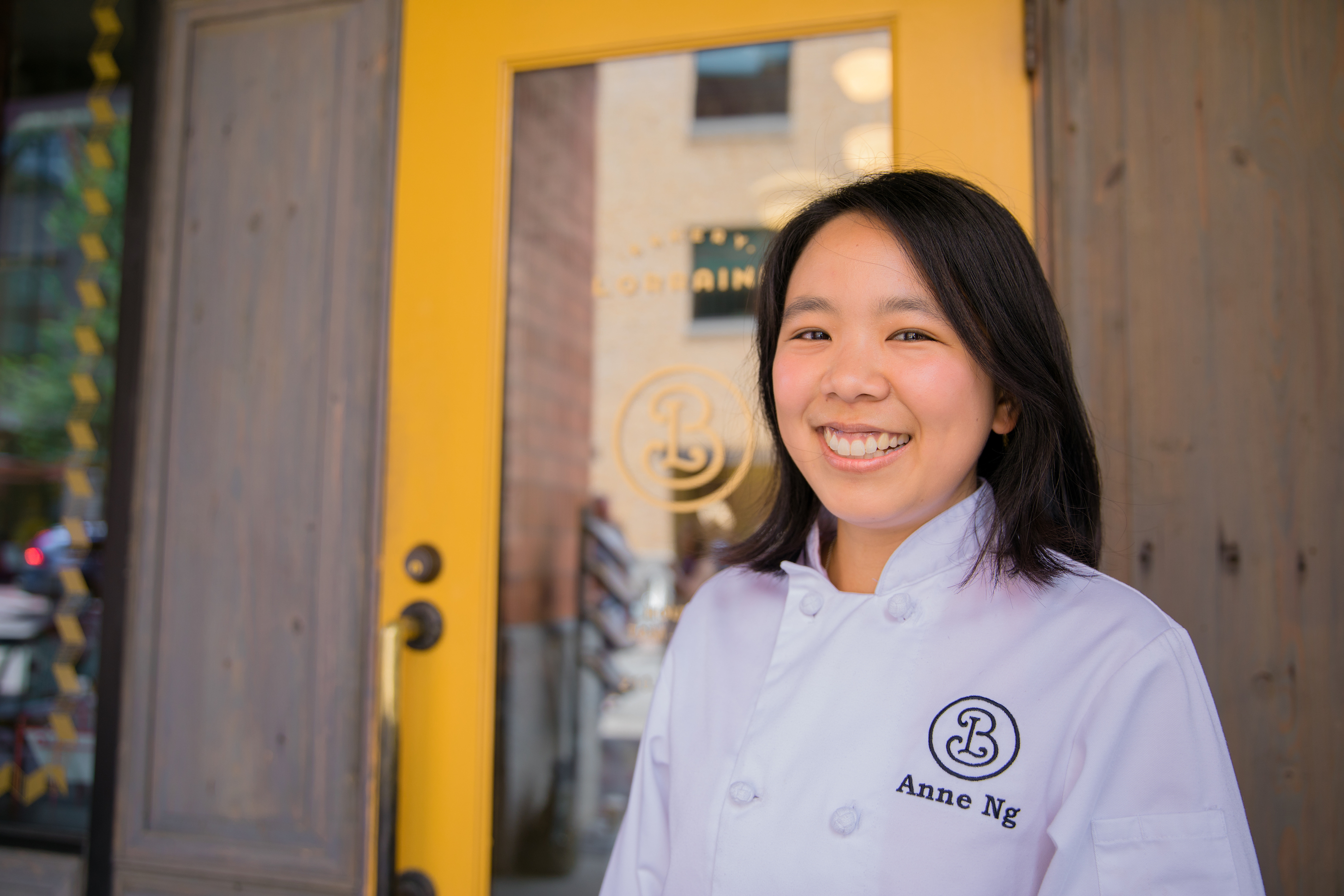 A SWEET FLAVORFUL CHEMISTRY
By: Lilia Davis |Photos: Lucero Salinas © Encanto Rojo
Anne Ng, is the executive pastry chef and owner behind the beloved Bakery Lorraine, located in the Pearl Brewery that has had a devoted culinary following in San Antonio since 2010, Anne having presented wave after wave of elegantly ingenious pastries with an experimental spirit and a delicious chemistry of flavors. She recently received the Star Chef's Rising Star Award for "Best Concept", and is pleased to announce the very first opening of a Bakery Lorraine in Austin in the fall 2018.
Anne attended the International School of Culinary Arts and Hotel Management in the Philippines, where she was born. After graduating, she worked and trained at the prestigious Bouchon restaurant in California, where she met her husband, co-owner and chef Jeremy Mandrell. Eventually burned out and worn to a frazzle by the demands of the restaurant business in the Golden State, they moved to San Antonio in an effort to leave the industry and do something different. Fate had other things in mind, and surprised them with not only their re-entry into the pastry world, starting from zero, but more significantly by their successful creation of Bakery Lorraine.
Being a loyal customer for years, I found myself back at the Bakery for the Brunch celebrating San Antonio's Tricentennial this past May, and I noticed that the aesthetics of the design of the cafe, the singular art on the walls by such noted artists such as Vincent Valdez, Cesar Martinez and others, were so attractive, so well thought out, the line and flow of customers so quickly served,  almost choreographed. «If you pay $4.00 for a croissant, you should not have to wait too long in line,» said co-owner/operator Charlie Biedenharn in another interview.
We met Anne, a slim and petite woman with a soft but assertive voice, who welcomed us with a warm and happy smile that invites you to chat, and later Jeremy joined us in an exclusive interview for La Revista Mujer.
Did you always want to study pastry arts
I was always interested in pastry when I was young, but I never thought being a pastry chef was a feasible profession. Instead I studied and obtained a degree in Biochemistry in college. After graduating I went to work as biochemist, only to realize that chemistry was not for me, I didn't find any job satisfaction. Instead I looked toward my love of pastries as possible fulfillment, and the rest is history.
What do you consider helped you to break through in the world of San Antonio businesses, and why the name Lorraine?
I believe what helped a lot was that the timing was just right. The food revolution has just started in San Antonio. It was a good moment. The market was ready. But also being generous and grateful with our customers. And, Lorraine happens to be my middle name! (Laughter).
DESIGN
Your pastries are stunning in appearance, nearly pieces of art, to be admired, and of course to be tasted, but what influences your designs?
Any technique that is popular now, an experience, temperature, aesthetic, and available ingredients. We also take into account the "eatability" of a pastry – their design should not make them hard to eat. And most importantly, flavor – they should not just look good, but taste good too!
Do you design your beautiful boxes for macaroons?
We all do- my husband, our business partner, our graphic designer and I get involved in that design.
BAKING PASTRIES

What makes your celebrated French macarons so popular?
Ohh, they are definitely a labor of love! The fillings are what we concentrate the most and we try to come up with new flavors all the time, for example we are working on a Mexican horchata flavor right now.
Do you prefer Swiss or Italian buttercream icing for your cakes, and what are your favorite flavor combinations?
I prefer Italian buttercream for my cakes and my favorite flavors are Lemon Raspberry, it's my best seller because it is fresh and light.
What inspires you when designing a new pastry?
I usually get inspired by the flavors and celebrations of each season. When I was little I travelled a lot through Asia with my parents and that has influenced my designs too.
One day Jeremy commented that he would not bake a wedding cake unless he was sure the marriage would last! (Laughter) do you make wedding cakes upon special requests only?
(Laughter) Yes, but he decided to be more optimistic and it's all good now. We have been requested to make several wedding cakes and we have delivered those cakes to the lucky couples.
Do you have a favorite pastry chef?
I admire Pierre Hermé French chocolatier and pastry chef. He very much inspired me to become a pastry chef.
What do you recommend to our women readers who want to start a pastry business? 
Don't lose sight of your goals, but also don't allow work to take over all your time – your family and friends are integral to your success. It's a rough road and you will need their support.
What do you recommend to someone interested in learning pastry skills, learning "on the job" or going to pastry school?
 I think pastry school will definitely give you a good start, but on the job training is really good because you learn by repetition. You get better and better the more you practice.
What is the hardest part when working in a husband and wife bakery partnership?
We work very well together, but one of our biggest challenges sometimes is to separate the work life from our personal life. And that makes it hard at times. For example, sometimes I don't see my husband for three days. But we are getting better in not working off schedule as much.
AUSTIN
Welcome to Austin! Are you planning to have a different menu for your bakery in Austin this fall?  
We are excited to be coming to Austin late September and we are planning to keep the same menu but we may introduce a few items gradually just for Austin. We will be located on the North side of the Domain at Rock Rose Ave in the fall 2018.
Are you going to display paintings and local artist of Austin just as you have in San Antonio such as Vincent Valdez, whose art is going to be exhibited this summer at the Blanton Museum?
It's going to be a surprise! It will be local and fresh art, like all our other locations.
Recognized as the Best Bakeries in the U.S. by Food & Wine, one of 13 Destination Bakeries by Conde Nast Traveler, and best Bakery 2016 by San Antonio Current among many other recognitions, which is the most satisfying to you?
The recognitions and awards are fantastic and much appreciated but the real satisfaction and to me the best award is to hear one of our customers in our bakery saying "you have transported me back to my grandmother's pastries", or "this cheesecake reminds me of my mother". "And to be able to provoke such emotional connection with one person at the time is the greatest satisfaction of all", says Jeremy.    
All right. What do you cook at the end of the day?
Well, I love to cook everything. But nobody cooks pastries for me or us anymore.
Mmm. Okay. Would you settle for a Tres Leches cake, if I bake it for you?
"Settled!"  
Anne's attention to detail in her pastries never fails to surprise, I remember seeing a beautiful pink half apple jelly floating on top of small tart, her pastries have a surreal quality, almost rising to the level of famous chef Ferrán Adriá's molecular science.They  look good, but also taste just as good.
---
More at: bakerylorraine.com
Photography: encantorojo.com