CLARA PORSET – IN A CLOUD, IN A WALL, IN A CHAIR…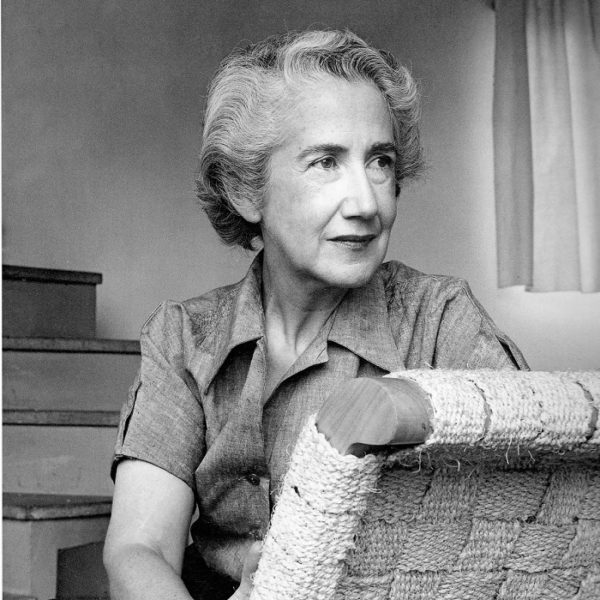 By: Lilia Davis
Photos: The Chicago Art Institute
SIX WOMEN MID CENTURY MODERNIST IN MEXICO
The Art Institute of Chicago shows us an exhibition never seen before about six women visionary artists in Mexico whose impact was transformative in the country during the period 1940-1970, period in which they produced projects that that crossed disciplinary boundaries: In a Cloud, in a Wall, in a Chair: Six Modernists in Mexico at Mid-century. This spectacular exhibition includes more than one hundred works and all of them share an aspect that defines them: Mexico.
The woman who principally inspired this exhibition, according to the curator Zoe Ryan, is Clara Porset (1895- 1981), (Clara María del Carmen Magdalena Porset y Dumás (Clarita)), born in Matanzas, Cuba. Clara Porset studied at the National School of Architecture of Paris, and later on she came to México where she became the most prominent modern furniture designer of her time in Mexico, basing her designs on the rich pre-Hispanic and colonial Mexican aesthetic tradition.
Her influence is too great to summarize in this small space, but she was the key and inspiration for the selection of the modernist women artists featured in this exhibition.The works of all these women are the reflection of a feeling that, at least in art and design, the world has no limits. Let's see.
SIX WOMEN
Considered the first Mexican professional woman photographer, Lola Álvarez Bravo (1903-1993), and was a close friend and collaborator of and with Porset, with dynamic photomontages, of the rich social, political and geographical landscape of México during the 1940s and 1950s. Her photographs are essential to understanding the Mexican world the artists in this exhibit were surrounded by.
Porset also a good friend of Anni Albers, a German immigrant, one of the most influential textile designers of the last century and leader of the modern fabric movement. The landscape and architecture of Mexico became a vital source of inspiration in Alber's abstract visual art for her designs in textiles and serigraphs such as the Zapotec triangle of Monte Albán.
In 1947, two years after taking a class with Porset at the National Autonomous University of México, Ruth Asawa, (1926-2013) American-Japanese, returned to the Republic attracted by the possibilities she saw in the utilitarian baskets of coiled wire found in Toluca, México. From then on, sculptures made using this wire technique became her obsession.
Anni Albers

Ruth Asawa
Cynthia Sargent
Cynthia Sargent (1922-2006) arrived in México in 1951 from New York in order to produce several popular carpet lines in her weaving workshop, combining local artisan traditions with modern sensibility. The following year, Clara Porset invited her to participate in an exhibition of handicrafts in Bellas Artes. Sargent and her husband Riggs founded the Bazaar Sábado in México City that continues open and functioning to this day.
Although the American artist Sheila Hicks (1934) never met Porset, she knew her through her designs and the friendship she maintained in common with Porset with Luis Barragan, the greatest architect of his time. Both Hicks and Porset also worked with the architect.
Sheila Hicks lived and worked in Taxco Viejo, Guerrero, México. She is recognized today for her innovative and experimental textile sculptures that incorporate distinctive elements, colors, natural materials and personal narratives. – from a minimal size to monumental. She now lives in Paris, France.
=============================
THE EXHIBITION
This exhibition has personal appeal for me. I lived in México City once and regularly met friends at the Hotel Camino Real in Polanco, and of the first things that caught my attention was Anni Albers's large wall hanging commissioned by architect Ricardo Legorreta for the Hotel. I recall vividly it hanging on view there.
The furniture of Clara Porset was featured in an exhibit in my home state of Tamaulipas a decade ago and, her furniture book ( El Diseño de Clara Porset: Inventando un México Moderno) has been a great influence and reference for mid century furniture in my home and I am still impressed with how much her work has made an impact today, to the point that I tried to custom order a reproduction of one of her butacas at a gallery in México City, and they said "well, it will take two to three months to place the order and six weeks after that, because they are hand made and we have to wait a little" I am still waiting.

Also, I have admired the work, life and photographs Lola Alvarez Bravo, included in this exhibition. Her photographs are an inspiration. Also, I have admired the work, life and photographs Lola Alvarez Bravo, included in this exhibition. Her photographs are an inspiration.
I had the pleasure of interviewing Zoë Ryan, president of John H. Bryan and curator of architecture and design at the Art Institute of Chicago, an expert in architecture and design and who has managed to organize this spectacular exhibition. Zoë kindly responded to these questions for La Revista Mujer.
Zoë this is a wonderful exhibit, and recently praised in the Wall Street Journal before it even opens. How long did it take to bring together the work of these six visionary women for the exhibition, and can you tell us about its name?

Thank you. We have been working on the exhibition for just over two years.
This exhibition takes its title from a quote by Clara Porset who, encouraging makers to seek inspiration widely in the world, wrote: "There is design in everything…in a cloud…in a wall…in a chair…in the sea…in the sand…in a pot, natural or man-made."

As a Mexican myself I feel that with the exception of Frida Kahlo and perhaps Leonora Carrington, Mexican art and design in popular thought is dominated by men. Do you consider that Lola Alvarez Bravo will emerge from her husband's shadow and be recognized as an artist distinctly different from her husband as happened in the case of Frida Kahlo and Diego Rivera?

This exhibition is about adding to the canon and highlighting the work of under-recognized figures and making better known their contributions, as well as Mexico's role within modern art and design history.

Were there any women architects or architectural designers that contributed to modern architecture IN México during this period?

This would be fantastic research for another exhibition. There is so much that we don't know or that hasn't been documented about modern architecture and design history. With our exhibition we wanted to tell a story that hadn't been told before.

BUTACA- Clara Porset vs Barragán? There is much debate in design circles on whether Barragán or Clara Porset designed this version of the chair used in Barragan's architecture. It appears though that the chair is traditional to warmer climates all the way back to ancient Rome, and there are versions of the butaca in Thomas Jefferson's home in Virginia, and in more recent times popular in Cuba, where Clara Porset originated, as can be seen in Heminways' home living room at. FInca Vigía – What do you think of the disagreement between Barragan and Porset over the design of the particular butaca?

Throughout her more than 50-year career she dedicated herself to creating "Our own kind of furniture," with designs inspired by the country's climate, lifestyles, aesthetic preferences, and cultural traditions and made from local materials and manufacturing techniques.

One of Porset's signature investigations of "our own kind of furniture" centered on a low-slung lounge chair known as the butaque (or butaca), to read a book or just to think, that has been popular throughout Latin America since at least the nineteenth century.

If you are interested in the history of the butaque and its origins in Latin America, a great article to read, is: Jorge F. Rivas Perez, "Transforming Status: The Genesis of the New World Butaca," in Festivals and Daily Life in the Arts of Colonial Latin America: Papers from the 2012 Mayer Center Symposium at the Denver Art Museum, ed. Donna Pierce (Denver, CO: Denver Art Museum, 2014), 111–28.

"All of them in different generations and their work resulted from the complex dynamics of learning and cultural exchange"

– Zoë Ryan
Clara Porset created numerous versions of this chair, each time further refining the form and testing out different materials from leather to lightweight woven plant fibers such as Ixtle, for the seat, as fitting for a warm climate and contemporary lifestyles. Its clean lines and component parts meant that it had the potential to be made in series, all characteristics that would have made it appealing to modernists.

Clara Porset was a prolific writer and published widely, including writing about her own designs, such as the butaque chairs. We are therefore able to identify her designs through these articles and others written about her at the time and since.

She featured and wrote about the butaque in the catalogue to her exhibition Art in Daily Life in 1952. Another good source is: Espacios, Revista Integral de Arquitectura y Artes Plásticas 16, July, 1953. Clara Porset, "Diseño Viviente, hacia una expresión propia en el mueble". n.p

Finally. I noticed you hosted a past exhibitions regarding David Adjaye: Making Place: The Architecture of David Adjaye (2015 )I had the pleasure of going to a presentation of David Djave in San Antonio – for reason of it being his only building project in Texas, – Ruby City Museum project- do you have any plans to attend or participate in this event?
I co-curated this exhibition with Okwui Enwezor and have followed David's work for almost two decades. We included the Ruby City project in our exhibition. I hope to see the project realized at some point soon.
======================================
If you find yourself in Chicago, this fall will not be complete without exploring this unique exhibition of six female visionary artists in Mexico, and it will convince you that you can find inspiration in a cloud, in a wall or a in chair!
Go see – In a Cloud, in a Wall, in a Chair: Six Modernists in Mexico at Mid-century – September 6, 2019 to January 20, 2020, it will fascinate you!