ONE HONEST STICH AT THE TIME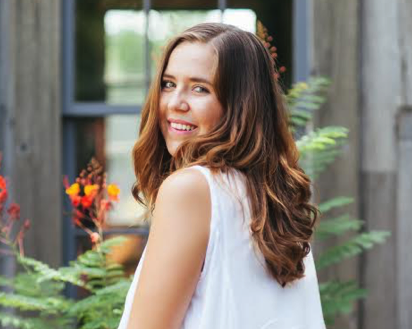 Angela Humphrey is a young entrepreneur that is making an impact all her own, one stich at a time with her beautifully and simple clothing designs made out of 100 % cotton from México. Her Mission: to provide and establish new and better working conditions for women in the clothing production industry; – respecting the environment and connecting with other women in order to help them get ahead.
Her company, Honest Cotton, originally (and still) sold online, received a significant break this spring by becoming a permanent provider for the chain Whole Earth Provisions in Austin, Houston and San Antonio. She joins a new generation of young entrepreneurs in creating new enterprises with a social purpose, and looking to make this world a better place. Angela is an honest example of that impulse.
---
Angela sat down with us to talk about her project enthusiastically while having coffee at Mozart's café with its panoramic view of Lake Austin. She insisted that we do the interview in Spanish. She has strong Mexican roots and speaks both English and Spanish languages fluently, without missing a beat in either.
When did your family start the business?
The company was started by my mother under a different name since 1991. She came from Puerto Vallarta, Mexico to live in Austin. My mother started designing clothing to help herself financially and she did so for twenty five years. After I graduated from the University of California in Santa Cruz I returned to Austin to help. It coincided with her decision to go back to live in Mexico. I remember working with her both here and in Mexico when I was growing up, and her example as a hardworking and independent woman inspired me to continue the business but under a different name: Honest Cotton.
Why did you name it Honest Cotton?                   
The name just came to my mind. Something told me it should be named Honest Cotton. I wanted it to be a different kind of company. It was important that we connected with women in an honest way. It's a family, it unites women and people who have honest conversations and honest relationships. It is an honest connection.
Was it hard to take over a family business?
It is difficult when you start on your own, but I had the good fortune of having my mother's support at all times. It has been an invaluable help. She helped me find good seamstresses and to source the right materials, among many other things. Without her, I couldn't have started from scratch. In 2014 I officially started Honest Cotton on my own.
So, your business works like a "maquiladora"?
We have the precedent of the "maquiladoras, but HC hires artisan women in Puerto Vallarta that can work from their homes. They are independent contractors. This allows them to carry out their work in a more comfortable surroundings, away from the harsh labor conditions of textile factories with their mass production.
How have you helped them so far?
We have made loans to some of the women to help them fix up their homes and buy equipment so they can work from there and care for their children. All our workers are women and most of them started working with my mother. Now they continue working with me in Honest Cotton. It's been like a family.
Was it difficult at first?
My first obstacle was of the economic sort. I spent the first two years working to buy all the materials on my own. But knowing that these women in México depended on me, and on their jobs to feed their families, I felt the need to work even harder and that gave me more drive to continue.
Which is the objective of your clothing company?
Our foremost purpose is to establish a new standard for the textile industry that promotes and brings awareness to the environment and human rights. Also to connect with more women by means of their work in order to help them get ahead.
How can you assure that the quality is consistent in Mexico while you are in the USA?
There is a person that acts as supervisor. She checks all the garments to make sure they meet our quality standards, but the consistency is very good because we use the French seam style in all the clothing items. It has a smooth and reinforced inside seam so it won't fray. The result is a high quality product, it lasts longer and the clothing comes out really nice, it's very pretty!
What's in your future plans?
I want to focus on connecting with more women. I also want to bring in cotton from different places. I just returned from Asia where I found an incredible array of different cottons, and I will travel more and source more options for materials to expand our product line. When I travel I am inspired by the women all over the world and by how they dress.
Where can you find Honest Cotton?
In our online store and also I am very excited to say that Honest Cotton will be a permanent vendor in the chain Whole Earth Provisions in Austin, Houston and San Antonio as of this Spring 2018. That's something I never imagined would happen. My mother is truly happy!
What would you advise to a young entrepreneur (at any age)?
I would advise them that in order to start a business, you cannot do it alone and be successful. At the beginning, I wanted to prove to myself that I could "do it all" and I ended up tired and overworked. By asking others for help along the way and focusing on my strengths and letting others help me with my weaknesses, I have grown my business and enjoyed it so much more than I could have done doing it alone! Besides, success is so much more than finances; it's about enjoying what you are doing.
***
Follow Angela on Facebook y en Instagram, and don't miss her Honest Cotton line of clothing this Spring!