PATRICIA DE LEON | Beauty and Perseverance, with a touch of Lipstick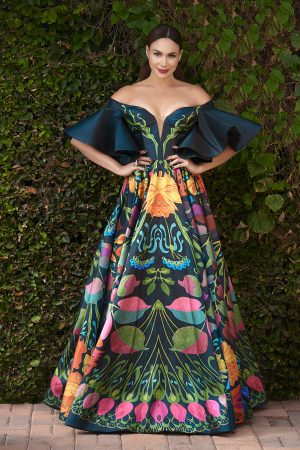 By: Lilia Davis
Recognized Panamanian actress, Patricia de Leon is a cast member of the most watched Hispanic reality show in the United States and Latin America: Rica Famosa Latina. She held the beauty title of Miss Panama and is current spokesperson for PETA Latino.
Patricia's dream was to be a television news anchor. She never imagined that when she arrived in the United States with nothing more than a single suitcase in hand and a dictionary, ready for a casting, she would become a successful actress in Hollywood. Now she finds herself with extensive experience in film and television, in both English and Spanish. Patricia speaks to us about cinema, the protection of animals and the power of a lipstick.
---
Patricia gives Revista Mujer Magazine an exclusive phone interview from Los Angeles, California. Behind her sensual and glamorous image we find a warm woman, well grounded, passionate and cheerful, and with a good sense of humor.
Did you always wanted to be an actress and why?
No, in fact I studied law. But my dream was to be a TV news anchor and that's it! Being an actress fell from the sky, I did not choose that career. Also, when I grew up, being an actor in Panama, was not even a dream. It didn't even exist!
Your first performance in the United States was the non-glamorous role of La Llorona del Río in Hollywood with the actor Burt Reynolds. What lead you to that role?
I accepted the role because the characters I wanted to play are not glamorous, I do not want the image of a pretty girl imposed upon me. In fact, I didn't even use makeup. In this, my first film, I had the good fortune of working with Burt Reynolds, an experienced actor, a very humble man in his manners, and he always treated me with a lot of respect, and above all, I learned a lot from him.
What was your experience in the movie Fight for Freedom concerning the issue of immigration?
I like to make movies that have a message. I made this film because I had lived that experience. I was also an immigrant as my character in the film; I arrived in the United States with a suitcase in one hand with enough clothing to do a casting and a dictionary in the other hand because I didn't know how to speak English! I crashed on the director Terry Torch's couch who kindly offered it to me while I settled in the US, and then I never returned to Panamá.
In what discipline do you most prefer to work in: telenovelas from Latin America such as "Corazón Apasionado", the TV series from the United States "Lincoln Heights", or cinema?
Cinema is fabulous. You have enough time to develop the character and play with the role. In television programs you barely have seven days to achieve your character in a single chapter and that's it!
Regarding the reality series Rica Famosa Latina, do you think series of this type are similar to the other acting disciplines?
A reality show is very different. It's you, your name, but it's a show, a planned production whose purpose is to entertain the audience, that's the idea. This format has been the hardest that I've worked in because people believe that what they see on TV is exactly as you would see in reality, hence its name "reality show".
Have you suffered any rejections for not having the "Latin image" in the movies in the United States?
Stereotypes still exist. At the beginning, when I first arrived in the USA, nobody wanted to study accents, Latino actors were mostly offered roles such as housekeepers and gardeners. But nowadays being Latina is a blessing. It is thanks to the outstanding contributions and work of many Latin American artists in movies in the US that we are able to succeed.
Any new project for 2018?
This year I started a psychological thriller. It has emotionally required all my energy 24/7. At first I did not want to accept it, there was a very strong scene I was intimidated by. But I think the movie's message can reach many women and we have to inform them well. It is about a woman, Caroline, who has lost a child. I cannot say more. But it is a very big challenge. Also last January we premiered a film called Lukes in London where I have the leading role. It was filmed in London and Los Angeles.
PETA
What are your main functions as a representative of PETA Latino?
Foster Latino awareness of animals. There is still the attitude of mistreating animals, because they are simply animals and that's it. You have to open up that mind set. Foster a message of appreciation and care for them.
You have lead a worldwide PETA campaign against bullfighting. Have there been any favorable results because of it?
Bullfights have been already eliminated in several parts in Spain. I grew up on farms with my family surrounded by nature and animals. For me it is important to appreciate and respect animals in order to be able to continue with that kind of life.
Your pet Bella, is a Pomeranian dog. It's commonly said that pets resemble their owners, how do you think your dog's personality resembles yours?  
Yes, I think pets absorb a lot from their owners. Bella totally has my personality. She is very feminine.
You do not eat meat. How has being a vegetarian helped you?
Many criticized me for this because as a Latina, "how can you not eat meat"? The truth is that we are not all designed to follow a vegetarian diet. Being a vegetarian has helped me a lot to improve my health through diet. 
How did you start you lipstick business – free of cruelty – not tested on animals?
I was asked to collaborate with a Brand called Aniise. Soon, this May I will launch my own line of lipsticks. After carrying out a study for over three years and working with a laboratory of colors for seven months I have consolidated a very nicely edited collection of lipsticks that I call BRAVA (fierce) – for women who dare to wear color.
What does it mean when you buy yourself a lipstick?     
To me it signifies something along the lines of empowering women. When we are depressed, color lifts our spirits, wearing a lipstick illuminates your entire face, not just the lips. The total effect is very positive. Treating yourself to a lipstick is like a gift to the soul. It is also very accessible, because you will not go bankrupt when buying lipstick! (Laughs).
Can you give an advise for our readers of Revista Mujer?
It is important that women don't lose faith in themselves. When there is a will there is a way!
Patricia's Favorites
Your secret to keep in shape: Zumba – dance
Favorite place in Panama: San Blás Islands
Favorite dress color: Red
Vegetarian dish: Eggplant meat as prepared by my mother
Beauty tip: Clean your face well before bed and before exercising!
Favorite underwear color: Black
You can follow Patricia on Twitter, Instagram, Facebook and on her web page PatriciadeLeon.com