FRANCISCO MIGOYA| CHEF & ARTIST BRINGS LIFE AND LIGHT TO PIZZA MYTHS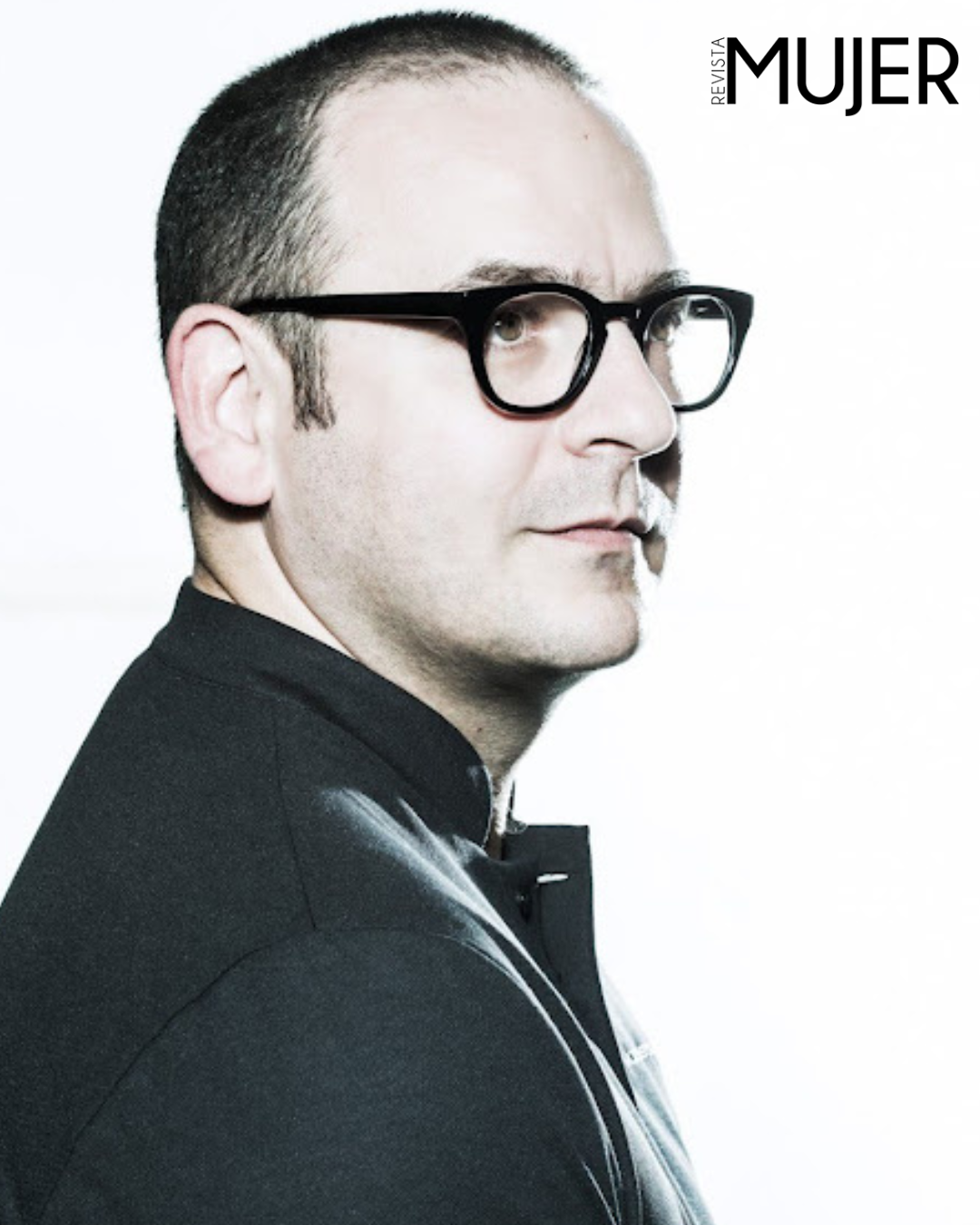 By: Lilia Davis
Photos: Courtesy of Francisco Migoya
Francisco Migoya, a world-renowned Mexican chef, has achieved success as a culinary instructor and cookbook author. He is currently head chef of Modernist Cuisine , the only modernist kitchen laboratory in the world located in Seattle, Washington, and co-author of the book Modernist Pizza, nominated for the James Beard Award 2022 in the category of restaurants and professionals.
A book that took nearly five years to complete, for which he traveled thousands of miles, with a full-time team of twenty-five people, including chefs, photographers, food scientists, editors and researchers.
Compiling an encyclopedia of almost a thousand pages organized in five volumes. Francisco Migoya is like a bread ambassador traveling around the world giving presentations and conferences about the wonderful world of bread and haute cuisine pastry.
Francisco Migoya/ book author
Previously Francisco Migoya was also co-author of the book Modernist Bread, along with Nathan Myhrvold being winner of the 2018 James Beard Award. One of his previous books such as The Elements of Dessert received an IACP Award in 2015, in which he takes you by the hand through the innovative flavors, ingredients and techniques of the exciting world of desserts. He has also authored other books such as The Modern Cafe and Frozen Desserts.
Francisco Migoya/ Artist
A lifetime of culinary experiences. However, what very few people know is that Francisco Migoya very wisely combines his profession with art, almost with the same deep passion. So in this interview we wanted to celebrate his art as well.
His interview was by zoom. His conversation in Spanish is leisurely and pleasant. He is used to elaborate in detail his ideas very clearly, but in a simple way, like a good teacher with his students. During his interview we talked about his art, his most recent book Modernist PIzza and brings light to some myths about pizza.
Interview
HELLO FRANCISCO, THANK YOU VERY MUCH FOR BEING WITH US. I WOULD LIKE TO START WITH YOUR ART, TELL ME HOW WAS YOUR FAMILY ENVIRONMENT WHILE GROWING UP IN MEXICO CITY, AND IF YOU REMEMBER WHAT WAS YOUR FIRST DRAWING WHEN YOU PICKED UP A PENCIL AND PAPER?
Yes, look, I was born in a house where there really were no artists. My father was the director of the Ray-O-Vac Batteries company and my mother was an English teacher at the American School.
I was very interested the moment I could pick up a pencil and paper, it was very normal for me. As a kid I loved horses, I loved taking riding lessons, and what I loved most was drawing horses.
I started something that was a habit, drawing at least an hour a day. I did it almost every day. It was fulfilling for me to be able to create something. I think it's something that inspires me to create, something that I can see, to create something tangible, whether it's a drawing, a loaf of bread, it's something tangible,
It's not something that exists inside a computer, it doesn't exist in something that's not real, that's important to me.
MANY OF YOUR PAINTINGS, DRAWINGS, COLLAGES, ARE RELATED TO YOUR PROFESSION, TO FOOD. WHEN YOU SEE AN INGREDIENT, ITS SHAPE, ITS TEXTURE, ITS COLORS, YOU SEE IT AS ART FIRST AND THEN YOU CAPTURE IT IN A PAINTING, COULD YOU TELL US ABOUT YOUR CREATIVE PROCESS?
My creative process is that I have images that form in my mind that are sometimes progressive, that is, they begin in one form and transform into another. So I always think about what I feel like doing on a canvas that appeals to me aesthetically.
But I also think about what is challenging. I think new pieces are a challenge. Because a recipe always gives you the same result. But a painting is always different, it gives you a result that will vary.
For example, in my pastry world you can make creme brulees, and you can do it a thousand times with the same result, but in a painting it never comes out the same.
Francisco Migoya/ Instructor
YOU WRITE VERY CLEARLY IN EVERYTHING YOU PUBLISH. HAVE YOU THOUGHT ABOUT WRITING BOOKS, APART FROM GASTRONOMY?
I love writing. Knowing how to write well was always something my dad instilled in me, a lot. My intention is always to be able to communicate my ideas clearly. When I was a professor at the Culinary Institute of America for several years, it helped me a lot to know how to communicate an abstract idea to students.
For example, if you have a class of twenty students, that's twenty different ways of learning. Then you have to know how to communicate an idea clearly, intelligibly and in a way that can be used. That ability to communicate was always important. You explain an idea for all levels.
SOMETHING THAT HAS STUCK IN MY MIND IS THAT MANY CHEFS ARE HESITANT OR UNSURE OF MAKING DESSERTS AND HIRE ANOTHER WHO IS WILLING TO MAKE THEM SO THEY CAN TAKE THAT RESPONSIBILITY OFF THEMSELVES, WHY?
You are so right, that happens all too often with chefs. What you are saying is that many restaurants hire anyone who can make desserts. What happens is that there is a difference in recipes for savory and sweet cuisine.
The first one you can fix if you have some detail wrong, the second one, the sweet recipes, if you don't follow the instructions, they may not come out right. I prefer clear instructions, I'd rather have a map, than to follow the stars to get to my destination.

CULINARY INFLUENCES
HAVING WORKED AS EXECUTIVE CHEF AT BOUCHON BAKERY AND THE FRENCH LAUNDRY WITH THOMAS KELLER, AND WITH SCOTT BRYAN at VERITAS, DO YOU REMEMBER ANY TIPS YOU LEARNED FROM THEM THAT HAVE INFLUENCED YOUR CAREER TO THIS DAY?
Yes, of course. All the chefs have been quite different personalities and Thomas Keller and Scott Brian are obviously two very different philosophies.
Thomas Keller
I think what I learned the most with Thomas Keller, for example, is that I learned to cook at a very high, 3-star level, where there is no room for mistakes. There are no excuses like you ran out of an ingredient or you didn't have enough for the recipe, or you don't have this or that. It's not an option.
When you start working with that mentality and you get used to that level, even the soup that you make at home, you make it thinking, is this the best I can do? Then that becomes a way of life.
It has influenced me because even in the most insignificant things, you put the care and attention to what it requires, you have those rules, you always think how can I do it better. And you can apply that if you're doing books, or other things.
Scott Brian
The experience with Scott Brian was calmer, there is an expectation of quality, but it's much more relaxed, things can go well, but without the pressure of 3 Michelin stars. The meals I had with Scot Brian are memorable, to this day, more than 20 years later I remember them. And that's the level he managed.
The important thing is to pick and choose as much as you can from the two personalities and you implement them and you make your own way.
ARE THERE ANY CHEFS THAT HAVE INSPIRED YOU IN YOUR CAREER?
I have two chefs who have inspired me, MICHEL BRAS – French and ALBERT ADRIÁ, Spanish, who for me is a genius, he is a gastronomic figure that I think is the most important in the world. But they were both formative in terms of seeing beyond the status quo.
Although I am no longer interested in working in restaurants, what I do like is to have my own identifiable style, I am not interested in copying anyone. If others are successful, that's great, I'm glad, but having to copy someone else has never interested me.
MODERNIST PIZZA
LET'S TALK A LITTLE BIT ABOUT THIS RECENT PROJECT OF YOUR BOOK MODERNIST PIZZA, A CONTEMPORARY REFERENCE WORK THAT IS HERE TO STAY, WHAT LEVEL OF EXPERIENCE IS IT INTENDED FOR?
What we wanted to do, being that it is a book that took us more than four years to produce, and it took us a long time to do a lot of research, we wanted to broaden the target audience as much as possible.
Most of the pizza books that exist today, 99% are for people who cook at home, so that's one of the people in mind.
But I will tell you that there are almost no professional pizza books, so we discovered that lack of information and we wanted to make this book for pizza makers.
We also aimed it at restaurants, because after the pandemic, a lot of restaurants expanded their menu to include pizzas, which is one of the best take-out meals in a box and is easily heated.
PIZZA MYTHS
MYTH 1 | WOOD-FIRED OVEN
SOME PEOPLE THINK THAT WOOD-FIRED OVENS ARE BETTER FOR MAKING PIZZAS, COMPARED TO A REGULAR OVEN, WHAT DO YOU THINK?
Regarding the wood-fired oven, we have a whole chapter in the book.
What we like about wood, is the way it smells, and when we go into a place that cooks with wood, it smells delicious, it kind of whets our appetite with that aroma. And many people think it is the best. The truth is that it is not. It is an option. But there are many things to consider.
First
People say that wood-fired pizza tastes like wood. But really when you are making a pizza, for example a Neapolitan pizza, that takes sixty seconds maximum is not enough for the aroma of the wood to influence the pizza. 
Second
When you see a wood-fired oven and you see between the floor where it is. The smoke level is about 30 centimeters off the floor, the smoke is not even close to the pizza. 
Third
Also a wood-fired pizza oven takes time to acquire the practice and experience to be a master of the oven. For example, how do I know how much wood is enough to reach the ideal temperature?  Because there is a huge fluctuation in temperature when you work in the wood-fired oven.  So it's very complex.  
MYTH 2 | FRESH INGREDIENTS
DO YOU THINK THAT ALL FRESH INGREDIENTS ARE ALWAYS THE BEST FOR PIZZAS, LIKE TOMATOES, CHEESES, FLOURS?
A lot of people say that fresh ingredients are better. I'm not saying it's good or bad, but that can be a myth. For example, tomatoes. All the tomatoes used in restaurants for pizzas are canned. They don't have to be super fresh, as Marzano tomatoes make a pretty good sauce. Also in New York, in the winters, when do you get fresh tomatoes?
Another example is mozzarella cheese, there are some restaurants that make mozzarella in Italy and export it to the United States almost daily. It may make marketing sense, but economically that comes at a very high cost. In fact, experiments show that fresh mozzarella does not melt well when it is too fresh. It is better to let it rest for three or four days before using it, because it spreads better.
MYTH 3| ITALIAN FLOUR
I OFTEN HEAR THAT ITALIAN FLOUR HAS LESS GLUTEN THAN THE FLOURS USED TO BAKE PIZZAS IN THE UNITED STATES. IS IT TRUE?
No. Italian flours are not that they specifically have less gluten or not. Because if I get a bag of flour from Italy, the different amount of flours from all over the world are only ten from Italy.
Ideal Climate for Flour
But what it can affect is that Italy is not an ideal climate for flour, it is drier, the wheat is weaker, then in many bags of flour comes flour from Canada, from Russia, which are colder countries that produce stronger wheat, harder, so they produce a stronger flour.
In addition, another important point is that gluten does not exist in the flour, it is formed the minute it is mixed with water. In the flour itself, there is no gluten.
Many people express that they can't eat gluten, but they don't know exactly what gluten is when you ask them. Sometimes they just follow the trends that you have to avoid gluten.
But obviously there are people with sensitivities and serious gluten problems. For that we recommend long fermentation doughs, such as pizza flour, at least 24 hours. For example the bread of Masa Madre or Sourdough that ferments for a long time and helps the gluten starch to become more digestible.
VARIOUS CULTURES
AT THE END OF THE DAY, WHICH CULTURE YOU FEEL CLOSEST TO YOU IN FOOD WITHIN THIS IMMERSION OF CULTURES IN WHICH YOU GREW UP. FOR EXAMPLE, WHAT DO YOU CRAVE MORE, CONCHAS, CANNOLIS OR CHURROS?
That's a funny thing, because my dad is Spanish, and my mom is American of Italian descent. The first years of my life I learned to speak English before Spanish. She spoke to me and my siblings in English, and later in Spanish. My mother spoke almost no Spanish.
Italian, I understand it very well. When we did the pizza book we were in Italy several times. I understand it well and I can read it well, but speaking it is very different. We have the same root in the verbs but they are pronounced differently.
It's something I think about, what am I, am I Mexican? Am I American? I don't have a hundred percent answer. But there is a time for everything, I could eat Mexican every day, just like I could eat Italian, every day always.
Besides, my favorite Spanish dishes are tortilla de patata, bacalao a la vizcaína, arroz con leche and ham croquettes.
ADVICE
IF SOMEONE WHO WANTS TO BECOME A CHEF, WOULD YOU RECOMMEND GOING TO A COOKING SCHOOL, OR SIMPLY LEARNING ALONGSIDE ANOTHER CHEF?
I think to go to school, if there is the opportunity, because not all chefs have the time to dedicate to teach you. It's a place where you can learn from peeling apples, to see if you like it. That's paramount.
A lot of students think it's just a matter of time before they become celebrity chefs. But it's usually a very physically demanding career, because sometimes you're working 12 to 15 hours a day. If you like it, you go to school. But I would recommend 6 to 8 months maximum of school.
Not four years, because there are some schools also that cost the same as Harvard, and the job prospects are very different. So one reality you have to keep in mind, the first few years you're going to have a hard time. but eventually if you manage to move well, and you have a long term goal, with patience, you can make it.
PIZZA WOMAN
THE PIZZA WORLD IS STILL VERY MALE-DOMINATED, BUT ARE THERE ANY WOMEN PIZZA MAKERS WHO HAVE STOOD OUT?
There aren't many, but those that are, are very good. For example, Sara Minnick of LOVELY 50-50 is a pizza maker extraordinaire in Portland, Oregon. I highly recommend her if you happen to stop by one day.
AUSTIN
DO YOU HAVE PLANS TO COME TO AUSTIN SOON?
Yes. In fact, I have plans to go in January 2023. For a demonstration with The Retail Bakers Association of America. I'm one of the instructors. I hope to see you guys over there.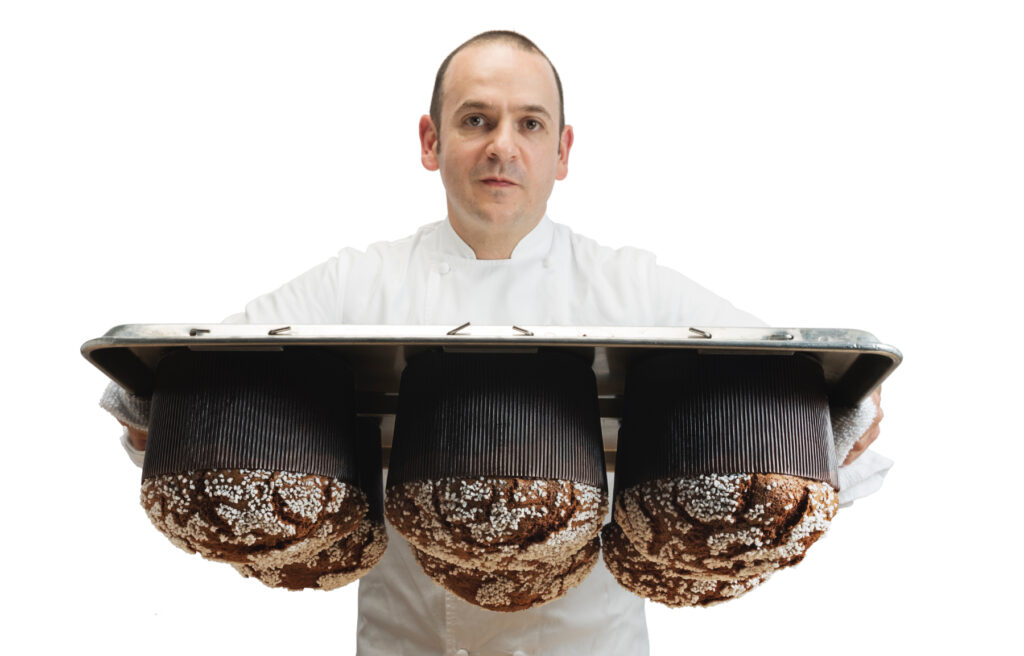 Francisco Migoya currently resides in Seattle, Washington and travels all over the world lecturing about bread.
Discover more Francisco Migoya Art at https://www.migoya.art/.
Instagram: @fjmigoya y @migoya_art