MARÍA HINOJOSA, LAUNCHES HER NEW BOOK "ONCE I WAS YOU"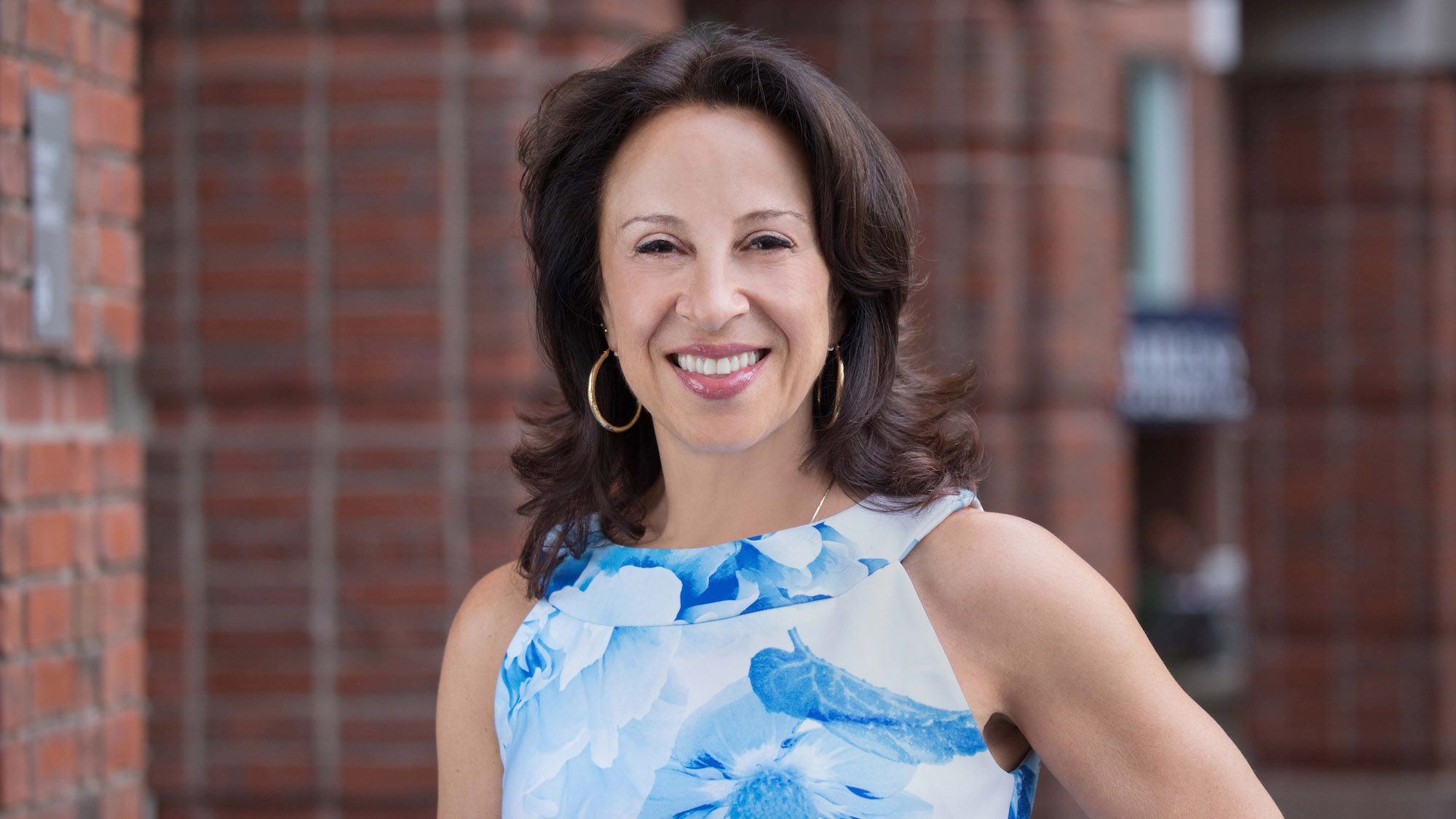 By: Lilia Davis
MARÍA HINOJOSA is an award-winning journalist who has collaborated with the most respected networks in the United States over a career spanning nearly thirty years. Her reporting for PBS, CBS, WGBH, WNBC, CNN, NPR, and her work as host and executive producer of the Peabody Award-winning program, Latino USA, distributed by NPR, have been an enormous success to an extent that you recognize her name without even having seen or heard her on the radio, or television which is the hallmark of a budding icon.
AWARDS
María Hinojosa has received among others, four Emmys, the Walter Cronkite Award for Excellence in Journalism, two Robert F. Kennedy Awards and the Edward R. Murrow Award from the Overseas Press Club, and this summer she was the winner of the 2020 Stone Medal Award from the Neiman Foundation for Journalism at Harvard University.
In addition, she is a founding entrepreneur of Futuro Media, an independent non-profit organization whose mission is to produce multimedia content from a POC perspective, i.e. people of color, and founding co-host of the political podcast In The Thick.
I had the pleasure of interviewing María Hinojosa one October morning, talking about the launch of her book "Once I was You". When the phone rang, I picked it up right away and when I heard her voice, "This is María ", I immediately recognized that distinguished voice most all of us have heard on her radio programs on NPR, but this time her voice was coming from my own telephone!
When you hold a conversation with María in Spanish, the talk leads to everything! México, food, immigration, art, music, the image of women, and of course journalism in the United States, all in one package. A person who has lived life to the fullest. It was a joy to hold a conversation with her and I hope to talk to her again in the future. Here I share that conversation of an October morning.
THE BOOK
MARÍA, HOW DID THE IDEA OF WRITING YOUR BOOK "I WAS ONCE YOU" COME ABOUT?
Ah, that was something special, "toda una vaina" as my husband says of the Dominican Republic (laughs). But I think it all started from an interview that I had on TV with Steve Cortes on his show, where he used the word "illegal" as a noun, and I felt very indignant about labeling a human being like that.
After that, my best friend who is from India, and by the way, she lives in Austin, told me, why don't you write a book about immigration and leave the whole record on these immigration issues?
I had never thought of writing a book about immigration and I decided to make a proposal of a small, easy to carry book, those that you can buy in a store at the airport, and you read it sitting on a flight and that's it. I did, but to my great surprise, no publisher accepted it. I received one rejection after another. I thought, well, I am María Hinojosa, something must be worthwhile for them to consider me. I can't explain how ugly I felt.
Later, I was accepted into a publishing house, Simon & Schuster, okay, but they wanted me to write a book, but a bigger book!  Not about immigration, but about my life as a woman, as a Latina, as a Mexican in the United States, my story.
"Ay, no" I said, imagine, all that work I didn't have in mind together with everything I already do, but well, "if they want spinach, we'll give them spinach", (laughs) and so, I started ONCE I WAS YOU. It took me twelve months more or less to finish it.
MEXICAN WOMAN
AS A JOURNALIST, WHAT DOES IT MEAN TO YOU TO BE A MEXICAN WOMAN IN THE UNITED STATES?
Being a Mexican woman in the US is very complex, and many things at the same time, but I will tell you, the first examples of journalists I saw were Mexican women, in México. I remember it very well, watching television on Channel 11 in México. I was noticing this then in Mexico and not in the United States.
Another thing about being Mexican woman, apart from your language, is your body language. For example, in México, I remember when you drive by the periphery, I saw that, on billboards and advertisements, Mexican women celebrated the woman's body. And in another, simpler way, you also see indigenous women breastfeeding their children outdoors, on the street, on a bench in a plaza, which is something you hardly see in the United States.
You also feel that being Mexican is like being Frida, a radical woman, totally bohemian, who marries Diego Rivera, who is much older than her and has a very open relationship. It's also being the indigenous Mexican part, the female soldiers "soldaderas", because nobody talks about them.
JOURNALIST CAREER
WHAT HAS BEEN THE MOST DIFFICULT IN YOUR CAREER AS A JOURNALIST?
One of the most difficult things in my career has been to manage my own insecurity, to manage my impostor syndrome, which took a lot out of me. That is when you see that you are successful but you don't believe it yourself. I used to say, "after a while they will realize I'm not what they see and it's all over."
That followed me like a shadow and caused me a lot of damage. But once I worked on it – which took me many years – I knew how to appreciate myself as I am, and value myself, and that I am indeed María Hinojosa with everything good and also my defects, but I am also the victories I have achieved. Another difficult situation was working where my own white colleagues were the most racist and showed little capacity to understand. Thanks to my husband who always supported me in my career, I was able to get through it.
AND THE MOST SATISFYING THING?
The most beautiful thing in my career is being able to approach people and feel that I inspire confidence in them so that they feel they have a chance to tell me their story. It was also very satisfying to be able to found a non-profit organization, and to be able to give jobs to other women. It was quite a challenge to start being independent with my company Futuro Media, but I've done it, receiving a lot of support from friends and colleagues, and that feels nice too.
ADVICE
DO YOU THINK IT IS NECESSARY TO STUDY JOURNALISM TO BE A GOOD AND AS A SUCCESSFUL JOURNALIST AS YOU ARE?
No, I am a living example of that because I didn't study journalism. Ironically, do you know which was the only class I didn't get an "A" in college? It was in journalism! I did journalism because of my own pressure. Also, I was Magna Cum Laude in my Latin American Studies degree at Barnard College and I was the best in everything. I always liked to study hard. But, even if you don't study the career, you have to know what the ethics of journalism are, and understand journalism.
However, if you go to an interview where you are asked to study journalism, I would advise you to do your research and prepare a list of all the exemplary people who have successfully excelled as proof that you don't need a degree. You can mention, for example, Anderson Cooper, who did not study journalism. And so, there's more.
FUTURE PLANS
NOW THAT YOU'VE FINISHED "ONCE I WAS YOU", DO YOU HAVE PLANS TO WRITE ANOTHER BOOK?
Yes, I'm already working on another one, and it's very nice. It's a story that exists in El Paso and has taken over my heart. It is the story of Estrella, a Mexican woman – trans female – deported – abused. She calls me from prison, where she has become a woman. Why do I do this? I don't know, but I do it because I feel the responsibility to do it. Something inside me pushes me to keep going.
HOW DOES IT FEEL TO WIN THE 2020 STONE MEDAL AWARD BY THE NEIMAN FOUNDATION FOR JOURNALISM AT HARVARD UNIVERSITY?
Ah, that feels very nice. Very proud.
WE ARE PROUD OF YOUR ENTIRE CAREER AND THAT YOU ARE AN EXAMPLE TO ALL WOMEN, ESPECIALLY HISPANIC WOMEN, IN BREAKING NEW GROUND, AND SHOWING THAT YOU CAN GET TO WHERE YOU ARE.
Thank you very much.
This is how we concluded in a limited time María had in her schedule for the day, it was less than an hour, but felt an epic, a total pleasure and we at La Revista Mujer… well, thank you María!
READING THE BOOK
As I began reading the book, ONCE I WAS YOU, I felt that María Hinojosa had led me by the hand through her own life from being born in México City and growing up with her family on the South Side of Chicago, and presented it to me in a sincere, unfiltered, honest prose. During a reading of her memoir, you feel what nearly every immigrant woman in the United States from all economic and social levels, has been through, and you identify in many ways. From the feeling of oppression, insecurity, rejection, fear, joy, adaptation and the success we have all experienced in one way or another as a woman and as a professional.
With her adroitness as a writer even more than a journalist, María Hinojosa guides you through the history of immigration issues in the United States and how they have evolved and affected the country's most vulnerable populations during the various presidencies. In this manner, leaving you with enough tools to form your own opinion and have a conversation, even a debate, regarding the policy towards immigrants in this country.
María relates this history as a story interwoven with personal experiences and as a journalist who asserts her own voice while fighting for the truth.
When you finish this book, you feel like you have listened to the confidences of a close friend, and especially observant and intelligent, inquisitive and tireless a friend, a survivor, and a grand human being.
"Once I Was You" is a book which if you are a follower of this magazine, you can't afford to miss. LRM
FOLLOW MARIA HINOJOSA HERE:
FACEBOOK @Maria Hinojosa
INSTAGRAM @maria_la_hinojosa
TWEETER @Maria_Hijojosa