MARÍA TOLEDO| Volcanic Flamenco and Piano Performance @ SXSW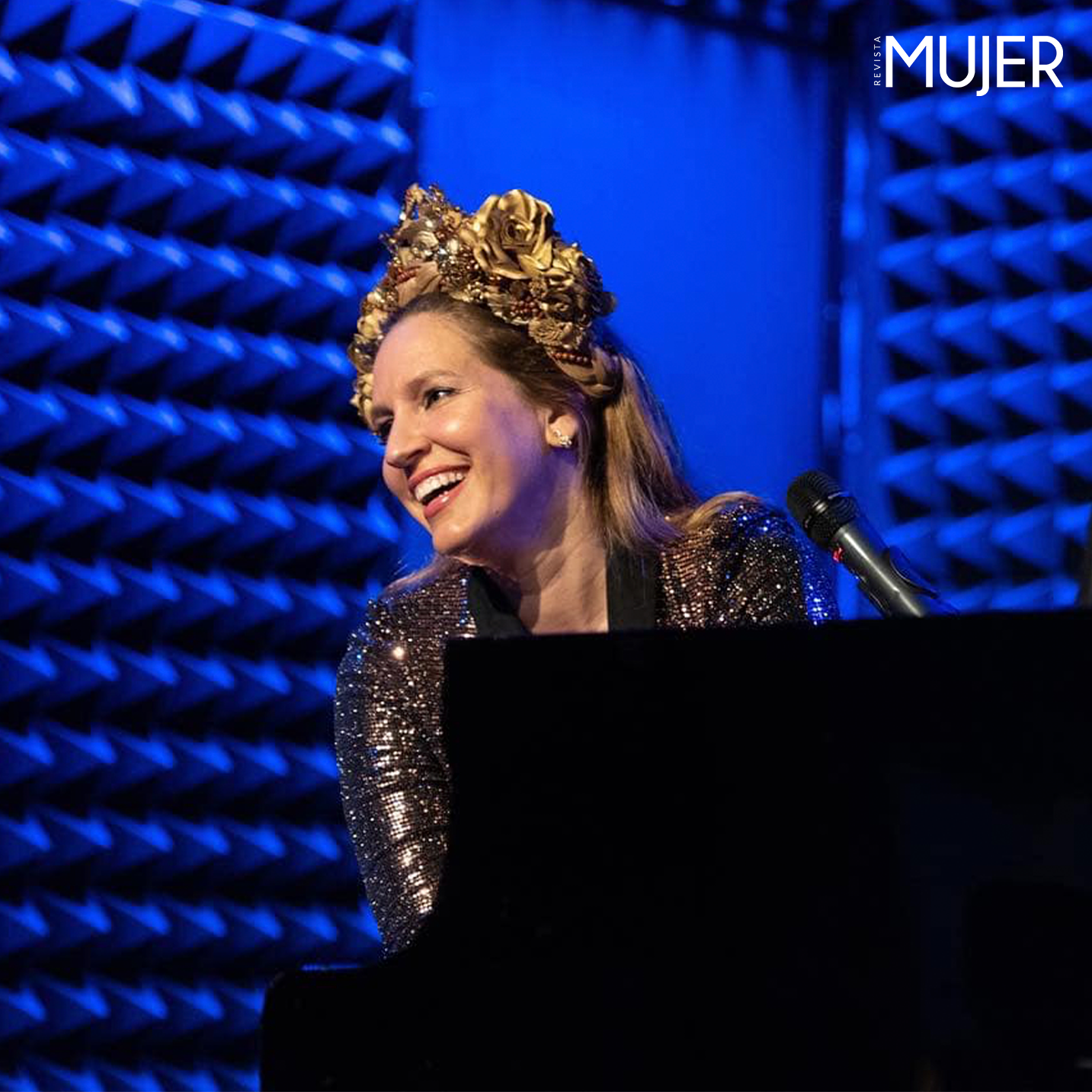 By: Lilia Davis
Maria Toledo talent would take more than all the words in this article to describe. She is a flamenco singer, composer and pianist with five Latin Grammy nominations to her name.
She breaks stereotypes by being the first woman to present flamenco while performing on her grand piano; she is probably the first woman lawyer that has become a professional flamenco singer; as she studied law and worked as a lawyer before devoting herself entirely to music.
Since devoting her life and energies to music, she has won prizes at the most prestigious Flamenco competitions in Spain. Recognized for singing Mexican ranchera songs fused with the rhythm of flamenco, MARÍA TOLEDO has been named the greatest advocate for flamenco and has shared the stage with today's most respected artists.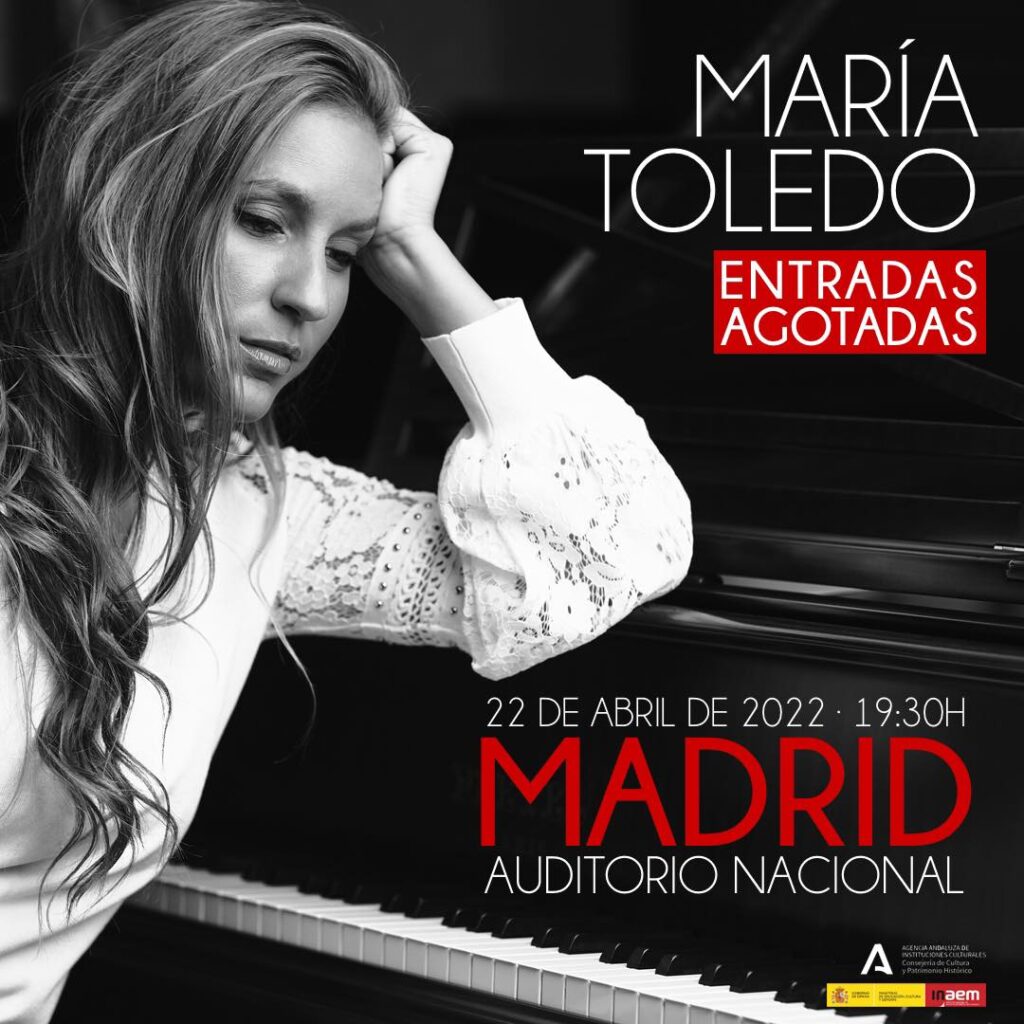 She has performed Falla's El Amor Brujo at the Konzerthaus in Berlin, the Barbican in London, the National Music Auditorium in Madrid, the Philharmonic of Paris, Glasgow City Halls in Glasgow, Symphony Hall in Birmingham, Queen's Hall in Edinburgh, Royal Theatre in Turin and Florence Opera.
Maria Toledo has produced six albums: 'María Toledo' (2009), 'Uñas Rojas' (2012), 'conSentido' (2015), 'Magnética' (2016) and ´Corazonada´ (2019) and ´Ranchera Flamenca´(2021).
And as I was finisihing this article, María Toledo received the BEST FLAMENCO ALBUM AWARD 2022!
"I don't know what it is about flamenco that when I sing it, I get happy inside".

Tango Flamenco
MEETING MARÍA TOLEDO @SXSW
I met MarIa Toledo during the SXSW music festival, but only after several failed attempts to communicate with her directly. As I was about to set aside my efforts toward her interview until another time, I received a text from her manager arranging for me to meet Maria Toledo at the newly opened Parker Jazz Club located in downtown Austin that very night.
I went directly to her concert. Meeting her, the first thing I noticed was her simplicity and her beauty, despite being an acclaimed artist in Europe with sold out performances at major theaters around the world, she immediately approached me with.
"Hi Lilia, how are you!". She spoke to me with familiarity and a great warm smile that dismissed any uncertainty about how to undertake this interview. I decided to keep things simple yet attempt to convey her passion for flamenco, to keep the interview at the level of a conversation with her.
Maria Toledo apologized with impeccable manners for the short time of our initial conversation because she had to get ready for the stage, singing for the first time at SXSW.
"Today I will be singing for the first time in my life in Austin at @sxsw – I confess I have these butterflies inside of excitement, it's a hard feeling to explain… but wonderful."

María Toledo
MARIA TOLEDO'S PERFORMANCE @SXSW
Maria Toledo wore stylish sequined gold and black pants and jacket outfit and wore a crown-like head piece with elegant handcrafted details made by Spanish artisans of Siempre Primavera, and looked spectacular on her long blonde hair with shades of golden honey color.
As she turned toward the keyboard of her grand piano, I began to hear her voice. Her interpretation of the songs she selected was conveyed with volcanic emotion.
You could feel the intensity in the expressions passing over her face, the stare of her eyes and hand gestures, all demonstrating the urgency of communicating the pain, the love and the passion contained in her songs.
Yet the melodies were flamenco, with very open harmonies that reveal a certain underlying jazz undercurrent when she plays the piano. Her performance was mesmerizing.
By the end of her show, the club was packed and the audience was moved by her emotion on stage, on its feet asking for more songs, wanting to continue listening to María Toledo's unmistakable voice.
WALKING WITH MARIA TOLEDO IN DOWNTOWN STREETS OF AUSTIN
After her encores I waited for her a bit while she said goodbye to everyone and finally she said, "Come on LIlia, I am ready, let's do the interview, and if you want, we can leave now". We went out of the club into the street and started walking toward her hotel, while her young assistant carried the suitcases.
Then, suddenly Maria stopped and sat down on a sidewalk bench and said, "Lilia, let's wait for a moment, I'm going to sit on this bench to change my shoes, and put on something more comfortable to walk in". And so, she took off her flamenco boots and let her feet rest for a moment while she took tennis shoes out of another bag.
While she puts them on, she noticed my red, white and black New Balance athletic shoes, and remarks: "How stylish, how trendy, your tennis shoes are so cool. Your magazine is about fashion, isn't it ?, I love fashion! If you only knew that I brought almost ten different dresses for my performance here, I couldn't make up my mind!" she said.
We arrived slowly at her downtown hotel lobby and took a seat to chat a little..
MARIA, YOUR LAST NAME IS TOLEDO, BUT WHERE WERE YOU BORN AND RAISED?
IN TOLEDO, TOLEDO FOR EVERYTHING! I WAS BORN, I GREW UP, I STUDIED, I LIVE IN TOLEDO. .
DID YOU STUDY MUSIC SINCE YOU WERE A CHILD?
YES, I STUDIED MUSIC AND CLASSICAL PIANO SINCE I WAS EIGHT YEARS OLD, AT THE JACINTO GUERRERO PROFESSIONAL CONSERVATORY OF MUSIC IN TOLEDO, AND I ALSO STUDIED VOICE.
FROM LAWYER TO FLAMENCO SINGER
SOMETHING THAT FEW PEOPLE IMAGINE IS THAT YOU HAVE YOUR PROFESSIONAL LAW DEGREE?
YES, I STUDIED LAW. BUT I REALIZED THAT MUSIC WAS WHAT I WANTED TO DO.
SOMETHING YOU WANT TO MENTION ABOUT YOUR MUSICAL CAREER?
WELL JUST TO EXPRESS THAT ALL WHAT YOUR SEE, THE SUCCESS HAS BEEN ALL A RESULT OF MY WORK, BECAUSE NO ONE HAS GIVEN ME MUCH; BECAUSE IT HAS COST ME A LOT TO GET WHERE I AM. BECAUSE THERE IS A LOT OF WORK BEHIND ALL THIS.
CHALLENGES
WHAT HAVE BEEN SOME OF THE CHALLENGES YOU HAVE HAD TO FACE TO GET TO WHERE YOU ARE TODAY?
THE HARDEST THING FOR ME IS TO UNDERSTAND THAT SOMETIMES THINGS DON'T HAPPEN THE WAY YOU WANT THEM TO HAPPEN. BECAUSE YOU CAN'T CONTROL WHAT HAPPENS. IT'S VERY HARD FOR ME TO ASSIMILATE THAT.
FOR EXAMPLE, MARKETING. IT'S NECESSARY, BUT I THOUGHT THAT ART WAS SOMETHING ELSE. I DON'T LIKE THAT DEPENDING ON NUMBERS IN MARKETING, BUT EVERYBODY DEPENDS ON THAT. I CAN'T CONTROL IT.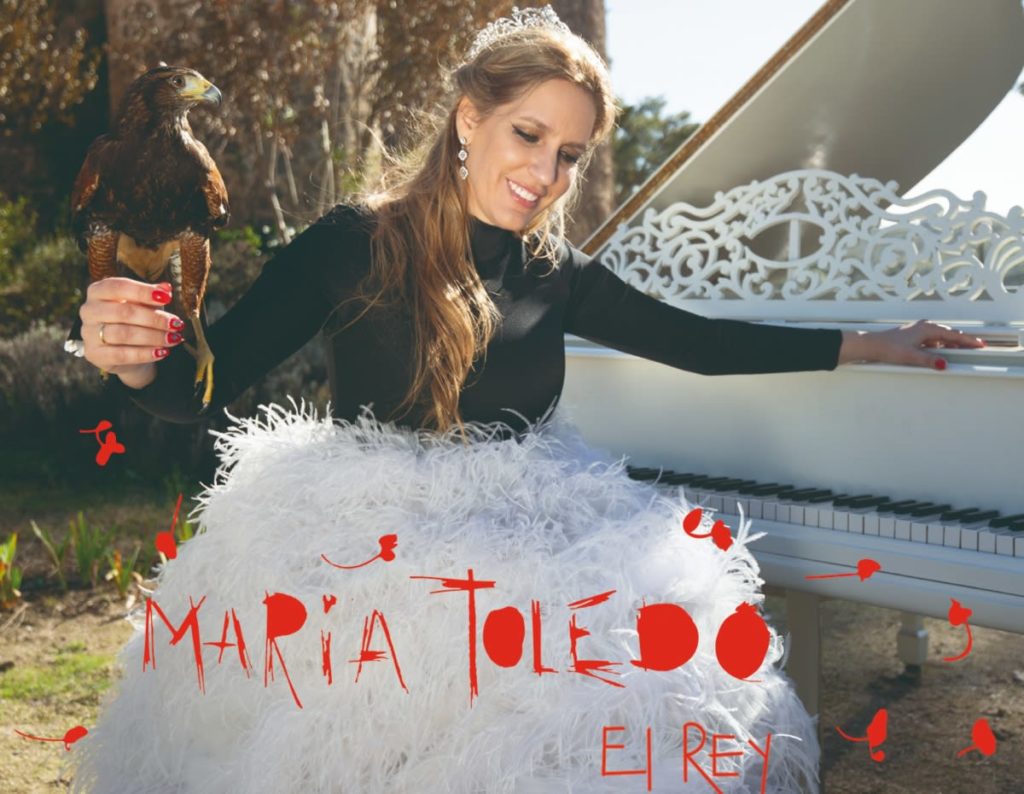 MEXICAN CORRIDOS
HOW DID THE FUSION OF MEXICAN CORRIDO SONG AND FLAMENCO COME ABOUT?
I FELL IN LOVE WITH MEXICO ON A TRIP I MADE IN 2013. MEXICO IS A WONDERFUL COUNTRY, THEY MADE ME FEEL SPECIAL "ME APAPACHARON" AS THEY SAY OVER THERE – A LOT
SO I DECIDED TO MAKE A TRIBUTE TO THAT GREAT COUNTRY WITH A SONG BY MEXICAN COMPOSER JOSÉ ALFREDO JIMÉNEZ, "EL REY", AND A RECIPIENT OF A LATIN GRAMMY HALL OF FAME AWARD, AND I DID IT WITH THE HELP OF THE SPANISH GUITARIST CURRO CARRASCO.
HOWEVER, I DID IT MY WAY. THE WHOLE SONG IS MEXICAN, BUT THE RHYTHM IS PURELY FLAMENCO, THAT'S MY THING.
DO YOU THINK THAT THE MEXICAN RANCHERA SONG AND FLAMENCO ARE VERY DIFFERENT STYLES?
WELL, THE SPANISH AND THE MEXICAN ARE VERY SIMILAR. IN FACT I THINK THE MEXICAN MAN HAS A HIDDEN SPANIARD INSIDE AND THE SPANISH MAN HAS SOMETHING MEXICAN INSIDE.
SO WHAT HAPPENS? WHEN WE SEE EACH OTHER, WE HAVE A GREAT TIME. AND I THINK THAT DOESN'T EXIST WITH OTHER COUNTRIES, AND WELL NOW I'M GOING BACK TO MEXICO – TO QUERÉTARO IN FACT.
HOW DID YOU DECIDE TO REVIVE JOSÉ ALFREDO JIMÉNEZ'S SONG IN YOUR OWN VERSION?
I HAVE TAKEN MANY THINGS FROM THE MEXICAN CULTURE, A LOT OF PASSION, LIKE THE MEXICAN, THE LYRICS ARE VERSIONS OF GREAT ARTISTS WHO REVOLUTIONIZED THE GENRE, THE MELODY, AND THE RHYME IS PURELY FLAMENCO.
BUT I WANT TO SAY THAT THIS PROJECT WAS SOMETHING SPECIAL. BECAUSE YOU DO IT ONLY WHEN YOU HAVE A DEEP PASSION FOR THE GENRE. BUT I'M NOT GOING TO DO IT JUST FOR THE SAKE OF IT.
WOMEN'S POWER
ARE YOU LOOKING FOR SONGS WITH WHICH YOU WOULD LIKE TO EMPOWER WOMEN?
SINCERELY, IN THE 21ST CENTURY FORTUNATELY EVERY DAY WOMEN ARE MORE EMPOWERED. NOW WE CAN LIVE WITH MORE RIGHTS. THANKS TO THE WORK OF OTHER WOMEN IN THE PAST. LIKE CLARA CAMPOAMOR, FOR EXAMPLE, A COURAGEOUS SPANISH WOMAN IN HISTORY WHO FOUGHT FOR EQUALITY IN SPAIN SINCE THE 1930S.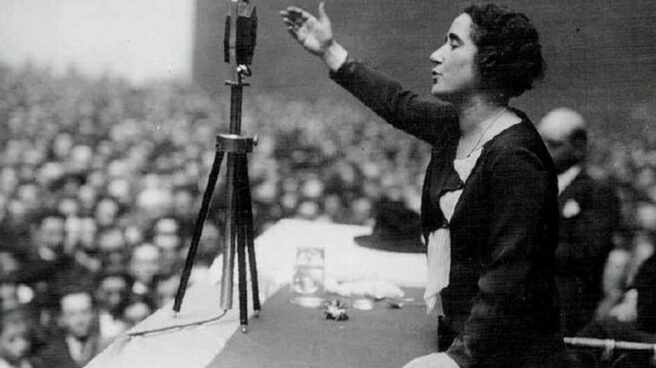 I LOVE THE FACT THAT WOMEN ARE FINALLY WHERE WE HAVE TO BE. BUT I ALSO DON'T LIKE THE FACT THAT MEN'S WORK IS SOMETIMES IGNORED. I LOVE THE FACT THAT MEN ARE AS NECESSARY AS WOMEN ARE. WE ARE MORE INCLUSIVE.
FASHION
I KNOW YOU ARE ALSO PASSIONATE ABOUT SPANISH FASHION AND STYLE, CAN YOU TELLS US A LITTLE ABOUT WHO DESIGNS OR STYLES YOUR WARDROBE?
I DON'T HAVE A STYLIST I AM MYSELF. AND YES, I HAVE LIKED FASHION SINCE I WAS A CHILD. I LIKE THAT CAREER VERY MUCH. BUT IF I WANT SOMETHING, I TALK IT OVER WITH THE DESIGNER AND PUT MY OWN STAMP ON IT.
I'M A PERFECTIONIST BECAUSE I KNOW HOW IMPORTANT IS THE IMAGE YOU GIVE AND ALSO I DO IT ALSO FOR RESPECT TO OTHERS, BECAUSE YOU HAVE TO GIVE YOUR VERY BEST.
FOR EXAMPLE AT THE LATIN GRAMMY, I WORE A VERY SPECIAL BLACK OUTFIT. AND I PUT MY OWN STAMP ON IT WITH THE CROWNS THAT ARE HANDMADE.
"I don't want to be a prisoner of an image, I don't want it, I want to be free. That's why I look for my own sense of fashion without imitating anyone else."

María Toledo
WHAT IS YOUR FAVORITE DESIGNER?
WELL I HAVE SEVERAL: THE MEXICAN BENITO SANTOS, WITH HIS SPECTACULAR BALL GOWNS AND IN SPAIN, ADOLFO DOMINGUEZ, BECAUSE HIS DESIGNS FEEL LIKE A SECOND SKIN. THEY BOTH CELEBRATE THE ELEGANCE OF WOMEN.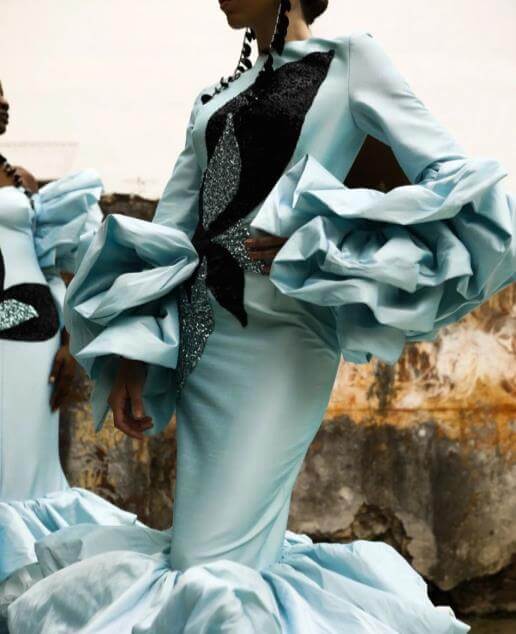 Juana Martín
I ALSO LIKE VERY MUCH THE SPANISH "GYPSY" DESIGNER JUANA MARTÍN, FROM CORDOVA, WHO HAS MADE THE FLAMENCO DRESS A FASHION ICON.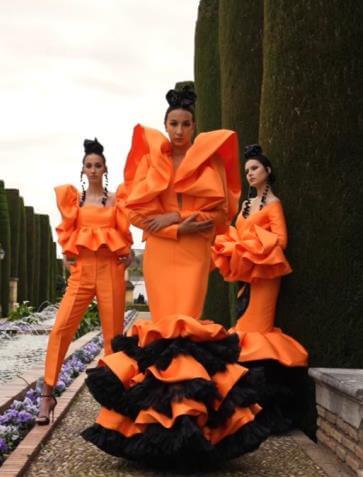 HOWEVER, I ALWAYS LOOK FOR MY OWN FASHION SENSE WITHOUT IMITATING ANYONE ELSE.
ADVICE
DO YOU HAVE ANY ADVICE FOR SOMEONE WHO WANTS TO BE A FLAMENCO SINGER?
MY ADVICE IS TO HAVE PATIENCE IN LIFE. TO NEVER STOP DREAMING. AND TO SING WITH YOUR SOUL, EVEN IF ONLY ONE PERSON COMES TO SEE YOU. BECAUSE IF YOU CAN CHEER UP THE SOUL AND COMMUNICATE MY PASSION TO JUST ONE PERSON, THAT'S ALREADY SENSATIONAL.
AFTER GETTING TO KNOW MARÍA TOLEDO A LITTLE BETTER, I REALIZE HOW FORTUNATE I WAS TO BE ABLE TO ENJOY THE MAJESTIC AND ELEGANT PRESENTATION OF FLAMENCO AS I HAD NEVER SEEN IT BEFORE.
IT MAY BE A LONG TIME BEFORE I SEE MARIA TOLEDO AGAIN, BUT I CAN ONLY SAY THAT THOSE OF US WHO SAW HER WILL NEVER FORGET HER.
www.mariatoledo.es
@mariatoledomt