MAYRA FARRET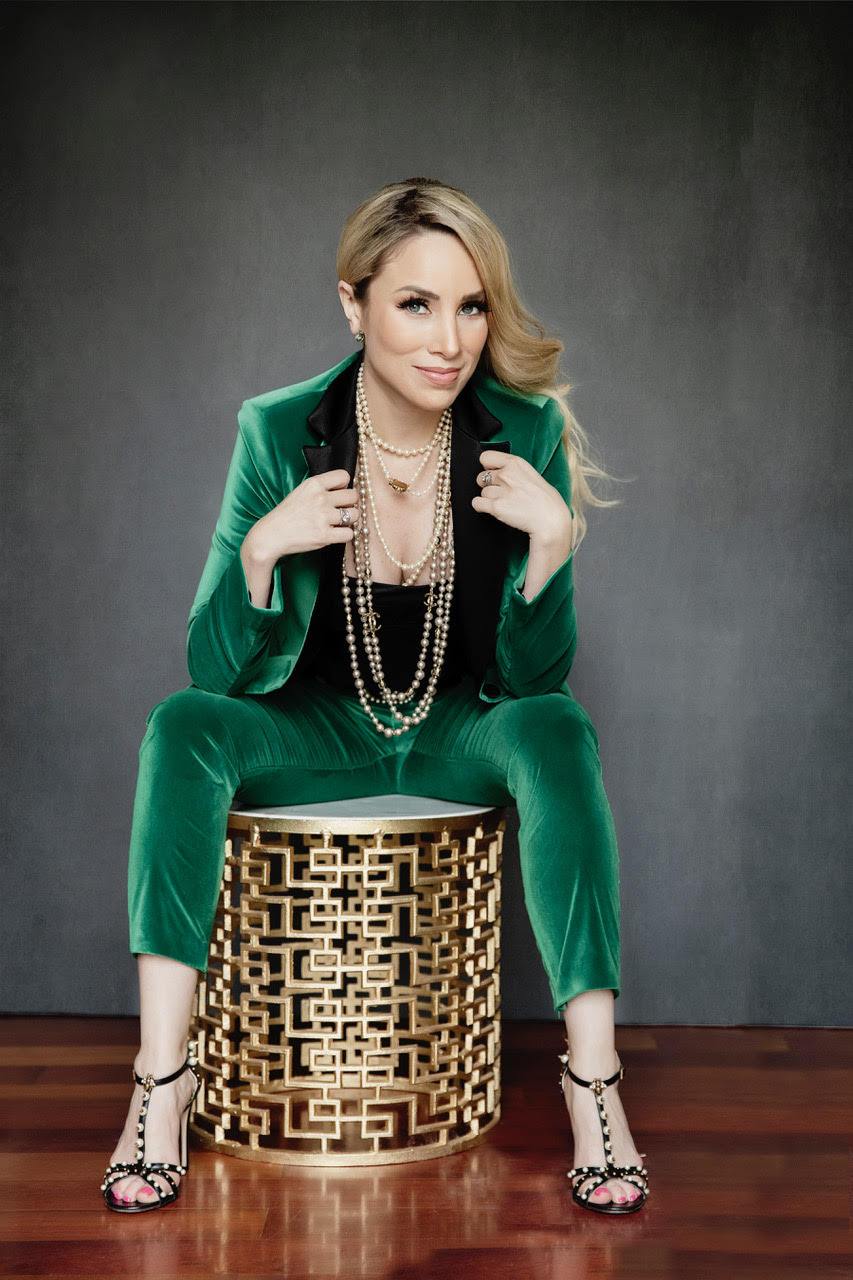 ENHANCES THE IMAGE OF THE MEXICAN WOMAN AT "TEXICANAS"
By: Lilia Davis
Photos by: Elizabeth Greco

Mayra Farret is a Mexican, born in Celaya, Guanajuato, mother, passionate about fashion, yoga teacher, philanthropist, and one of the protagonists of TEXICANAS, the new reality show on wealthy and sophisticated Latin women from San Antonio, breaking records of popularity among dramas, comedy and Mexican Martinis. This series stands out as the first series for Latinos of the BRAVO Television network in an attempt to increase the visibility of Latinxs in the United States in the world of television.

===========================================================
San Antonio has been the most popular destination for Mexicans in the United States, but especially during the last 10 years.They have come to start another life there either due to insecurity or instability in the country or for personal or professional reasons. However, the adaptation process is different for everyone and this reality TV series has formed a group of Latina women who share their lives, their achievements, their insecurities and also their strength of character. Not everything is easy, since the envy seems to arise unexpectedly and changes the dynamics of the group, and each episode is different. "It is difficult to adapt" says Mayra.

MAYRA FARRET


In tone with "Texicanas" style, I wore my favorite sandals from Manolo Blahnik in Mexican pink, and went to interview Mayra Farret at Café No Sé in Austin. Mayra arrived punctually and dressed in an elegant blue-polka dot long ankle skirt with a white background that fluttered around her pretty red high-heeled shoes. Her skirt contrasted cheerfully with a mustard-yellow silk blouse, high collar with bare shoulders, and her intense green eyes gleamed.Her blond hair was pulled to one side in a ponytail and on the opposite side she wore pearl row brooches that adorned her head coquettishly. To top it all, a bright red Prada bag accompanied her outfit. Elegance from head to toe.

Mayra greeted me with a warm smile as we sat down for a coffee and talked about the perspective of the latin woman, the stereotyped image that Latin American women are simply housewives and the strength of the Mexican woman. And so we started.

Mayra, how do you feel this program will be received in San Antonio.

I think in general, it has been well received by the fact that is bringing attention to the city and to latin american women.

Tell how the show introduce real life issues relevant to latin women.

Some of them are subtle, but other are more open like talking about our children's education and the stigma of disapproval of medications for children with ADD for example, and how the stigma their parents carry all the way from México, because they come from a "macho" society, affects them and/or limits their development here in the USA.

What did your family and friends and México say when you decided to work in this project?

Well, to begin with, my parents didn't like it. Then my friends decided they didn't like it either. Again, the disapproval in México that acting or being in these type of shows is not seen or known well enough.
What was their complaint?

Well, they complained that I am portraying myself in a role below my standards, that it is not real, the fact that I am just a housewife for example. Specially because they know I come from a background of very accomplished women in México.

For example, my mother is a well educated woman and has a PhD from Michigan State University and she always taught me that education is essential for women. From the age of 13 I was fortunate to attend the best schools in the world, such as in the cities of London, Boston, Connecticut and Sydney, Australia. Later I graduated from Tecnológico de Monterrey, with a degree in Finance, with honors.

Professionally, I was head of several departments in a multinational company in México and advanced three positions in less than four years. I am very independent. So they didn't want me to be portrayed simply as a housewife, because they know I am much more than that.

What do you think is important to be conveyed as latin women in this show?

I want to break the stereotype that all latin american women are expected to be housewives.The fact that I am a housewife, is because I decided to do that for now. And I am still financially independent. I don't need my husband to support me 100%. While I was working on the corporate world, I made enough money to make property investments and stock investments and I have an income of my own.

One of the episodes makes fun about many things, as for example one women that doesn't even own a pair of tennis shoes, not even one, ever! – not being sports or fitness oriented.

Yes, it's really funny. But again, that is not what I want to portray as a latin women. For example, I took 15 years of ballet in México some flamenco and then practiced Olympic Gymnastics and continued to the level of national competitions and now here in the US I practice and teach yoga specially for those in need.

But in the series, I liked the fact that the women, got out of their pristine comfort zone, and went ahead and competed, got dirty, swimmed and kept going. And I like to portray that resilience particularly found in latin american women.

Do you think you need introduce more the Spanish language?

I think we always need to introduce Spanish, because it is our essence. I know Bravo TV is an Anglo Saxon oriented company and this is the first latin show they will produce and yes, we all speak English, but with an accent, yet we can communicate well. But I feel that in the show, some Spanish should always be spoken. We use "que onda" a lot in the show. (laugh)

Why did you accept this work despite facing your family and friends disapproval?

My husband and I are very involved in philanthropy and in elevating profiles of non profit organization such as Child Advocates of San Antonio ( CASA) and the Battered Women and Children's Shelter. And I thought by me participating in this show, it would be a good platform to start delivering on these real-life issues and to connect with people.

You are labeled as a "fashionista" in the program. Is that true in your real life?
Yes, I have loved fashion since I was a child. In fact I designed my cheerleading team uniforms in high school in México. I picked up the colors white, mustard yellow, like my blouse (laughs) and royal blue- and the school still uses it, can you believe it? So I use all that experience and passion to organize fashion events to raise funds for the organizations I am involved with philanthropy such as Fashion Group International. You can do a lot of good through fashion. Honestly, it's more than just looking pretty.

What is going on in your next episode?

My next episode is next Tuesday, and it's getting intense – uglier I may say, in a way that I didn't' anticipate and it's making me feel that the show is portraying a group of latin women fighting and gossiping, almost bullying – especially in the case of one of them. Her name is Luz and she owns a boxing studio. She is really against me all the time and it has not been easy.

Are you ever going to be in good terms with Luz?

I have tried many times, and still I'm not even close to making any peace. We will see. There are four more episodes left. So don't miss it!
Is there something you want to clarify to your audience regarding the show?

I want to make clear that all that you see in the show is not real, but it is a show with real life issues, though not all Mexican women act like that. I feel like in reality we are all supportive and kind to each other, especially when we try to adapt to a new country and that is and will always be our strength – regardless of anyone's economic condition.

====================================================================
We finished the conversation and suddenly a waiter approached our table delivering a glass of red wine, "compliments of the house" and told her that all the staff at the Café had noticed her presence and that they thought she was a very beautiful woman.We spoke so much in Spanish that she humbly said "Gracias" to the waiter without realizing that he only spoke English! We all laughed together.

Don't' miss the last episodes of Texicanas and fallow Mayra Farrret here:!
#texicanas @bravotv @fgisanantonio
======================================
MAYRA'S FAVORITES
Designer: Carlos Pineda
Perfume: Fxxxxxg Fabulous! by Tom Ford
Lipstick: Nude from Tom Ford
City: Praga. Oaxaca. Puebla.
Food: Chile en Nogada. Mole from Oaxaca. Japanese -Raw food.
Drink: Mexican Martini. Want the recipe? See below:
MEXICAN MARTINI
INGREDIENTS
2 ounces Tequila reposado
1 ounce Cointreau
1 ounce fresh lime juice
¾ ounce fresh orange juice
½ ounce olive brine
2 olives
Salt – enough to put in a small plate
How to prepare it? Wet half the border of a martini glass and pass it through salt. Chill the glass. Pour the all liquid ingredients into a cocktail shaker and fill with ice. Shake vigorously for 10 seconds. Strain into the glass. Garnish with olives. That's it! Enjoy. Cheers!