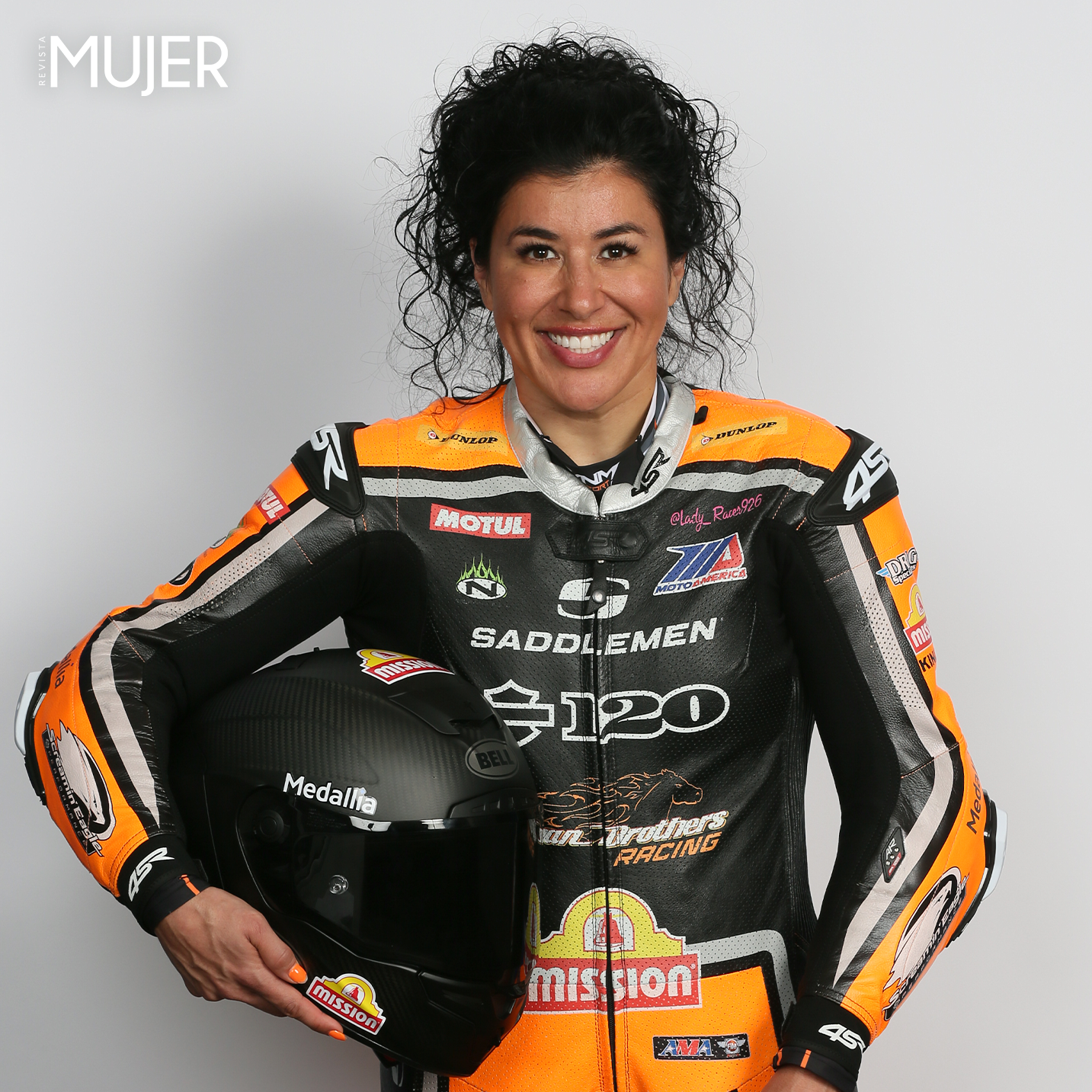 Female Motorcycle Racers are coming up strong so amidst the adrenaline of the superbike racing in the MotoAmerica Championships at COTA in Austin this weekend we loved the opportunity to interview Patricia Fernandez-West, an absolutely divine feminine Mexican-American force of nature both on and off the track. We are here to see her competing in The King of the Baggers race, only one of the classes in which she is a professional rider.
With a lower rumble familiar to those who appreciate larger motorcycles, cruisers, these bikes weigh in over 600 pounds. King of the Baggers attracts a different audience than the traditional Superbike crowd. The class brings every version of the family of riders out to the track to share their love for motorcycle riding.
And with that whether or not Patricia Fernandez takes the podium, in our book this role model of a woman automatically commands the title "Queen of the Baggers" for being the only female competitor in the class.
THE INTERVIEW AT COTA
We are standing in the pit area on a scorching 106-degree Texas summer day to see Patricia as she comes off the track after the championship race. She is the only rider, at 5'2", who has an assist getting off the bike when it stops.
We have an instant girl-crush and we're beaming at how nobly Patricia Fernandez exits the scene while her crew member joins the other riders escorting the bike back to the team. As we approach the bay for our scheduled interview we see Patricia's fans milling around for a glimpse of this model/pro rider and quickly realize they're all watching her having her post-race ice bath in what looks to be a 32-gallon plastic bin.
That's right, Patricia Fernandez fits into a fresh black plastic industrial trash can as she holds her fluorescent banded ponytail out of the water with a huge smile. Her nails are painted fluorescent pink with flames on the tips. We are full of anticipation to hear what this undeniable Queen of the races has to say!
Patricia's focus and race-day energy were nothing short of intoxicating and we can't wait to see where this woman's career takes her. One thing is crystal clear – there is NOTHING getting in her way. We talked about her beginnings, training, the Build.Train.Race program for female riders and nail polish, of course, hope you enjoy our conversation!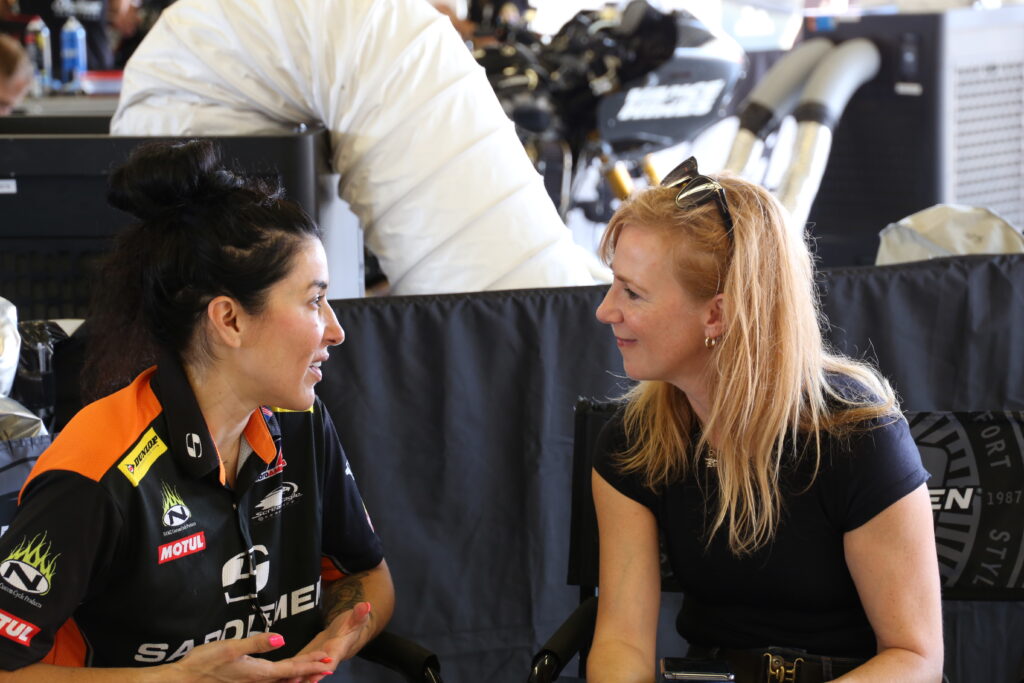 Patricia Fernandez-West and Danielle Becker, La Revista Mujer
Photo by: La Revista Mujer
Hello Patricia, I am honored to be sitting here speaking with you. A motorcycle rider myself (Danielle), I have never had the courage to put one on the tracks. So it is thrilling to me and La Revista Mujer to have this conversation, and we would like to begin with your family, where does the Fernandez family come from?
We have Mexican-American heritage. I was born in Mission Viejo, Southern California. Most of my family's in Southern California, Arizona. I don't like to say Mexican because if you go to Mexico, they'll say I'm American. But you know, to me, that was Mexico, but my family is Mexican-American.
BEGINNINGS
Can you tell us about your very first motorcycle?
My very first motorcycle! So I always wanted one and my parents did not like them. They told me I better move out of the house if I wanted a motorcycle, so that's exactly what I did. First one I ever got, the only thing I could afford was a $4,000 loan. I got a Suzuki GS 500F with a banana seat. If I saw that bike on the street now I would probably think it was so ugly, but back then I felt like Steve McQueen on it.
And when you started riding it, did you ever think you were going to be one of the fastest women on two wheels?
No! I didn't come from a racing background. I never saw anyone in my family on a motorcycle. They don't even race cars or go-karts. So with no background, no money, no nothing I just started club racing.
But I started riding on the street, "street squid," with my friends. I had no idea what a track day was. So I saved up all winter, did a track day and it was so fun to go fast and not get in trouble or be worried about cops or anything.
Then the people I was riding with said I should club race! I'm like, what's club racing? I started winning championships, and people around me said I should try to do a pro race. Then in my first ever pro race, I was crying because I didn't think I was gonna make it. What am I doing here? And then I made the grid and really thought I was gonna die, couldn't believe it!
BECOMING A PRO
What year did you start as a pro?
2013 was my first year as a pro at Supersport. I competed in my first full AMA races. And I remember it was crazy, because I'd only been to two of the tracks and I was showing up at a pro level to tracks I never ridden and had to learn them in 15 minutes and qualify. I qualified for everything, I made it. It's been a big learning curve.
If you would have asked me if I would have kept doing it, 2 years, 5 years, 10 years, I would have said, no, there's no chance that I'm going to do it. If you asked me five years ago, if I'd keep doing it, it was never something I ever thought was going to be in my future, because I don't come from the background.
When I did start getting fast, I was faced with so much negativity. Men weren't used to women being around as much. I heard a lot of negativity about being too old. Because most racers start when they're four, you know. People told me I was too old, or too small, or that I wouldn't make it because I'm a girl or that I didn't have family money like others do.
I wouldn't say there weren't moments where it bothered me. But I pushed it all away. And I kept chasing the dream. And I've been a pro racer for 10 years. So it's pretty awesome. Now I'm traveling all over the world doing cool stuff.
TRAINING
How many hours a week do you train to do what you do?
I always make an effort to train every day and eat well, mental prep, watching a lot of videos. There's so much training that goes into it besides actually being in a race shop. And most racers have to deal with social media and marketing and that takes up a lot of your time every day. So it's a lot of work.
I don't do a lot of racing at home. I don't live near a racetrack. I work out regularly, a lot. And we'll ride trail bikes. I try to go to dirt bike schools and do track days and stuff like that as much as I can. And when we're not racing we still do promotional events, or we do shows and other stuff. There's a lot of traveling involved with this.
HIGH SPEED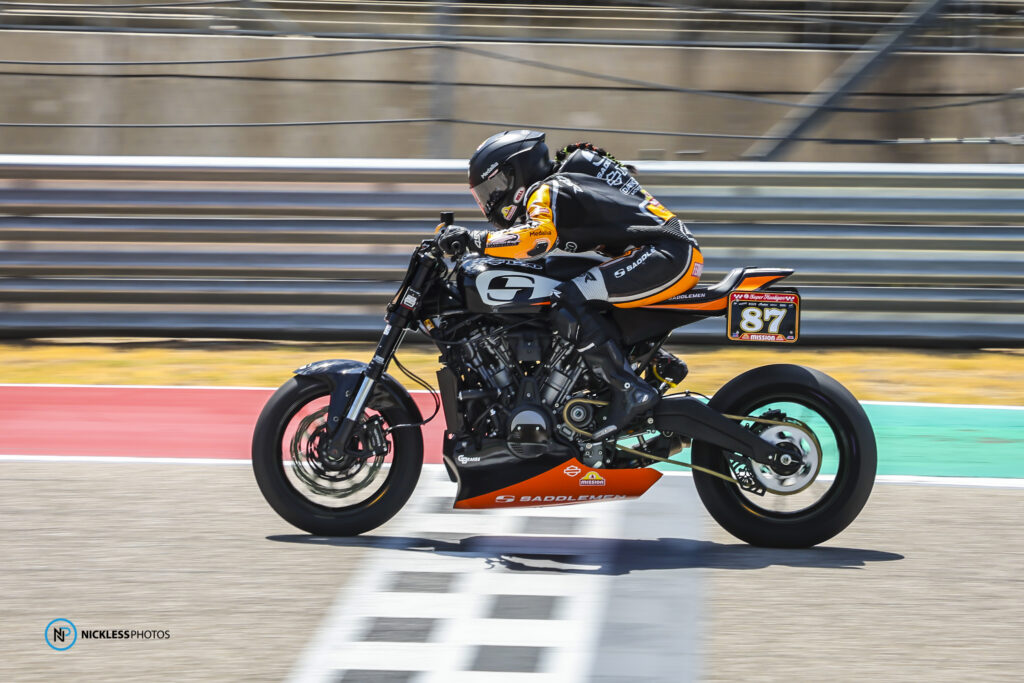 Photo by: Nickless Photos
What's the fastest speed you've reached on a motorcycle?
I've gone 199.5 miles per hour on a Superbike at Daytona. And when I came in, you would have thought I had the biggest temper tantrum ever. I was so mad. Oh! My now husband, boyfriend at the time, did 203 miles an hour, and I was not happy that he went faster than me.
And that I didn't break that time barrier. I mean, I've been in the 190s many times, but 199.5 is the fastest I have on record, and I'm bitter about it. I want to break that 200 mark!
How does it feel to go that fast?
I mean, it's definitely something. It takes years and years to build up to it. But road racing isn't all about top speed. It's about how fast you're going leaning into a corner, you know, where it's not all drag racing. Who cares if it can go this fast if I'm going 130 in a turn with my knee on the ground? But it's true there aren't too many opportunities to go top speed.
Is there an advantage to being a "petite" racer?
I like being small. I'm the smallest person on the grid in height and probably weight. Faster tracks do better for me because I can use my weight advantage. When we go to really technical tracks, like here at COTA, I struggle more because the guys are so much bigger and stronger than me. They can muscle the bike more easily. But being little plays to my advantage on the big tracks.
FEMALE MOTORCYCLE RACER IN A BAGGER
Makes sense. So tell us about the motorcycle you're riding today at COTA.
So today, I'm doing two different series. I'm doing the Mission King of the Baggers, which I'm on a Harley Road Glide Limited, 620-pound gigantic beast of a machine.
And then I'm also on the Harley Pan America in the Mission Foods Super Hooligan Class, which is more of the naked-style twin bike. So we're sponsored by Harley and I'm on both of those, which is rad.
What does it feel like to race a Bagger?
I'm the first and only female that's ever raced a Bagger. To be fair, they have dang near the speed of a Superbike and they have so much power and they're so large. It gets really, really hard, really, really hard. And there aren't a lot of women, I think that could do it. But you know, I'm out there.
Sometimes I struggle with that bike because it's so big. And it's a big learning curve compared to a Sportbike. But I come in and there are little girls or women that are so proud that there's a woman out there that I feel like I've got to do it for the girls. I gotta pave the way.
«I dream of the day when over half the herd is all women. And I believe in my lifetime that will happen. And I can't wait for more women to come up and be so much faster than me and beat me and fill the grid because I can't wait to be there to high five them. It would be cool to say I helped get them there.»

– Patricia Fernandez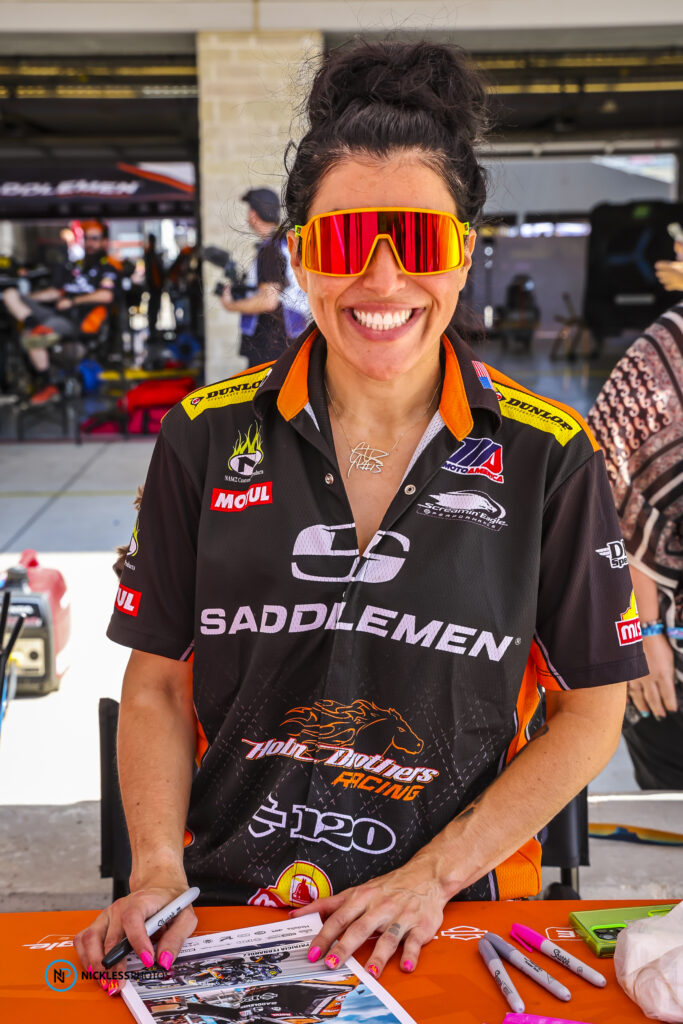 Patricia Fernandez signing autographs for fans at COTA in her pink nails
Photo by Nickless Photos
BEING A FEMALE MOTORCYCLE RACER
Statistics demonstrate that twenty percent of the motorcycle ridership in this country is women, which is more than it's ever been before. What do you think we can do to open the road or open the way for more women to ride?
I think it's confidence that holds women back. And I started out the way most women probably did. I was on the back of my boyfriend's bike when I was 18. And he terrified me. He rode so unsafely, recklessly. I needed to learn to ride my own bike if I was going to stay safe because I didn't feel safe. But I think it's all about confidence.
«Nothing makes you feel more confident than riding a motorcycle. I don't care if you're on a 125 or 200. It doesn't matter. Just being a woman and being on your own bike and being in control when you start, stop and start, and ride around on the street.»

– Patricia Fernandez
Did you feel not welcomed by being a female rider at first?
Once you get women to ride it's so empowering to them and they almost never go back to not doing it. It's all about the confidence to do it.
But I feel like there's so much ego when women want to try to make headway, you know, in an immensely male-dominated area. It can be very intimidating. And to be one hundred percent honest, I faced so much ego from men. Either half of them dismissed me, or thought they could pull me out of the way.
They don't want to be beaten by a girl. It's against their nature. So I do think that there's still a lot of intimidation there for women to make headway. But I think if there were more women's events it would empower women. When you get a bunch of girls together, I feel like our light shines brighter, you know? And I think if they did that, just get more women to start trying it. I think more women would become racers.
So what do you think about the idea of gender segregating the races?
Absolutely not! I'm incredibly passionate about that. The thing that makes this so special is that this is one of the only sports left in the whole world that's not sex-divided. Every other sport, soccer or tennis may be segregated for certain reasons. It wouldn't be fair to compete against each other.
But what's so amazing and incredible about this is the inclusivity. Think about it, if I'm a man or woman, rich or poor, Mexican or Canadian, none of it matters. Once you put that helmet on, you are all equal. And that is what's so incredible to me.
When I tell people I'm a racer, they sometimes assume I mean I'm racing against girls. I'm like, no, against the men. I don't get extra privileges. I don't get two extra seconds for qualifying. I get nothing special. I have to prove myself on the same ground as a man does.
And so the fact that I'm out there qualified against Superbike riders, I'm doing it too, I so deserve to be here. And I'm not going anywhere. To me, that's what makes it so amazing. I love that it's such an even playing field.
On the other hand if it was a women's only event, we would get more girls doing it. It would be encouraging, but the integration of both sexes is what makes this sport so unique. I wouldn't mind there being a girls' class, if it was an entry-level class to try to encourage women to do it.
Of course, they started that Build.Train.Race (BTR) program in America this year. But then there's the issue of putting women on slow bikes and small classes. That stepping stone to the next pro level is so hard because it's not easy to go from a tiny bike up to the pro level.
But I do not want the races to be gender segregated!
BUILD.TRAIN.RACE – FEMALE MOTORCYCLE RACER PROGRAM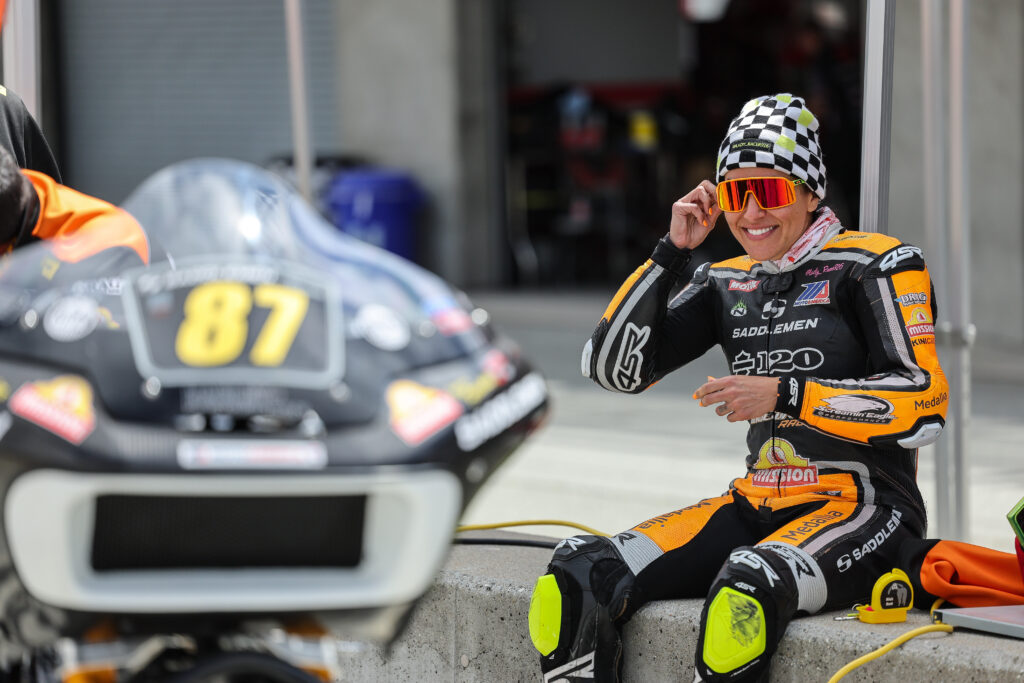 Tell us about the Build.Train.Race (BTR) program for women.
They started that Build.Train.Race (BTR) program in America this year. I don't know a ton about the program. I know that the girls all get a Royal Enfield and they attend training. They have to build their own bikes, and they're trying to teach the girls suspension and other important mechanical concepts.
It's more for girls that have very little to no race experience. I think they have a great program because they teach more than just racing. You've got to learn to ride, learn to wrench, learn how to work on the bike.
But then there's the issue of putting women on slow bikes and small classes. That stepping stone to the next pro level is so hard because it's not easy to go from a tiny bike up to the pro level. To jump from a Royal Enfield to a Supersport would be completely night and day.
It's good that they're on smaller, lighter bikes that aren't quite as quick. But I almost wish they would offer two levels, like maybe what they have now and maybe a slightly faster or a little bit more advanced level of training. And that would give the girls a better stepping stone.
Patricia racing at COTA
Photo by: NIckless Photos
COTA
Onto this race, what's it like driving at COTA for the first time?
Oh my gosh, this place is crazy! Besides the heat coming off the bagger, it's 110 degrees outside. When you came out to me, I was literally in an ice bath to get my body back to temperature. In all seriousness, this place is extremely technical. This is a car track. This is not made for motorcycles.
Anything with these insane hard braking turns, and there's lots of them, straightaway, brake brake brake! It's extremely difficult, extremely technical, very physical. It's more difficult on the Bagger than it was on the Hooligan, because on the Bagger the radiator is in front of you and your screen so the hot air is blowing on you and on your hands.
All the riders' hands were getting extremely hot. But it takes a little while to really get this place, get the flow of it, because I feel like some turns are fast flowing. And then some are super tight and just trying to get that rhythm is the challenge.
It could be a huge trap for a rider if they mess up in one little section. You could blow your whole lap so it's really about hitting all your marks and getting it all together, making that long lap count. So no mistakes!
I am grateful to my mechanics, sponsors, amazing fans, and all the corner workers/volunteers who made this weekend possible! I loved meeting so many amazing people, and the Texas hospitality didn't disappoint!
PATRICIA'S PERSONAL CORNER
Changing the conversation radically to fun personal questions, Patricia, what's your favorite color?
Neon yellow, hands down.
Fingernail polish, yes or no?
Yes. I love the crazy nails! Give me ghetto crazy designs! When I'm driving I don't wear makeup. You know, you're out there, so sweaty and gross and you're working. It's difficult. So painting my fingernails is a way of feeling kind of feminine.
(And for the readership, she is currently wearing a fluorescent pink with flames)
Lucky Number?
Double zero.
Do you see yourself more in an elegant night gown or bikini? Night gown or elegant – ugh! The only thing ladylike about me is my lady_racer Instagram name. There are bikini pics all day and night to choose from!
You mentioned you don't wear makeup on the track but you are exposed constantly to the elements and the sun. How do you take care of your skin?
There are different sides to every single person. I do wear makeup when I do photo shoots. I have that feminine side, honestly completely out of my comfort zone. When I wear makeup for shoots I'll have someone do it and I enjoy it.
But for me, when I'm racing it's just a different mindset. I get all sweaty and hot. I've tried putting mascara or something on because I wanted to look feminine when everyone is putting a camera in your face. But it got so hot that it was burning my eyes.
I sweat all day and when I go to the hotel I wash my face and that's that. In the mornings we get up at around 6am on travel days so I just don't think much about it. I feel like I take better care of myself at home than I do at the racetrack but like I said I'm here to go racing. I'm not here to look cute.
CHUY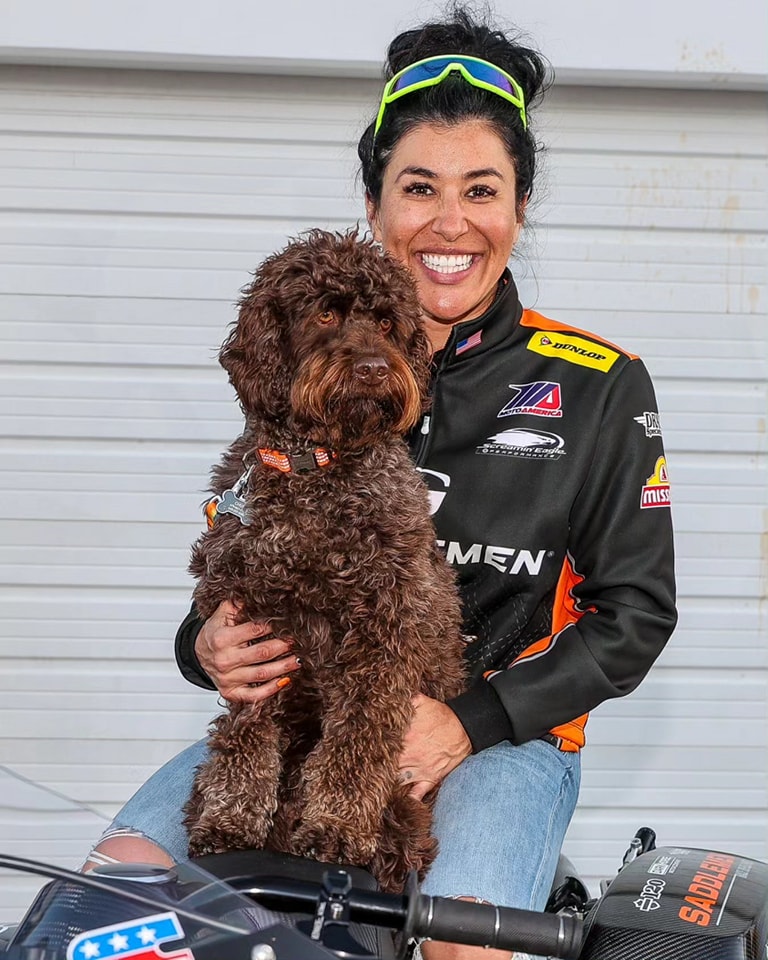 You have a dog named Chuy. Does he go with you to all your races?
Yeah, he is in the crate over there. That's my baby! I call him my firstborn kid and I named him after Chewbacca from Star Wars, but I spell it the Spanish way, Chuy. I'm a big Star Wars nerd.
Last but not least, do you have any words of wisdom for new women riders or aspiring women riders?
My biggest thing to tell women is that you have to have faith in yourself more than anyone else on this planet. When I did it there were very few people that ever believed me or supported me.
«You'll face so much negativity in the world no matter what you're trying to do. In any career there's always going to be negativity. But that negativity is other peoples' fears, their doubts and insecurities. There have been countless moments when I had more faith in myself than anyone else did.»

– Patricia Fernandez
And that undying faith in myself is what got me to this level, not taking no for an answer. I know I can do it. I don't care if I finish last.
I tell women all the time, it's never too late. You're never too old. I don't care how old you are. I'll meet women in their 20s and 30s that feel like it's too late for them to start. I say hell no! Do it!
I was 25 when I started. I don't care what your goal is in life. Want to learn a new hobby? Want to do something new? You're never too old. It's never too late.
«Just believe in yourself more than anybody else. I don't care if you have gray hair. Get on that motorcycle and go ride!»

– Patricia Fernandez
===================
By: Lilia Rodriguez Davis and Danielle Becker
Photos by: Brian J Nelson
FOLLOW PATRICIA
Instagram @lady_racer926
Facebook @patriciafernandezracing