PATRICIA RUIZ HEALY – A Passion for Art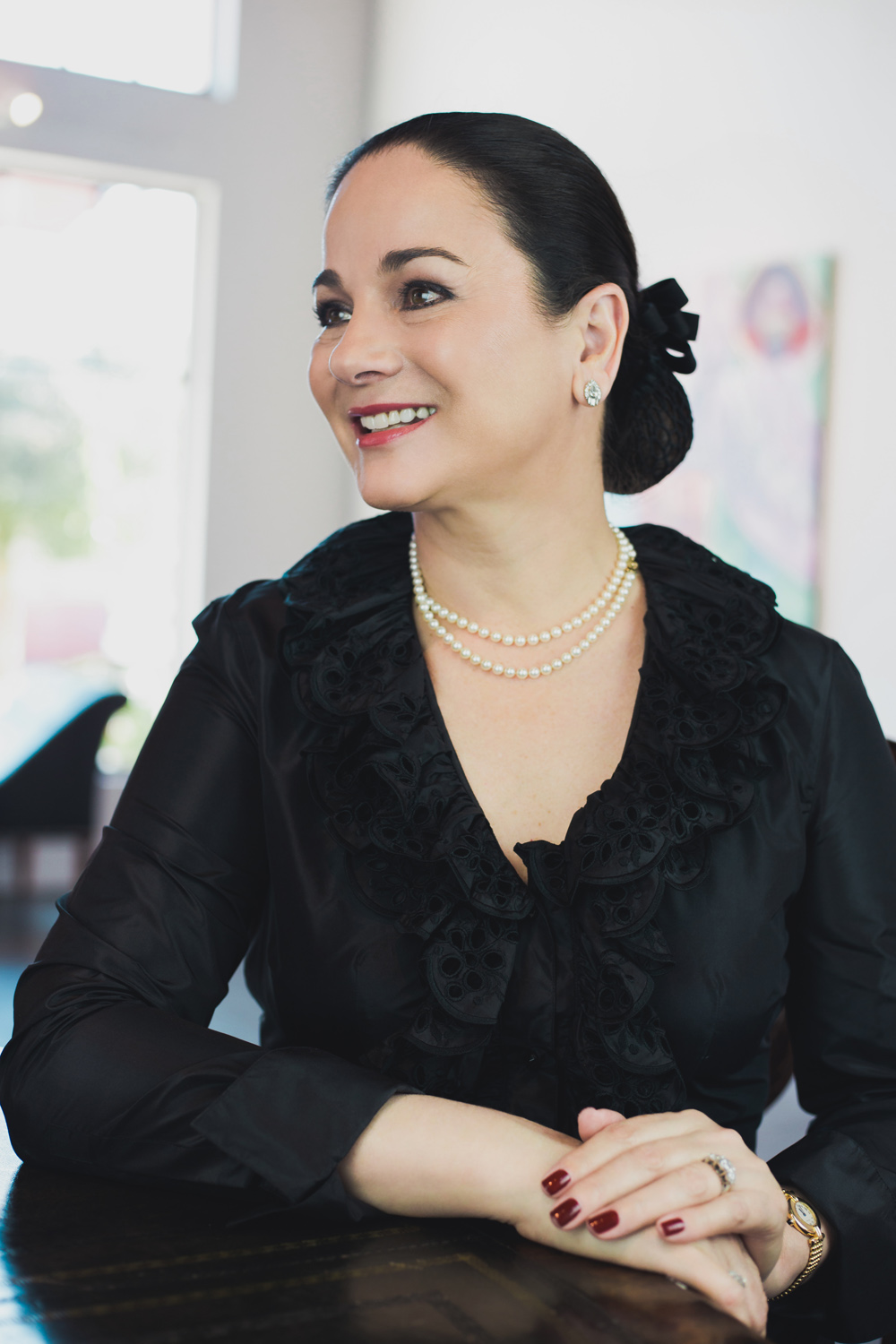 By: Lilia Davis

Photos: Lucero Salinas
RUIZ-HEALY ART GALLERY
Entering the Ruiz-Healy Art Gallery in Olmos Park, San Antonio, provides the visitor with a sense of serenity and tranquility. The space is small, cozy, yet austere and sophisticated.There are only two open offices for easy in and out, which speaks volumes about the open personality of the owner, Patricia-Ruiz Healy, whom we met in her office.

Her office shelves house a large collection of art books from around the world. The walls of her office display a large photograph by artist Cecilia Paredes, from Lima, Peru, and a painting by artist Ismael Vargas, from Guadalajara, Mexico, from his current exhibition Ecos de Mexico. The presence of these visual enigmas created by the artists that Patricia hosts in her gallery, one perceives her love of art.

A PASSIOIN FOR ART
Patricia, can you talk about how your passion for art was born?
Sonora, México
I think there were two events that influenced the awakening of my passion for art from a young age. I grew up in San Luis Colorado, Sonora, bordering San Luis Arizona, of the United States, where the railroad tracks that run through town exactly divide the border between Mexico and the United States. At age 18 I won the Miss Sonora, representing my state beauty pageant.

South Korea
Immediately after that I had the honor of winning the Miss Mexico beauty pageant contest, after which I was sent to South Korea, representing Mexico. When I visited that country I was impressed by the explosion of its oriental colors, the sketches of natural landscapes, and being surrounded by so much art and tradition in a country so different from México there attracted me to art.

England
A year later, at the end of my reign as Miss Mexico, I went to study in England to perfect my English. That country has incredible art museums and I often took the train to London to visit the museums. I was able to see works by some of the best artists in the world, especially at the National Gallery and the Courtauld Gallery at Somerset House, where they have fantastic exhibitions. I think that's where my passion for art was finally sparked.

Did you decide to pursue Art Studies when you returned to México?
Not right away, but I continued my studies in Mexico City, at the UNAM, studying Political Science. It wasn't' until we settled in San Antonio that I continued my studies at Incarnate Word University where I finished my degree in Business Administration with a concentration in Art History.
Later on I decided to further my studies in art and went on to pursue a Masters in Art History at the University of Texas at Austin in the Latin American Studies department, and later on to pursue a PhD in Art.

THE BEGINNING
And how did you decide to start the Ruiz-Healy Gallery in San Antonio?
I noticed a void in commercial galleries in San Antonio coupled later with people admiring my paintings and the art I had in my home. That encouraged me to establish a gallery. It all started in a simple way through a website and in a very organic way. But later the business grew and expanded to the gallery space we currently occupy in Olmos Park.

And now you expanded to Ruiz Healy Art – New York?
We recently started Ruiz-Healy Art by appointment in New York. The gallery was founded in 2004 and specializes in modern and contemporary art pieces including painting, sculpture, photography and ceramics. It focuses on the representation and exhibition of Latin American artists and artists from Texas or with some connection to Texas.

International Fine Print Dealer
You also have a great selection of prints. How did your gallery become a member of the International Fine Print Dealers Association- IFPDA?

Becoming a member involves many requirements because it demands the highest professional standards of quality and ethics promoting original graphic work as art.
Finally you have to be recommended. I was fortunate to be recommended by the Dean of UTSA and the curator of Graphics at the McNay Museum. I actually started with Graphics.
Who are some of the Graphic Artist you represent?
I currently have a good international representation of Graphic artists in my collection such as the late Francisco Toledo (Oaxaca), Shinzaburo Takeda (Japan), Roger van Gutten (Switzerland), Ray Smith (Brownsville/Mexico) among many others. One of my favorite graphic artists is the work of Roberto Montenegro.
There are only three galleries in Texas that are part of this association and Ruiz Healy-Art is one of them.

GRAPHIC ART/Printmaking
For some readers that may not be able to differentiate between a print and a painting, could you describe more in detail what Graphics are?

The work of graphic art is what is also known as printmaking in Mexico, we even have an excellent National Museum of Printmaking (MUNAE) in Mexico City. Graphic art has undergone an evolution with the birth of an engraving technique in graphic art called Mixography. This engraving technique was invented by Rufino Tamayo in the 1970s.
What does that technique involve?
Mixography is a printing process that allows the production of deeply textured prints with refined details on the surface and after several ink processes the final result is like a fresco. There is a Mexican company in Los Angeles that does this work and it is called Mixography.

Emotional Connection
What is the first thing you look for in an artist for your gallery?
We are always looking for artists with whom we have an emotional connection. The most important thing is that the works communicate something to me aesthetically.
A reaction of something very beautiful or something negative. That duality of strong feelings appeals to me. I usually look for artists that I have already read about them and sometimes I have met them in person.
Mathias Goeritz

You wrote a book about Mathias Goeritz published by CONACULTA for your PhD candidate thesis in Art History. What was your thinking when you chose him for your study?

His contribution to art in Mexico is enormous. He was responsible for really opening México to international contemporary art. Mathias Goertiz's influence will always be present in Mexico.
Mathias Goeritz is the guide that broke with the monopoly of the Mexican school; he is the bridge of the new revival of the aesthetic question.
His work on the towers at the suburb Satéllite, in Mexico City, is an example. Also, as cultural director of the 1968 Olympic Games in Mexico, he brought artistic talent from all over the world to participate in his projects, especially in the design of the famous graphic icons for each sporting discipline in the Olympics. Anyone in any language could understand the olympic icons just by looking at them.
Read more on Mathias Goeritz. Graciela Iturbide. Dreams in Black and White. By Lilia Davis.
ACQUIRING ART

Where do you draw the line between collecting for a passion for art, or collecting art as a good investment for the future?

Usually you start collections because you like something especially. In reality, getting to do it purely for economic investment involves works that are already priced at very high levels, and in some instances, several art investors may get together and establish a sufficient economic backing to obtain works of such at such high price levels.

They, the investors, share the costs, hoping also to share profits when they sell it. At that level, sometimes the appraisal of the value of the paintings grows at a higher rate than shares on the stock market.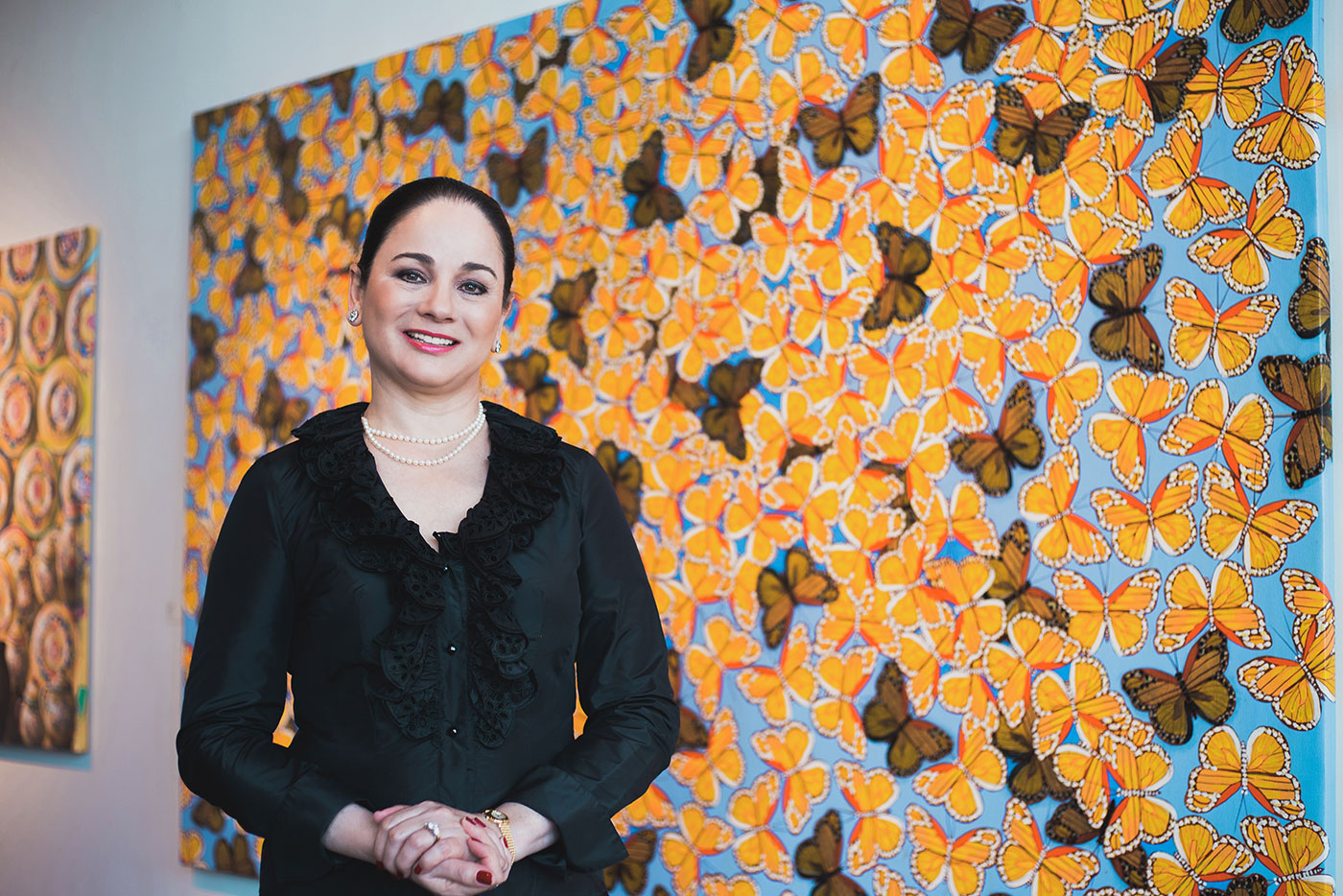 Presence of Women in Art
In art there is always the presence of a woman; whether as an artist, as a muse, or collector. Who buys more art, men or women?

I think in my experience the percentage has been very even. It's not just men who buy art anymore; there are more and more independent women who like to buy art with their own money as much as men.
But as an interesting fact I can say that sixty percent of the artists I represent in the Ruiz Healy Art gallery are women.
What would you advise a woman starting to collect art?
The first thing I would advise her is not to buy copies of an artist. I would recommend that if you can't buy original works, you can buy an original, limited edition, authenticated, signed and numbered graphic art, an etching, or lithograph, from 1960 on. This type of art has to be verified by what is called the Artist's Proof (A/P) or Proof of the Artist (P/A). Our gallery may be able to advise you on original graphics.

Carmen Herrera
What would be your dream exhibition?
I would like to mount an exhibition of the American artist of Cuban descent, Carmen Herrera. Graphic Art. She turned 100 this past May 2015 and sold her first work at age 86! An Incredible woman. She is internationally recognized.
FERNANDO BOTERO
After knowing so many artists through your gallery, do you have any memories of a particular artist?
One of the most memorable memories was in 2007, when I had the opportunity to meet Colombian painter and sculptor Fernando Botero. The reason was the 20th anniversary celebration of the great San Antonio Public Library designed by Mexican architect Ricardo Legorreta. As part of the celebration, his sculpture «Caballo Tamaño Grande» was purchased and donated and is on permanent display on the second floor of the library at the entrance.
I later got to know Fernando Botero and his family more closely. He is a humble, professional, friendly, unpretentious artist, but with great discipline in his profession. For example, he only paints from February to May, and during the summer he devotes himself entirely to sculpture. I learned a lot from him.
JULIE SPEED
What are your upcoming exhibitions?
For the first time I will have a double exhibition in San Antonio and Austin, Texas in February-April 2016. It is an exhibition called Julie Speed: Undertoad. This is a collaboration between Ruiz-Healy Art and Flatbed Press in Austin. A wonderful joint catalog written by the McNay Museum in San Antonio has been prepared for these exhibitions. I like Julie Speed's art because her surrealism reminds me aesthetically of the surrealism of Mexico.
Patricia, for those who are just starting in Art, do you recommend a book that may help learn more about art?

There are so many, but one I like is Rendez-Vouz with Art. A lifetime of experience by Philippe de Montebello, the longest-serving director of the Metropolitan Museum of Art in its history, distilled in conversations with an acclaimed critic.
website: www.ruizhealy.com
For more information on upcoming exhibitions or art inquiries visit Ruiz -Healy Art Gallery at 201-A E Olmos Dr., San Antonio, Texas 78212, Phone (210) 804-2219.
Instagram @patriciaruizhealy and @ruizhealyart
Facebook @patricianunezruizhealy and @ruizhealyart