PILAR ROLDÁN, MEXICO'S OLYMPIC FENCER – THE SWORD IS ALWAYS FEMENINE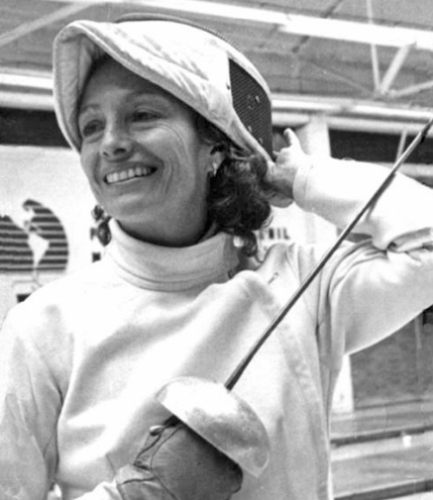 By: Lilia Davis
María del Pilar Roldán Tapia is the first woman from Mexico to win an Olympic medal in the history of Olympic Fencing, during the 1968 Mexican Olympic Games. Never before had a woman represented México on the Olympic podium and at the same time, become the first woman in the entire American continent to win an Olympic medal in the discipline of fencing and discipline it requires.
THE SWORD IS ALWAYS FEMININE
Female Fencers
Although women fencers are featured in movies such as actress Asumpta Serna in the role of fencer Adelo Otero in the film The Fencing Master in the novel by Arturo Pérez Reverte, or actress Diana Rigg in the iconic character of Emma Peel in The Avengers, the British series of the sixties, or  actress Catherine Zeta-Jones as Elena Montero en La Máscara del Zorro;  women who are admired for their beauty and courage on the screen.
However, nothing fills us with so much pride as knowing that in real life, a Mexican female fencer, Pilar Roldán, won the first medal in the Mexican Olympics in 1968.
PILAR ROLDÁN
María del Pilar Roldán Tapia was born on November 18, 1939 in México City growing up in an environment of sporting ancestry. Her parents were national and international champion tennis players. Her father, Ángel Roldán; selected as a member of the Davis Cup team in 1934 and her mother, María Tapia; triple medalist in the Central American Games. Pilar practically had the predestined DNA for being a professional tennis player equally outstanding as her parents, but she chose fencing.
The Mexican Musketeer
Her curiosity for fencing was born when she read The Three Musketeers» by Alejandro Dumas, a book which her father had given her as a child. So, at the age of 13, she asked to take fencing lessons with the Italian trainer Eduardo Alajmo, and subsequently specialized in the foil, becoming undefeated champion at the age of 15. 
Later on, her passion was such that she persuaded her father to quit tennis and compete in fencing as well. Many remember her as «The Mexican Musketeer», but contrary to the images of the rebellious musketeers, skeletal thin or alternatively, chubby and but both with coarse manners, Pilar Roldán was a beautiful young woman with an elegant, slender image and refined manners.
The passion for fencing also reached her younger sister, Lourdes Roldán, an accomplished fencer as well. Pilar and Lourdes competed together with the Mexican national team, calling them «Las Hermanas Roldán». Lourdes also won several medals in various international competitions.
CHANGES IN FENCING
When four seconds is a lifetime…
An important change in fencing, as Pilar explains in an interview, occurred at the 1956 Melbourne Olympics where the electronic scoreboard was first utilized.
Before, 4 judges determined the touches and actions, offensive and counter-attack. Now, the electronic scoreboard records the points, producing a major change in the sport. Fencing lost in elegance and technique.
Before, she said, "actions were more technically precise because the judges determined when the touches occurred."
Fencing includes bouts with three types of weapons: SABRE, FOIL AND ÉPPÉ; each weapon has its own rules and strategies. The foil competition (Pilar's weapon) in particular became faster and more athletic. The fencing match typically lasts 3 minutes and the first fencer to reach the five stakes wins.
At the LXXVI World Fencing Championships in Russia in July 2015, the athletic agility of this sport can be seen today. At this point, only four seconds is a lifetime.
THREE TYPES OF WEAPONS
FIRST LADY
Although Pilar Roldán became the first woman in the entire American continent to win an Olympic medal in the 1968 Olympics, by then, Pilar had already received high scores as the first female in other areas.
In 1955 Pan American Games in Mexico, together with her father, was the first time a father and daughter competed together in the same events for their country. Later, in 1960, she became the first woman in the world to carry her country's flag in the ceremony at the Olympic Games in Rome.
Later, she was the first Mexican woman to belong to the International Fencing Federation and the first woman in the Mexican Olympic Committee.
Mexico 1968 Olympic Games
FAIR PLAY
At her seven decades Pilar is still scoring high. In January 2015 the Mexican Fencing Federation and the International Committee of «Fair Play» gave Pilar Roldán a special recognition for her outstanding career. They remembered her final match for the gold medal in fencing in 1968.
Pilar could have easily obtained the gold medal by default when her opponent did not show up on time. However, Pilar preferred to compete and fight for the olympic medal, and so she waited for her opponen fencer Kerstin Palm from Sweden.
In the competition, she lost the gold medal to the late comer, but won the silver medal, demonstrating with her actions the greatest example of fair play. «I went ahead and she caught up with me; they say people were in an uproar, but I felt isolated and heard nothing. I made a touch and so I secured the medal, which later I knew was silver,» Pilar Roldán said the agency EFE in an interview.
«I FEEL HAPPY, BECAUSE WITH MY MEDAL AND BEING THE FIRST WOMAN WHO RECEIVE IT, IT IS A MESSAGE THAT IT IS POSSIBLE. NOW WOMEN WIN MORE MEDALS THAN MEN»

Pilar Roldán
Current Life – Biomagnetism
Retired from the sounds of the metallic clatter of the swords in the fencing halls, and without her mask, gloves, protective vest and foil, Pilar is currently engaged in her private practice in Quintana Roo, México.
A tireless researcher like her father, a few years ago she decided to learn the science of Biomagnetism; a therapy with medium intensity magnets as a means of healing to regulate the body's PH. In an interview she commented: «if I discover something new, I will look for a way to achieve it, there is still more to learn». Pilar also regularly plays golf and sails along the Riviera coast of Quintana Roo, México.
TRIVIA
Did you know that Pilar Roldán has a connection with Austin?
Maria del Pilar Roldán fills us Texas women with pride from afar with her connection to Austin, which is through her son Edgar Giffenig. A player on the University of Texas at Austin Tennis Team, he continued his career as a coach for top-level players for 25 years.
Edgar was National Coach for the US, then Germany and Mexico, and is the author of «Developing High Performance Tennis Players», and «Play Tennis with Passion.» Thanks to her son I was able to contact Pilar Roldán directly in México for her interview and write this article for you.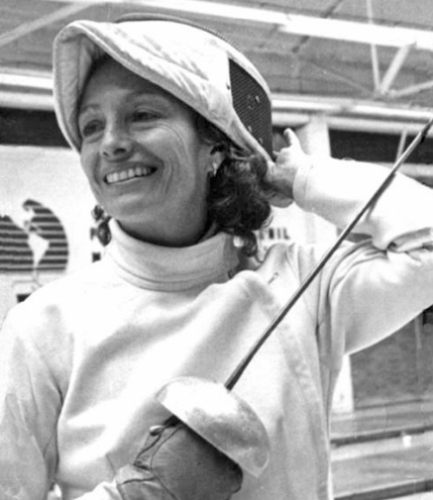 With great pride we celebrate Maria del Pilar Roldán, as an example of a woman who inspires us this Hispanic month and always. Touché! LRM
You can practice fencing yourself. Follow Pilar Roldán's example at the Austin Fencers Club with French trainer Maître Eric Mallet, former head coach for the University of Texas fencing team for ten years. Also trained actress Uma Thurman in one of her leading roles- in the film Kill Billy.