ABRIL GALINDO | TALENT FROM JALISCO SUCCEEDS IN AUSTIN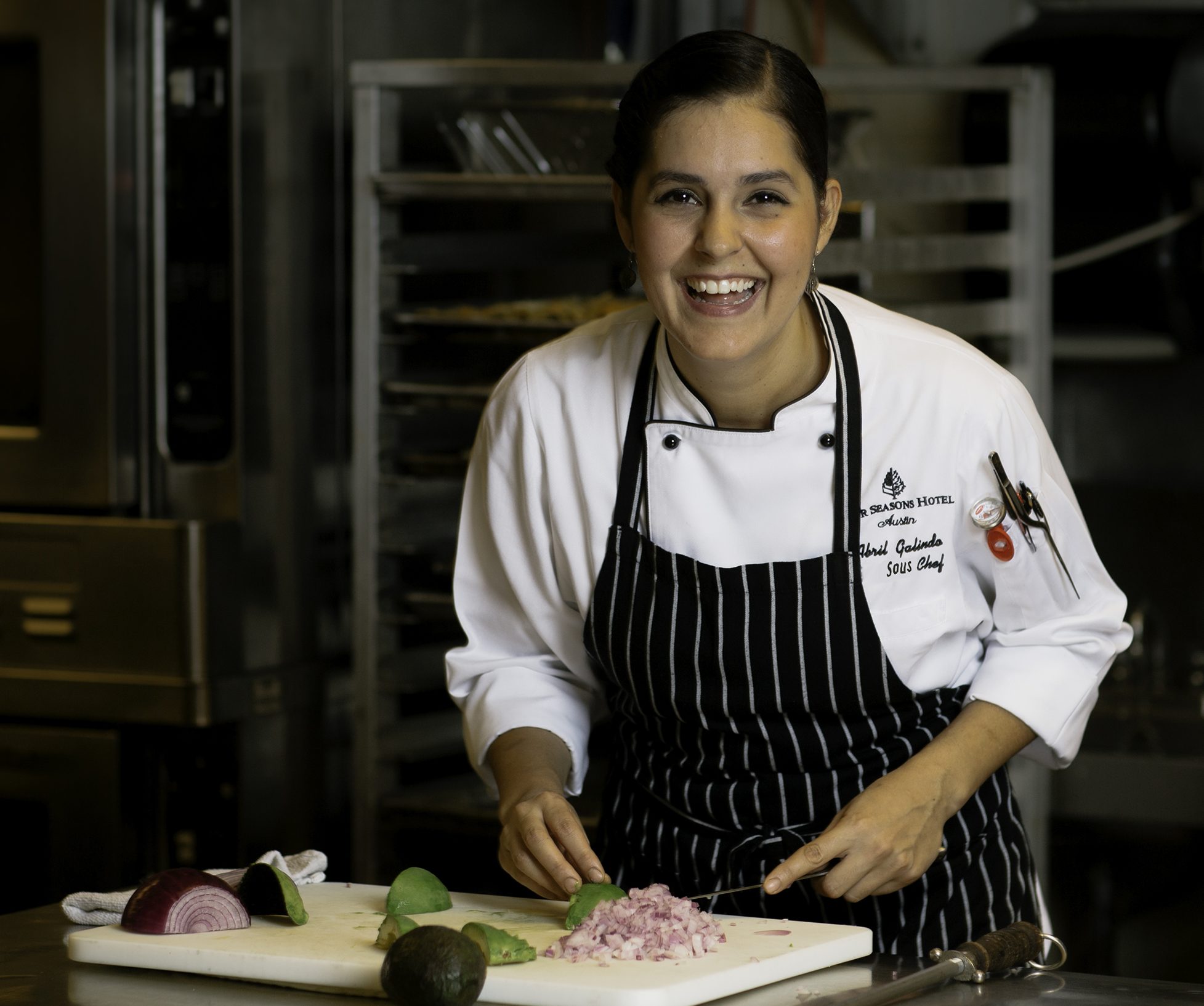 By: Lilia Davis | Photos: The Four Seasons Hotel Austin
Abril Galindo had never considered a career as a chef, it was a professional role she never expected, but life itself surprised her. She found herself endowed with a talent as well as swept by a passion for cooking. Abril Galindo began her culinary life in México coming later to the United States, with the disadvantage of not knowing much English which was a serious obstacle to be overcome. 
Her desire and discipline carried her from her native Guadalajara to become the first Mexican Female Executive Sous Chef at the Four Seasons Hotel in Austin, Texas, where she is leaving a mark at Live Oak restaurant with Guadalajara flavors in her menus.
I interviewed Abril Galindo on a rainy afternoon seated in a cafe, (where by the way, I arrived dressed in wet clothes!) and the first thing I noticed was her black eyes, for which women of Jalisco are honored, both for their beauty, for their intelligence, as well as their vivacity, and kindness.
Abril Galindo is taller than the average Mexican women and has beautiful pale complexion. I was able to appreciate all this while she talked to us about the changes in her choice of careers and her experience as a chef in Mexico and as an immigrant in the United States.
---
Abril Galindo wanted to be a Doctor
If you ask Abril how her passion for cooking began, the first thing she clarifies is that – as famed Spanish chef Ferrán Adriá says in his biography – "nobody in my family was a chef or cook – I did not start with a tradition of cooking with my grandmothers for instance or my mother ". 
On the contrary, Abril's  father was a doctor, and she wanted to study medicine. So she prepared herself thoroughly for the rigorous admission exam to the School of Medicine in Guadalajara.
Why did you decide to change from medical school to gastronomy?
I knew it was very difficult to be accepted in the School of Medicine, so while I was waiting for my results, I started working in restaurants as an option because I thought: "If I'm not accepted, what am I going to do?" 
In the restaurants I started trying various flavors. When I tried some Florentine eggs for the first time, they tasted glorious to me, I could not believe it. In my house we ate very healthy, but we were not "foodies".
So I discovered that the food, the atmosphere of the restaurants, the speed and creativity, was where I wanted to be involved in and to grow professionally. But still then my goal was to be a Restaurant Manager, not to be a Chef.
CULINARY ARTS CAREER
And in the end, did you pass the Medical School entrance exam?
I later received my acceptance to medical school. My parents were happy. I didn't know what to do. But in the end they understood and I studied at the Universidad del Valle de México (Guadalajara campus) for a Culinary Arts (Hospitality) Administration career, with an Associate Degree in Marketing.
Ultimately, one day, during my professional practice that the university required before any student in the hospitality field do before he or she graduates, curiosity about flavors began to absorb me, bracingly I would say, to the point of my asking permission to work – without payment – in the bakery kitchen at nights, after my work hours. I liked it so much that when I returned to college I changed my career focus in culinary arts. And that's how it all began.
CHARACTER AS A CHEF
What do you think has been the work experience so far that has helped you temper your character as a chef?
I learned a lot working in several restaurants in México and in the Four Season Hotel  on the Pacific Coast,  Punta Mita, where I became familiar with and learned how prepare seafood. But one of my important professional experiences as a chef was in the United States at The Greenbrier Hotel in West Virginia.
To begin with, I didn't know much English, I made mistakes, I thought I  was  to prepare one dish, but they made me do another! I did not understand all the instructions in English exactly as they demanded, the whole environment was very intense and required tremendous discipline.
Sometimes at work they didn't know how to address me, I was a Mexican woman, in an environment where men usually excel and I was always under a lot of pressure. It was a challenge to survive the first year!. But it helped me much as a chef, I learned what I could do, what I had to improve on and  put me to the test in order to advance to the next level.
MEXICAN INFLUENCE IN HER MENUS
How much freedom do you have to include Mexican dishes in the menu at Four Seasons restaurants?
In the banquet area, where I began, I didn't have much freedom, because the menu is based on the customer's request. But later on, I advanced in the company hierarchy and now with regard to the Live Oak restaurant, I designed it, that's my menu! There I put a little of me and my experiences in it. For example our famous Jalisco  "torta ahogada" (a speciality po-boy sandwich type drawn in a special sauce) from Guadalajara, and the huaraches of blue corn, which recipe I share  below, is one of the favorite appetizers on the menu of Live Oak.
Jalisco is famous for its sisal plantations, and its product,  tequila, do you use it as an ingredient in your recipes?
Yes, in Guadalajara, practically every family has its own produced tequila at home. (laughter)  And of course I use it, I make a sauce with very good tequila, which would go well with the shrimp, for example. 
IMMIGRANT SUCCEEDING IN THE UNITED STATES
You came to the United States like many others, wanting to work, and if we are lucky, to work at something  we are passionate about, what does it mean for you to be an immigrant?
I have been very lucky to arrive in this country, at the hands of a great person such as Executive Chef Elmar Prambs and a great company like Four Seasons, which has given me enormous support since I arrived in Austin. To be an immigrant for me is to try and give the best of myself, because as an immigrant, you only have the opportunity to do it once and that's it!.
How does being a Mexican chef and supervisor of Spanish-speaking assistants affects the smoothness of the kitchen?
Very much, the vast majority of the staff that works with me are Hispanic immigrants. It helps a lot when I explain everything in Spanish to my staff and so they can understand my instructions without any doubts. It is not that they can't  prepare other continental dishes very well, but of course it helps to have the same cultural references.
ABRIL GALINDO'S ADVICE
What would you advise immigrants who come to the United States who want to work in this industry, especially women?
I want to stress that as an immigrant, whether prepared with studies or not, he or she always has to work hard in order to excel in a foreign country like the United States. It may be easy to arrive here, but to sustain the level of work you desire, it is not easy.
I strongly advise that they learn English, especially if they are women, because they have to work double hard, and have to have the discipline, tenacity and perseverance to get ahead in a world dominated not only by men, but by competition, speed and clarity to perform their work in the best possible manner. And they have to be passionate about what they do.  
The phone rings and Abril apologizes. "It's from the kitchen, I have to answer," says Abril begins to speak all in Spanish: "Sí, sí," hibiscus " is jamaica, red, rojo, yes. – No, don't make it just yet. No, better prepare it tomorrow, it will be fresher  No, ok.!  Gracias.!" Turning to me Abril smiles and says "I apologize but I have to continue in the kitchen Lilia. A pleasure talking with you and La Revista Mujer!"
---
YOU ONLY HAVE ONE CHANCE
At the end of the interview once more,  I was able to see how deeply this country is connected to Mexican culture and food thanks to the culinary talents of a new generation of professional immigrant women like Abril Galindo, because as she says "you have to try and give the best of yourself, because you only have one chance to do it –  and that's it".