CARMEN HERRERA| a trailblazer at the BLANTON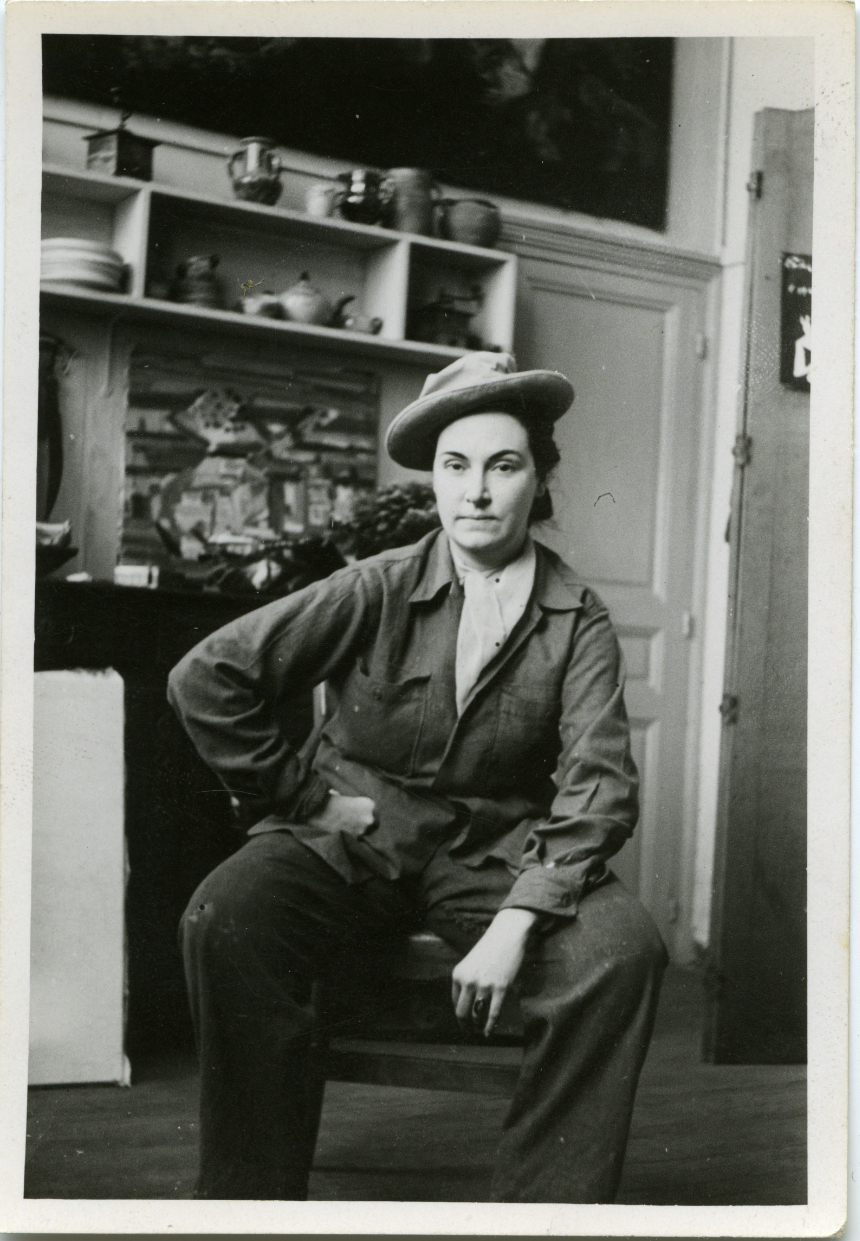 By: Lilia Davis
Carmen Herrera, Cuban artist, and abstract painter sold her first painting at the age of 89, and whose career keeps blooming, honors our Blanton Museum with her upcoming mural that sets the tone for the importance of Latin American women artists both past and future.
This is specially important to me. Growing up in northern México on the Lower Rio Grande, Cuba was surprisingly present in our lives. A former president of Cuba (Carlos Prio Socarrás) lived for a time in Mcallen Texas, where Fidel Castro came to meet him in the Casa de Palmas Hotel for money and Prio's endorsement of a revolt against Batista, across the river, Castro's bounced check is under countertop glass and preserved at a local Reynosa, México pharmacy.
The Lower Rio Grande also had resident veterans from the Bay of Pigs incident, exiled bankers, a Cuban painter coming to Mexico by way of Cuba. Likewise, Clara Porset, the Cuban furniture designer, received her first museum exhibition in the capital city of my home state, Ciudad Victoria, Tamaulipas. Cuba has never seemed far away.
THE INTERVIEW
I found it a great pleasure to be engaged in a brief conversation by email with Vanessa K. Davidson, the curator who engineered the commission of the upcoming Mural at the Blanton Museum by the celebrated Cuban painter Carmen Herrera, born in Havana in 1915. We want to make a special mention that this major Blanton acquisition is made possible thanks to generous support from the Kahng Foundation.
HELLO DR. VANESSA DAVIDSON, THANK YOU FOR TAKING TIME FOR THIS INTERVIEW, COULD YOU TELL ME A LITTLE BIT ABOUT YOURSELF GROWING UP, AND WHAT MADE YOU DECIDE TO PURSUE A CAREER FOCUSING ON LATIN AMERICAN ART AND LITERATURE?
I grew up in Southern California and was always fascinated by the Spanish I heard spoken around me. But I in fact grew up speaking French. I was an exchange student for a year in Rennes, France, when I was 15 years old, and when I returned to the United States, I knew that I wanted to learn another language to open up yet another world of possibilities to me.
So I chose Spanish because it is spoken throughout Latin America. I took a year off between high school and college, and worked enough to buy myself a plane ticket to Santiago de Chile. And that is where I first learned to speak Spanish, teaching myself primarily by reading. I went to Chile speaking French, and returned eight months later speaking Spanish.
LATIN AMERICAN ART
In college, I turned that love of books and of the Spanish language into a major in Hispano-American literature. But at Harvard at that time, there were no courses in Latin American art history, and I wanted to know what was going on in the world of visual art at the same time as my favorite writers were writing.
And my favorite writers were Argentine: Jorge Luis Borges, Ricardo Piglia, Roberto Arlt, Macedonio Fernández, Julio Cortázar, Oliverio Girondo, Silvina Ocampo, and others. So I spent my junior year studying Latin American art and Argentine poetry at the Universidad de Buenos Aires in Argentina—and that is where it all began.
HERE AT LA REVISTA MUJER, WE JUST FINISHED OUR FIRST POETRY CONTEST FOR THE PURPOSE OF MOTIVATING HISPANIC WOMEN LIVING IN THE USA TO WRITE IN SPANISH AND WE HAD SOME INVOLMENT WITH AN ARGENTINE SHORT STORY WRITER. OUT OF CURIOSITY, WHOM IS YOUR FAVORITE ARGENTINEAN WRITER?
It is difficult to choose just one Argentine writer as my favorite, because I love the poetry and prose of Silvina Ocampo, for example, but I think that my most favorite short stories were written by Jorge Luis Borges. I find that his explorations of philosophical themes are so beautifully poetic—yet so very accessible at the same time.
I also find that his meditations apply to the world of art in very evocative ways, often getting to the heart of the matter in terms that are far more eloquent than I could ever state myself. For instance, in the catalogue I just finished editing for the upcoming retrospective of Colombian artist Oscar Muñoz at the Blanton, I found an extraordinarily compelling parallel between Muñoz's work and a 1942 short story by Borges called "Funes, el memorioso" ("Funes, The Memorious"), and incorporated observations on both into my essay.
POETS AND ARTISTS
A little-known writer who was actually Borges's mentor is Macedonio Fernández, who is also one of my favorites. At Harvard, I wrote my honors thesis comparing a short story by Fernández, a poem by Argentine poet Oliverio Girondo, and the paintings of Argentine artist Xul Solar, who often incorporated text into his watercolors. This fascination with the intersection of the verbal and the visual has stayed with me to this day.
YOU STARTED WORK AT THE BLANTON IN 2019, HOW DO YOU FEEL ABOUT WORKING IN A TEXAS MUSEUM AS OPPOSED TO BOSTON OR NEW YORK?
Over the course of my career, I have worked at the Museum of Fine Arts in Boston; The Metropolitan Museum of Art in New York; and the Phoenix Art Museum in Arizona. Out of all these institutions, the Blanton has the most stellar permanent collection of Latin American art, and I think that it is fitting that this marvelous collection should be on view here in Texas.
Our proximity to Latin America, as well as our community's great cultural diversity, make this the ideal place for programming in Latin American art. And I find that our community is as savvy, intellectually curious, and creative as any audience in New York or Boston—if not more so.

Vanesa Davidson
HOW DID THE MURAL PROJECT WITH 106-YEAR-OLD CARMEN HERRERA COME TO BE DEVELOPED AT THE BLANTON IN AUSTIN?
When our team decided to commission a mural for the Blanton's new entrance, we concluded that it would be fitting to select an artist from Latin America because of the historical strength of our Latin American art collection and exhibition program. Carmen Herrera at once came to my mind as a wonderful candidate for this, since her work is so striking, so impactful, and so unique. Ms. Herrera had only done two minor murals previously, and both of these were non-profit commissions at public schools in New York City. As she wrote to me in a letter:
"Architecture has been a constant in my art. The idea of murals always fascinated me as a lover of architecture. It is a delicate balance to any architect or painter… A space is somehow affected or altered by the altering of its surfaces. I love the challenge and respect the responsibility in the choices that are made. I was thrilled by young high schoolers painting my design in their school walls or playground."

Carmen Herrera
But she was immediately excited by the idea of this collaboration with the Blanton, which will be her first mural at a major institution. As she remarked:
"It is an honor that my first major public mural commission will be with the Blanton Museum of Art, an institution that I have admired and respected for decades. As a museum that has long been at the forefront of collecting work by artists of Latin American descent, as well as the place where Ellsworth Kelly realized his last great work of art, entering the collection at this moment marks a high point in my long career."
IN AUSTIN WE CONSIDER IT A CULTURAL LANDMARK THAT WE ARE GOING TO HAVE A MURAL EXECUTED BY CARMEN HERRERA AND IN PLACE HERE. WHAT DREW YOU, VANESSA, TO PURSUE THIS COMMISSION FOR THE BLANTON?
Carmen Herrera is undoubtedly one of the most important Cuban artists of the 20th and 21st centuries—even though she did not sell her first canvas until 2004, when she was 89 years old. For this mural, I wanted to choose a trailblazer—which Ms. Herrera definitively has proven herself to be—to match the Blanton Museum of Art's pioneering role in the study and display of Latin American art in the United States.
LATINAMERICAN ARTIST
Ms. Herrera spearheaded experimental, hard-edged abstraction before the art world was ready for it. However, she might have had her revolutionary work recognized decades earlier had she not been a woman and had she not been Latina. She stated, looking back: "A Latin woman, painting in the manner that I did, stood no chance." She was also a feminist before Feminism; as she remarked:
"I am Cuban and feel very Cuban, but I didn't start my days feeling as a Cuban woman who was going to create a picture. I am a painter who is going to paint a picture."
This radical artist is finally now seeing new exhibitions, mural commissions, articles, and books arise that celebrate her long and enduring legacy as a painter who revolutionized the practice of geometric abstraction in Havana, Paris, New York, and beyond—albeit quietly—for decades.
I HAVE LISTENED TO SOME INTERVIEWS WITH CARMEN HERRERA IN THE LAST FEW YEARS, AND SHE SOUNDS SO SHARP AND FOCUSED, HOW HAS BEEN YOUR EXPERIENCE WORKING WITH HER ON THIS PROJECT?
Yes, Ms. Herrera is as sharp as a tack, at age 106! She still wakes up every morning and draws every day. As she has said about this drive to keep creating: "I do it because I have to do it; it's a compulsion that also gives me pleasure." She has been energized by this project with the Blanton, and it has been a tremendous privilege to work with her.
HOW ARE HERRERA'S PRACTICE AND WORKS, SUCH AS THE MURAL, INFLUENCED BY HER ARCHITECTURAL STUDIES?
Ms. Herrera studied architecture in 1937-38 at the University of Havana before leaving for New York in 1939; about this experience, she said, "There, an extraordinary world opened up to me that never closed. The world of straight lines, which has interested me until this very day." This architectural training was fundamental as the core of her artistic practice, as well as the impetus for the development of her own pioneering language of hard-edged abstraction that pre-dated American minimalism by nearly two decades.
WHAT IS THE SIGNIFICANCE OF THE GREEN COLOR "VERDE QUE TE QUIERO VERDE" FOR THE MURAL?
The mural title Verde que te quiero verde (Green, How I Want You Green) comes from the first line of a poem called the "Romance Sonámbulo" ("Sleepwalking Ballad") written by Spanish Poet Federico García Lorca in 1928. The mural itself is based on Herrera's 1956 painting Verde y Blanco (Green and White), one of her pivotal, watershed paintings that led to her White and Green series, an experimental series that occupied her sporadically from 1959 to 1971.
As Ms. Herrera explained to me in a letter: "I love poetry and am very fond of GarcÍa Lorca. And so… the greens immediately reminded me of his famous lines in Romance Sonámbulo… Verde que te quiero verde… the green fields and the white slashes just kept the Lorca refrain in my mind."
"The 1956 Green and White painting clearly does foretell and anticipate the Blanco y Verde series. The dynamics of color and space… the straight lines, the sharp edges and the delicate meeting points. It is all there." All of this to say that the painting upon which the Blanton's mural is based is one of Ms. Herrera's most seminal works, and her decision to tie its title to the poem by García Lorca illustrates both her sharp wit and infinitely creative mind at work.
I HAVE NOTICED THAT IN PREVIOUS LATIN AMERICAN EXHIBITS AT THE BLANTON, AND IN TEXAS IN GENERAL, THERE IS A STRONG PRESENCE OF WOMEN. DO YOU SEE AN INCREASE IN FEMALE ARTISTS BEING DISCOVERED?
I think a better term might be "rediscovered." There are a great many Latin American women artists who have been eclipsed by the men who have dominated the art scenes throughout the 20th century who are only now being given their due and justly credited in the history of art.
ARE YOU PLANNING TO ADD MORE MAJOR WORKS BY OTHER LIVING LATIN AMERICAN ARTISTS AT THE BLANTON IN THE FUTURE?
Yes, we are always expanding the collection to include major works by living Latin American artists. Some recent acquisitions include works by Brazilian artists Valeska Soares, Regina Silveira, and Caetano de Almeida; Cuban artists Toirac, René Peña, José Manuel Fors, Ibrahim Miranda, René Francisco Rodríguez, and Sandra Ramos; and Argentine artists Nicola Costantino and Leandro Katz, just to name a few.
IS CARMEN HERRERA GOING TO BE PRESENT AT THE INAUGURATION EVENT?
Carmen will be present via Zoom.