CARLA FERNÁNDEZ, Fashion Designer: the Future is in Hand Made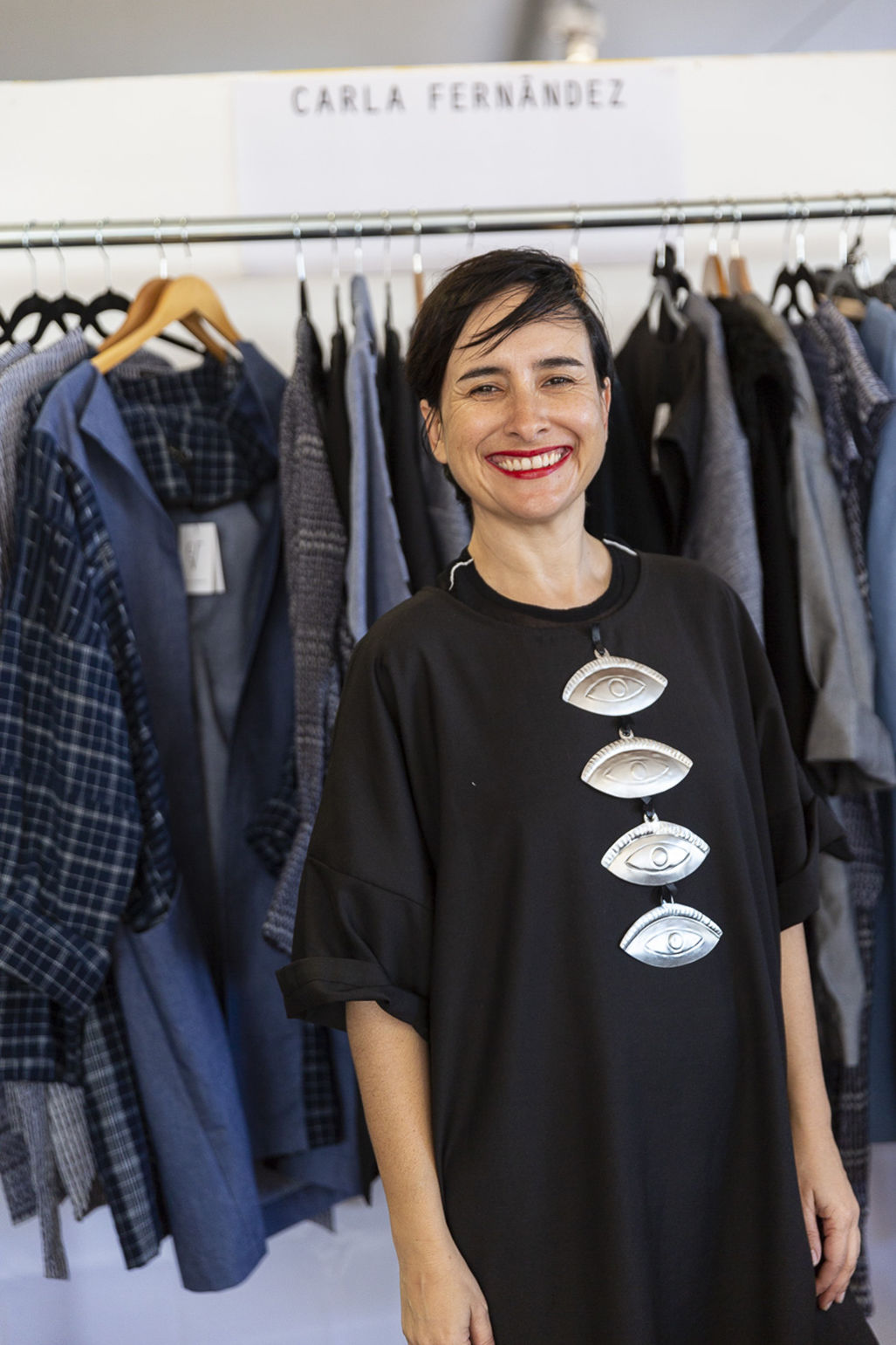 Text by: Lilia Davis
Photos: Courtesy of Carla Fernández

Carla Fernández is a Mexican designer of ethical fashion born in Saltillo, Coahuila based in México city. She has been recognized worldwide for her strong commitment to rescue the Mexican indigenous textile tradition and transform it into conceptual contemporary clothing. Similarly, she is an entrepreneur with a business model accompanied by a social vision.

Her training in art history and fashion design at the Universidad Iberoamericana in Mexico City allowed her to study the indigenous costume with a different approach. Also the experience of having worked for CONACULTA and FONART, traveling through Mexico promoting the design and development of artisanal techniques of indigenous communities further shaped her knowledge and was named one of the "50 people who move Mexico".
The involvement with these communities is helping create a business model for sustainability which is on many minds these days. Not to neglect mention of offering her customers high fashion with fair compensation to the local artisans that construct the clothing. Almost ninety percent of all the artisans are women.

AWARDS AND EXPOSITIONS
Among many awards and recognitions in her twenty year career, Carla Fernández was one of the eleven global recipients of the Prince Clausura Awards, based in Amsterdam, as an artist whose actions have a positive impact on the cultural development of communities.
One exhibition of her work which must be mentioned was at the Fashion in Motion series of Victoria and Albert Museum in England. Her fashion shows often include traditional choirs, songs and contemporary dances.
In addition, Carla Fernández has been the subject of exhibitions in Boston, San Francisco, Singapore and the MAD Museum in New York, as well as in México. In 2020 she received an invitation-for the second time, to participate in the International Fashion Art Biennale in Seoul "2020: The MOMENT."

The Interview
We, here at the magazine, have admired Carla Fernández' work at a distance as we viewed it for years in publications such as Monocle, Elle, Vogue, i-D, Harper's Bazaar, *wallpaper, and The New York Times Style Magazine, among others.
The opportunity to interview Carla Fernández came about last Christmas while preparing our annual gift guide while choosing items which creation that she had a hand in for Ballroom Marfa. Through mutual friends we were introduced, and we committed to a zoom interview at her home and studio in México City.
A conversion with Carla is a talk about history, design, culture and tradition. Yet, make no mistake, at the same time she is a very contemporary person, with avant-garde and modern ideas at the very edge of the future, reinforcing the notion that "tradition is not static".
Hi Carla! How are you? Thank you for giving us your time during this busy month of December, and so cold!
Hi Lilia, thank you very much and I am very happy to be talking to you. I am at home in Mexico, it is never that cold here. But we are fine.
SALTILLO
IT ALL BEGAN IN A COFFEE SHOP

CAARLA, CAN YOU DESCRIBE YOUR CHILDHOOD IN SALTILLO AND TALK A LITTLE ABOUT CAFÉ TENA THERE WHICH MIGHT BE THOUGHT OF AS ONE OF THE SOURCES OF YOUR CAREER.

I was born in Saltillo in the state of Coahuila, México. My grandfather Luis de Jesús Tena Álvarez, originally from Michoacán, came to Saltillo to take over a gas station. It was located on the corner of Victoria and Purcell streets. While there, he married Julia Flores de la Fuente, my maternal grandmother. She was originally from San Buenaventura, Coahuila, and together they started a restaurant called EL CAFÉ TENA. ( left photo)

FAMILY MEMBERS AND FRIENDS THAT LIVED IN OR VISITED SALTILLO TALK OF THAT CAFE LOVINGLY. THE LATE FAMED LANDSCAPE PAINTER FROM MONTANA, RUSSELL CHATHAM, TOLD US HE ONCE ORDERED EVERYTHING ON THE MENU DURNING A STOP FOR BREAKFAST THERE.

The Café Tena was a point of reference for good food and a favorite of tourists in Saltillo. It was also the favorite of the students of the Ateneo Fuente. (right photo) First preparatory school constructed in Mexico around 1867, a prestigious private school by tradition as it was just across the street from Café Tena.

INFLUENCE OF MEXICAN POPULAR ART

How does this influence what I do now? Well, there in the café, my grandparents had a craft store to sell Mexican handicrafts to tourists and others interested. Every summer they would take us on long trips by car to buy handicrafts in the states of Michoacán and Oaxaca. So that admiration for popular art runs in the family.
My parents met in Belgium at the Catholic University of Louvain as students, studying history. My father is Cuban and my mother Mexican. Also, my dad was appointed director of the National Museum of Anthropology in Mexico.
We lived in Mexico City, and I often accompanied him on trips to the interior of the country. That's how we got to know a lot about Mexican indigenous art. I think those two factors influence what I do now.

INDIGENOUS TEXTILE TRADITIONS

WHEN DID YOU DECIDE TO FOCUS ON FASHION WITH AN EMPHASIS ON PRESERVING AND REVITALIZING INDIGENOUS TEXTILE TRADITIONS?

Well, from the time I was very young, I liked fashion. My mom was a great fashionista. She dressed amazingly and was always on the lookout for the latest fashions when she went shopping at the border. My father, on the other hand, is a historian. I think the combination of my parents was very curious.

But I think that fashion can be and is what a woman wears, for example what a Chamula, or what a Huichol woman would wear. The traditional costume, not because it is traditional, it is static.

See more on Fashion with Indigenous Mexican Textiles. Denisse Kuri. A Designer on the Ascent. By Lilia Davis.
CAN YOU DESCRIBE BRIEFLY WHAT IS TALLER FLORA?
Taller Flora is my mobile design laboratory that travels to México. I research and study in detail each community we work with. This brings together Mexican designers and indigenous artisans to create a sustainable option for artisanal processes and produce lines of couture as well as ready-to-wear garments without falling into folklore.
I wrote a book, which I want to recommend to the readers, about how I can understand you, through your dress. Since as human beings we are very accustomed to deciphering people through their clothes. (Cover photo to the right of the book: Taller Flora, by Carla Fernández). .
GEOMETRY IN THE DESIGNS
YOUR DESIGNS HAVE VERY BASIC GEOMETRIC SHAPES, SUCH AS THE SQUARE AND THE RECTANGLE. HOW DO YOU MAKE THE SHAPE OF THE CIRCLE IN YOUR DESIGNS?
Square Root
We call it the square root because it represents the way pattern making is done in Mexico. This is how it is done in the sixty-eight original towns that make up our country today. They weave with the backstrap and pedal loom, and as the fabric comes out, they assemble the garment. They usually form a square or a rectangle and each group uses it differently.
The Circle
As for the circles, they do exist in the design, for example, in the Tarahumara skirt. If you see a Tarahumara woman, her skirts look like little desert flowers, with circles. However, it is still a rectangle. Why? Because this geometric figure is folded and pleated at the waistband. This forms a garment that takes its own volume and circle shape to make the skirt. (photo from the book: The Barefoot Designer's Handbook, by Carla Fernández).

Note: You can also find her designs in various books, including Fashioning Fabrics by Sandy Black and The Air is Blue by Hans Ulrich Obristy and Pedro Reyes, an exhibition orchestrated in Luis Barragan's house.
Spanish Influence
An interesting factor is when the Spanish conquest arrived in Mexico. They arrived with a clothing style full of cuts and curves that followed the contours of the body. Very different fashion from the Mexican pattern.

This is interesting because the indigenous arts begin to adapt certain Spanish garments but always with the square pattern. For example, if you were to unstitch a blouse worn as the Spanish woman once wore, you can still see the square pattern in the making of the blouse. Following the Mexican pattern.
See more on Geometry in the Designs Zero+Maria Cornejo. In search for the Perfect Jumpsuit. By Lilia Davis.
CULTURAL APROPRIATION

DO YOU THINK THAT OUTSIDE OF MEXICO THERE IS A MISCONCEPTION OF WHAT MEXICAN FASHION IS?
I think that in the United States there is a new tendency regrading style. If a woman who is not indigenous, or does not belong to a certain ethnic group, for example a blonde, wears a San Antonino dress from Oaxaca, suddenly someone shouts "cultural appropriation".
This ignores the fact that the artisans have been making the dress for years for that specific customer and market. The moment you criticize it as appropriations; you are taking away a certain credit due the dress makers, you are taking away a market from these women artisans. I think we must change that perception, at least in México.

Clarification
But on the other hand, and it is a very different thing when that dress is produced in a factory in any other place in the world than San Antonino, Oaxaca, Mexico. Then, that case it is indeed cultural appropriation. There you are stealing that community's idea and it is not being produced by them, the originators. So I think it is important to make that clarification.
CARLA FERNÁNDEZ IN TEXAS
MARFA BALLROOM
HOW WERE YOUR COLLABORATIONS FROM MEXICO TO MARFA BORN WITH YOUR DESIGNS AND EXHIBITIONS?
We have had the pleasure of collaborating with Marfa for a long time. I greatly admire the work of Ballroom Marfa and its Austin co-founder, Virginia Lebermann, co-author of Cooking in Marfa for supporting artists. It is an honor to collaborate with them. We often have art event exchanges in Mexico and Marfa.This year, Ballroom Marfa invited us to do a pop up exhibition with the masks called Tecuán Masks.

TECUÁN MASKS

I LOVED THE IDEA OF THIS COLLABORATION AS A RESPONSE TO THE COVID PANDEMIC TO MAKE MASKS. WHAT IS THE MEANING BEHIND THE TECUAN MASKS?
The word Tecuán means jaguar and these masks originate from San Francisco Ozomatlán, Guerrero. They are worn in a traditional Nahuatl dance that tells the story of a jaguar and its confrontation with hunters. Artisan Don Tomás Nájera made these masks for Ballroom Marfa and also collaborates in a line of bags with the brand Carla Fernández.

What is our contribution with this? This is an example of the work process we follow in the Carla Fernández team in Mexico. Artisans become creative partners and receive a fair compensation for their contributions. This labor-intensive approach helps maintain traditions. We do our utmost to preserve the rich cultural heritage of Mexico's indigenous communities. And the masks are available for sale. (See our Gift Guide)
OBSTACLES
WHAT HAS BEEN THE MOST DIFFICULT THING YOU HAVE HAD TO FACE IN ORDER TO SURVIVE IN THE FASHION INDUSTRY?
Fashion is a very difficult and very complex industry where you need a lot of heads. For instance, you need finance structure, good seamstresses, very good pattern making, creativity, among other things. It is an industry that forms collaboration between many people.I am fortunate to have a wonderful partner, Cristina Rangel. We have made a good team.
COVID
Certainly, the most difficult thing we have faced so far is surviving the pandemic. One of the most difficult periods we have ever been through in our lives. So we have to deal with a lot of uncertainty about what's coming. However, we are proud that we did not have to lay anyone off, nor lower salaries, it is a major commitment to our entire team.
FUTURE
AFTER ALL THIS, HOW DO YOU SEE THE FUTURE OF THE FASHION INDUSTRY?
The Future is Handmade
I think the future is in the handmade. I hope that after the pandemic people will change. It has been a great lesson in life and understanding what we are doing with the planet. (Photo: Spanish Actress Rossy De Palma wearing Carla Fernández)

Consume less Garments of Clothing
We have to change the number of pieces that everyone consumes. You have to be more considerate when buying your clothes. Know who makes your clothes, choose things that last longer, and this consequently leads you to buy less. Therefore, in the future of fashion we have to be more conscious as humans.
ADVICE
WHAT ADVICE WOULD YOU GIVE TO A PERSON WHO WOULD LIKE TO ENTER THE FASHION INDUSTRY AS A DESIGNER IN ORDER TO MAKE THEIR WAY IN THE INDUSTRY?

First of all, you need to have a different idea. It is difficult to enter fashion with an idea that others are already doing very well. So, I would advice to start with that originality or idea that you have, in order to properly develop what you want to say.
PERFUME
Carla, before we end this interview I wanted asked you if you have any new projects in the near future you would like to share?
Yes, we are about to release an amazing perfume, I just had a meeting about the bottle design. I hope it will be available pretty soon in 2021!
An unpretentious, talented and warm woman.
And so the interview ended. Behind the international fame and the awards and recognitions that Carla Fernández has received as a Mexican designer, there is an unpretentious, talented and warm woman. México will be always well represented with Carla Fernández.
If you are in México, stop by Carla Fernández'a store in Colonia Roma, or in San Miguel de Allende, Guanajuato. You can also visit her online in the contacts below.
======
Website: carlafernandez.com
Instagram: @carlafernandezmx
Facebook: @carlafernandezMX
Watch Video. Carla Fernández: MEXICO NOS INSPIRA