SEATTLE: eclectic, ecofriendly and dynamic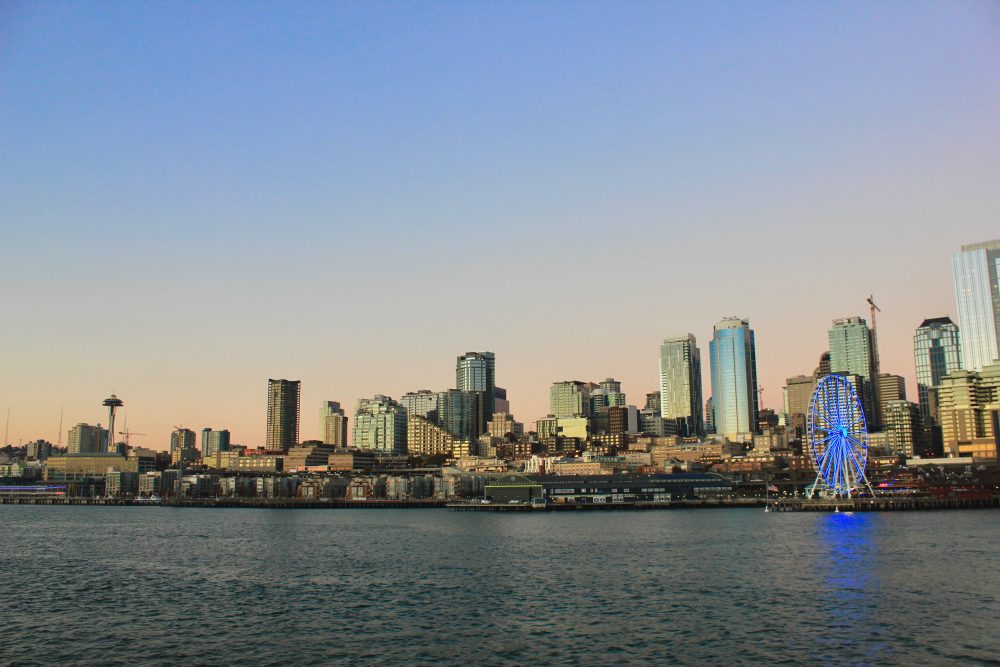 Texts and photos by: pinkspiration.wordpress.com
Seattle is probably not the first place you'd think about when planning your vacation with your husband and baby, the baby having been born not so long ago. But for me, it was kind of a dream to visit Seattle, the city where my husband had lived for a few years and always referred to so fondly in our conversations. He bragged about how magic this city and its surroundings were, so in contact with nature, so innovative, so relaxed and yet so vibrant.
So we packed our bags and decided to navigate Seattle as if we were locals; to follow the footsteps of my husband from ten years ago… Enjoy a hot and delicious chai latte at Café Diablo, an independent local coffee shop with no tourists; mount the hill to Kerry Park every night, to watch the sunset over Elliot Bay; and have dinner at low key restaurants such as Roti in Lower Queen Anne, which serves very tasty and authentic Indian food. The goal: to have a very Seattle experience: eclectic, bohemian, relaxed, "granola" and avant-garde.
Every corner of Seattle is uniquely idiosyncratic, as if it was a quilt composed by remnants of fabric, very different from each other, but all stitched together with one same thread: a crazy and a little bizarre vibe. Seattle's people are friendly and carefree; you see characters of all kinds with all sorts of beliefs, ways of living, clothing styles and ideals; but everyone seems to agree on one thing: the desire to live a simple life, a life without pretense, taking care of the environment, and making their city a relaxed and creative place; definitely, very west coast.
Eclectic Seattle
Touring the Queen Anne neighborhood you begin to recognize the simplicity of Seattle, where very traditional buildings remain standing, with that baroque architectural style, from the time of Queen Anne in the United Kingdom –hence the name– which in turn mixes well with newer constructions with simpler lines, which have emerged over the years.
This neighborhood itself looks like a small city within the city. Some of its restaurants and bars have been there for years; for example, my husband remembered Pho Viet' Anh, a Vietnamese restaurant, whose owners continue being the same.
If you move a little to the northeast, and visit the University of Washington, you will feel that you are in a completely different town. Not only because it has such a wonderful campus, but also because it has a young and academic vibe that you can see and feel everywhere. It's one of the most beautiful university campuses I've been to. It's worth visiting in the fall when the many colors of its trees deserve admiration (you are still in time to plan your trip!). And when you're there, swing by the Thai Tom joint on University Way, its chef has been cooking there for over 20 years! Believe me, he knows very well what he's doing.
If you go over to Capitol Hill, to the east, you'll find more of that young and educated feeling translated into local businesses, stores and residents. Ten years ago it was impossible to imagine Capitol Hill as it is today. The development that the area has undergone is incredible! It went from being, let's call it a dark part of the city, to a hub for new design, underground and cutting-edge stores. It's like a mini Soho in New York City. It is the neighborhood with the largest gay population, kind of industrial and vintage, all combined in great taste! It is noteworthy to mention that after San Francisco, Seattle is the city with the highest density of residents from the LGB community.
In Capitol Hill you will find all kinds of boutiques of clothing, accessories, decoration … if you' want to go shopping, I most definitely recommend that you check this one out. And when you need a break, the Starbucks Reserve Roastery is worth paying a visit. It's the gourmet and industrial format of the giant chain founded in Seattle, where they show you how the coffee grains are processed and they serve coffee originated in countries all over the world! They have a quality that you generally don't find in Starbucks' regular stores around the nation. The design of the Roastery is so inviting from the very minute you come in… the coffee aroma, the music, the lighting, in short, it's quite an experience! This year they will open new venues in New York, Shanghai and Milan. Texas, let's wait for our turn!

The Public Market Center, also known commonly as the Pike Place Market, is a mandatory stop to enjoy some fresh fruit or a delicious salmon sandwich. I would recommend going first thing in the morning in order to find fresh products and be able to walk the market without pauses or stumbling; the later the time, the greater the foot traffic of tourists! 
More than 38 million people visit the city every year! So, get up early! The market is unique in offering in addition to food, produce and flowers, a few stalls selling antiquities and such items as rare vintage comic books. And most surprising of all, some 500 people actually reside full time within the Public Market on a full time basis.
Ecofriendly and Natural Seattle
For a long time, Seattle was reputed to be a depressing city with a very high suicide rate. But the reality is that it is not –nor has it been– among the first 15 cities where people most commit suicide in the United States. Perhaps the city earned that false fame by wearing a permanently cloudy and gray sky that people relate to mental depression. I have to say that this image was totally distorted, because on the days of our visit, an intense sun and blue skies accompanied us most of the time we were there, allowing us to see the cheerful side of the city and letting us experience life in Seattle that is far from sad and miserable. Even so, on less sunny days, you could see the children playing in the outdoor parks, even under drizzling weather, because in Seattle the climate is not an impediment at all to its residents. People are used to it and for them life goes on. It has to keep going. That's the spirit of Seattle.
And it is precisely that permanent rain that makes it so green. The most beautiful thing about Seattle is that there is nature and water everywhere. Don't you think that water is what brings the most peace to the heart? On one side, you see Elliot Bay, where the Pacific Ocean is peaceful, calm, with mirror-like surface. And on the other, the lakes: Union, Washington and Sammamish, surrounded by beautiful mountains and forests that appear to be endless. What else can you ask of nature?
From its hills you can experience idyllic sunsets, typical of the west coast. Just 60 miles from the city, Mount Rainier climbs through the skies, where many go hiking, while for others, climbing it has become a life time goal. It is also worthwhile taking a walk along the nearby beaches, such as Alki Beach, go for a pizza and stroll through the Alki Beach Park. Or crossing by ferry to one of Seattle's nearby islands like Bainbridge. In fact many live there and commute by ferry to their jobs downtown. And to tell you the truth, I can see clearly why… Bainbridge is like a dream, it looks like an idyllic small town, almost like a movie set, quiet, with narrow streets, cute and original cafes and of course, beautiful homes with stunning ocean views.
And do not leave without visiting Bellevue. Literally trapped between two lakes, Washington to the west and Sammamish to the east, this exquisite suburb, whose name in French translates as "beautiful sight", year after year ranks on the list of the best places to live in the country, due to its diversity, the quality of its health system, its schools, its parks, its mountains, its thousands of recreational activities, its opportunities to start new businesses… The list goes on! Not without reason, in Medina, the neighboring zip code, do both Bill Gates and Jeff Besos, the heads of Microsoft and Amazon, have their homes.
Dynamic & Avant-garde Seattle 
Speaking of business, we can say that Seattle is a nucleus of entrepreneurship, innovation, technology, and new and not so new businesses, but most of them very successful. Seattle is the home of important empires that we have mentioned, like Microsoft, Amazon and Starbucks, among many others. Like every port city, Seattle has received a significant rate of immigrants (in Bellevue 40% of its residents are born outside of the United States and in greater Seattle it goes down to 18%, but that is still above the average for the country which is 13%). This makes it a very diverse city and, therefore, very enriching. I think that this fact, among others, is the key to its dynamism.
Seattle is at the forefront in every way, and its architecture could not fall behind. It is worth highlighting the Public Library building in Downtown. It is a jewel embedded in the middle of the city, because it literally looks like a diamond on the outside and on the inside it is a work of art. This structure, made out of glass, asymmetric and bright, completed in 2004, is one of the best-kept secret attractions in the city.
A few streets away are the new Amazon offices, a trio of immense glass spheres with live trees in the interior, in whose nests their employees gather to inspire and innovate. These spaces are so extraordinary that one begins to understand how Amazon has been able to create the unthinkable. And nearby you can visit the Space Needle, the city's icon, which was built for the 62nd World Fair and is a 360-degree observatory that is visible from all corners of the city.
Likewise, culture had to go hand in hand with all this modernism and creativity. In another of the wonderful corners of Seattle flourishes the Olympic Sculpture Park, which as the name implies, is an outdoor museum full of sculptures. Alexander Calder, Richard Serra, Jaume Plensa, Louise Bourgeois, Roxy Paine, Teresita Fernandez, among others, fill that beautiful place and bring it alive, at the foot of Elliot Bay, with gigantic sculptures of birds, heads and waves, which overwhelm you not only for their size, but for their perfection and beauty.
Like this ends our expedition through different corners of this city, a city that I consider immense for its drive and its capacity to offer so much. You will never get bored in Seattle, that's for sure! I am already longing to return and stay longer… I hope my enthusiasm is contagious dear reader!