HIGH-RISK PREGNANCIES UNDER CONTROL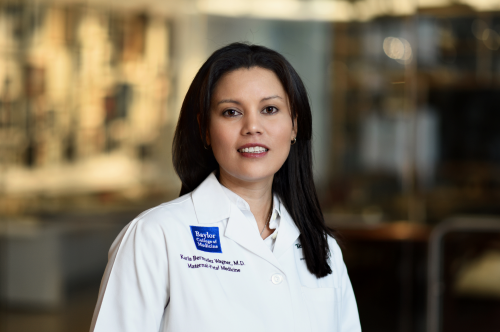 * FROM A LATINA FOR LATINAS *
By: Liliana Pérez Coymat
Are you having a complicated pregnancy? Don't worry! Dr Karla Bermudez-Wagner is here to help!
Dr Karla Bermúdez-Wagner is a Maternal-Fetal and Genetics Medicine specialist who currently works at the Department of Obstetrics & Gynecology from the Texas Children's Hospital Pavilion for Women in Houston, Texas.
Originally from Venezuela, where she completed her Medical Degree, she finished her residence in Obstetrics and Gynecology at the Temple University in Philadelphia, then she specialized in Genetics at the University of California in San Francisco and also specialized in Maternal-Fetal Medicine at the Albert Einstein School of Medicine in New York. She has devoted her life to treating patients that are going through complicated pregnancies due to obstetric complications or maternal medical diseases, fetal or maternal genetic pathologies and/or fetal anomalies.
Today when we talked to her, she expressed that her major interest was to let all Hispanic women out there, to whom the unexpected comes during their pregnancies, that they are not alone!
There's someone that can guide them. Someone that not only speaks their own language, but that is also well prepared and works with a multidisciplinary team of specialists; from obstetricians and gynecologists, to experts in genetics, cardiology, urology, nephrology and neurology, among others. And they are all ready to offer them all the care they need (all the way from genetic tests to diagnose anomalies, through psychotherapeutic counseling) to ensure a successful pregnancy.
Dr Bermudez-Wagner tells us that the population in general –and the Hispanic one in particular– suffers from health conditions and diseases that can affect their pregnancies. Some of these diseases are obesity, chronic-hypertension or other cardiovascular diseases, diabetes, lupus, renal disease and others.
We asked Dr Bermudez-Wagner, what should a woman do if she suffers from one or more of these health conditions and gets pregnant?
The first thing, she says, is to make an appointment with her Gynecologist as soon as she finds out she's pregnant so her Doctor can help her prevent further complications. The specialist will set up a plan in conjunction with other multidisciplinary specialties in order to assure an adequate coordination of care for the pregnant patient and/or the fetus/newborn during pregnancy and post-delivery.
What tests should a mother undergo in order to identify possible anomalies during her pregnancy?
There are several advanced prenatal diagnostic techniques available now days. On one hand, the non-invasive tests for prenatal genetic testing, including the fetal DNA analysis, present in the mother's blood (to detect for examole the presence of Down Syndrome) and high-tech ultrasounds (in 3D and 4D) to notice any problem the baby might have. Among them are the anatomy screening to evaluate fetal growth and study every single one the baby's organs; and the genetic screening to assess the nuchal translucency (that allows to identify potential birth defects.
And on the other hand, more invasive tests are also available, such as the genetic amniocentesis, to diagnose chromosomal abnormalities or fetal infections, or the chorionic villus sampling, to determine chromosomal or genetic disorders.
---
Generally speaking, it is expensive to have this tests done, so we investigated about alternatives and found out that beneficiaries of Medicaid can have access to all of these services through the STAR Medicaid program and for those who are not eligible of Medicaid, they can go through the CHIP perinatal program*.
We continued our talk with Dr Bermudez-Wagner, who answered our question about weather women with cancer who become pregnant also receive help.
We're happy to learn they do. "We have had some cases, and we partner with the MD Anderson Hospital [after a little bit of research we discovered it is the No.1 cancer center in the US]. Or for example when women want to freeze their eggs before getting cancer treatment, they can do so at the TCH Fertility Center in conjunction with MD Anderson".
We wanted to end our conversation with Dr Bermudez-Wagner on a more personal note, so we asked her how being a woman had affected her career.
In OB, many women prefer a female doctor, but also many want a good doctor regardless if it is a woman or a man. In my case, I believe it is easier to connect among women. So I don't believe being a woman has affected my performance or my career in any way. Nevertheless, within the academic world, there are always challenges being a woman and Hispanic on top of that. However, I've been treated fairly and I think none of these characteristics are stoppers if your work is professional, ethical, honest, and you work hard with the only goal of providing wellness to the patient and the fetus.
What would you like to say to women that have concerns about their health or their babies' during their pregnancies?
"If you have health problems and you are pregnant, ask your Gynecologist-Obstetrician. Ask for help, because there is help available! And the sooner you do, higher are the chances for a successful pregnancy. Even if you don't have any health conditions, but you want to learn about fetal genetic risks that could affect your baby, you can discuss about invasive and non-invasive screenings with your doctor.
---
"It is an honor to be able to help women, especially Hispanic women, because even if I am in this country, my heart is with the Hispanic population and I feel proud to be able to help my community". – Dr Karla Bermudez-Wagner
---
* This information applies for the Texas Children's Hospital in Houston, TX.